Comics Disassembled: Ten Things of Note from the Past Week in Comics, Led by a Surprising Return
It's the final Friday of the year. Let's close the way weeks normally do here on SKTCHD: with another edition of Comics Disassembled – albeit a relatively abbreviated version…it's been a busy week – as we look at ten things I liked or didn't like from the week of comics, led by…wait…is that Frank Castle's music?!?!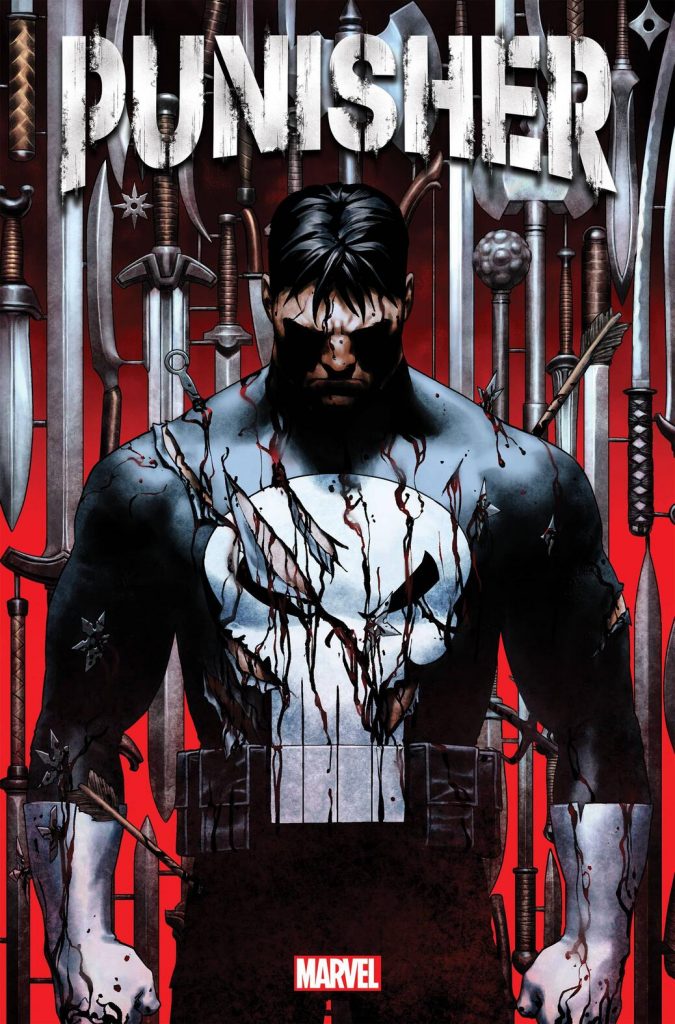 1. The Punisher, Returning (and Evolving)
The forgotten – intentionally so, it seems likely – Frank Castle is returning in March, as the once (and future?) Punisher is coming back with a prestige 13-issue maxi-series from writer Jason Aaron and artists Jesus Saiz and Paul Azaceta. If you asked me to create a wishlist of creators to tackle a story like this, that trio would be high on it, as Aaron's established as one of the best there is with Frank, Jesus Saiz is, by my estimation, one of the single most underrated Big Two artists we have, and Paul Azaceta is an absolute boss of atmosphere. That's a killer trio. This is not a hard sell, at least on the surface.
The fascinating thing about this book, even more so than that killer creative team and its mission to tell a definitive Frank Castle story, is something that seems abundantly clear from everything that has come out about it: this is about reclaiming The Punisher as a character after he totally (without anyone ever admitting it) was shelved after far right groups co-opted the character's famous skull logo into something that matched their objectives and desires. While I'm sure it is in some ways what Marvel says, and that it's a story that Aaron has had in his brain for years, I am similarly sure they took the opportunity to retrofit certain rebranding elements on to it (although I am deeply skeptical that the already shown new logo is the one that they're going to end up with – Marvel doesn't waste a marketing beat like that on a title announcement).
It's understandable. The character was very popular for a long time, and I am sure they'd like to dust the character off after burying him for quite some time (see: that Punisher vs. Barracuda series from Ed Brisson and Declan Shalvey that disappeared "because the pandemic" but also, more than likely, because the pandemic gave them the opportunity to). I'm not sure if it's going to be so easy as slapping a new logo on a combat turtleneck. As much as I have enjoyed many, many Frank Castle comics, the guy is…uhhh…of another time, let's say. That said, if anyone can solve this problem, it's that team. We'll find out in March if they have a solution to this rather complicated problem.
2. Dark Horse, Acquired!
There's been word as of late that Dark Horse Comics was looking to be acquired. I've actually heard surprising rumblings about a number of companies, as well, but Dark Horse seemed the most eager. Apparently that proved to be true, as they were acquired by Embracer Group, a company that's ostensibly a games company but, in reality, a company that acquires other companies (see: their robust Wikipedia page that's basically about the companies they own). So what does this mean exactly for Dark Horse? Who knows!
Much conjecture was made about the crossovers that will come from this, and the fusion that could come from Embracer's immense stable of properties due to the publishing opportunities Dark Horse offers (or, conversely, games starring Dark Horse published comics). That feels a little early to suggest, even if it seems pretty certain that something like that would happen given that Embracer didn't buy them for no reason at all. But the biggest impact on comics and, in specific, Dark Horse going forward is likely pretty simple: they will continue to exist and likely have the cash flow behind them to keep making it work well into the future. That seems like a good thing to me, even if I don't know what the long-term impact could be.
The rest of this article is for
subscribers only.
Want to read it? A monthly SKTCHD subscription is just $4.99, or the price of one Marvel #1.
Or for the lower rate, you can sign up on our quarterly plan for just $3.99 a month, or the price of one regularly priced comic.
Want the lowest price? Sign up for the Annual Plan, which is just $2.99 a month.
Learn more about what you get with a subscription