Comics Disassembled: Ten Things of Note from the Past Week in Comics, Led by George Pérez
A monster week for the column starts the only place it can, as we say goodbye to a legend.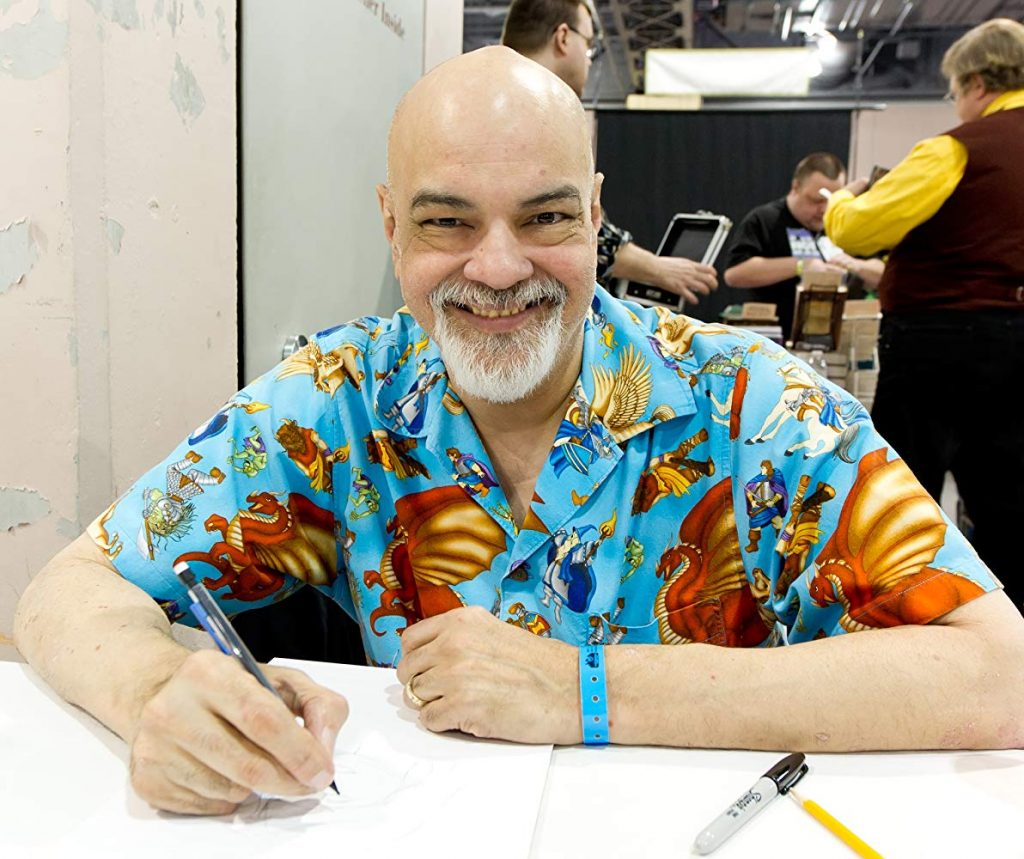 1. George Pérez, Forever
I've been thinking all week about what I was going to write about George Pérez's passing.
I've struggled with it, if only because of his significance and because I said so much of what I wanted to say back in December when we first learned of his prognosis. I was considering what I said, but then, something hit me. Obviously I wish that Pérez was still with us, happy, healthy, and doing his thing as he's always done it. The man was as renowned as a person as he was as a comic artist, and he's widely considered to be one of the greatest to ever do it. Heck, he might have been even more beloved as a person, if you'd read any of the stories that came out about his kindness in the past six months (my personal favorite might have been writer Tini Howard's recent one, which you should really read). But in a weird way, that's what's amazing about all of this: Pérez was given a rare insight into what everyone truly loves about him during the toughest time of his life.
As was written in the post announcing his passing, "He loved all of you. He loved hearing your posts and seeing the drawings you sent and the tributes you made. He was deeply proud to have brought so much joy to so many." Over the past half year, we've seen the best out of everyone. Publishers. Creators. Fans. Peers. All celebrating the greatness of this man we all adored for one reason or another. That came in fan mail and write-ups and celebrations on podcasts and herculean efforts to rerelease beloved comics of his and celebratory spreads in comics in his name. It came in the form of everything you can imagine, and he was able to see so much of it.
To bask in that, live in that, and getting the chance to see what kind of impact you had on the world and the people within it, that had to have meant the world to Pérez. In a way, Pérez was finally able to experience the way he made those around him feel. That must have been extraordinary for him.
George Pérez worked on an incredible list of comics, astonishing everyone who read them with his unfathomable detail and sense of the moment, making the biggest beats feel small and bigger than you knew to be possible at the same time. While his action sequences and double page spreads could drop your jaw, it was always the little things that staggered me as I grew up reading him. I always felt like I knew and understood his characters, if only because he knew and understood them himself. He didn't just make characters act; he brought them to life.
That was who Pérez seemed to be: a person who brought the very best out in everything he did and everyone he was around. Whether you're talking about his art or how he made those around him feel, there are very few who did it better than George Pérez. I hope he knew that. I feel like he knew. That's a gift, and a well-deserved one at that.
Rest in peace, George.
2. My Favorite George Pérez Comic Moment
While much of the recent interest in Pérez's work has been focused on the JLA/Avengers reprint, it's hard to go wrong with anything the artist has ever done. Everyone has their favorites, with The New Teen Titans, Crisis on Infinite Earths, his Wonder Woman run, and Infinity Gauntlet often leading the way. But when I think of Pérez, my mind immediately goes to one scene in one project. I loved Peter David's larger Incredible Hulk run, as he and collaborators like Gary Frank helped expand my horizons (did you know there were non-X-Men comics in the 1990s? I learned that thanks to that run!) and spread my wings as a comic fan. And the pièce de résistance from that run was the two part future shock story by David and Pérez, Future Imperfect.
It told the tale of the present day version of the Hulk – Professor Hulk, if you will, or the one that merged Banner's brains with Hulk's brawn – being dropped into a dystopian future run by an evil, cruel version of the smart/strong version of the Hulk, the Maestro. I was eight when that comic came out, still feeling my way through this whole comic book thing. Future Imperfect was extremely cool to start, but there was a double page spread – a look at the Rick Jones' trophy room – in the first issue that, when I got to it, I didn't read it as much as I studied it. Pérez took zero plays off on this puppy, filling it with items and relics from every hero and villain of Marvel's universe. And not just a few things. Everything. Silver Surfer's surfboard! My guy Stilt-Man's stilts! BEAST'S FUR! It is a tour of Marvel history in one double page spread. I remember reading that and knowing, knowing!, "I need to know the story behind all of these characters."
That's what Pérez could do. He could take what otherwise might have been a couple pages of nostalgia and nods and turned it into a life pursuit for a reader, simply because he put so much love and care into it. Pérez talked to Dan Greenfield at 13th Dimension about that spread back in 2019, saying, "(David) wrote the museum scene, and he described a few things that were going to be in the museum that were plot specific, that were going to be used in the course of the story, so it had to be there. And then I was on my own. So not only did I keep adding more and more items in there, but I went cross-company, where I would put like, Archie's Riverdale sweater, I would put the bottle city of Kandor, and more and more, and I was just having a fun time." That spread was Pérez having a fun time, and in the process, he changed the course of the life of an eight year old in Alaska.
There's another line from that piece that I really liked. Pérez was explaining why he went so deep on that trophy room spread, and he told Greenfield, "One of the things — again, I love doing comics and my retirement has nothing to do with my lack of love or lack of ability — when a writer gives me something, I want to make sure I do the writer justice, that I give him more than he's expecting." Pérez's entire life was about giving people more than they were expecting, and making lifelong fans – both of him and the medium – in the process. I'll always remember that trophy room scene, and I'll always remember it because of Pérez.
The rest of this article is for
subscribers only.
Want to read it? A monthly SKTCHD subscription is just $4.99, or the price of one Marvel #1.
Or for the lower rate, you can sign up on our quarterly plan for just $3.99 a month, or the price of one regularly priced comic.
Want the lowest price? Sign up for the Annual Plan, which is just $2.99 a month.
Learn more about what you get with a subscription