Comics Disassembled: Ten Things of Note from the Past Week in Comics, Led by Neal Adams, Of Course
It was a pretty rough week, both in comics and beyond. But the show must go on. And it starts the only place it can, as Comics Disassembled, a look at ten things I liked or didn't like from the week of comics, is led by the passing of a legend.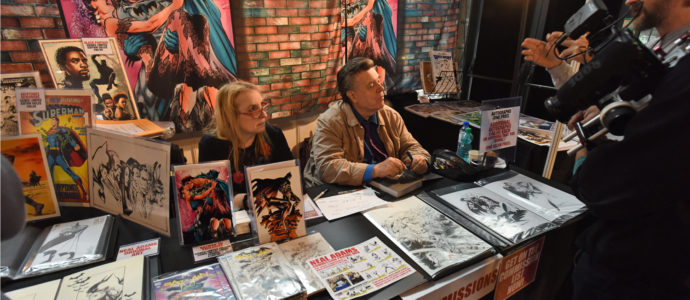 1. Neal Adams, The Legend
The majority of my memories involving Neal Adams were of him at comic conventions, taking up residence at those enormous sectors – calling it a "table" just doesn't do it justice, as it was often a mix of multiple tables and spaces rather than a single space – of each con his presence would exist within. They were just like my vision of Adams himself: larger than life.
It always seemed as if that was Adams in his ideal environment at conventions. While other creators might strain at connecting with fans and managing their presence all day, Adams seemed to bask in it, like he couldn't imagine being anywhere else. He always appeared to be friendly, engaging, and active, turning each transaction into a personal one and sale into a memory. That's tough to do. To be on like that all the time would be exhausting for some of us. It never seemed to wear on him, at least from the outside.
This is my memory of Adams at least in part because his work is a massive hole in my comics fandom. If you said Neal Adams to me, I'd of course think of Green Lantern/Green Arrow – particularly that famous cover to #85 – Batman, The Kree-Skrull War, Superman vs. Muhammad Ali, and his eternally elite original design for Havok. Those are the highlights for many. But it wouldn't come with the same recognition as with other creators, simply because Adams' prime-time was well before I was reading comics, and not something I'd ever really thought to look back on, at least until now.
That's because Adams passed away last week at the age of 80. A lot of people have been looking back over the past week since the news hit, and it's been incredible to see. Adams was clearly someone who affected the lives of those around him in a significant way that goes beyond just being good at drawing Batman. He wanted the best for himself, but also his peers. That was relayed exceptionally well in stories shared by Larry Hama and a similar one by Mark Waid, in which those two legends were undercharging (or not charging at all in Waid's case) for their sketches and signatures, respectively. Adams wanted each to know that they should value themselves, because if they don't, no one will. "You are worth more than you're giving yourself credit for," seemed to be a common idea Adams would share with others. He showcased that in those stories, in how he battled to help Jerry Siegel and Joe Shuster get what they deserved from DC, and any number of other anecdotes involving Adams and creator's rights.
It's great to be a guy people think of when they think of as the defining vision of Batman or whomever. But when you read the stories about Adams, they're less frequently about his art and more about how he helped those around him. Anyone can draw Batman. But finding people who truly want the best for their peers (or competition, as some might put it) is a much rarer thing. Being one of the best at advocating for creators and one of the defining artistic voices in the history of the medium of comics at the same time, though? That's even more unique. That list is pretty much just one name: Neal Adams, a heck of a guy who happened to be quite the artist at the same time. If the last week proved anything, it's that he will be missed.
2. Marvel Comics, Keep on Slippin'
We all have a sense that Marvel's schedule has been waylaid by the wider supply chain issues the world is seeing, as has been the case for many a publisher in many a printed medium. I've just never really seen it all laid out in one place. Naturally, as someone who rarely misses an opportunity to point such a thing out, Rich Johnston put some of those issues together in a single Bleeding Cool post, breaking down how some of Marvel's titles keep on slipping and slipping and slipping.
And it isn't just first issues or next issues or whatever; it goes on for months. Johnston highlights several titles, like Amazing Spider-Man and A.X.E.: Judgment Day, to underline how this is having a cascading effect down the line. Reading that article nearly broke my brain. I need a very well thought out Excel spreadsheet to fully appreciate the anarchy (especially when it comes to some titles that are seemingly scheduled to ship two issues on one day now). Based off all of that, it's safe to assume that Marvel does not have its supply chain issues buttoned up at this point, nor will they be resolved any time soon. We'll see what happens, but if you want answers as to where your favorite comic is, it seems likely Rich will have the answer.
The rest of this article is for
subscribers only.
Want to read it? A monthly SKTCHD subscription is just $4.99, or the price of one Marvel #1.
Or for the lower rate, you can sign up on our quarterly plan for just $3.99 a month, or the price of one regularly priced comic.
Want the lowest price? Sign up for the Annual Plan, which is just $2.99 a month.
Learn more about what you get with a subscription