Comics Disassembled: Ten Things of Note from the Past Week in Comics, Led by Some Good Things!
Did you know things in comics happened this week? No? I didn't either. This is going to be a much different version of Comics Disassembled, my look at ten things I liked or didn't like from the week of comics, because of that. So, you know, act accordingly!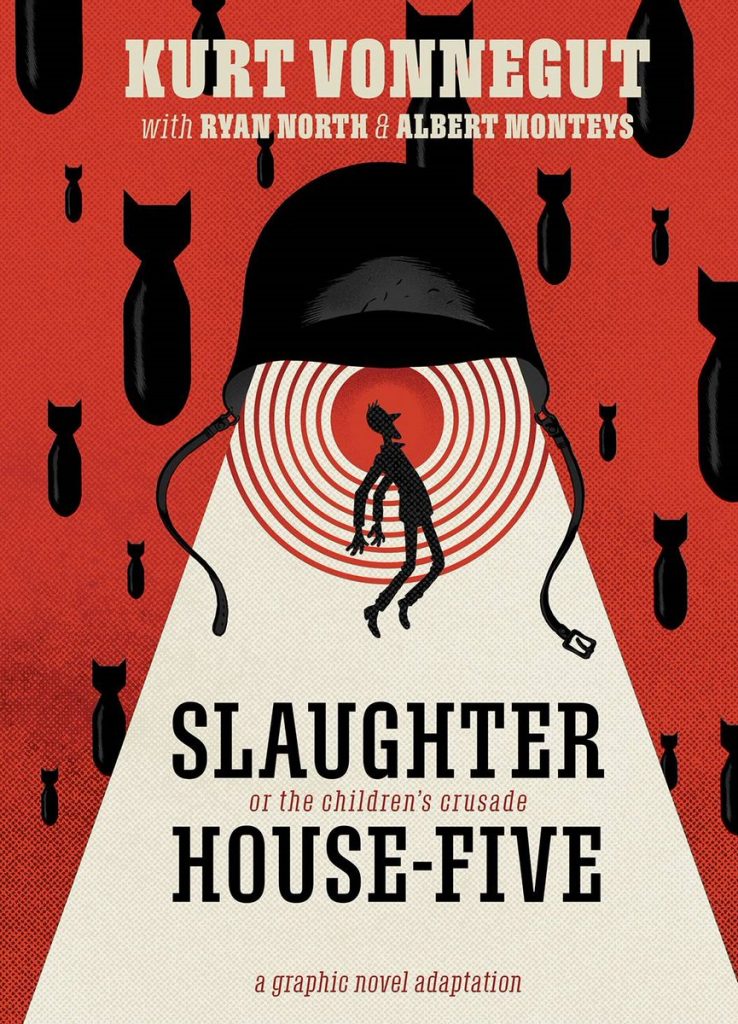 1. Slaughterhouse-Five, Instant Classic
Okay, this is going to sound like hyperbole, but hear me out. Let's agree from the top that Kurt Vonnegut's Slaughterhouse-Five is a stone cold classic. If you've read it, you know (I have). If you haven't read it, you probably know anyways because whenever people talk about it, they describe it as something like, "all-time classic Slaughterhouse-Five." We're agreed, right? We all know it's a legend.
Okay.
Having now read Ryan North and Albert Monteys' Slaughterhouse-Five adaptation for Archaia/BOOM!, I sort of feel like the graphic novel format was even better for the non-linearity of the story. So, in spicier terms, I genuinely believe that Kurt Vonnegut's Slaughterhouse-Five works better as a graphic novel adaptation by North and Monteys than in its original form.
Feel free to light me up! I know! It's blasphemy! It's nonsense! It's hyperbole! It's whatever you want to say. But in terms of comics adapting other media, this didn't just reach the bar for quality, this set it in an entirely different stratosphere. It wasn't just the fit of the story to the medium, it was the unbelievable style and craft that was evident throughout. Slaughterhouse-Five is already a tremendously meta read, but this felt meta on top of the meta, but in a way that only felt more stylish and fitting, turning this haunting, thoughtful story into a genuinely cool and driving read. I know that's weird phrasing for a story about war and aliens and being unstuck in time, but if the shoe fits and it's cool as hell, it's cool, my friends.
I mean this as no slander to North, whose work adapting this story is the playbook going forward, but Monteys is the true star of the book. His efforts to draw, color and even letter the book, and how he and North pace everything and work together to find new solutions to old problems, is genuinely astonishing. It's somehow both showy and grounded, a combination that feels inherently contradictory but also the only way to describe it after reading it. In a year with some truly astonishing artistic performances, Monteys deserves all the Eisners for this work. It's an all-timer, a brilliant performance that acts as a coming out party to some and a confirmation of his existing greatness to others.
Slaughterhouse-Five very well may be the best comic I've read this year. We're getting to the point where those decisions have to be made, and when it comes down to the battle for the top, I wouldn't be the least bit surprised to see North and Monteys' work at the top, with everyone else's efforts dying off at the challenge it brings.
So it goes.
2. Donny Cates, Drawing
We have a new idea in comics. Welcome to what I call Schrödinger's Cates, in which something is both equally cool and repulsive simultaneously! Here's the cool: writer Donny Cates actually was the artist for an upcoming variant for The King in Black #1, and it's not bad, to be honest! I like that a writer both had the guts to do this and managed to successfully execute the idea. This is cool!
Much less cool: this variant is 1 in 500, meaning a shop has to order 500 copies of King in Black #1 to order ONE COPY of this variant. As Big Bang Comics in Dublin said, that means that the only way for a fan of Cates or of this broader storyline to get this is to spend lots and lots of money. Let's say the shop that orders it has a 50% discount off cover price from Marvel. That means that it would cost a shop about $1,500 just to get that one copy of the variant, which is just insane. So something very cool became something deeply obnoxious right quick.
I understand the nature of variants, and how they're inherently niches within niches. But it's a bummer that a point of excitement is quickly morphed into a point of bad behavior super quickly, especially considering these covers will almost certainly later be items that are flipped by speculators for even more value later on rather than actually enjoyed by a fan. I just do not enjoy this kind of thing, even if it was a cool idea to start with.
The rest of this article is for
subscribers only.
Want to read it? A monthly SKTCHD subscription is just $4.99, or the price of one Marvel #1.
Or for the lower rate, you can sign up on our quarterly plan for just $3.99 a month, or the price of one regularly priced comic.
Want only the longform content? Sign up for the monthly longforms only plan, which is just $2.99 a month.
Learn more about what you get with a subscription