The July Mailbag is Here!
You have questions. I have answers. Let's get to all of them, as we discuss all kinds of subjects ranging from comics to...condiments?!
It's that time folks: it's Mailbag time, baby! Let's get to all the questions you fine folks had for me this week, led by a question that semi-answer with the goal of eventually answering to a far, far greater degree.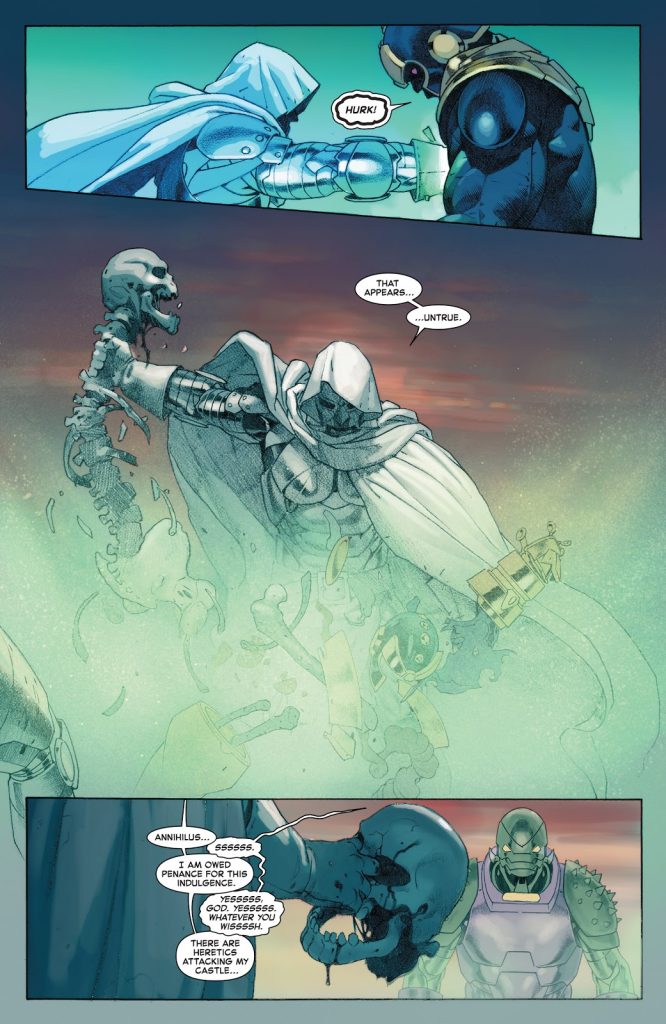 If you were in a coma at a hospital, which superhero (or supervillain, in case your choice is Stilt-Man) would you want to guard your body? – Andrew Tan
Andrew, I love this question so much I think I'm going to turn it into an actual column. So instead of diving deep into it now, I'm going to give you the first answer that came into my head: Doctor Doom. I don't think there's a character in comics that has more multi-faceted abilities to deal with any situation, nor is there anyone I would believe could be better at accomplishing a singular task. As per usual, the difficulty lies in convincing Doom of the need to protect my comatose body. In this situation I will just pretend he's a dedicated listener to the podcast.
James Tynion IV is on a Midas Moment (everything he touches right now is gold) as of late. Which writer AND artist do you think is due for their Midas Moment in 2021? – Paul Hernandez
Writer is easy, and I think I sort of answered this in an earlier mailbag, just in a different way: Ram V. Ram's already having a huge year, after building for the last few years, and with him taking over Venom with Al Ewing as his co-writer – Marvel loves rolling out heir apparents as co-writers – we're going to only see him grow and grow, Midas Moment-wise. Pair that with The Many Deaths of Laila Starr being one of the best titles of the year, Swamp Thing being an absolute killer, and Radio Apocalypse still being on the horizon, and 2021 is looking very nice for Ram.
Artist, I'm going to say Carmen Carnero. She's a hell of a talent. She just needs Marvel to put her in a position where she's drawing the A-list book that matches her talent. The Miles Morales title she's working on should be, but it isn't. Marvel, elevate her! She deserves a top title!
Bonus points: recent podcast guest Maria Frantz is my pick for breakout cartoonist. She's a genius and it's only a matter of time before the world realizes that.
If you could teach one comic to a high school literature class, which comic would it be and what angle would you take on studying it? – Ryan K. Lindsay
This is very difficult, as this is definitely not how my mind works. I would be the worst teacher, and I am not the type of person who looks at any story like this. I'm an enjoyment boy.
That said, if forced to pick one, I'd select Adrian Tomine's The Loneliness of the Long-Distance Cartoonist, and my angle would be how the self and comedy can be used to deliver broadly relevant truths in a work. That's something that greatly impressed me about that graphic novel release, is it's deeply funny and it's all at the expense of Tomine himself, but it isn't self-flagellating in a meaningless way. It's a revealing work, both throughout and in the final point it ends up making. Some might look at stories about yourself are overly navel-gaze-y, and that using humor might indicate a lack of importance. But Tomine is a deft hand at leveraging both, and in a way every storyteller could gain value from learning more about.
What advice would you give a comic shop owner and/or staff on the best way to use social media to the store's benefit? – Chris Burton
I was recently at Torpedo Comics in Las Vegas, and while I was there, they were doing an Instagram Live sale where they were selling variants and comics to followers as they chatted. They were a machine, blowing through comic after comic to people who didn't even need to step foot into the store. So, the obvious answer based off that is to use it to cultivate an active and energetic audience to buy your comics, but that's easier said than done.
The real answer that I would give is something that implies, which is don't just post random crap and hope for the best. The greatest strength of social media isn't getting in front of people, it's activating them and getting them to take action. Use social media as a way to engage and to get people excited for what you're selling, whether that's Live sales, Q&A's via Live, tours of the shop, discussions with customers, exclusive deals, or whatever. Social media at its best is a conversation, not one where you speak at people. So don't speak at people, speak with them is my advice.
Again, easier said than done, but knowing it's a walkie talkie, not a recording device, is key.

Which creators are the most interesting 'business people' in comics? – Ryan Alcock
The obvious answer is Jen Bartel. Jen's a genius on the business side of things, a fiercely talented artist who is equally adept at creating a market for her work and turning that market into power for herself. She has complete control of her career, and it's been a wonder to see.
Elsa Charretier is interesting as well, and for similar reasons. As we covered in her recent appearance on Off Panel, Charretier is making her recent moves on Kickstarter and Patreon and YouTube at least in part because she's trying to find a more sustainable path for her as a creator. Most creators are so mired in trying to keep working coming their way in perpetuity that they would never, ever rethink their entire career. Charretier is doing that, and in a way that's achievable, multi-faceted, and potentially sustainable. It's wonderful to see.
Lastly, I'll pick James Tynion IV. We talked extensively about all of this recently in an interview I did for him on SKTCHD, but in some ways, he's the opposite end of the spectrum as Charretier when it comes to approach. Instead of looking at the market and saying, "What shouldn't I do?" Tynion has looked at his peers and almost picks and chooses the aspects that have worked the best for them, leveraging them for himself. He's like Prometheus from the Grant Morrison Era of JLA, someone who downloads the right answer for each strategic moment when necessary. That's smart, and part of the reason his recent titles have been such successes in considerably different ways.
What, if any, are the comics you've bought multiple times in different formats? – Andrew Tan
God, so many! I have almost all of Bone in single issues, but I also have a number of random trades and the single volume edition. Kaijumax is something I have every issue of, but I'm also getting the gigantic hardcovers. Paper Girls was the same. Y the Last Man, except I don't have the whole series in singles. A lot of Jonathan Hickman's Marvel work I own in single issues, in omnibus or hardcover form, but then, like an idiot, still read on Marvel Unlimited. Those are the first ones that come to my mind, but you would probably be surprised.
The real answer about why this happens is an open secret in comics: as much as many of us love the single issue comic format, it's undeniably annoying to deal with for re-reading purposes. If I really, really love a series, I'll likely eventually buy it in collected form or digitally, just for ease of access.
The rest of this article is for
subscribers only.
Want to read it? A monthly SKTCHD subscription is just $4.99, or the price of one Marvel #1.
Or for the lower rate, you can sign up on our quarterly plan for just $3.99 a month, or the price of one regularly priced comic.
Want the lowest price? Sign up for the Annual Plan, which is just $2.99 a month.
Learn more about what you get with a subscription