Assassin Nation Week: Skybound's EIC Sean Mackiewicz on the Comic Production Process
And we're here: it's the end of our week long look at process of putting a comic book together through the prism of Skybound/Image's Assassin Nation. We've talked to the creative team and the series editor, and today, it comes to a close as Skybound's Senior Vice President and Editor-in-Chief Sean Mackiewicz walking us through the production process on a typical comic book, but, more specifically, Erica Henderson, Kyle Starks and Deron Bennett's Assassin Nation.
I'll be honest: I learned a lot with this interview! While I've talked to a lot of creators about what they do and a lot of editors about what they do, I'd never once considered learning about what the production side of the medium is like. Mackiewicz provides us great insight into what goes into that side of the equation, and it's the perfect conclusion to this week long look at the making of one of the best comic series of 2019.
For a project like Assassin Nation, when it's not explicitly your baby, with it instead being Jon Moisan's baby, how involved are you early on as the Editor-in-Chief at Skybound?
For all new titles, the acquiring editor gets the pitch ready to submit to me to review, before we kick it up to Robert Kirkman and David Alpert (Skybound CEO) for final approval. Sometimes the pitch goes through a round of notes to get it in the best place to succeed. Jon and I had talked about working for Kyle and Erica for years, and once their schedules opened up, this was an easy pitch to approve at every level.
Do you have any interaction with this book on a granular, issue-by-issue basis, or is it more a more broader oversight position?
The editorial team (Jon, associate editor Arielle Basich, myself, and now assistant editor Kate Caudill) reviews all outlines and scripts. No matter who the lead editor is, I want to hear your opinion on the story. Then the lead editor filters those notes to the creative team. Jon, Arielle and myself have worked together for almost four years, and our goals remain the same: enable the creators to make the best version of their story. So we drill down on fundamentals: making sure the story is clear, the characters remain consistent but surprising, and each issue ends in a way that will compel the reader to pick up the next issue.
Hiring the right creators will get you most of the way there. The lead editor then reviews all the art as it comes in, passing it to the rest of the team so we're seeing how each issue is shaping up, but, also, we all love comics and are excited to see designs and finished inks. If we're not excited about a comic, then it's not going to translate to the reader. We all proof every issue, but for ASSASSIN NATION, Jon takes point every step of the way, from pitch to printer.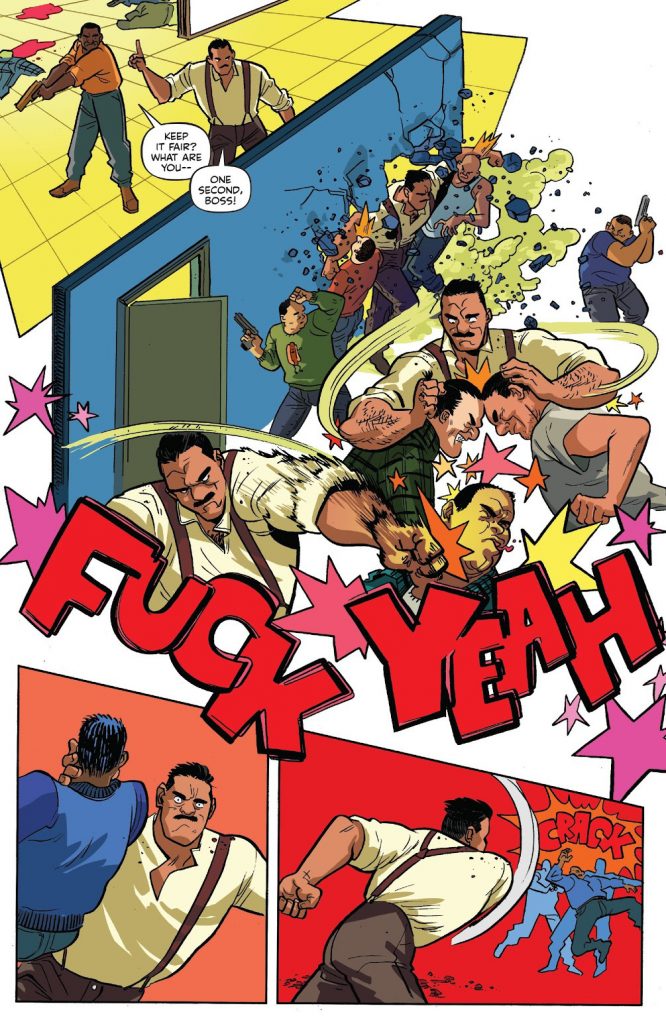 What I really want to talk to you about is the broader production side of things for Skybound, as in everything that goes into making a single issue of a comic, or more specifically, Assassin Nation #3 besides the actual creative side of things. Let's start at the beginning. When does the production side of the book actually start? Is there anything that you all do before the book is finalized creatively to start laying the groundwork for production?
We have editorial meetings four times a week, which our production/design team of Andres Juarez and Carina Taylor attend. So they hear about new titles many, many months in advance of having to start working on them. Once the first pages come in, they'll doublecheck that the art is formatted correctly. Once the first cover is done, their work starts in earnest with logo design. Once the logo is approved in-house and by the creators, they finish designing the cover trade dress and the rest of the design materials (IFC—which includes credits, masthead and indicia, letters page, back cover, etc).
Let's take a step back, perhaps. Besides the actual print production process, what are other important milestones and parts of the overall process for releasing an issue like Assassin Nation #3? Things like solicitation or broader promotion or anything like that. Are elements like that part of a larger internal process for Skybound, and how much of that brings the creative team in?
We've launched enough books in my almost 7 years, that there's a regular cadence. It's tough to talk about how a third issue is produced without factoring in the two that come before it. We always get three issues entirely done—usually more—before even soliciting a title. That ensures, especially on a 5-issue mini, that each issue will come out on time, which is essential for the retailer to commit to a series and remain confident in selling it month after month to the fans that expect to buy it. We knew that Kyle and Erica would be going to Emerald City Comic-Con, so we wanted to make sure the first issue was out by then to promote… so we cheated a bit here. #3 was lettered mid-February, which was still two months in advance of printing it.
Once we schedule a title, we loop in publicity and online/social teams to plan everything needed from announcement through the first issue's onsale date. Those plans are split in how we communicate to our two audiences: retailers and consumers. The info that each audience needs is different; we usually share up to 3 issues with retailers before the first issue FOCs, while Kat Salazar at Image helped us line up a press tour of different ASSASSIN NATION characters being interviewed on different comic websites so readers could get an early offering on their oddball personalities.
The creative team is involved as much as they desire; we encourage creators to send us promotional ideas, target websites or contacts, so we can tailor the marketing per title. I'm sure Kyle liked answering questions as Fuck Tarkington more than himself. So much so he's started fielding questions for the letters page as different assassins.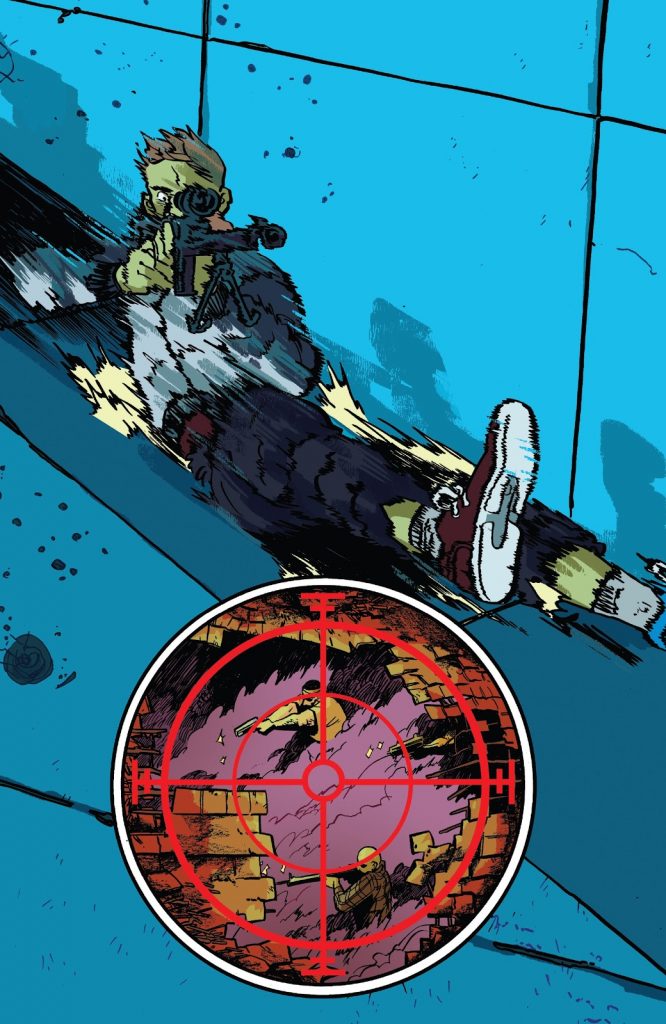 When it comes to Skybound titles, is the paper stock and everything standardized across the line, or is some of that left up to the creative teams involved?
Paper stock is largely uniform (until recently we were using Liberty Matte #60), but there's room for variance… especially if you're Robert Kirkman. He wanted a thicker cover stock on OBLIVION SONG and DIE!DIE!DIE!. The rest of our line is self-cover, meaning the cover stock is the same as the interior pages.
I know this is a sprawling question perhaps, but once the issue is completed, what happens next, and what's the process as the comic goes from finalized and approved lettering to an actual print comic that's ready to ship?
Once the colors are final, we have the writer take their final dialogue pass, then get it lettered and proofed. We set a lot of artificial deadlines on ourselves to work ahead of the set-in-stone production deadlines. It saves us a lot of stress and late Fridays, plus we can share the series with the rest of Skybound, so our co-workers can read it and see if there are opportunities to expand the comic in their departments, such as film/tv, video games, and biz dev (merch, tabletop games).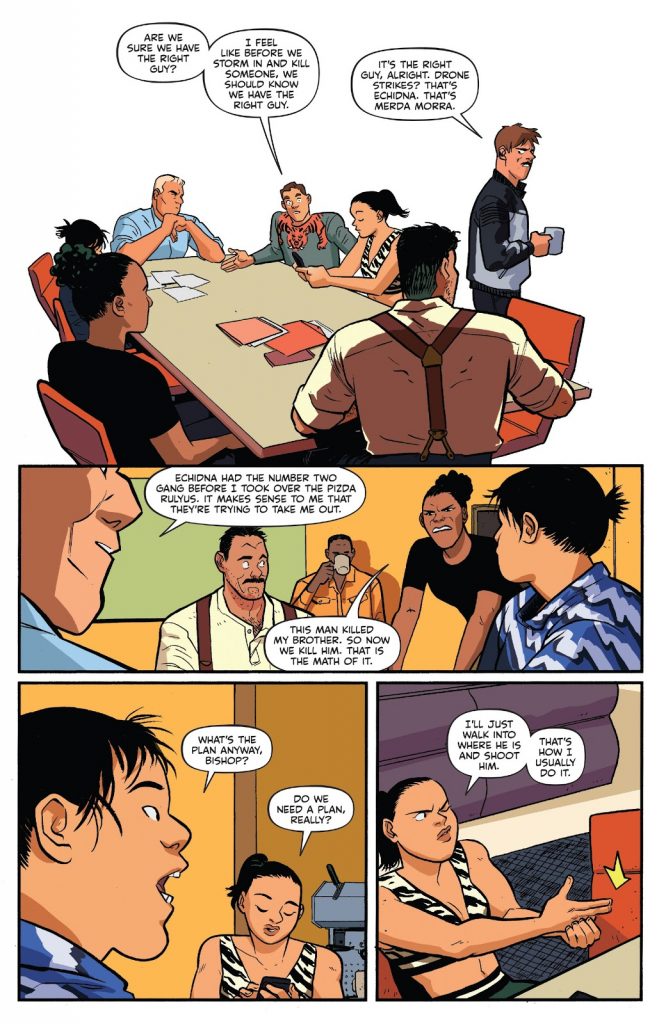 Does that actual final production process involve the creative team? Or is that largely on the Skybound team?
The creative team reviews all design assets in the early stages to make sure they fit the look of the book, and Andres and Carina do such a great job that usually only minor changes are made. The only thing left to do every month is answer all the letters that come pouring in.
At what point is this side of things done and you're officially done with this process? Is that release or delivery to distribution? Or is something else?
It feels like we're never officially done with anything. There's a sense of relief once we approve files at the printer and they're packaged up for digital platforms, and there's the satisfaction of receiving printed copies a week later and hope there's no printing errors… but eventually we assemble all these issues for the trade, and maybe review again should the collection be reprinted, or we do a hardcover… or have to deliver assets to another internal department… Mostly, we just try to enjoy the weekend before coming back in Monday and check in with the creative team to see if they're doing everything they're supposed to for the next issue that goes to print in less than a month. Never. The. End.
That's it! Thanks for reading Assassin Nation Week, in which we talked with the key players involved with the Skybound/Image series about how an issue of a comic is put together from beginning to end. If you've enjoyed this content, consider subscribing to SKTCHD to more like this on the regular!