"Things Are Good:" A Fourth Quarter Temperature Check with Comics Retail
It's a weird year. That goes without saying, given the…*gestures everywhere* nature of 2020. But it's certainly no different in comics, especially in the direct market where product release schedules are unpredictable, distribution options are shifting, and comic shops are open or closed depending on the whims of varying levels of government. Pair that with a healthy dose of demand shock, and you have a year of uncertainty for retailers everywhere.
And yet, comic shops persevere.
As much as some might suggest it's the apocalypse out there – and it's certainly not ideal, of course – shops I've spoken to have suggested a range of experiences, ranging from "fine" to "record setting" levels. That's worth remembering when some level of doom and gloom sets in, as comic retailers are a resilient lot, with the ideas and effort it takes to both find new solutions and make them work.
While there are plenty of others outside of those I talk to, I still thought it would be worthwhile to have a fourth quarter check-in with comic shops to see how things are going on a smaller scale before my big end-of-the-year feature that comes each January. If you're interested in how things are going in comics retail, what they're facing, and what they've thought of some recent changes at the Big Two, I have good news: that's what we're going to be looking at today.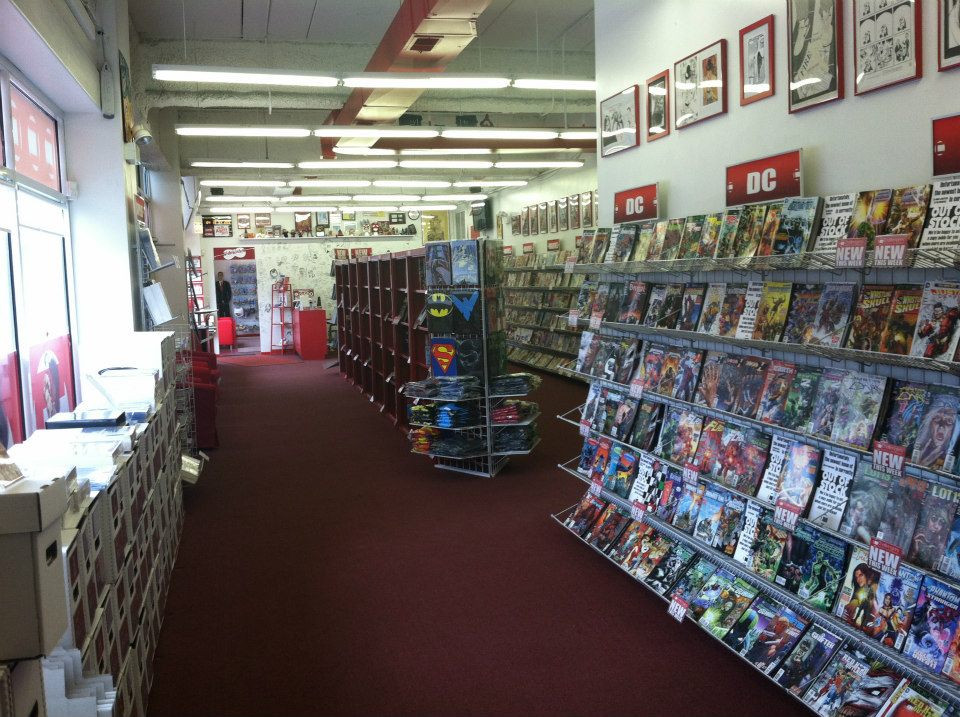 Let's start with the basics: how are things right now, both in terms of shop performance and what your situation is in terms of running it?
Steve Anderson, Third Eye Comics: Things are good. Business is good. We're seeing very strong sales in all categories, and having a strong year.
Patrick Brower, Challengers Comics + Conversation: Trying to answer these questions while listening to the current Presidential debate is a huge (yuge?) mistake…
Things are good. Solid. We're used to our new routines and while there's much more work involved, we're getting it done. We just changed our point-of-sale program from Microsoft RMS to the newer RMH (Retail Management Hero) and it's been a fairly smooth transition. We had the benefit of learning RMH in our (now officially closed in the eyes of the City of Chicago) former second location, so we knew it, but using it 100% of the time is getting easier and the sales transaction aspect is actually easier to use, for our co-workers that have never learned it before.
Ralph DiBernardo, Jetpack Comics: Things are good. Business is good but it's a lot more work to bring in the same $$. We've had to increase payroll as well, so technically it's costing us more to keep things level.
Plus my hours are way up. In the end it's all good. We've got brick and mortar retail commerce happening and people coming in the store. The big downside is the glut of non-comic product finally coming in. It's stuff we ordered along time ago so we have to take it, but if given the chance we would have reduced or cut out a ton of it. Especially the things that released while Diamond was shut down. We're just getting those all months late.  Dead on arrival. There's no one to blame for it but I expect to be reducing price on a lot of product leading into Christmas. 
John Hendrick, Big Bang Comics: Polite answer is fluid!
Real answer is that we are in a state of flux much like everyone else. Performance-wise we were amazingly busy the last while, and that meant that despite being closed March to June we were actually recovering from that closure period.
That could all change now as we just started our second lockdown, we are closed to the public now until December 1st because of the worsening situation with Covid.
Jen King, Space Cadets Collection Collection: It feels like customers are still coming in, but not on the usual days and not the same frequency. They seem genuinely thankful for somewhere to come and feel "normal" but I can tell that money is tighter for everyone.
Eitan Manhoff, Cape & Cowl Comics: Things are going pretty well for us, all things considered. We are still closed to the public for browsing and have been for over seven months straight now. It is becoming slightly harder to maintain this status quo as people definitely seem to be questioning the decision a bit more often. Shoot, we question it pretty often ourselves. For now though, it feels like the right decision for us. Plus, we're expanding! Even if we opened up to the public today we'd have to kick them out in a few weeks when we start blasting down our back wall and begin the construction to double the size of the shop!
Brandon Schatz, Variant Edition: The shop's performance is better than ever, which comes with a strange sense of "survivor's guilt." So the full situation seems to be "doing well enough to get anxious." Owning a small business is fun.
The rest of this article is for
subscribers only.
Want to read it? A monthly SKTCHD subscription is just $4.99, or the price of one Marvel #1.
Or for the lower rate, you can sign up on our quarterly plan for just $3.99 a month, or the price of one regularly priced comic.
Want only the longform content? Sign up for the monthly longforms only plan, which is just $2.99 a month.
Learn more about what you get with a subscription
---
He seems to be right about that!↩