I Had Another Comic Book Garage Sale. I Learned a Lot from my Customers.
I've told this story before, but while the cliché idea that everyone who writes about comics wants to make their own might often be true, it isn't for me. I have zero interest in writing or drawing comics. The same goes for lettering, coloring, or editing them. I just like writing and podcasting about them! This all started back in 2009 because I loved comics and I wanted a way to express my thoughts about them. That was, and is, the full story. However, if there is one job I could have in comics, it wouldn't be on the creative side. It'd be owning my own comic shop.
I know what you're thinking.
David.
You're an insane person.
That might be true, but it would be unrelated. I just have always loved comic shops! They're a core part of my fandom, as tethered to my passion for the medium as the people who make the comics in some ways. So, when I was thinking of how I might be able to streamline my comic book collection a few years ago — I have about 39 complete long boxes in single issues alone – so I can focus more on the comics I love and the comics I currently read, 17 — I came up with the idea of opening my own comic book shop in my garage. Yes, that is effectively just a comic book garage sale. But in its own way, it was like me owning my own shop, albeit only for a weekend.
Quick aside. If you're curious as to how I decided what to keep, the answer was typically built on two variables: recency and personal love. Value was not a deciding factor. One box that I kept entirely intact only contained four titles (or, I should say, families of titles in some cases). Those were Hellboy/B.P.R.D., Hitman, Head Lopper, and Hourman, the Tom Peyer/Rags Morales DC series from the turn of the century about the Android version of that character. Most fans would probably toss the latter in the quarter bin and be done with it. Not I! It was never in danger. I love that book.
Back to the garage sale itself, though. Both times I did it proved to be massively successful. I cleared a ton of space, made a little money, and brought joy to some people's lives over a couple day period, especially last time. I had always meant to do it again, but pandemics have a weird way of making a person not want to invite a bunch of strangers into their garage. With things semi­-normalizing, though, I decided to run it back and open my shop once again. This time there would be some changes, though, with those built from learnings over the past couple sales.
First, it would be one day only. My previous efforts were two days, Saturday and Sunday, with Sunday always being dead. I thought that was due to interest being front loaded. This one would be Sunday only. Second, after discovering that several of my 50 cent comics were more like $50 to $200 comics in this new, insane collectors' market, I endeavored to carefully go through every comic I own to make sure I didn't get got again. That was a ton of work. 39 long boxes is a considerable amount of comics to go through.
My wife and I spent a decent chunk of Saturday setting up the sale, putting up the tables, decorating the space, bringing the boxes out, organizing them into 25, 50 cent and $1 boxes, a selection of free books, 18 a box full of bundles, 19 two boxes of keys, and a check out table with a spinner rack loaded with my most valuable comics next to it. Oh, and a small selection of SKTCHD BOOK 2021 for sale with Off Panel stickers and business cards to give away. There was even a station at the entrance with Purell, masks if anyone so desired, and a selection of free kids graphic novels for any that stopped by. It was lovely.
While previous editions saw 45+ visitors each time — over two days, though — this one only had 32. 20 But it was an energetic 32, with nearly everyone buying something, many of whom bought over $50 worth of comics. It was a whirlwind day, exhausting me even as I had a blast. As I tend to do with people, I quizzed customers about their interests and connection to the medium while they visited. I learned a lot in the process. Here are the biggest takeaways from my rather interesting day as a comic book retailer.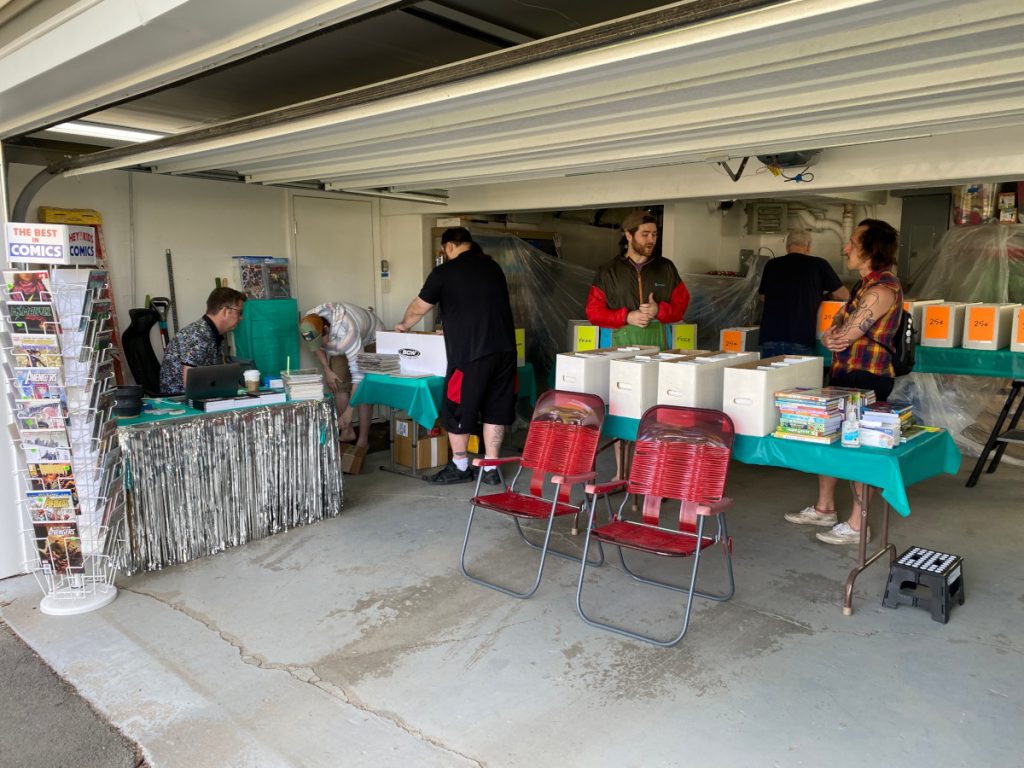 A LOT of People Got into Comics in the Past Couple Years
When I last did one of these sales, nearly every single non-child customer was a long-time fan of the comic book arts. Grizzled veterans, each and all, these folks were enthusiastic browsers, cruising through every box in hopes of finding secret treasures, as we all are. There was a certain amount of homogeny to the experience, outside of the occasional outlier. 21
Not this time.
A decent number who showed up told me they had just started or gotten back into collecting comics during the pandemic, falling back in love with the medium or discovering the magic of it in the process. The range was broad but passion was real — I'd say these customers were largely the most enthusiastic who visited, as they weren't jaded like hardened long-timers like yours truly 22 Which I should note is a perfectly valid way to approach comics! Everyone engages in different ways. That's not my way. But if it's yours, that's cool!
Some newer creators did earn some love. Both James Tynion IV and Jen Bartel were mentioned as draws. Perhaps it's not surprising that arguably the most collector friendly writer and a renowned cover artist fit in well with this lot, given how they seemed to be collectors. It was still interesting to learn, though!
The rest of this article is for
subscribers only.
Want to read it? A monthly SKTCHD subscription is just $4.99, or the price of one Marvel #1.
Or for the lower rate, you can sign up on our quarterly plan for just $3.99 a month, or the price of one regularly priced comic.
Want the lowest price? Sign up for the Annual Plan, which is just $2.99 a month.
Learn more about what you get with a subscription