Good, Bad and Everything In-Between: A Look at the Year in Comic Book Retail
The comic industry is in an interesting place. While 2015 was a good year overall, things can look different under the microscope. Because of the splintered nature of comics, it all depends on what part of the business you're looking at too. It's possible that readers can be euphoric and the industry could be growing while major publishers are faltering. And comic shops, the waypoint between publishers and readers, can be in a thousand different places depending on an assortment of variables. Yet comic shops, despite all their differences, are the pulse of comics.
They'll be our focus today as we look at how 2015 was and how things are looking going forward for several shops. This isn't meant to represent the entire industry, of course. It's just a look at what a cross-section of shops are seeing these days. To start with, we have the million-dollar question: how was 2015? In short, most retailers found it to be a mix of good and bad, although it depended on whom you asked.
"This year was good, bad and everything in between," shared Scott Tomlin of Comics Dungeon in Seattle. "We had our best month ever and our second worst month ever. As a retailer, this was one of the hardest years to predict in the last decade. We got it right most of the time but flamed out on a few titles."
"(We) has had a very good year in comics," said Jen King, owner of Space Cadets Collection Collection in Oak Ridge North, Texas. "Our growth in that department is incredibly strong, driven by our independent comic title sales."
Patrick Brower of the Eisner winning Challengers Comics + Conversation in Chicago found it to be a solid but unspectacular year. They made more money in 2015 but spent more to get there.
"2015 as a whole was up 3.5% over 2014, but we spent 7.68% more to do it," saired Brower. "Neither of those are bad numbers, and the percentages in each of them are not equal to each other, but who wouldn't want to earn more by spending less?"
"2015 will go down as a (small) victory as far as sales go."
Ralph DiBernardo of Jetpack Comics in Rochester, New Hampshire called it an "interesting year" for his shop. In-store Jetpack did well but his online sales dwindled (the latter due to huge growth in competition). Overall, though, "there are more people coming into comic shops than ever before in the past ten years," he said. He mentioned a significant reason for that.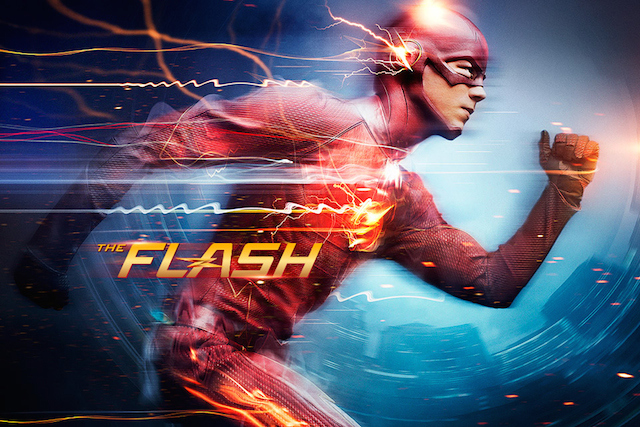 "Disney has done a great job of increasing comic shop traffic. Warner Brothers shows like The Flash and Green Arrow bring people in, and every TV/movie announcement brings even more people in the door," DiBernardo shared. "Of course, the Walking Dead juggernaut continues to bring in new fans. The mainstream love of comic characters and comic storylines has done nothing but good for everyone involved in the industry."
Movies and TV shows undoubtedly helped bring customers into shops. But some found that other decisions by Disney and Warner Brothers' comic subsidiaries led to one of the major cons in a year of pros.
"2015 was a great year for us – and for comics – up until the last quarter," shared Chris Thompson of Orbital Comics. "I think you'll find a similar story across the board – Brian Hibbs wrote a great piece about it – but basically it's the story of how the Big Two screwed over retailers with a series of late or mediocre books that (courtesy of the direct market) were not returnable."
"This is nothing new – and it's a system we generally understand (despite its archaic nature). But this time a lot of retailers were caught with stock they simply couldn't shift."
Those sentiments were shared by several retailers who commented on this piece, but we'll get to those later. One point it underlines is how the year faded as it went along. While the year started with a bang, many found that it ended with a whimper.
Still, others had great years with banner achievements at their shops, like Jason Leivian of Floating World Comics in Portland, Oregon.
"It's always fun for me, lot of cool stuff happening," said Leivian. "We also publish books and this was the year that we finally got distribution through Diamond and Consortium/Perseus. So that was a huge, necessary step forward."
Two shops moved to new, larger locations this year. Those were game changing moves for their present and future.
"2015 was a year of massive changes for us," said John Hendrick of Big Bang Comics in Dublin, Ireland. "Our previous store was about 700 sq. ft.. We had been punching well above our weight in there for the better part of two years and were over trading as such. I knew to keep the momentum going we had to move. Luckily our new unit came up for lease and we were able to agree terms. We now have 3500 sq. ft. to grow into over the next few years and growth came pretty quickly."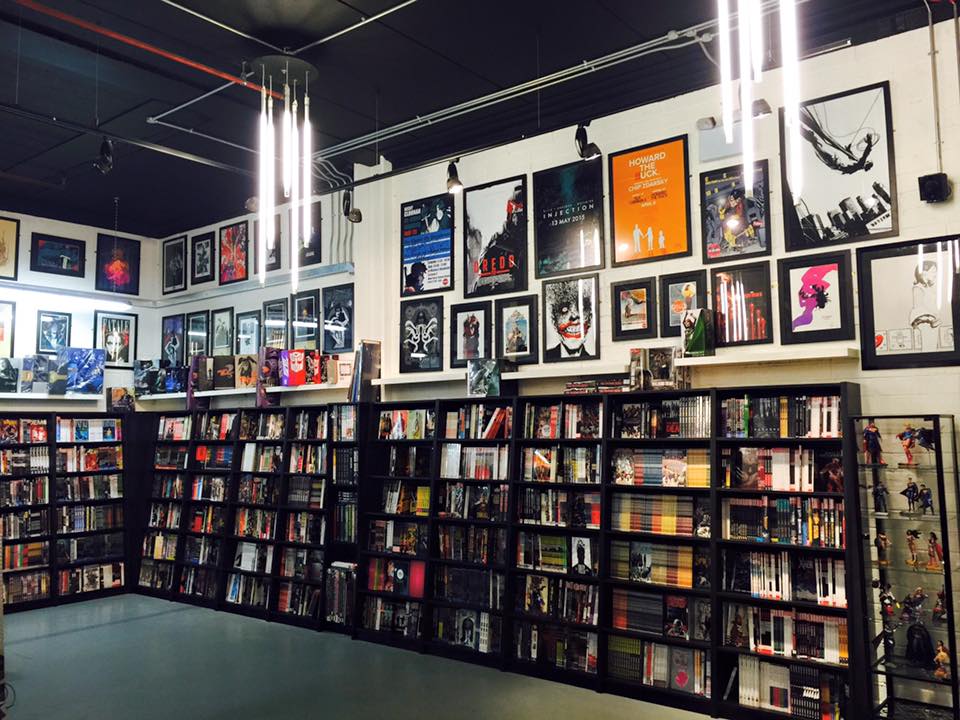 "This meant all of a sudden we could carry books we loved in deeper quantities and display them better. That straightaway affected sales throughout the store. We started selling more books almost instantaneously and comics gradually followed suit," he said. "As time went on we were selling out of titles we'd previously have plenty of shelf stock for after orders. So the rush to FOC's (final order cutoff) was on each and every week. But it was, and to a degree is, still a learning curve even now."
Matthew Klokel co-owns Fantom Comics in Washington D.C.. He called 2015 "a significantly better (year) than last year." Their move played a part in that.
"Our comic sales were up 21% and our graphic novel sales were up 26%," said Klokel, who added the numbers might change a bit once he cleans them up. "Overall, our revenue was a healthy 30% higher in 2015 over 2014, which was previously our best-ever year. Some of this is probably due to 2015 being our first full year in our new, larger location. But a lot has to do with the staff focusing intensely on new comics they love and making sure the right customers hear about them."
"Point is: the demand is out there. You just have to make the effort to connect those people with the comics they'd love but might not know exist."
That's the biggest takeaway from what the retailers had to say, or at least the one shared most across-the-board. Because of the varied hand publishers dealt retailers, 2015 was a year where shops had to be on their toes. There's a lot of good out there, but there's also a lot of bad. That meant shops had to be proactive in selling and reactive to what wasn't, and how effective they managed inventory decided their success to a degree.
But what were the high points and what were the low? Shops had many thoughts on that, but let's start with the good in what was mostly a solid year.
---
What's Working
One thing to remember about retailers is most didn't get into the business to make money. Sure, in an ideal situation that's what they do. But they got into comics because they love them. And what excites many of them isn't just how good the best of the medium is these days; it's how diverse they are and how that is leading to new, different readers.
"I've been heartened to see the broad audience comics are continuing to attract," shared Thompson. "People of all ages, backgrounds and nationalities are exploring this wonderful world we inhabit, and they're being met by a whole range of content designed to appeal to them. There really are comics for everybody!"
"The continued diversification of content, audience, and creators is the most exciting thing I've seen in comics for a long time. I can't think of a time when this has been more the case," he added. "Whichever way your tastes skew, there's something for you."
"That level of inclusion is what's been missing for a while."
"Overall, the theme that has our shop most excited is the vast diversity in readers and content," said Tomlin. "We have seen a marked change in the demographics of our clientele. This is exciting for the industry if (it) can meet the need."
Hendrick has found that as his customer base shifts and grows, readers are moving past the tried and true hits of the biggest publishers. Customers are looking to Image, Boom!, Black Mask and others for reads that align more with their interests. That's a good thing.
"I think we've done very well capturing casual customers and turning them into regular customers," said Hendrick. "I think that success is down to a mix of a lot of things. Having the right staff, the right ambience in store…but mostly it's far easier for us to have titles that appeal to a much broader demographic."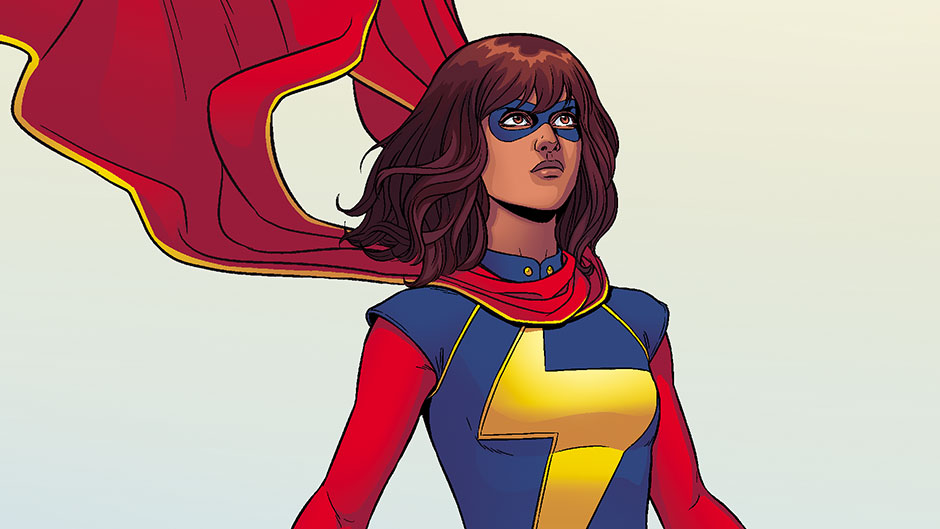 "Three books that pop into my mind are Gotham Academy, Batgirl and Ms. Marvel. Those titles sell to everybody at every age. And luckily there's a whole lot more of those options out there for us retailers to stock and sell from a lot of publishers."
Hendrick admits, "it helps that generally right now the quality of books from publishers is really high," and that's something Brower agrees with.
"It is such a great time to be a comics fan right now! The quality, the diversity, the slightly-better-than-last-year gender representation. So many positives," Brower said.
While most overlapped on the comics that are leading the way, the books that move at one shop showcase the impact of comics at the center of the good/diverse Venn diagram.
"Marvel and DC are not the bestsellers at my shop. It's indie, genre, literary and foreign comics," shared Leivian. "It's a real pleasure to specialize in such a wide variety of quality books. It's also wonderful to see so many new readers, a lot of diversity and diverse tastes."
His top seller list included Jillian Tamaki's SuperMutant Magic Academy, Michel Fiffe's Copra and Junji Ito's Cat Diary. That's incredible. It's great to see that a shop with a different spin on things can succeed in today's industry.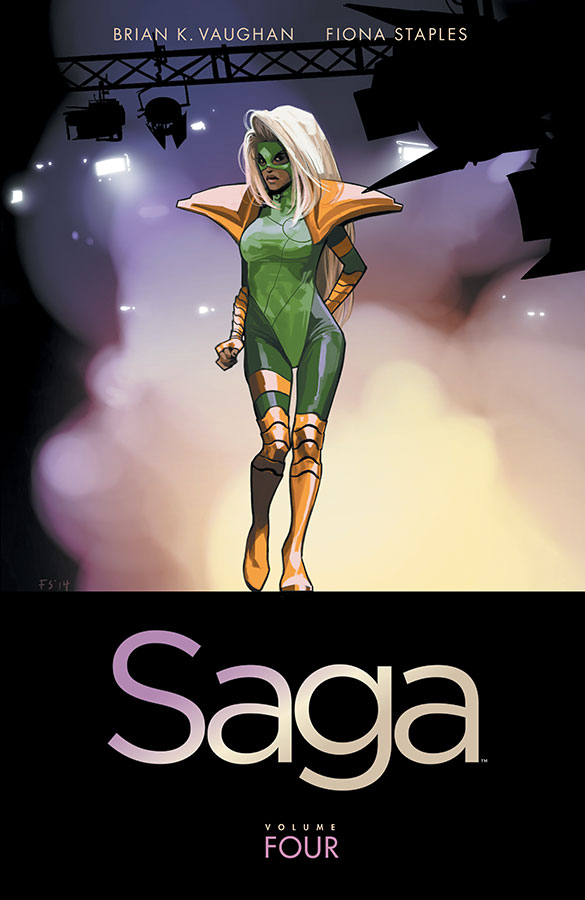 That said, his top seller was the same runaway freight train that led the way for several others: Saga.
"Saga accounted for 2.5% of our total sales this year," said Leivian.
Brower found that all of the work of that book's writer – not just Saga – excelled.
"Brian K. Vaughan kind of dominates our sales charts," he said. "Saga and Paper Girls have the most subscriber pulls. All seven issues of Saga released in 2015 are in our top 25 single issue sales for the year, as are the three 2015 issues of Paper Girls (four of the six issues of We Stand on Guard made our top 100)."
Besides the cottage industry that is BKV, Marvel's Star Wars titles were the commonality between most shops.
"There are three clear winners in our shop this year: Star Wars, Darth Vader and Saga. These books sell nearly 25% more than their nearest competition," said Tomlin.
King's shop found that predictable favorites like the Star Wars line, Secret Wars and Image's titles did well. But her best seller list had one surprise.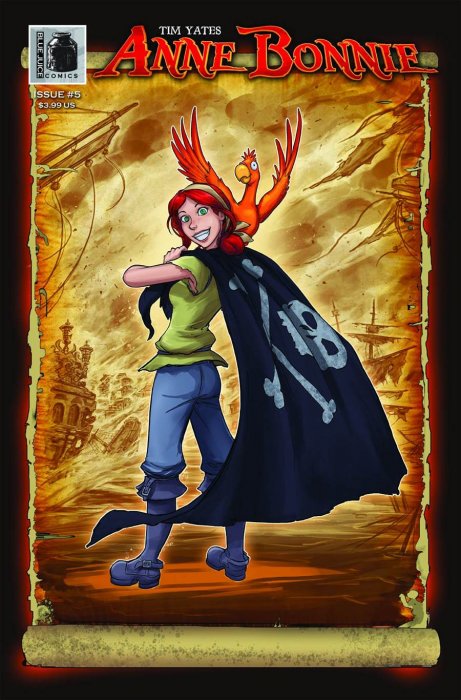 "Now hold on to your hats for what sold third best in our store: a little independent called Anne Bonnie by Blue Juice Studios," she said. "It is a gem of a book and easy to recommend and sell. We have 100% returnability that we offer to our customers and not a single copy of hundreds and hundreds has been returned."
That underlines one of the key points for these shops: there's a significant correlation between what retailers push and what sells in-store. Of course, that makes sense. But it makes a huge difference. If a book, creator or publisher has buy-in from shops, even an unexpected title like Anne Bonnie could lead the way. It's why handselling – or having shop employees speak with customers and recommend books they may like – is so essential to the success of a book.
"I've got this dumb saying the staff hate in here," said Hendrick. "'It's better to recommend a good book than make a quick buck.' Apparently it makes me sound old and uncool but luckily everyone here takes it on board."
"It's a lot easier to get someone excited about a series if you're excited yourself for it. I think there's a lot of exciting books out there right now and the quality has never really been higher."
A perfect example of what he's talking about is a recent experience my friend and I had at Leivian's shop. We stopped by and manager Shanna Matuszak guided us both to an array of great books we might not have picked up otherwise. Here's the best part: my friend wasn't a regular comic reader before then. Typically, he'd only read mine. He sent me the following picture after a follow-up trip to the shop.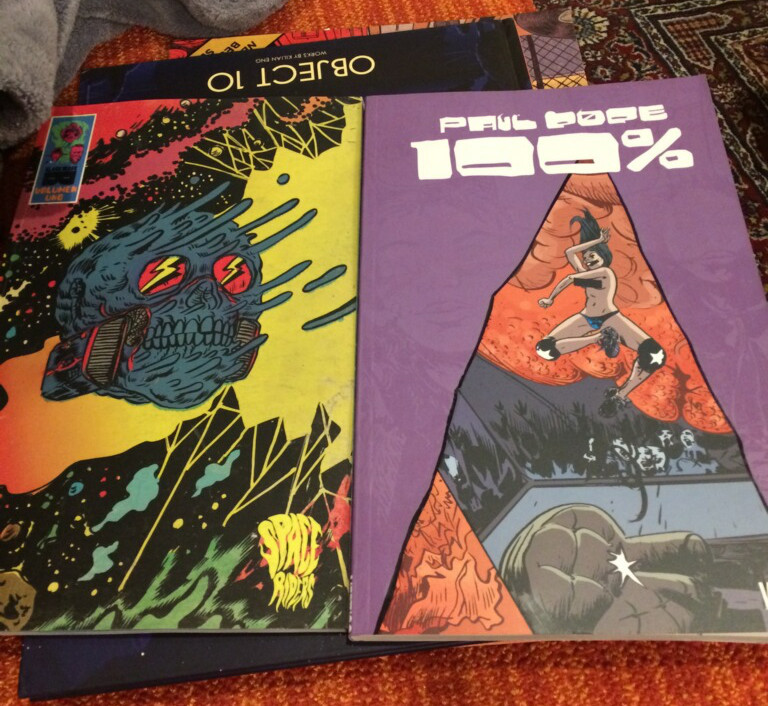 Like I said, handselling can make a huge difference. It's why Valiant's titles are top sellers at Tomlin's store and why Island #1 was the best selling book for Klokel's shop.
"My takeaway from such an unlikely book doing so well is that if you have dedicated staff members that really support a book they love, you can really move it," said Klokel.
Recommendations can change everything for a title. That's why King's shop allows employees to "check out" titles for 24 hours so "they can better understand the products they are recommending."
"It is a program that we use and it shows in our sales numbers," she added.
Another lift at shops has been the general boom of graphic novels and trade paperbacks. Hendrick shared, "(Big Bang) was always a very heavy graphic novel store, but the rate of increased sales in the new location surprised even me. And I'm the book buyer here."
Ed Sherman of Rising Sun Comics in San Diego saw enormous growth in that segment, with graphic novels rising 38% year-to-year.
"Graphic novels have exploded," he said. "I believe it is due to the treasure trove of creator-owned properties being produced by the smaller publishers with Image leading the way."
Sherman shared that that Image sold more trades than DC and Marvel combined in 2015, and that brings up an interesting wrinkle to the year: the impact of price. While Image's $9.99 first volume trades is a boon – Hendrick said, "a huge factor in increased GN sales is Image's $9.99 price point on (first volumes)" – a common theme from several retailers was how price doesn't matter if the quality is there.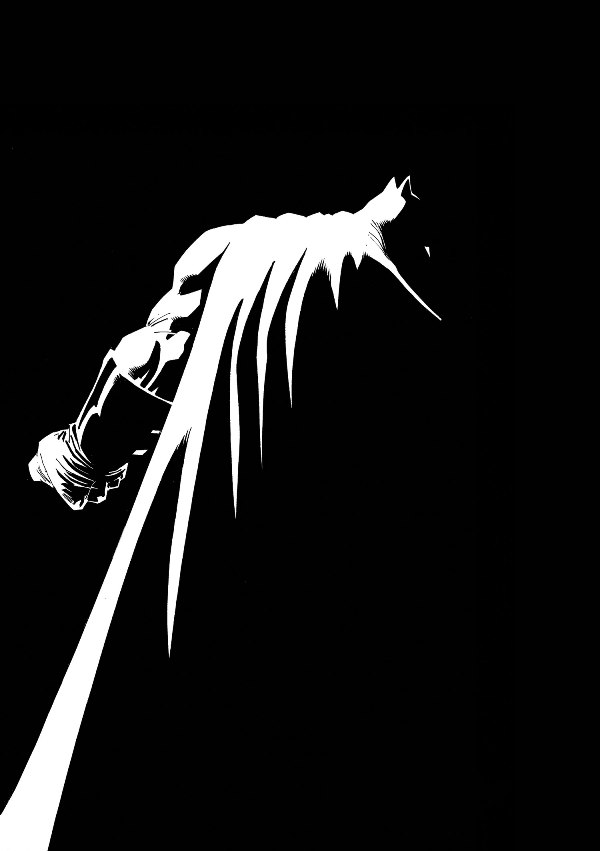 "Pricing is an issue if the content or value of the book does not keep up with the increasing prices," said Leivian. "$5.99 for an 'event' book like Dark Knight III is expected. It's printed on nice paper, there's a media blitz. Slapping $4.99 on a #1 issue that's printed on fragile paper with a self cover feels crass and diminishing."
Others echoed that sentiment. It's effectively the comic book cost/benefit analysis, and mostly, readers buy comics of all prices…if they're good.
"I see again and again: our customers don't complain about the cost of their comics; they gripe about the quality," said Klokel.
DiBernardo is so convinced that price doesn't matter as much as it used to that he believes "anyone pricing their comic book less than $3.99 is leaving money on the table."
"When the industry standard became $3.99 and the world stopped complaining about it, it became the time to change your pricing," he said. "There are so few comics that are $2.99 or $3.50 now it just isn't a selling point. People are more interested in quality for their money than saving a dollar."
The last point to emphasize is something both Hendrick and Klokel saw: the value of events and signings. In 2015, community became the biggest focus for Klokel's shop. It helped Fantom Comics become the only shop I spoke to that performed better in the latter half of the year.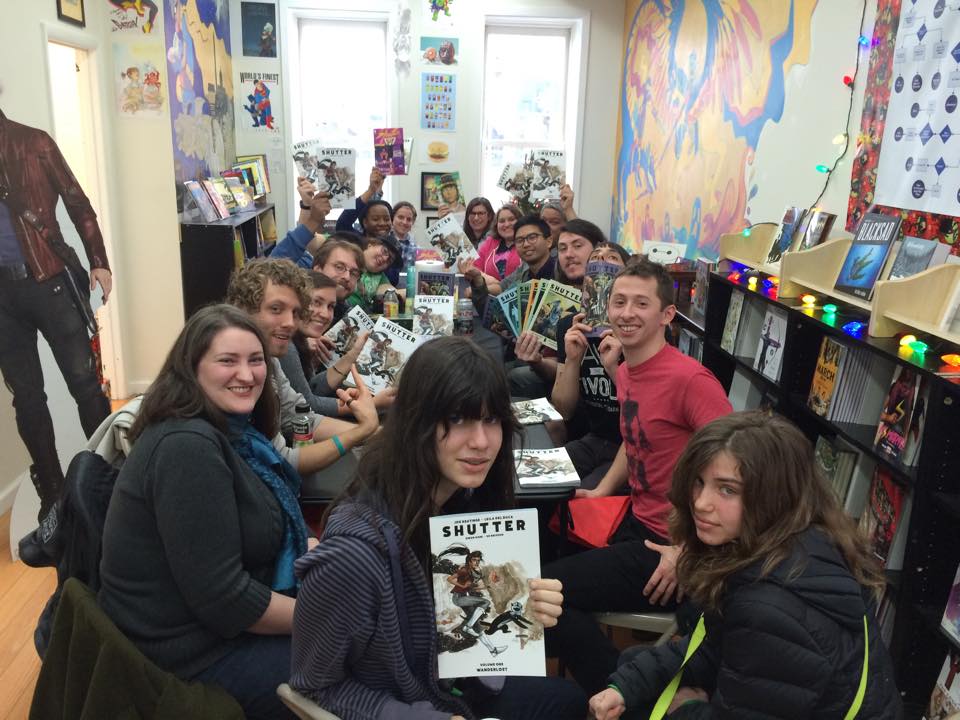 "It did change (referring to performance throughout the year), and definitely for the better, but for internal reasons more than anything relating to the state of the industry," he said. "We started really hitting our stride mid-summer with our event schedule and it's been a boon for business."
Meanwhile, Big Bang's new space has a beautiful designated area for signings. That was something they took great advantage of. The shop hosted creators like Jason Latour, Ivan Brandon and Jeff Lemire, and because of that, the sales of their respective titles soared. That's part of the reason Hendrick thinks it's important for creators to interact with fans and shops.
"I think that creators are more inclined now to work with retailers and do stuff thanks to social media," he said. "If you use those platforms and cultivate those relationships and give back to your customers by doing events, you'll get more back in the long term."
---
What Isn't Working
Just like with what's leading the way for retailers in a positive way, there was significant overlap in what's hampering shops these days. And it all starts at the top.
"With two major publishers relaunching their whole lines, I can't point to anything either of them has done to bring in new readers," said Brower. "It seems they, especially Marvel, just keep marketing to the retailer and existing consumers rather than use the Disney PR machine to bring in new or lapsed readers. Even the Star Wars books, which have been amazing sellers, are only really reaching existing comic readers."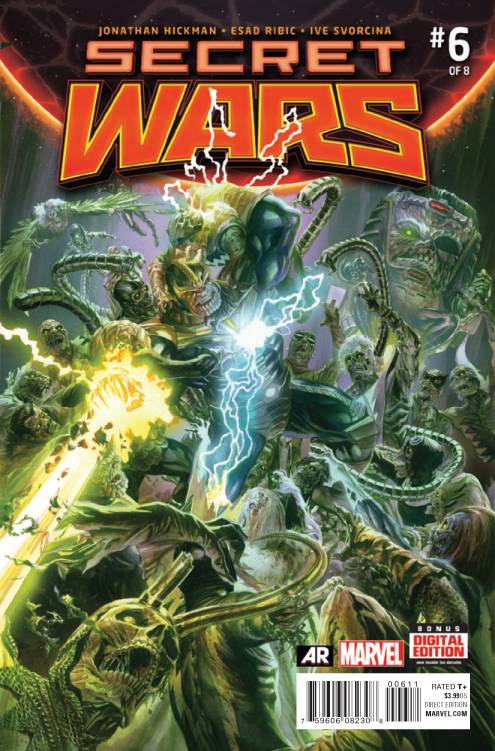 We'll start with Marvel, as they were the most often cited headache for shops. It's not new but the Secret Wars delays and the All-New All-Different relaunch have cannibalized each other to a degree. Beyond that, yet another set of debuts proved to be anything but a plus for most.
"I just think people are easily looking at those number one's as jumping off points as opposed to jumping on points," said Hendrick. "I can't really blame them."
DiBernardo found that Marvel's changes just didn't work at his shop.
"The newest Marvel non-reboot has disappointed tremendously. The delays have cost us sales and fans. The deadlines that are merely suggestions really hurt our industry overall," he said. "Marvel sales, in store, per issue, are lower than they were pre-Secret Wars. Perhaps consumers are finally sick of the reboots and alternate covers."
He also cited Marvel's release strategy as an issue, and used the vaunted Star Wars line as an example.
"If Marvel dropped a Star Wars title every week, fans would come in every week to get the next issue," he said. "When you have a week that there isn't a new one, you give them the chance to forget. Skip two and they lose interest in coming back. When you drop three or four in one week, you risk pricing them out of the market."
Marvel and DC had one major negative in common: a gap in publishing caused by a line-wide event. That hurt more than helped, according to Brower.
"It was such a weird year, with both Marvel and DC ceasing their existing publishing lines for a few months and replacing their whole lines with event-based mini-series," he said. "So many of the returning books returned at their pre-Secret Wars numbers or below. Almost all of DC's post-Convergence returns were down from before the event. And new books like Prez and Omega Men that we loved are having a really hard time finding readers. Telos and Titans Hunt were dead from the start."
It's not just the books Brower mentioned, though. Hendrick found that outside the Bat line, selling DC books is tough sledding.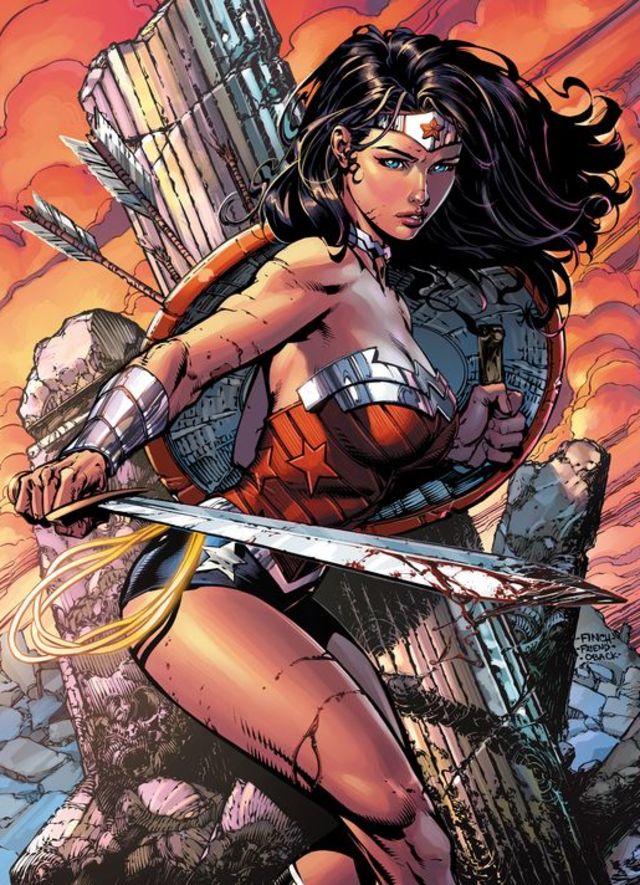 "As of now, Wonder Woman is selling just four percent of what Batman sells," he said. "We're seeing a decline in their new titles almost immediately and that was a hard trend for us to take. As much as we pushed a book like Omega Men (which is gorgeous, by the way), people just didn't connect to it."
"We've seen this with quite a few of their books now and I'm hoping whatever new direction they take, the non Bat-family of books will see their sales come back up."
Tomlin's been a self-professed DC fan for "decades," and even he struggled to recommend much from them this year.
"DC dropped the ball this year," he said. "Convergence was one of the worst 'events' ever produced by the company. It was so bad that we immediately started seeing people cancel their DC books."
"DC is down nearly 30% for us year-over-year."
Leivian shared that DC's books started "pretty low" for him, a lot of them "actually picked up readers, which is rare." While that's heartening to hear, Sherman may have covered the publishing giant's status well for most: "DC is in collapse as I write this."
Many of these problems are exacerbated by something mentioned in our look at DC's recent problems: the volume of comics being released today.
"In this humble retailer's opinion, Marvel and DC would be better served significantly decreasing the number of titles they put out and investing that money into the quality of the ones that remain," said Klokel. If there's one point from this whole piece everyone would agree to, it might be that. But it isn't just Marvel and DC.
"The two publishers that have been dominating recently – Image and Kaboom – continue to do so. But there seems to be a sense that the market could get flooded with too many new series," said Leivian. "I see a lot of Image books do well with the first issue. Readers are always interested to try something new. But then the sales quickly drop off or disappear altogether."
DiBernardo believes that there are just too many small publishers for the industry to support these days, and that many are hoping for the lottery ticket that is a movie or TV deal rather than long-term success in comics. While he cited Black Mask as a publisher who gets it, he's firmly in the "too many comics, too many publishers" camp.
On the flipside of the last section, comic prices were mentioned by some as a hindrance. King said, "The industry has started to slip higher and higher prices onto its books during a time that the economy is really not healthy. It makes my job much tougher as people have to drop titles that they cannot afford."
The most interesting price related points came down to greater industry issues, though. Brower shared that there can be a problem of interpretation by publishers like Marvel who charge exorbitant rates for the occasional single issue like the $9.99 Deadpool wedding issue.
"The problem is, people buy those issues so Marvel gets the message that price isn't an issue," he said. "What they don't understand is the number of other books people don't buy in order to get that $10 Deadpool."
Comic book opportunity cost is interesting. It makes sense, as these highly priced comics can hamstring smaller books that might be more creatively fruitful yet have a smaller margin of error.
Meanwhile, Hendrick shared that, "pricing isn't just an issue for customers; it's an issue for stores as well."
"Increased retail prices mean increased cost prices. Marvel rebooting their entire line meant that a lot of stores ended up carrying a lot more debt in that month than they would have normally," Hendrick said. While he added, "we were lucky we were big enough and responsible enough while ordering all of these that we could carry that relatively okay," its entirely possible others were not and are in a very bad place today.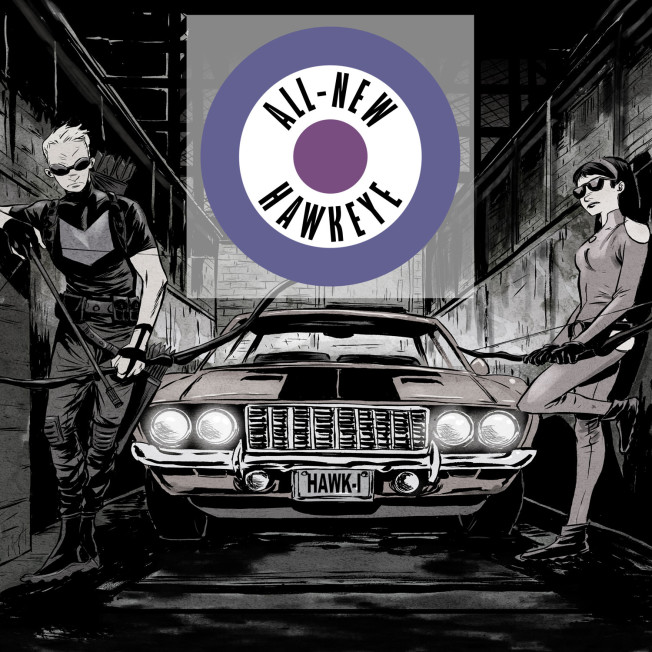 The last major negative on the year generated the most passionate response: variant covers. The issue was a multi-faceted one, but across the board, participants believe they're bad business and not as valuable as they once were. And King knows to fear them as her shop "lived through the problems of the late 80's and mid 90's."
"That era was so very tough to make it through, as comics became more about the fancy variant covers and other gimmicks and less about the interior quality and story," she said. "It created an unhealthy environment in comics that was only about speculation in the market. People bought lots of product and a lot was produced, but also lots of that product ended up filling warehouses. (It) nearly destroyed the market."
"I see an alarming trend in the industry now that focuses on the variant. I'm not talking about store variants, although maybe they should be discussed as well," she continued. "I am talking about the black polybagged, multi-cover, lenticular, and 1:5,000 cover type trend. They inflate the sales numbers at Diamond but don't necessarily translate to actual sales at the register. This trend wont stop until the shop owners say 'this far, no further' and stop ordering for the variants, but ordering for what they can actually sell through in their shops."
Others are already doing just what King said. DiBernardo said, "for the first time in 15 years, I have stopped playing any publisher's predatory buying games. Making me purchase Yx1.2 so that I can buy the next pop culture cover has stopped working."
"The payoff is no longer there. It's actually been a great lesson for me. Getting out of the short-term speculation market has strengthened our bottom line and allowed us to focus on things beyond comics."
Variants also put shops in the position to be the bad guy, as Hendrick shared. Many readers don't realize that to get the option of ordering variants, you have to order significantly more copies than usual. And beyond that, they don't care, making retailers seem like the people who ruin everyone's fun.
"A customer doesn't really care why I can't get them the cover of that book they want. They just want it, and they might not really want to pay more than cover price for it either. So it's sort of a win/lose lose/lose thing for a store a lot of the time," he said. "I came really close this year to just saying from now on no more variants."
Marvel's the greatest offender regarding variants, and many are tired of it. When paired with the incessant reboots, shops are put in the position of taking great losses to satisfy customer demands.
"It's very frustrating when we're being asked to support a book, and then a year later when it's rebooted we're being asked to support it all over again. Only this time to get what our customers want we have to support it more than we did already," Hendrick said.
Thompson added that the long lead time to the release of heavily marketed variants like Marvel's Hip Hop covers led to reader interest dissipating by publication date. That's a major issue for an unreturnable product.
"Now, months later, the fervor has gone and those people who excitedly asked about (the Hip Hop covers) have now forgotten they exist. Which is bad news for us and, in the long term, bad news for Marvel," he said. "We've had to reevaluate our Marvel orders as a whole. While they may have caught us out once, they won't again."
---
The 2016 Outlook
All of what has preceded is why 2016 will be such a fascinating year. Just as retailers are rethinking their positions on Marvel and DC's product lines, they're faced with a greater selection of good comics for a more diverse readership than ever before. That's not to say anyone will abandon Marvel and DC. But we may see contraction at the top and expansion at the bottom because of these moves.
That contraction could come in the ranks of retailers as well, as Thompson noted. He fears for other shops because of recent moves by the companies at the top.
"This is not the kind of relationship publishers and retailers should be cultivating. We're in it together, not at each other's expense," he said. "Sadly this lackluster performance has meant that a number of stores face closure in the new year, which is not how it should be in this new Golden Age of Comics."
Tomlin also has concerns, and he believes 2016 could be a "nexus year for the industry."
"Many things are changing and I feel this year will tell the direction of the industry for years to come," he said. "We are cautiously hopeful. We would like to see the publishers embrace (comic shops) and be supportive (Valiant and Scholastic get this!) and find creative ways to drive business to us and thus back to them. (Shops) – including us – need to reinvent ourselves to retain relevance in this new era of comic readers. So do publishers and distributors. This could be a huge year.
"But I also feel like this could be a year like 1995 when we saw a lot of shops close."
Overall, retailers are expecting a year of change, and one just as unpredictable as 2015. But many hope that good things could be on the horizon.
"All in all I am rather optimistic about 2016. The challenge is to get people to read more creator-owned monthlies from other publishers. Their trades are already flying off the shelves," said Sherman. "That is where I will be focusing my time and energy in 2016!"
King's feeling positive, citing the growth of independent comics and the support of comic shops by those publishers as major plusses for them in 2016.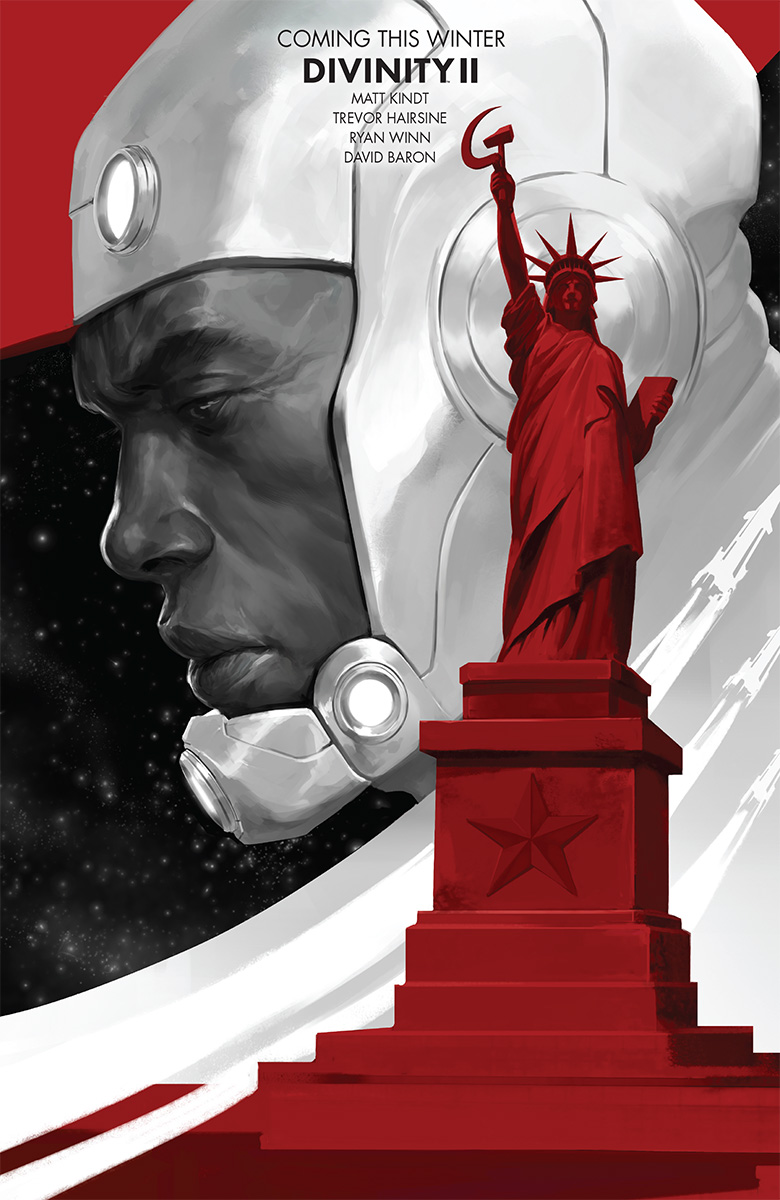 "Some standouts in this regard are Valiant – who send free reading copies for our staff and branded bags and other promotional material whenever we ask – and Double Take – who overnight product we need and send lots of great signage," she said. "All of the independents really make themselves available to talk via phone and listen to our thoughts. For us, this is the year of the independent."
"If we all do our parts, that will translate into new readers and customers," she added. "I love what I do and look forward with excitement for what's coming next for our industry."
Brower's one of the most realistic guys I've spoken to in the industry, and he sees a lot to be happy about when he looks at 2016.
"We're feeling pretty optimistic over here in Chicago. Sales are decent. New people are finding the shop every day (existing readers, not brand new readers, but we'll take it)," he said, before mentioning refinements to Challengers that could help out in a big way. "For us personally, we just upgraded our point-of-sale system and we've streamlined out ordering process so it's faster than ever. We're chip-card compliant for credit cards and can accept Apple Pay. I know none of that really sounds exciting, especially when talking about comics, but having all those things in line gives us the opportunity to focus more on comics."
To close, I wanted to highlight Big Bang Comics. They've become a known quantity in the industry amongst creators, and its because of the thoughtful work people like Hendrick do. While 2015 was already a big year, they hope to see even more from their business as they implement some of the ideas they've brewed up since their move.
"As for the industry, I hope we have a better year than 2015. I think there's an undercurrent of change within the industry and I think that's something that's coming from all sides, from the creators and retailers to some of the publishers. I think you can feel it in the bar on a Friday night at a show when everyone's talking," he said. "Comics are going to be fun and exciting, but at the end of the day it's a business and we'll keep treating it like that."
"It's just a fun business."
Here's hoping the fun keeps on rolling as we move further into 2016.
Thanks to Patrick Brower, Ralph DiBernardo, John Hendrick, Jen King, Matthew Klokel, Jason Leivian, Ed Sherman, Chris Thompson and Scott Tomlin for their input. Header image of Big Bang Comics in Dublin, Ireland. Come back tomorrow as Off Panel welcomes Comix Experience's Brian Hibbs to the show.