An Exclusive Preview of My Criminal Piece from Ed Brubaker and Sean Phillips' Neo Noir
This Wednesday at comic shops everywhere, my work will appear in an actual comic book for the first time ever. It's in Neo Noir: The Worlds of Ed Brubaker and Sean Phillips, an Image Firsts release that is a highlight reel of that pair's partnership, complete with comic trailers, paths to ordering said comics, and write-ups about their broader collaboration and each of their larger projects together by yours truly. If you're in the market for lots and lots of words from me about what makes this duo special with insight from Brubaker and Phillips themselves, well, do I have the release for you!
As a little teaser for what will be in this comic, below you can find my write-up about Criminal in full, as I wax ecstatic about that partnership's first creator-owned project together and why that world is a constant for the duo still, even 16 years later. It's a fun one, and one of eight pieces you'll find in Neo Noir. So, you know, check that out. It's pretty cool, I think.
---
Criminal, a series that explores a tangled web of criminals that inhabit a fictional city, was a big swing by Brubaker and Phillips. This was their first creator-owned series, and when it arrived in 2006, there was little market for crime comics. But "coming off huge hits" in Death of Captain America for Brubaker and Marvel Zombies for Phillips, "it felt like the time was right to take a risk," the writer said.
16 years later, it's safe to say Brubaker was correct.
Over that period, they've published a trio of Deluxe Edition hardcovers, nine other collections, and one graphic novella set in the world of Criminal, releases that formed the foundation of their partnership and the fandom that supports them. And if Sleeper was where they started to figure things out, then Criminal was where Brubaker and Phillips' collective voice was refined into the irresistible, unforgettable one they're known for.
And like the title's rotating cast, Brubaker and Phillips always return to Bay City for more — Criminal is their constant, with one-shots and entire volumes acting as pit stops in-between other works. And there's a reason they go back, Criminal offers them endless possibilities.
"Criminal turned out to be not just a straight crime comic, it's also given us a place to experiment with all kinds of storytelling, to really focus on the characters, and to go to a lot of different places emotionally," Brubaker said. "It started as a simple heist story and has turned into this multi-generational epic about life outside the law, which sometimes barely even mentions crime."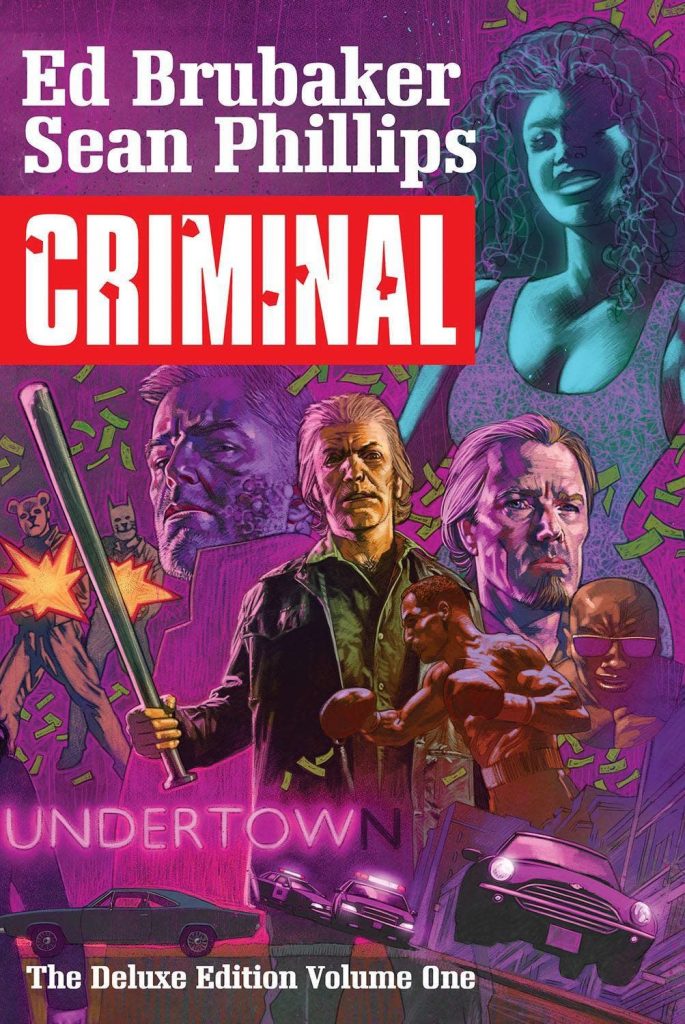 You can see how that manifests itself in the work, and in the fact that every reader seemingly has a favorite. While the consensus pick is likely the tragic and inventive The Last of the Innocent – an effort Phillips simply described as "the best one" when asked about it – there's something to love in each. Whether it's the meticulous, heart-wrenching Coward, the twin tales of Lawless and The Sinners, the triptych of tragedy that is The Dead and The Dying, or any of the other releases, you'll find a favorite. You could never be wrong with your choice, though, simply because they're all incredible.
For those new to the series, each volume is easy to jump into. Every Criminal release works on its own, making it incredibly new reader friendly. And while the books are all ostensibly about crime, the pair consistently finds ways to deliver on a personal, empathetic level. The Last of the Innocent is a perfect example. Its exploration of kids' comics characters – like Archie or Richie Rich – and what happens when adulthood isn't what they expected proved to be fertile territory for the pair to work in. That was made deeper by its relatable themes and the fact it was rooted in Brubaker's own experiences.
"That was the book I wrote to process my father's death, so it's very personal to me," Brubaker shared. "But its bigger theme, about mistakes and bad decisions, about life suddenly going from carefree long summer days to the reality of adulthood crushing you, is one so many of us understand."
It wasn't just Brubaker's writing that made The Last of the Innocent hit as hard as it did. The writer asked Phillips to draw the story's flashbacks "in an Archie style" to reinforce that connection and to visually emphasize how those were the golden days. Growing up in the United Kingdom, Phillips had "never seen Archie comics." So instead of matching that style, he tapped into his own youth, drawing "those pages in a similar way to how I used to draw comics with my friends when I was a kid."
"Doing that allowed the flashbacks to be two things at the same time. They touch on the reality of growing up and the nostalgic way we look back at it at the same time," Brubaker said. "I was amazed at how much Sean nailed that."
Throughout the series, Phillips created certain rules for his art, giving Criminal visual constants – three tiers of panels, speech balloons are always circular, captions are almost always top left in panels – in hopes that they could make it "as easy to read as we could for beginner comic readers." There's still space for outside the box approaches, like the comic-within-a-comic of Wrong Time, Wrong Place, but Phillips' considered approach and impeccable character work has helped make Criminal one of the most best-looking comics of the past 20 years.
Those efforts have been bolstered of late by Sean's son, Jacob Phillips, their current colorist and the third part of their triumvirate. Jacob joined with the 2017 graphic novella My Heroes Have Always Been Junkies, and despite his relatively neophyte nature, he quickly established himself as a crucial part of everything they do — even if the pair wasn't totally sure what to expect.
"I had no idea he was a good colorist before he started on Junkies," Phillips said. "I colored the first two pages and asked Jake to color the following 60 or so pages in a similar way. Turns out he was much better at it than me, so we kept him on after that."
"Jake came right out of art school, drawing and coloring his own comics, and he's not tied to the same ideas a lot of comics colorists are," Brubaker said. "He doesn't stay inside the lines, it's all about the mood and the color palette, which he just gets better at every book."
"Hopefully he won't get too successful drawing and coloring his own comics, so we don't have to find a new colorist someday," Phillips added about his recently Eisner-nominated son and collaborator.
But Junkies was an important release not just because it paired them with jake, it also set them on a path that changed their partnership forever. The pair had long wanted to work in the graphic novel format rather than single issues. It just seemed as if the market wouldn't sustain that. But like with Criminal in the beginning, they were ready to try something different in hopes that the market would respond. Respond it did, as Junkies, a graphic novella, proved to be a massive hit, changing their approach going forward.
"It made us realize that graphic novels might a more viable career-path for us than monthly comics," Phillips said.
Even though it is one, Junkies wasn't positioned as a Criminal story from the outset, a strategic decision designed to help people "view it as a standalone book" rather than one "you had to read seven books first to understand." Perhaps for that reason, Junkies brought a slew of new readers into the fold, including young readers Brubaker met on the title's book tour that were "just discovering our stuff," each of whom was about to discover a whole world of stories.
That's the beauty of Criminal, though. As so many characters in the story learn, once you're in, you're in. There's no going back. The good news is, unlike the experience for the denizens of Bay City, it only gets better from there for readers.