Archie's Gals: Beyond Stereotypes and Forming Female Friendships
Fifty-five years after its debut in 1942, I began reading Archie Comics, quite simply because my brother did. Unbeknownst to me, this is where my feminist journey began. My best friend and I played "Betty and Veronica" every lunch hour for years. They were our icons and to a certain extent, we really believed we were them! It was not lost on us, that two young, ethnic minority girls from a middle-class neighbourhood were playing the roles of a spoiled upper-class rich girl and her white, blonde and blue-eyed best friend. Perhaps this was part of the fantasy. The glorious elementary playground was the Lodge luxurious yacht where we would slide down into exotic beach sands and sunbathe on the monkey bars. Those were the days, I tell ya.
At the grocery store, my mom would only slightly hesitate at the check out at the request to purchase the new coveted Archie comic. She thought this to be much better than a chocolate bar. As soon as she said yes, I'd begin reading it at the checkout. I would pause for the cashier to scan it, then continue reading it, walking into doors on our way out.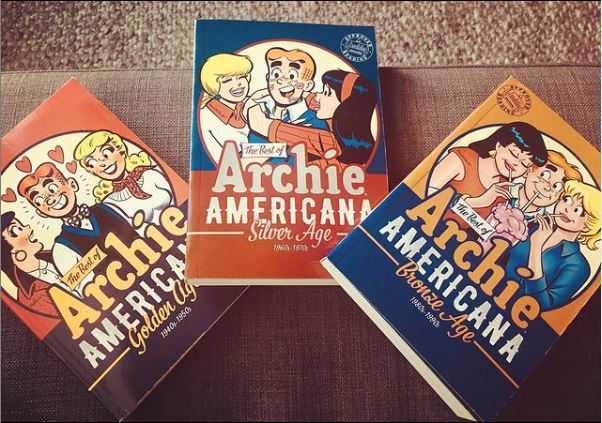 The main premise is that Archie and his two gal-pals, Betty and Veronica, are in an exhausting, love triangle. Most of my childhood weekends were spent watching Bollywood movies with my grandparents so perhaps this is why I was drawn to this narrative? Minus the song and dance, Archie comics were the epitome of every 90's Bollywood movie – the classic love triangle between the sweet and simple versus the snooty and wealthy.
I always played Veronica. It was fun 'acting' wealthy. I marveled at large dirt covered rocks exclaiming they were diamonds. It was not that I longed for these items, rather it reflected the expectations put on girls and what they can value and be. These two cultural icons had a major influence on me beyond the playground. Were these my only options? I can't be kind and have nice things? Can't I have it all? But as I became entangled in the pair, I knew they were more than these stereotypes and not just "Archie's Gals."
Betty is your quintessential girl next door hopelessly in love with Archie. She is gentle with a heart of gold. She is often found rescuing animals or baking cookies. She is the perfect daughter, student, and friend. Yet she cannot compete with Veronica for the affections of Archie's heart.
Veronica Lodge is Archie's crush and heiress to the vast Lodge fortune. She is the opposite of Betty – selfish and spoiled. Veronica loves to shop and gossip. She too is seemingly in love with Archie. However, he usually cannot afford to take her out, so she simply picks another boy.
How then, might you ask, did these flat and antiquated female characters inspire my young budding feminist mind and my desire to smash the patriarchy?
Each character offers something different; they are both solid feminist role models.
The rest of this article is for
subscribers only.
Want to read it? A monthly SKTCHD subscription is just $4.99, or the price of one Marvel #1.
Or for the lower rate, you can sign up on our quarterly plan for just $3.99 a month, or the price of one regularly priced comic.
Want only the longform content? Sign up for the monthly longforms only plan, which is just $2.99 a month.
Learn more about what you get with a subscription