To Mr. MacKay, With Apologies
I might have been wrong about something. It's time to make amends.
When the creative team of the current volume of The Avengers was announced back in January, the logical part of my brain knew that writer Jed MacKay and artist C.F. Villa made sense for the book. Villa's a real talent, 6 and MacKay was a fitting choice on this Kang-centric volume thanks to his work on the Timeless one-shots. The only problem was, as I put it when this announcement hit, "MacKay just…doesn't really inspire a lot of energy or enthusiasm in me."
In that piece, I cited my perceived lack of buzz around the writer as the primary reason for that belief. I had never really heard much enthusiasm about his work or saw it bandied about online. While I knew the first issue of his Black Cat run was an unexpected smash, I also knew much of that stemmed from a robust variant approach for it headlined by J. Scott Campbell and the en fuego Artgerm. Its success felt more like a reflection of that effort than MacKay's.
More than that, I had really only read a couple issues of his Black Cat title at that point. While those were solid, with writing that felt like a great fit for Black Cat, that was Black Cat. This? This was the headliner of the Marvel Cinematic Universe. "Was this really the guy Marvel wanted to bet on when it came to an Avengers relaunch after an extended, extensive run by writer Jason Aaron?" I wondered to myself. With an A-lister departing, I expected someone of a similar stature to follow. Because of that, the Avengers reveal just didn't feel like a big one to me, despite the title's relative importance to the line.
It's important to emphasize this fact: I 100% believed that at the time. My skepticism was real. I even quizzed people in and around comics about how MacKay was viewed leading into that write-up — in which readers and retailers assured me I might be underrating him — because I was genuinely unaware. It wasn't just me being difficult. Now, though?
Well…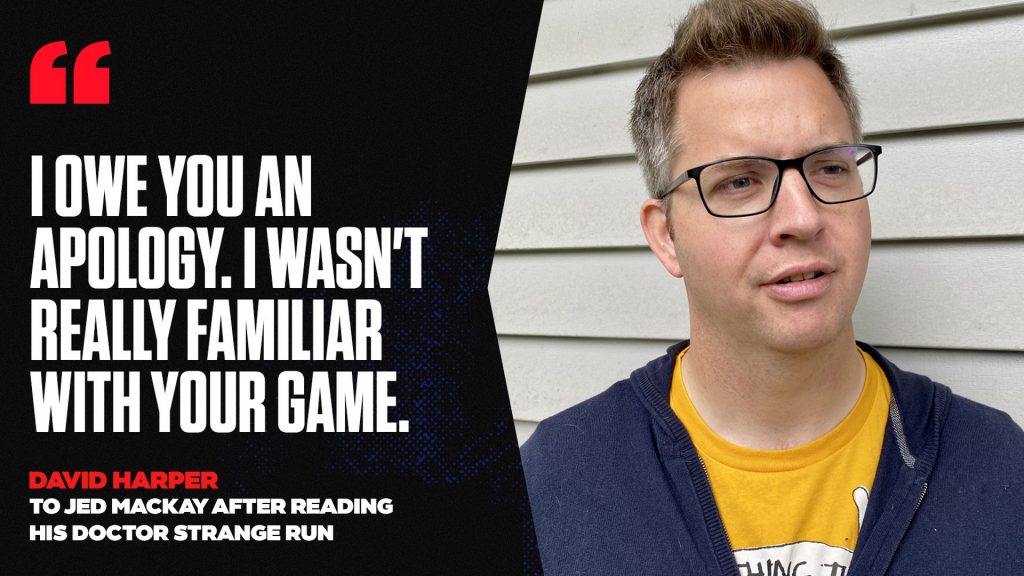 My skepticism was real at the time, but one could easily argue it was also unearned. You see, since I wrote that post, I discovered something interesting: Jed MacKay is one of the strongest writing talents in Marvel's current mix, and someone deserving of the Avengers throne.
The rest of this article is for
subscribers only.
Want to read it? A monthly SKTCHD subscription is just $4.99, or the price of one Marvel #1.
Or for the lower rate, you can sign up on our quarterly plan for just $3.99 a month, or the price of one regularly priced comic.
Want the lowest price? Sign up for the Annual Plan, which is just $2.99 a month.
Learn more about what you get with a subscription