Are We Having Fun Yet?
Let's talk about one of my greatest desires in superhero comics: having more fun!
There are a bevy of reasons Daniel Warren Johnson is one of the best in the business right now, and why he stands out amongst his peers whenever he works in the superhero space. Few can rival his art, with each panel, page, and issue bursting from the seams with incendiary energy. His character work, both as a writer and artist, is exemplary, showcasing an eye and ear for humanity. He can make immense moments poignant and small beats explosive — and does so with consistency. You know what you're going to get from Johnson when his name is on a comic, and that's one of the most fulfilling versions of the form today. And I'm here for all of that. But my favorite aspect of his work might be something else entirely.
I love that no matter what subject he takes on — a post-apocalyptic take on one of DC's Trinity, the story of a man coping with his health problems and an invasion of multiversal monsters by teaming up with a heavy metal-powered Murder Falcon, an alien's journey through space to regain something he's lost — you know he's going to have fun with it. There's no one better at tapping into the absurdity of superhero comics 15 and fusing them with that feeling you get when a rock anthem reaches its apex. Comics from Daniel Warren Johnson aren't a read as much as they are a ride, one filled with both highs and lows throughout. But in the end, you can only be sure of one thing: that you had a great time reading it.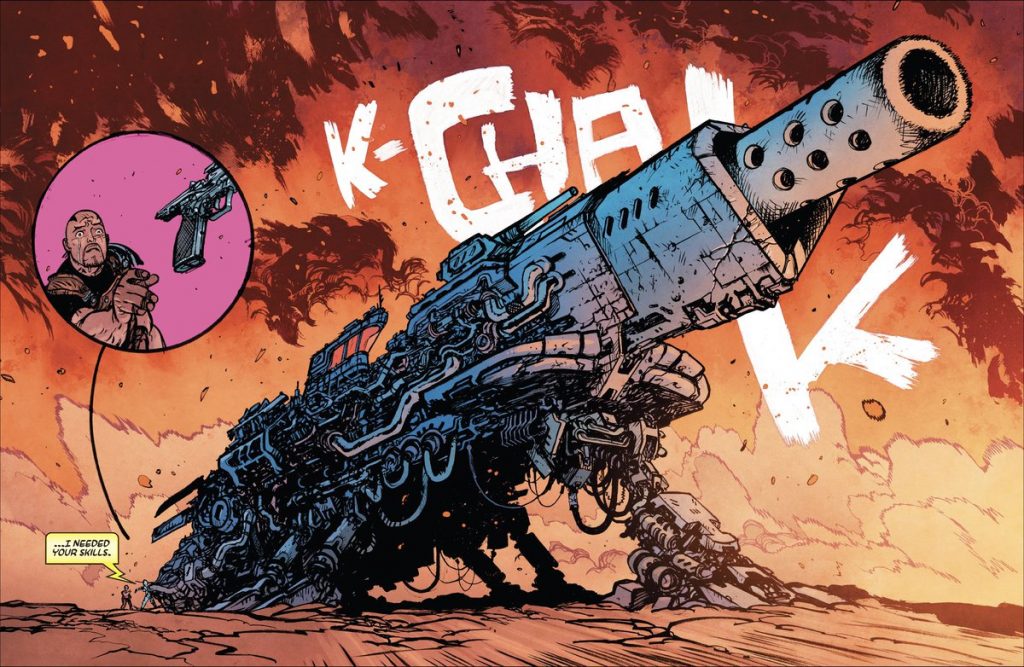 This piece isn't about Johnson, though, at least not entirely. It's about that strength of Johnson's. While my love of (and desire for more) sports and food comics is well-known, if there was one thing I'd like to see more of in superhero comics, it's fun. I don't simply mean comedic comics or funny books, either. Fun comes in all sorts of forms, and sometimes that's a straight comedy, but other times it's hang-out comics, unusual time travel tomfoolery, or even a well-balanced form of classic blockbuster entertainment – but hold the dour ruminations. We're talking pure id on the page, the type of stories that really go for it, with it being whatever the heck they want.
The problem is there are connotations connected to that word. Sometimes, it can feel as if there's a stigma around "fun" in superhero comics, or even comics in general, 16 as if it's a four-letter word, a curse that must be overcome to find success. That wasn't always the case. Once upon a time, lighthearted fun was a constant of the superhero form. But sometime between 1986 and when the world was inundated with articles saying, "Biff! Bam! Pow! Comics aren't just for kids anymore!" a shift took hold. Superhero comics grew up, and they put away their childish ways, at least to a degree.
Part of it likely stems from the broadly considered greats of the genre, as the shadow of the most beloved superhero works is long and, in many cases, rather serious. When works like Year One, Born Again, The Dark Knight Returns, and Watchmen – great comics all, of course – are eternal measuring sticks, those become the works creators want to live up to. But I'd argue that a more significant contributor to this relates to the powers of universal thinking. When continuity is presented as the end all, be all, the idea that stories need to "matter" can become the defining characteristic. Anything less than that makes a comic secondary, at best.
And what is meaningful in the grand scheme of things can be dictated by any number of factors. "This comic matters because it's connected to an event, while this doesn't because it takes place in another universe." "This matters because it's drawn by a serious superhero artist, not one with a cartoony style." 17 "This matters because a universe dies in it, while this other one doesn't because it's just a couple characters talking." Death is important. Betrayal is important. Drama is important. 18 Occasional lighthearted repartee?
Eh.
Not so much. 19
The rest of this article is for
subscribers only.
Want to read it? A monthly SKTCHD subscription is just $4.99, or the price of one Marvel #1.
Or for the lower rate, you can sign up on our quarterly plan for just $3.99 a month, or the price of one regularly priced comic.
Want the lowest price? Sign up for the Annual Plan, which is just $2.99 a month.
Learn more about what you get with a subscription