Comics Disassembled: Ten Things of Note from the Past Week in Comics, Led by Big BoPpers
I've been making some serious headway on my comic reading this week, so you know what, we're going to do something crazy in this edition of Comics Disassembled. This look at ten things I liked or didn't like from the week of comics will…pay a lot of attention to actual comics? Imagine that! But it all starts with a rather exciting new project from a familiar creative team.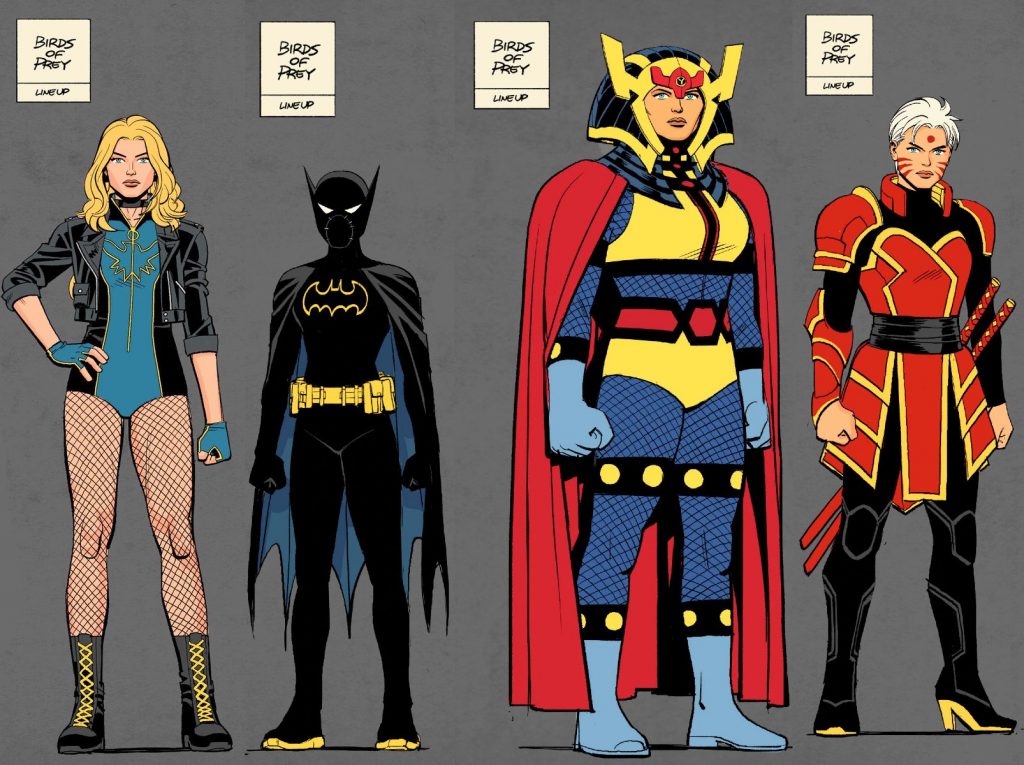 1. Team Hawkeye, BoPping Back
Kelly Thompson, Leonardo Romero, and Jordie Bellaire's Hawkeye series from 2016 was an underrated gem from recent Marvel history, one that reimagined Kate Bishop as a west coast-based private investigator, with pitch perfect covers from Julian Totino Tedesco escalating it that much further. It's a great comic, and one that went away too soon (and also apparently had a turbulent existence, as Thompson recently shared on Off Panel), especially considering how exceptionally well-paired that creative team was.
Well, fans of that series received some good news this week: Thompson, Romero, and Bellaire are reteaming for a new Birds of Prey series this fall! And this isn't your older relative's Birds of Prey squad either. It features veteran BoPpers Black Canary and Cassandra Cain at the front of it, while bringing in Big Barda and…WAIT A SECOND…IS THAT ZEALOT'S MUSIC?!?!?!?! That's right. Flipping Zealot from WildC.A.T.s is on the squad, and for those that never knew they always needed a Leo Romero and Jordie Bellaire Zealot in their lives, this is a big moment. And that list includes David Harper, my friends. I am so into that depiction of the character above. It's fantastic.
By the time this post goes up, we'll almost certainly know the fifth and final member of the squad, with it likely belonging to one of two classes: old favorite (Huntress or Barbara Gordon) or extreme curveball (Jayna from the Wonder Twins? Death from Sandman? Jesse Quick?). Whoever it is, I'm excited to find out.
2. Marvel, Out With the New, In With the Old?
I had a conversation recently with someone who noted that Marvel's in a bit of a transitional state creatively, as its recent crew of writers have begun to move on en masse, which is something I'm likely to write about more extensively in the future. This week underlined their point in an unexpected way: it seems like the past is all the way back in at the House of Ideas.
Just consider this week's news. Ultimate Invasion will in fact lead to a new version of the Ultimate universe, which will fully debut in Ultimate Universe #1 from writer Jonathan Hickman and artist Stefano Caselli before leading into "an array of brand-new hard-hitting series." J. Michael Straczynski is returning to Marvel, as he'll be the writer of a new Captain America series with art from the great Jesus Saiz. And if that isn't enough, apparently Dan Slott will be writing more Superior Spider-Man.
While there have been pockets of success for Marvel of late (basically, things Chip Zdarsky, Kieron Gillen, and Al Ewing write, amongst others), there's been some unsteady vibes from the publisher of late, as they struggle to bring energy to the comics world outside of extraordinarily poorly received story turns (which typically feature Spider-Man in some capacity). So, near as I can tell, Marvel's answer to its problems of today is to…recreate the comics of yesterday? That this comes at a time when a fair amount of the publisher's recent top names on the writer front are migrating to DC or elsewhere makes it all feel connected, and like Marvel is forcing a shift of direction after a wayward spell.
We'll see if it works. The only one of the announcements I'm really into is more Ultimate universe business, and that's because I love Hickman and Caselli. I'm a big Saiz mark, but JMS is extremely hit or miss for me, the last time he wrote a paragon at the center of a superhero universe, I quickly regretted reading it (I'm glaring at you again, Superman: Grounded). I'm just not sure if going back to old voices instead of developing new ones feels like the right answer, but I suppose time will tell.
The rest of this article is for
subscribers only.
Want to read it? A monthly SKTCHD subscription is just $4.99, or the price of one Marvel #1.
Or for the lower rate, you can sign up on our quarterly plan for just $3.99 a month, or the price of one regularly priced comic.
Want the lowest price? Sign up for the Annual Plan, which is just $2.99 a month.
Learn more about what you get with a subscription