Comics Disassembled: Ten Things of Note from the Past Week in Comics, Led by Another Election?!
Just when I thought I was finally done with the intensity of election season, another entered the picture. My word. Let's look at that and more in Comics Disassembled, my breakdown of ten things I liked or didn't like from the week of comics.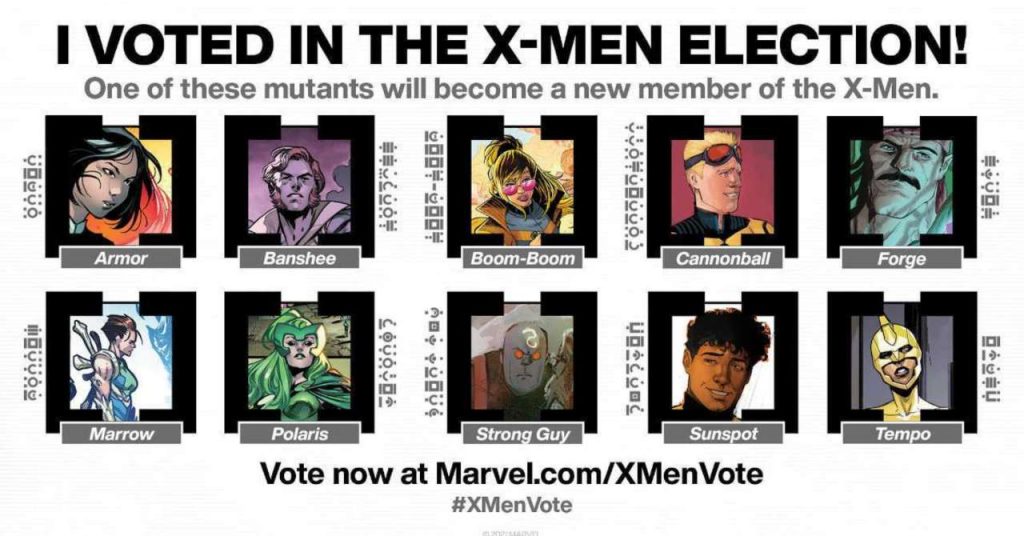 1. X-Men, Rocking the Vote
Well done by the current team behind the X-Men line, as they managed to leverage the sheer energy of X-Men fandom by making the final spot for the new X-Men team that's coming one that everyone is able to vote on. And, brilliantly, they didn't make it "choose between Cyclops or Wolverine" or something, they made it largely – AND I SAY THIS WITH RESPECT! – B-list characters, which means the fandoms are coming out with heat. It's a brilliant way to capitalize on the heat that radiates off this fandom, and a much more "additive, not destructive" route than, say, asking readers to decide whether a teenager should be beaten to death with a crowbar.
I love it. The voting is going on until Tuesday, February 2nd, and so far Polaris is winning. This isn't surprising. She's arguably the most famous of the lot and she's a great character. I'm with those that suggest she's in the right place on X-Factor, though. Leah Williams and David Baldeon are doing too good of things with the character right now to migrate her off, or even splinter her fit. I voted for Sunspot, but almost immediately was fueled with regret when ComicsXF's Zack Jenkins reminded me that we've seen plenty of Hickman and Bobby together. With that in mind, consider my weight being thrown behind Marrow, a genuinely good character I'd like to see more of, or maybe the always delightful Boom-Boom, although Tempo would be an interesting one – especially for power set reasons.
I love this, though. It's a smart way to work with the support you have while knowing your audience and what they get behind. Keep that heat on, X-Line. That's the way to cook.
2. Rosemary Valero-O'Connell, Making Deals!
*airhorns* NEW ROSEMARY VALERO-O'CONNELL COMING!!! *airhorns*
Valero-O'Connell is one of the most brilliant creators in comics, with a real sense of voice and staggering artistic gifts that put her at rarified levels for comic book creation. So any time this Eisner-winning creator has a new title announced, it's an event unto itself. That's where we're at, as Valero-O'Connell reteams with her Laura Dean Keeps Breaking Up With Me publisher First Second and editor Calista Brill for an upcoming YA graphic novel called The 12th House. What's it about? Well, let's turn to the announcement.
"(The 12th House is) about a young woman named Camille who, following the sudden death of her grandmother, finds herself haunted by the 11 monstrous envoys of a mysterious creature that seems bent on her destruction. As she struggles to outrun what hunts her as well as her own grief, she enlists the aid of an otherworldly stranger who promises to help her look her demons in the eye so she can reclaim her life."
This feels extremely in Valero-O'Connell's wheelhouse, which is unsurprising as she's writing and drawing it, but still. I can already visualize in my head what the cartoonist will do to nail a story like this, that sounds like her a little more in the horror-by-way-of-Emily Carroll territory while still being very much her own thing, which I am very into. It's coming in 2023, so I'm not going to get too far ahead of myself, but consider this hype train started.
The rest of this article is for
subscribers only.
Want to read it? A monthly SKTCHD subscription is just $4.99, or the price of one Marvel #1.
Or for the lower rate, you can sign up on our quarterly plan for just $3.99 a month, or the price of one regularly priced comic.
Want only the longform content? Sign up for the monthly longforms only plan, which is just $2.99 a month.
Learn more about what you get with a subscription