Comics Disassembled: Ten Things of Note from the Past Week in Comics, Led by Expanse(ive) Kickstarter-ing
Comics Disassembled is fun this week! It's a spicy mix of spicy things, as I look at ten things I liked or didn't like from the week of comics and come up with a bevy of takes, ranging from hot to decidedly not so hot. Let's start with a hot one, shall we?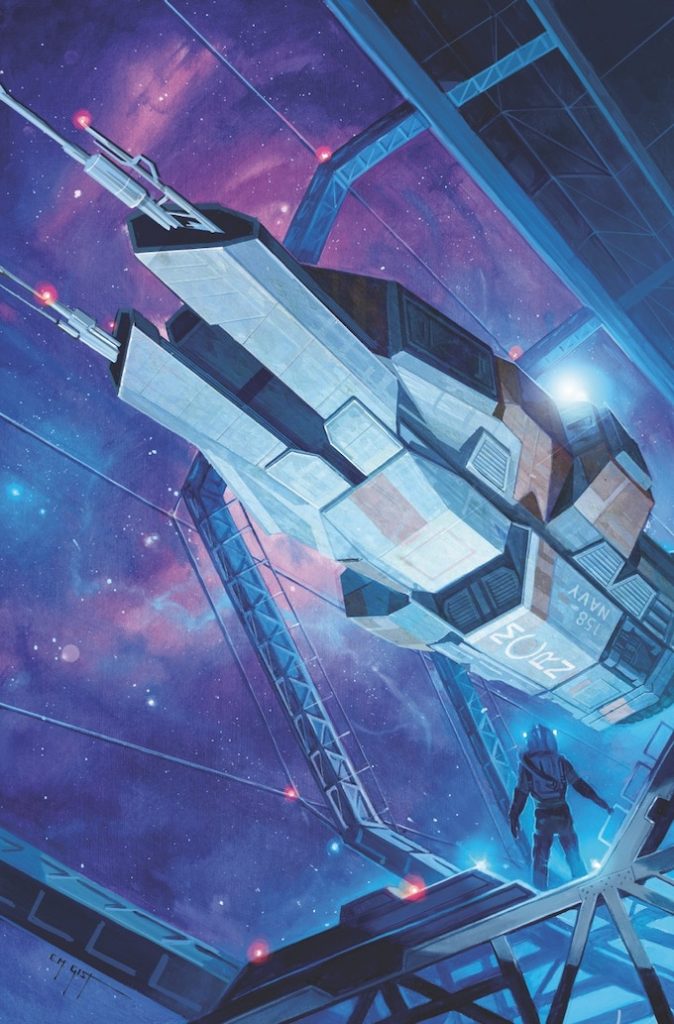 1. BOOM! Studios, Baby Stepping
Those crazy kids at BOOM! Studios are at it once again, as the publisher is onto its seventh Kickstarter for a comics project. This week saw the launch of The Expanse: Dragon Tooth, a story that takes place in-between the sixth book/season of The Expanse and the seventh book in writer James S.A. Corey's larger Expanse series, Persepolis Rising. This new tale exists in untapped territory, perfect for the thirsty Expanse fans out there who want more of the characters but not the exhaustion of reading a prose novel. Corey is overseeing the project, with writer Andy Diggle and artist Rubine leading the creative team, alongside variant cover artist Jamie McKelvie. This Kickstarter comes with a wide array of awards, each of which I could expand on, but I don't want to because they are a lot and often complicated, so you can go and look at the Kickstarter to learn more (the one I'll note: there was an exclusive "Roci Elite Metal Boxed Set" that went for $1,500 and sold out of all 25 immediately, and it was a crazy looking literal metal box slipcase type thing for the graphic novels…it's insane).
The headline point here is that it's been an absurd success. Any time you can say "it outdid Keanu Reeves on its launch day," then it's putting up numbers, as this project's first day raised more money than BRZRKR's campaign did. As I type this, it's at $595,918, or at least it was, because it changed twice as I wrote this. It has 27 days to go. It will likely break a cool million, putting it in Keanu Territory at the overall top of the charts for BOOM! (BRZRKR hit around $1.5 million overall). That's some serious business.
My personal headline, though, is this Kickstarter is doing something different than the rest of the BOOM! efforts: it's selling single issues of a new series in this campaign. The other six were either collections of already complete runs or pre-ordering collections of a not yet released series. This has collections too, but unlike BRZRKR, it's also selling a complete run of single issues for the 12 issue series that doesn't launch until April. So, in a very real way, this Kickstarter is selling the same product – albeit extremely high end versions at times – that is currently up for order in the direct market. This direct to consumer version is not only competing with shops, to some degree; it's also first to market.
While BOOM! says shops that want to get in touch about carrying the product absolutely can do that, they also say "items offered in this campaign are limited-edition, specialty items that would be impractical to solicit through the traditional means." Some of that's true. That metal box tier would be impossible to make work in the direct market, especially with a total of 25 made. But there's an entire tier of all 12 issues of the series with the Kickstarter exclusive Jamie McKelvie variants. That doesn't seem like something that would be impractical to solicit through traditional means. It's more about it being exclusive than anything, which isn't really that unusual in the comic space (see: ComicsPRO variants that are sure to hit eBay in about 2.5 weeks after that week concludes).
Regardless, it's an interesting move because it feels like BOOM! testing the waters. This is a step further than they've gone before. I've heard from some shops in the past that Kickstarters like these eat up consumer interest, if only because customers can get what they want through this instead of a comic shop, and they get special perks in the process. Can BOOM! have their cake and eat it too? And by that I mean can they do this campaign without tanking orders from comic shops? Unknown! They're about a month out from final order cutoff, so I suppose they'll find out then. If it goes well, or maybe even if it doesn't on the comics retail side, they will certainly do this again. It's a curious one, and one that's sure to have ruffled some feathers this week. But, hey, those six plus figures are likely to make said ruffling a bit easier to handle.
2. Kickstarter, Building Up
Speaking of Kickstarter, its marriage with comics continues to be a fruitful one, and not just because of BOOM! Studios projects! Evidently 2022 saw 78% of comics projects on the platform succeed, leading to nearly $31 million in revenue and its sixth consecutive record setting revenue year in the category. That's amazing, and reflective of how effective Kickstarter can be for creators (and publishers) willing to use (and stress over) it to sell their wares.
Evidently it isn't the only one succeeding, as comics lead Oriana Leckert is moving on to wrangle the also ascendant book publishing category, which means…Kickstarter is hiring! With Leckert shifting roles, they're looking for a new Director, Comics Outreach to lead that channel. So if you're interested in work in that space, are eager to network and build up creator contacts, and help lead Kickstarter's comics category to even higher levels than before, then you might want to start working on your resume. It could be you. I'll tell you what, though: it won't be me. That sounds exhausting. No, thank you! Too much work! Best of luck to whoever lands the gig, and to Leckert as she moves on to do more cool things elsewhere for the platform.
The rest of this article is for
subscribers only.
Want to read it? A monthly SKTCHD subscription is just $4.99, or the price of one Marvel #1.
Or for the lower rate, you can sign up on our quarterly plan for just $3.99 a month, or the price of one regularly priced comic.
Want the lowest price? Sign up for the Annual Plan, which is just $2.99 a month.
Learn more about what you get with a subscription