Comics Disassembled: Ten Things of Note from the Past Week in Comics, Led by Marauders Marauding
It's a calm week in comics, especially considering it's all convention week with New York Comic Con making its return. That doesn't mean there isn't plenty I want to address. Let's get to all of that in the latest edition of Comics Disassembled, my look at ten things I liked or didn't like from the week of comics.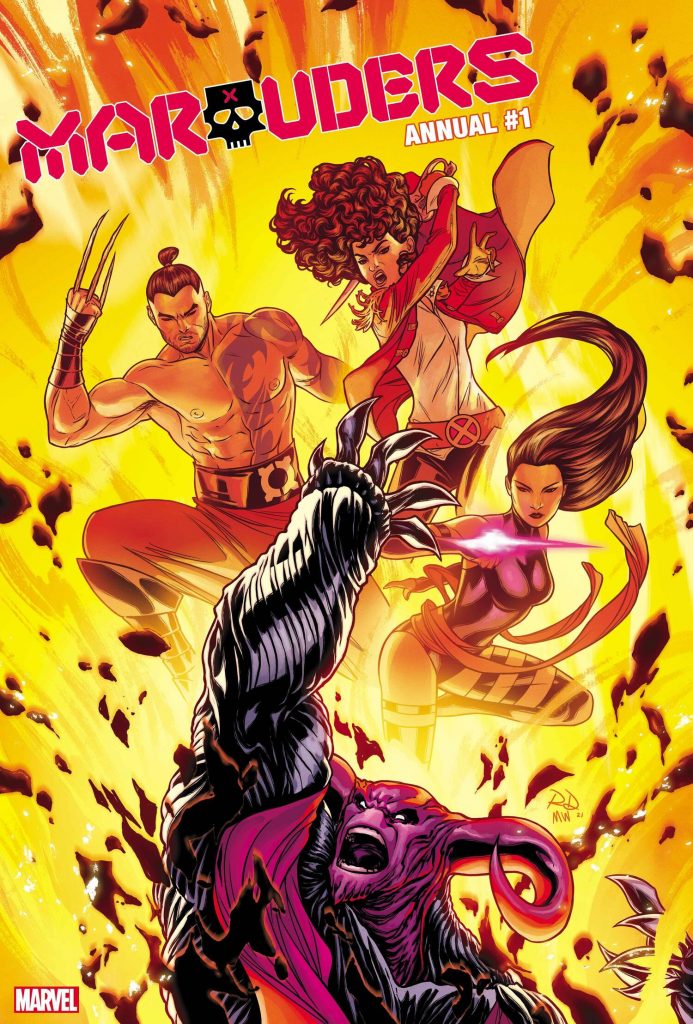 1. Marauders, With New Captains
Marauders has been a title that has felt in need of a change or a new direction since the Hellfire Gala, and it's getting it soon, as out are writer Gerry Duggan and the array of artists who worked on that book, and in are writer Steve Orlando and artist Crees Lee as of January's Marauders Annual #1. Orlando said on Twitter a new series will follow, and it seems as if the title will be refocused purely on mutant rescue rather than the management of Krakoan pharmaceutical shipments (a beat that…sort of feels like it's been left behind a bit overall). It'll also, incredibly, feature X-Men 2099 villains the Theatre of Pain, led by their boss Brimstone Love.
Now, I'm not going to lie, I do not remember X-Men 2099 at all. I remember as a kid being like, "Oh my god, future X-Men!" and then reading it and thinking, "You know, I'm good." Others are excited, though. I had someone DM me just to hopefully bask in the joy connected to this arrival, something I unfortunately could not share for aforementioned reasons. But reorienting around a singular objective – mutant rescue – with a new creative team and crew on the ship itself seems like it could be fun. It's a motley one, that's for sure, as it features Psylocke, Daken, Aurora, Tempo and the brand new Somnus joining up with the previous Marauders that are Kate Pryde and Bishop. It's not quite as loaded with incendiary pairings as the last team, but it's certainly interesting.
This hits on January 12th, and it's another step towards the new future of the X-Men in this Krakoan Era. We'll see what it has to show us when it drops.
2. Elsa Charretier, Staying Busy
If I had to make a shortlist of creators who really have making comics in 2021 figured out, Elsa Charretier would certainly be one of them. The writer, artist, YouTube star, crowd-funding maven and all-around comic book hyphenate just seems to know which buttons to push and levers to pull to make a sustainable comics career that's largely her own thing. Take her latest announcement as an example. Charretier and writer Pierrick Colinet are teaming up for an Inktober-fueled mini-graphic novel, one they're funding through Kickstarter. And, shockingly (it isn't shocking), it's already a massive hit, surpassing $40,000 already on a goal of under $5,000.
Charretier just seems to have the alchemy of creation in the current environment figured out, as she always seems to know the right moves to make to not just make art but to properly fund it in the process. I've loved seeing it, and if I was another comic creator, I'd be paying close attention to everything she's doing because she's nailing it.
That said, as interesting as it is to see her hand-letter this story – and boy is it, as I find hand-lettering to be cool as hell – this video the cartoonist shared on Twitter this week of the process does strike me as arduous. Make your life easier, Elsa! Go new school! Embrace lettering tech because it's a life-saver!
The rest of this article is for
subscribers only.
Want to read it? A monthly SKTCHD subscription is just $4.99, or the price of one Marvel #1.
Or for the lower rate, you can sign up on our quarterly plan for just $3.99 a month, or the price of one regularly priced comic.
Want the lowest price? Sign up for the Annual Plan, which is just $2.99 a month.
Learn more about what you get with a subscription