Comics Disassembled: Ten Things of Note from the Past Week in Comics, Led by RemiXes
Sometimes weeks are filled with a broad mix of news. Others things lean heavily in one direction. This week is the latter, as we start off with a lot of Marvel biz because it was just one of those weeks. Let's get to it in Comics Disassembled, my look at ten things I liked or didn't like from the week of comics, led by musical chairs hitting the X-Men.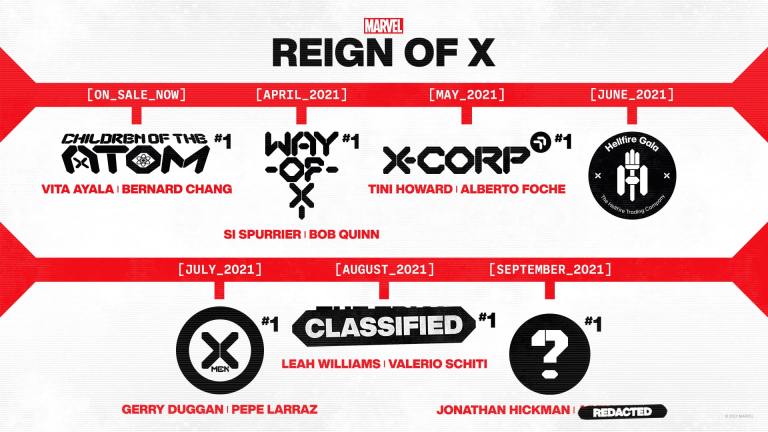 1. X-Men, RemiXing
The Hellfire Gala isn't just resulting in changes for the X-Men and the Marvel Universe, it's leading to creative changes on the X-Men line itself, as we learned this week. Coming on the heels of the Hellfire Gala are a trio of new titles, although "new" might be an inaccurate term for at least one of them.
That's because the main X-Men title is relaunching in July with a new #1, as X-Men #21 seemingly brings writer Jonathan Hickman's time on the title to an end in June before writer Gerry Duggan and artist Pepe Larraz take over the book. Given how Duggan is writing Planet-Size X-Men, this isn't a complete surprise, and it makes sense that the title would see a handoff as a new X-Men team enters the picture.
That's not all. Hickman himself is finding new fun in September, as the writer and an artist of unknown name tackle an unknown title for an unknown length of time. I for one am feeling the hype for real about that, but hey, it's Hickman. It's going to be good. I'll be interested to see what it is, of course, and who is drawing it, but as they say, patience is a virtue, and I am a virtuous man.
In-between those two comes a classified title that launches in August, as writer Leah Williams – one of the true rising stars and ascendant talents from this era of the X-Men – launches a new book with artist Valerio Schiti. That's a great pairing, as Williams and Schiti both excel at similar things and have naturally cohesive skill sets. The only bummer of that is it means that Schiti is off of S.W.O.R.D., a book he's also exemplary on, but it's entirely possible that title is a lower ordered one that needs an artist that fits the budget better. Whatever the reason, I'm just happy Schiti is sticking around because he's great, and I bet he and Williams will combine nicely.
The natural concern is this means three new – again, "new," as it's really only two new titles because X-Men is replacing X-Men – titles to an already dense line of books. I'm not worrying about that for a couple reasons. First, we already known Cable is ending, so that's one title down, and I would bet considerable sums of someone else's money that it isn't the only one. We'll see soon, but I bet Hellfire Gala brings the conclusion of other titles as well (sleeper pick: Marauders, which has been building to the Hellfire Gala for a bit, and with Duggan taking over the headliner title, it might be a bit busy for him even with Cable over).
Second, the X-Men line is seemingly designed to serve a mix of audiences, not just completionists who habitually have to buy every issue of every title. It's a healthier way to approach things, and a smarter one. I like that I can buy about half the line to get my fill and then talk to someone else who is reading the X-Books and they're reading completely different titles. That's a feature, not a bug. So I'm not worried about volume anymore. I'm just rolling with it, and reading what I read. That feels like the right approach.
2. Donny Cates, Doing Solids!
My pals over at Big Bang Comics in Dublin are closed to in-store customers. They have been since January. It's unknown how much longer they will be closed, but odds are, it's going to be at least a couple more months. They're managing things, but help is always welcome. They got it recently from one of the most popular writers in comics: Donny Cates.
I wanted to give a substantial shout out to Donny for doing the Big Bang crew a solid. As part of a collabo with retailers Jetpack Comics and Forbidden Planet, Big Bang is getting a special foil version of Crossover #1 in with the cover by Geoff Shaw and signed – with a certificate of authenticity! – by Cates. Not only that, but per Big Bang's John Hendrick, Cates paid the shipping himself to ensure they got to Big Bang in a timely and cost effective manner. He definitely didn't have to do that, but the fact he did underlines how much he wanted to help out the fine folks over at Big Bang.
Being closed to customers is unfortunate, but it comes with the territory these days and it's at least made easier by the actions of people like Cates. That's wonderful to see. So good job by you, Donny! I love to see it!
The rest of this article is for
subscribers only.
Want to read it? A monthly SKTCHD subscription is just $4.99, or the price of one Marvel #1.
Or for the lower rate, you can sign up on our quarterly plan for just $3.99 a month, or the price of one regularly priced comic.
Want the lowest price? Sign up for the Annual Plan, which is just $2.99 a month.
Learn more about what you get with a subscription