Comics Disassembled: Ten Things of Note from the Past Week in Comics, Led by Some Fair Comics
'Twas the week before New York Comic Con, and all through the news, not a PR person was stirring, not even for reviews. Okay, that's enough rhyming and poetry for a fairly quiet week. Let's get to a kind of quiet week in comics, led by the arrival of a banner event.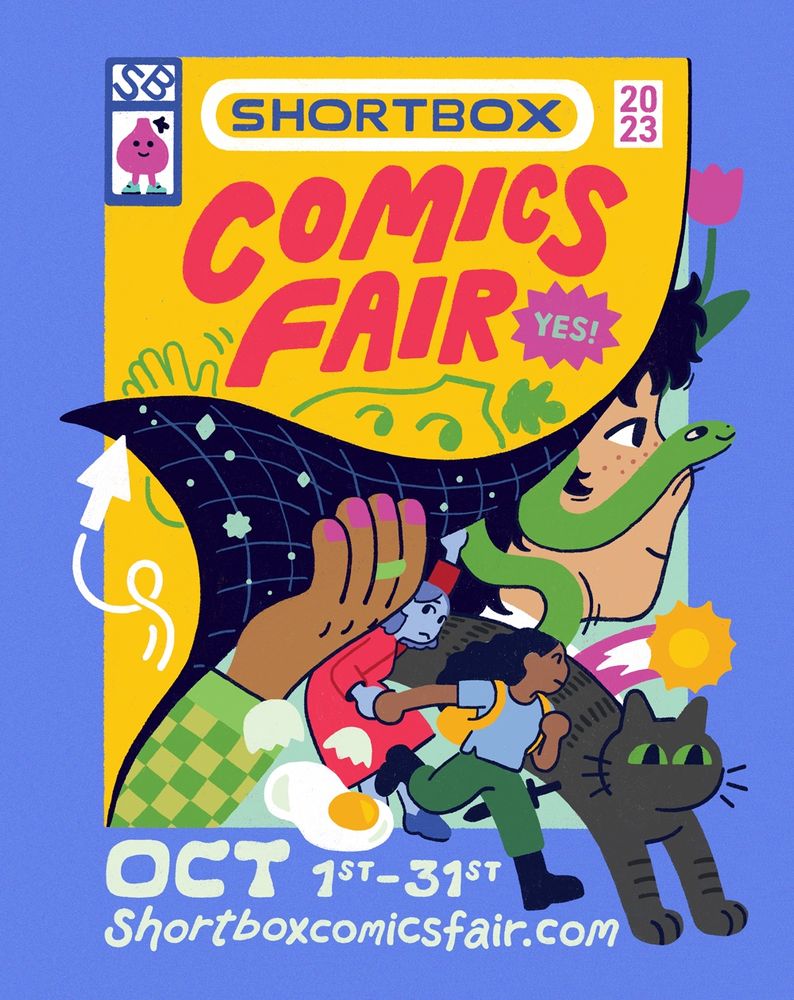 1. ShortBox Comics Fair, Standing Out
October brings another ShortBox Comics Fair, as the fine publisher of all things comics dropped another 100 or so comics from a wide variety of creators for digital only purchase throughout the month. That means PDFs only, no physical product, with 100% of the proceeds going to the creators themselves. But it also means we get an unbelievable mix of comics you won't find anywhere else that run the gamut of everything you could imagine from the medium. It's an incredibly exciting event, even if it's one that is solely online.
I highly recommend browsing this year's comics, but I must warn you: it's a dangerous task to take on! I decided I wanted to buy some to read on my flights to New York from Alaska, and in the process of cruising through the glorious cover art for each of the releases, I somehow managed to end up buying 25 of them??? With names like Chan Chau, David Brothers + Nick Dragotta, Lucie Bryon, and Joe Sparrow releasing new comics, though, can you really blame me? You have until October 31st to load up. Even if you don't go off like I did, I highly recommend seeing what's next (and what's now) in comics by visiting the ShortBox Comics Fair and its bevy of beautiful comics.
2. Another NYCC Treat, Being Revealed!
As if I didn't have enough to do already at New York Comic Con, the deadly duo of Ryan Browne and Charles Soule revealed that the grand adventures of the Eight Billion Genies-verse is in fact not over, at least not completely. The pair revealed in their respective newsletters that there will be a new issue of the comic – titled Eight Billion Genies: Wishworld #1 – that they'll only be selling at New York Comic Con and on Soule's site, while supplies last.
What's it about, you might be wondering? Who knows! We'll find out if and when we're lucky enough to get a copy, but you better believe that I'm going to be running like a madman at the con ensuring that I somehow can sell my own SKTCHD ZINE and buy this comic/the Department of Truth bootleg before they sell out. The good news is, I am very fast and make terribly irresponsible decisions all the time. What could possibly go wrong?!?!?!
The rest of this article is for
subscribers only.
Want to read it? A monthly SKTCHD subscription is just $4.99, or the price of one Marvel #1.
Or for the lower rate, you can sign up on our quarterly plan for just $3.99 a month, or the price of one regularly priced comic.
Want the lowest price? Sign up for the Annual Plan, which is just $2.99 a month.
Learn more about what you get with a subscription