Comics Disassembled: Ten Things of Note from the Past Week in Comics, Led by the Future Arriving
Oh baby! Comics Disassembled is led off by the rarest of morsels…big news from DC on a day that isn't a Friday! My god, I thought it was impossible. Let's get to that and more, as I look at ten things I liked or didn't like from the week of comics.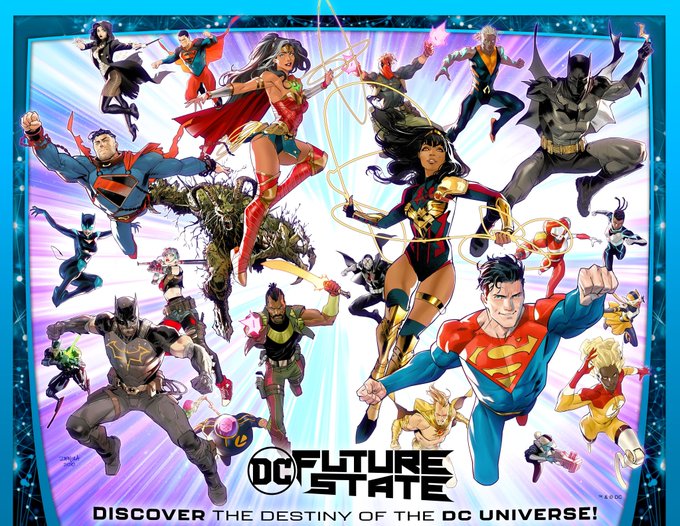 1. Future State, Coming Soon
There are two ways to look at DC's Future State announcement – which is a two-month break from regular storytelling that follows Death Metal's conclusion with a linewide effort filled with new titles and new approaches – from yesterday.
First, it's to simply categorize it as 5G burnoff, or an effort to capitalize off materials that were perhaps in the works or in consideration back when it looked like the publisher was going to relaunch its line as its purported 5G efforts. After all, why leave good comics behind, especially if they buy you time after the recent layoffs at the publisher with a Convergence-style event. That very well may be true, or at least parts of it, especially considering the regular line continues after this concludes.
Second, you could look at it as DC doing something very, very different, with the attractiveness of that effort depending on how you feel about the components of it. While I do believe there are 5G elements clearly in here, I fall into the second camp, and more specifically, I fit one particular subsection of it: I love this. Let's break down why.
The clear starter for me is the original take on formats, as the totality of Future State is comprised of two story types: mini-series/one-shots or monthly/twice-monthly anthologies collecting an array of stories within one specific part of the universe. While any ongoing idea would obviously be an impossibility here, the fact that DC is getting in its lab with minis, one-shots and anthologies makes me wonder if the publisher is basically taking some of these ideas for a test drive, particularly the anthology one.
I think they're great ideas, most notably the anthologies, as depending on size or pricing I could see these being a format of the future for the publisher if they perform well. I mean, do you think there's really any chance I won't buy the Future State: Dark Detective anthology, with a story from the deadly pair of Mariko Tamaki and Dan Mora, a story that isn't just starring Grifter but Grifters – PLURAL GRIFTERS! MY DREAM! – from Matthew Rosenberg and Carmine di Giandomenico, and a Red Hood joint from Joshua Williamson and Giannis Milonogiannis. While I don't care for Red Hood, those creators and that format is enough to attract me. The same goes across a lot of these anthologies.
And to DC's credit, unlike the original 5G rollout plan, there are none of the stodgy DC favorites like Dan Jurgens, Scott Lobdell or Brett Booth involved – not saying they can't get work! Just saying they felt a bit played out – with these titles loaded with exciting creators like Tamaki, Mora, Becky Cloonan, Jen Bartel, Vita Ayala, Simone di Meo, Gene Luen Yang, Mark Russell, Steve Pugh, and so on and so forth. The creator lineup is considerably more interesting than I'm used to from DC, and certainly far less tired than what I've come to expect.
Lastly, there are all kinds of new iterations of favorite characters here, including a new Wonder Woman, Batman, Superman and Justice League, giving us new life on a different level. Pair that with phenomenal character designs – Mora seems deeply involved with that process, as far as I can tell – and actual great design to these covers and logos, and oh baby, am I here for this.
Does it make all of this a complicated thing to sell that a) it's only for two months and b) DC has already said they'll return to the status quo in March? Yeah, probably. I don't even know how I would handle this if I was a comic shop. The good news is I heard word that it's all returnable for comic shops – that's right, all of it – which makes a world of difference for shops. They can order for potential success and return whatever they don't sell. That's fantastic, and shows the confidence DC has in the product, or at the very least the support they're giving retailers.
But I will say this from a consumer standpoint: this is the first time I've been genuinely excited about main line DC comics since…
………
………
Rebirth's beginning? The start of the New 52? I don't even know. And that excitement makes a difference to me. I looked at these and thought, "I want to read these." That is a big change for me! I love it all, from the unique format to the creators and characters. Throw in the support for shops, and this puppy has my full and rapt attention. I hope more comes from this, because I dig it. I like the look of DC trying new things with its comics. It's a good look.
Bonus points go to DC for announcing this on Thursday instead of their typical Friday news dump. I truly hope this is a new direction they're going for of not burying their news on the day before the weekend – and the day of this column – because it kills me. Even if Future State isn't forever, I hope that PR strategy is.
2. Archie Loves Webtoon
Speaking of things I love: ARCHIE IS GOING TO WEBTOON! As I've noted here on this very site, I am rather interested in Webtoon, and its audience – both from a size and diversity standpoint – stands out within comics. The problem is, most direct market comic publishers are an awkward fit for working with the webcomics giant, both because the infinite canvas doesn't fit what they do, and because the content doesn't jive. But you know who that isn't the case for? Archie!
From a content standpoint, youth focused comics with romantic, dramatic and comedic angles are very much extremely Webtoon's jam. So Archie teaming up with Webtoon to not repurpose old comics but to create new content specifically for the platform makes…maybe more sense than any news story from comics this year. That pairing just fits, and if handled well when it launches in 2021, will be enormously beneficial to both. I love it.
Also: kudos to Archie, who has shown supreme flexibility when it comes to adjusting as times change. Very few publishers have been successful at that, and yet the one that might have the external perception of being the most old timey has shown itself to be as agile as anyone. That's fantastic. Good job by you, Team Archie!
The rest of this article is for
subscribers only.
Want to read it? A monthly SKTCHD subscription is just $4.99, or the price of one Marvel #1.
Or for the lower rate, you can sign up on our quarterly plan for just $3.99 a month, or the price of one regularly priced comic.
Want only the longform content? Sign up for the monthly longforms only plan, which is just $2.99 a month.
Learn more about what you get with a subscription