Comics Disassembled: Ten Things of Note from the Past Week in Comics, Led by the Once & Future King
It's the Friday of San Diego Comic Con weekend, which means…a surprising lack of news! Maybe they're saving it for the weekend. Maybe we'll talk about that more later. We'll see what happens, but let's look at that and more in Comics Disassembled, a look at ten things I liked or didn't like from the week of comics, led by a fave concluding.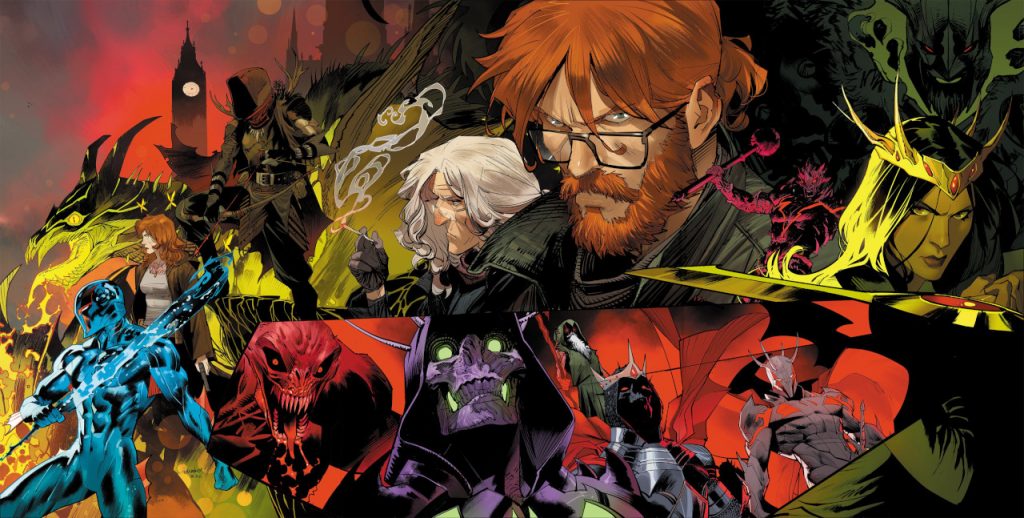 1. Once & Future, Soon to be in the Past
As covered previously on SKTCHD, Kieron Gillen, Dan Mora, Tamra Bonvillain, and Ed Dukeshire's Once & Future has long been a comic I quite liked, even if there was a stretch there in the early middle where I was a smidge wibbly wobbly. Since I wrote that piece, I've only grown to admire it more, as this BOOM! series has become a top tier book on my read pile each time an issue is released. It's an absolute blast of a read, a comic book equivalent of a blockbuster movie but with all the feels and emotions of a strong family drama. I could read it forever, as it just continues to improve with age.
And yet, I cannot! Once & Future is ending in October with its 30th issue, as the team is wrapping up this story that's been ramping up to bonkers levels for the last while – multiple King Arthurs, a Robin Hood, and a King Lear might be involved, at this point – and sure to do so in the perfect way. While the press release alludes to this being an ending but not the ending, this seems to be the end of the road for now at the very least. It's going to go out with a bang, no doubt, and with connecting covers over the last three issues by Mora, it's going to be real pretty as it departs.
If you haven't been reading Once & Future, this is the perfect time to jump onboard. It's a gem, and one that deserves all the love for its consistently high level of quality. Plus: It's an absolute blast. Who couldn't stand to have a comic in their life that is as entertaining as this one? No one, that's who.
I'll miss this series, but shouts to the team for ending the series at a logical, smart point without lingering for too long. Extending story can be fun for a time, but it can also diminish what preceded it. This feels like the right move, even I'll be sad to see it go.
2. The Heat on Marvel Studios, Increasing
If it felt like Marvel was handling its creators who directly impacted the Marvel Cinematic Universe poorly before, a feature from The Hollywood Reporter this week painted an even uglier picture. In some ways, it's not all that different than what we knew before, as creators were still offered a paltry sum of $5,000 for characters they had helped define. What's different is the process in getting to that number, as writer Devin Grayson and artist J.G. Jones — who worked together on the Marvel Knights Black Widow series from 1999 that prominently featured Yelena Belova — both thought they'd receive $25,000 for Belova appearing in the Black Widow film.
That belief apparently stemmed from a 2007 agreement they had with Marvel about Belova's future appearances in movies, shows, action figures, and games, with earnings coming from each time the character showed up in one. What the THR article walks everyone through is how through "Marvel Movie Math," as the piece called it, Marvel gave itself a lot of leeway to slash payments to creators if they so desired. It reminds me of what Mark Zuckerberg and friends did to Eduardo Saverin in The Social Network (and real life, I suppose), except there were actual innocents involved here.
This feature takes readers through more details on exactly how it all works, and how Marvel goes as far as it can to pay as little as humanly possible to the creators who helped make the MCU a reality. It's honestly terrible, and even worse than it already was, which is impressive and depressing at the same time. It's worth a read, and worth wondering why creators should ever create anything new for Marvel at all.
The rest of this article is for
subscribers only.
Want to read it? A monthly SKTCHD subscription is just $4.99, or the price of one Marvel #1.
Or for the lower rate, you can sign up on our quarterly plan for just $3.99 a month, or the price of one regularly priced comic.
Want the lowest price? Sign up for the Annual Plan, which is just $2.99 a month.
Learn more about what you get with a subscription