The Decade That Was, According to the SKTCHD Forum Members: Comics Edition
The decade is over and done with! It is kaput! That's that! But that doesn't mean the celebration is over here on SKTCHD, even if my own write-ups on it are. The extremely excellent crew from the SKTCHD forums took it upon themselves to put together their own celebration of the decade that was in comics, as they put together voting, lists and write-ups about the best comics in their eyes from the 2010s. It was a mammoth effort that resulted in some excellent picks, and naturally, I wanted to highlight it here.
So today, their picks for the comics of the 2010s are being revealed, with a octet of categories leading off for this exercise. Come back tomorrow for more, as we examine their favorite creators from the same stretch, and major shouts to everyone on the forums for this effort. They all did grand work on this.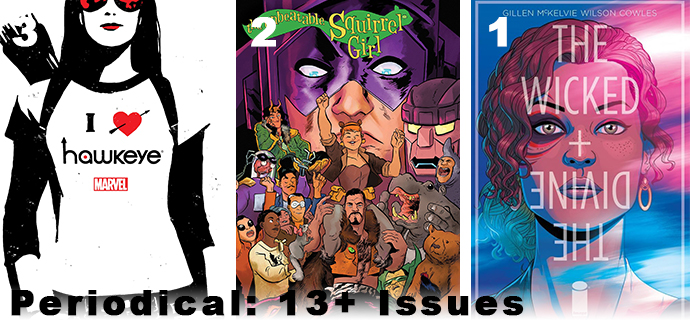 Best Periodical Comics, 13 Issues or Longer
The team on the forum wanted a clear delineation between longer work and shorter ones. That's why this category is focused on regular old floppy comics for titles that ran for 13 issues or longer, as it's focused on the titles that either ran much longer or were carrying on a longer form story. I love to see it, as a lot of titles get forgotten in our pursuit of the new hotness. They came up with a great list.
Runners Up
Ms. Marvel
Loki: Agent of Asgard
Lazarus
New Avengers (Hickman & friends)
Scalped
New 52 Batman
Giant Days
Amazing Spider-Man (Slott & friends)
Young Avengers
Thor
Avengers (2018)
Avengers (Hickman & friends)
Immortal Hulk
Batman: Rebirth
Daredevil (Samnee/Waid & friends)
Saga
3. Hawkeye
My love for Fraction/Aja/Hollingsworth/Eliopoulos+friend's Hawkeye run is twofold; one reason being the strength of the single issues. From beginning to end, the issues themselves are mostly stand alone while also painting a mosaic that elevates everything. I can open the hardcovers to a random issue and have all the fun I want, or I can read them cover to cover and have an even better experience. It's a series that exemplifies the idea that issues should have their own purpose and that every story doesn't need to be decompressed.
The other reason is that this run on Hawkeye is the corporate comic that made use of the corporation and the creators to their fullest extent. This book would not be as dear to me without issues 4,5,7,10,12,14,16,17,18,20 or the annual, all of which feature artists not named David Aja. This series is improved by having multiple artists, allowing it to have multiple visual identities that still work together through seemingly mystical means. This comic feels like each creator treated it like it was theirs, regardless of how many pages they touched. It's futzing good. – Keigen Rea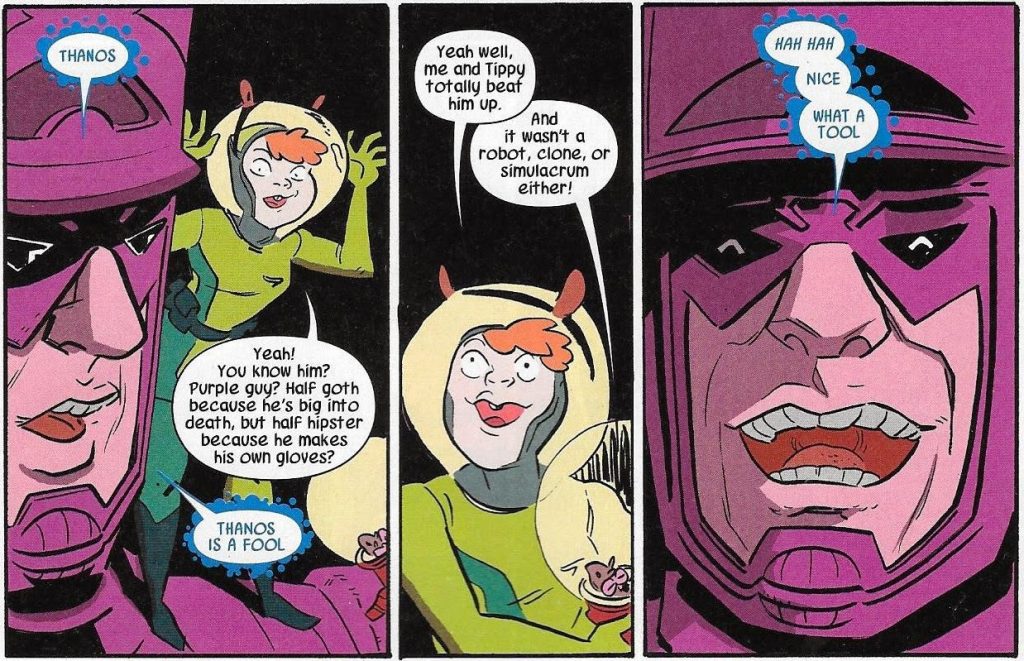 2. Unbeatable Squirrel Girl
Before this decade, Squirrel Girl was a joke to everyone. Ryan North, Erica Henderson, Derek Charm, Rico Renzi and the rest of the kick-ass team on The Unbeatable Squirrel Girl changed all that. Now she's in video games, the star of TV shows and one of the characters most fans want in the MCU.
The creative team did this by focusing on what makes Squirrel Girl awesome. She has all the powers of a squirrel and all the powers of a girl. She has super strength, climbing powers and can talk to squirrels, but her most important skill is how she handles every encounter with an open mind, ready to find a way to solve things in calm manner, without anyone getting hurt. This approach has made classic evil villains like Kraven, the Mole Man and even forces of nature like Galactus into her friends.
In addition to the excellent role model that Doreen has been, the book has also taught readers computer, mathematics and linguistic skills far beyond what anyone would expect from a comic book, especially one that was also consistently the funniest book on the stands.
When we think of books that changed the comic book medium, we're quick to think of big serious books like Watchmen, Maus or Sandman. But The Unbeatable Squirrel Girl sits right alongside them, influencing a ton of books from publishers both big and small, showing that it's possible to make a truly all-ages comic, that made us all laugh, feel and think. – Rasmus Lykke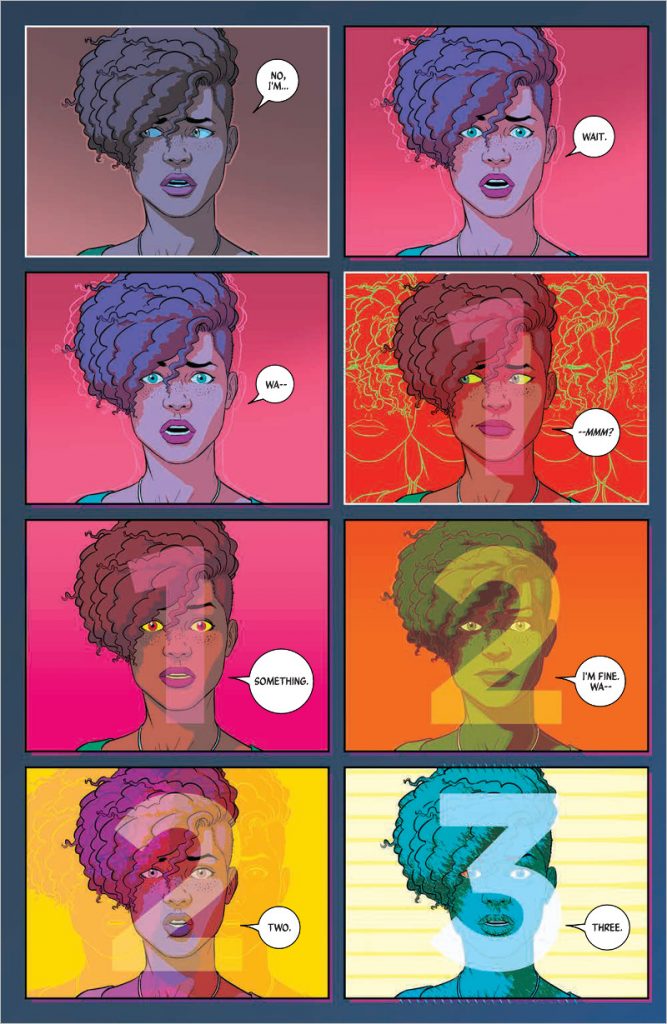 1. The Wicked + The Divine 
What does it mean to be a creator? And why would anyone really want to be one?
These are the central questions of Kieron Gillen, Jamie McKelvie, Matt Wilson and Clayton Cowles' The Wicked + The Divine (which also includes some great guest creators).
Given a finite lifespan, why would anyone want to waste their time creating art? Is it like Baal, for the admiration and the life that it can provide to you and your family? Or like Lucifer for strictly hedonistic pleasures? Is it like Sakhmet, simply a way to get laid? Perhaps it's like Tara and a desire to be heard, to be seen, for who you truly are, to share your truth with the world? Or maybe it's Persephone and you've watched in admiration as others have gotten to do what you desperately wanted to and now it's finally your turn. WicDiv presents all of these options (and more) to the reader and leaves it up to them to figure out what works for them.
The story that Gillen/McKelvie tell in this series is a deeply relatable one, of humans wanting to be gods and gods wanting to be human. And, as is their wont, they tell it in some of the most formalistic daring ways, using the storytelling possibilities of the comics medium to its fullest potential. No other series would have dared to do an issue that was all samples of previous issues (naturally featuring the Daft Punk-ish producer god Woden), a magazine issue or an issue with ten all black pages (the issue was oversized, meaning that in addition to the ten black pages, it had the same amount of story pages as normal. Gillen/McKelvie don't cheat their readers).
But all of the formalistic tomfoolery is never for show, it always serves the story being told. It simply enhanced the story, turning The Wicked + The Divine into the best series of the 2010s. – Rasmus Lykke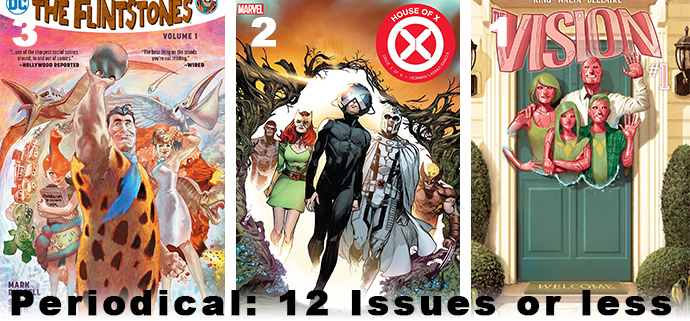 Best Periodical Comics, 12 Issues or Fewer
This category is focused on titles that ran for 12 issues or fewer, either because that's how they were planned out or that's just how long they lasted. There are tons of titles that live for a short amount of time and are loved for longer. This is the category for those comics.
Runners Up

X-Men Red
Assassin Nation
The Fade Out
Meet the Skrulls
Flavor
Convergence: The Question
Sheriff of Babylon
God Country
Daytripper
Secret Wars
Mister Miracle 
3. The Flintstones 
What Mark Russell and Steve Pugh do with The Flintstones is simple, really. It's the same joke that's always been at the core of the franchise: They may live in the stone age, but they're just like us. They go bowling just like we do, but with an animal as a bowling ball. They work with heavy machinery, but their machines are actually dinosaurs. They go to the drive-thru for some rips, but it's giant dinosaur rips.
It's a way for us to look at the little silly things we do and laugh.
What sets Russell and Pugh's Flintstones apart from the classic series is the kind of things being parodied. Instead of the more mundane things, it's modern religion, consumerism, democracy and basically the entire modern way of life.
The Flintstones is the best kind of satire. The kind that makes you laugh and think. – Rasmus Lykke
2. House of X/Powers of X
Two series that are one, House of X and Powers of X did what very few relaunches have been able to do this decade: give an old franchise a new direction to go in. What's more, it isn't just a new direction because it's shocking or different. It feels like a natural and reasonable next step for Marvel's Merry Mutants.
And while the idea alone probably would have made for an amazing comic, everything about this series is phenomenal, from the art, colors, and design elements to the costume design, lettering, and structure. These are real good comics y'all, and they deserve to be celebrated. – Keigen Rea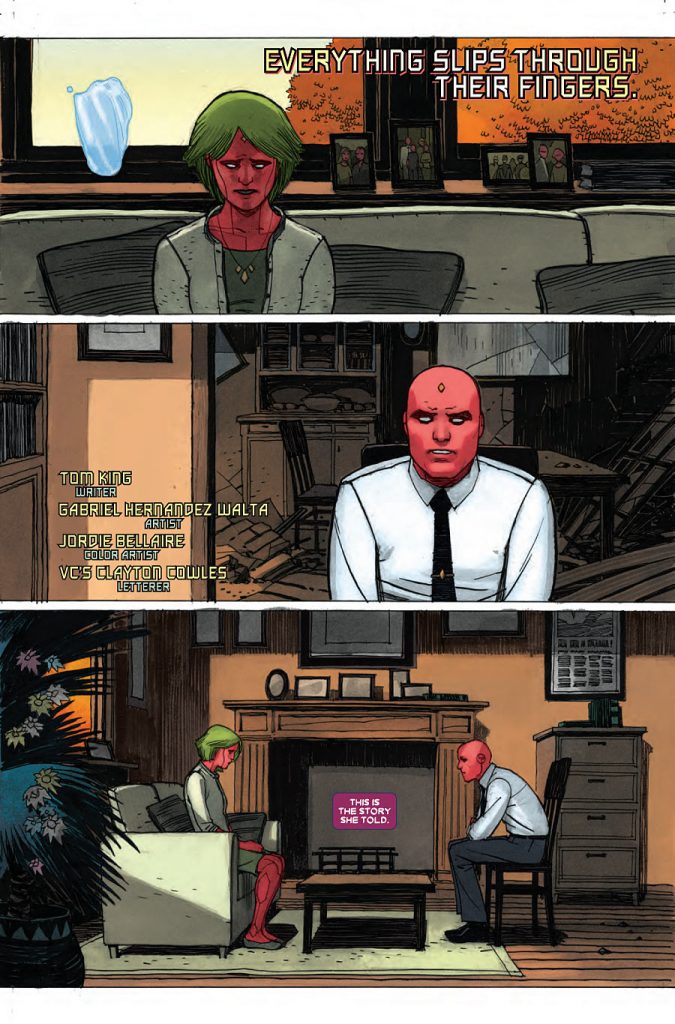 1. The Vision 
What does it mean to be human? And how about normal?
These are the central questions posed by Tom King, Gabriel Hernandez Walta, Jordie Bellaire and Clayton Cowles' The Vision.
When classic Avengers Vision decides to make a family (literally) and move to the suburbs, he leaves behind the superhero world he has lived in for so long. Instead he moves into a neighborhood filled with people that don't see the superhero Vision – who has saved the earth 37 times -, but instead they see someone who's unlike them. This alienation extends to Vision's family too: His wife Virginia, his daughter Viv and his son Vin.
The family of androids struggle with being accepted by their peers, with what it takes to fit in – and whether they want to at all, with being worthy of love, with what love even is and many other things. Things that everyone struggles with at some point or another.
By using the metaphor of androids, the creative team shows us what it means to be human. – Rasmus Lykke
The rest of this article is for subscribers only.
Want to read it? A monthly SKTCHD subscription is just $4.99, or the price of one Marvel #1.
Or for the lower rate, you can sign up on our quarterly plan for just $3.99 a month, or the price of one regularly priced comic.
Learn more about what you get with a subscription