The Hall of Fame of Superhero Comics Being Weird at Sports
I love sports.
I love superhero comics.
Unfortunately, I'm not always impressed by the two co-mingling, because you know what? The latter is often very, very weird at depicting the former! Historically, the bulk of stories featuring superheroes taking on athletic feats are somewhere between "awkward" and "unintentionally hilarious," a spectrum I genuinely love, even if it's dubious from a qualitative standpoint.
Why do they live in that range? I've come up with my own theories over the years – most of them are built around the lack of motion that comics are capable of, but I've also toyed around with unfamiliarity being a problem because many comic creators aren't sports fans – but I have no real answer. It's just something that happens. On occasion, the marriage of the two is genuinely inspired (our first selection will reflect that) but for the most part, it's definitely in that bizarre range that I adore.
I'll be celebrating this awkward and often delightful overlap in the first entry to my Hall of Fame column, in which I – you guessed it – create Halls of Fame for a wide range of elements from comic history. This will be something that's in the rotation here on SKTCHD in an effort to celebrate the good, the bad and the weird from comic book history. Each initial class will be limited to four members with a couple final cuts worked in, and my decision making process will be driven by a process similar to the one the Today's Game Era committee used in putting Harold Baines in to the Baseball Hall of Fame: they picked someone they really liked, which made it enough for them.
So let's get to this inaugural Hall of Fame class of Superhero Comics Being Weird at Sports, with a quartet of indisputable all-timers leading the way, although, naturally, I'm open to any arguments you might have for other standouts from history.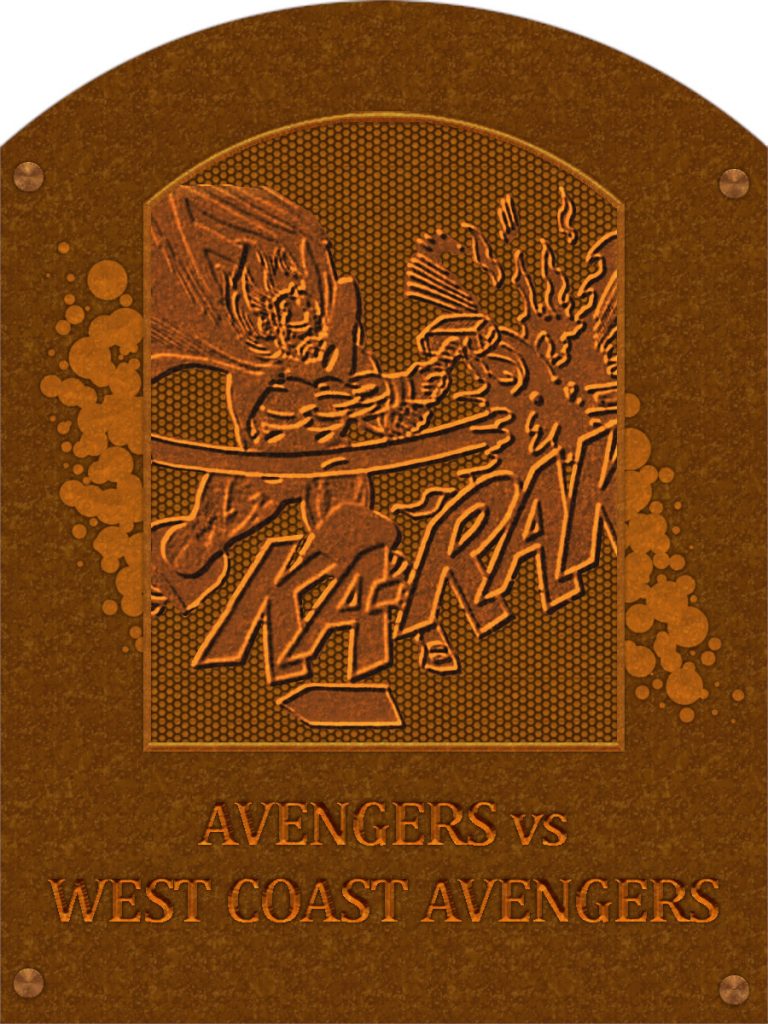 The Avengers vs. the West Coast Avengers in a game of baseball, from West Coast Avengers Annual #2
Written by: Steve Englehart
Art by: Al Milgrom and Gregory Wright
The inclusion of this three page sequence that led off West Coast Avengers Annual #2 should come as no surprise. After all, it was a story I talked with baseball journalist and podcaster Ben Lindbergh about for an entry into my Comics, Seriously column. It is, in my opinion, the perfect overlap between sports and superhero comics, as it both largely gets baseball right – there are some wild baserunner and fielder positioning decisions here, but that's mostly Milgrom trying to solve perspective issues and figuring out how to get Captain America onto the page – and it uses the insanity of superheroes in all the right ways.
I mean, just look at this page. Hank Pym is catching with a gigantic catcher's mitt he presumably used Pym Particles on. Thor is using Mjölnir as a bat. On the next page, Wonder Man throws a fastball so fast it literally catches on fire. THE SCORE IS 417 TO 413! It's utterly spectacular. This is exactly what I want out of sports and superhero comics, and it's clear that Englehart and Milgrom knew that if you're going to make superheroes play a sport, you might as well lean into how they might play the game differently. This definitely fits into my occasionally preferred class of "no thinking, just stupid" superhero comics. West Coast Avengers Annual #2 is a true legend, and the only unanimous inductee from this inaugural class.
The rest of this article is for
subscribers only.
Want to read it? A monthly SKTCHD subscription is just $4.99, or the price of one Marvel #1.
Or for the lower rate, you can sign up on our quarterly plan for just $3.99 a month, or the price of one regularly priced comic.
Want only the longform content? Sign up for the monthly longforms only plan, which is just $2.99 a month.
Learn more about what you get with a subscription