Title Reboots, Column Questions, Substack Impressions, and more: The February 2022 Mailbag is Here
It's Mailbag time! Let's get to a great wave of questions and a perfectly fine group of answers in the February Q&A.
If you could hand pick one creative team to reboot a DC series and one for a Marvel series, who and what would they be? – Bono Silva
I know this title already exists on the Marvel side, but I'm doing it anyways. I'm relaunching X-Men Unlimited as an anthology title, except in this case, it's a purely slice of life book about what ordinary, every day existence is like for Marvel's Merry Mutants on Krakoa. The wrinkle I'd add is each issue or story – it would both be digital and print, but done sort of like the current X-Men Unlimited series where the latter collects the former – would be whatever length the creators want/need, and that it would exclusively be cartoonists from outside the direct market, including the world of graphic novels, webcomics/Webtoon, and proper indie comics. Basically, Faith Erin Hicks' short story about Wolverine and his Canadian eggs would be the jumping off point.
Ngozi Ukazu on Krakoa's sporting world! Mongie on a young mutant's extremely popular IRL stream on Twitch! Gene Luen Yang on continuing education on Krakoa! Brenna Thummler on making friends as a mutant new to Krakoa! John Allison on a recurring story of Armor and Pixie teaming up to solve minor mysteries! The possibilities are endless, and they would be fun.
As for DC, we're going to go a much more obvious route. Mark Russell writing a Lex Luthor 12-issue maxi-series. Not technically a reboot, but I just want Mark Russell writing a Lex Luthor title because it's a perfect fit and he's already skirting around it as is. The artist is a tough call. I'm excluding Steve Lieber because I want at least one element to be outside the box. Let's go with Tyler Boss as the artist, because I feel like Boss brings the strengths you need in a Russell written title – character acting, comedic timing, excellent background work – while offering complementary skills that would elevate the work. That would be an amazing pair, and I bet it would result in one savage and unforgettable 12 issue story.
For the "You're coming with me" titles in The Pull, are you usually getting physical copies, digital copies, or a mix of both? – Alex Dimitropolous
When it comes to The Pull, I'm exclusively talking print. Digital I only buy when a) it's on a deep discount sale and there's a comic I've been interested in checking out but never did or b) when I try and fail to actually get a print copy. I am a print reader through and through. It's honestly a problem, because whenever I get advance reader copies or even already released comics via email, I forget they exist. It makes keeping on top of things quite the pain, and the breadth of what I read somewhat limited (if you consider what I read limited, which you might not).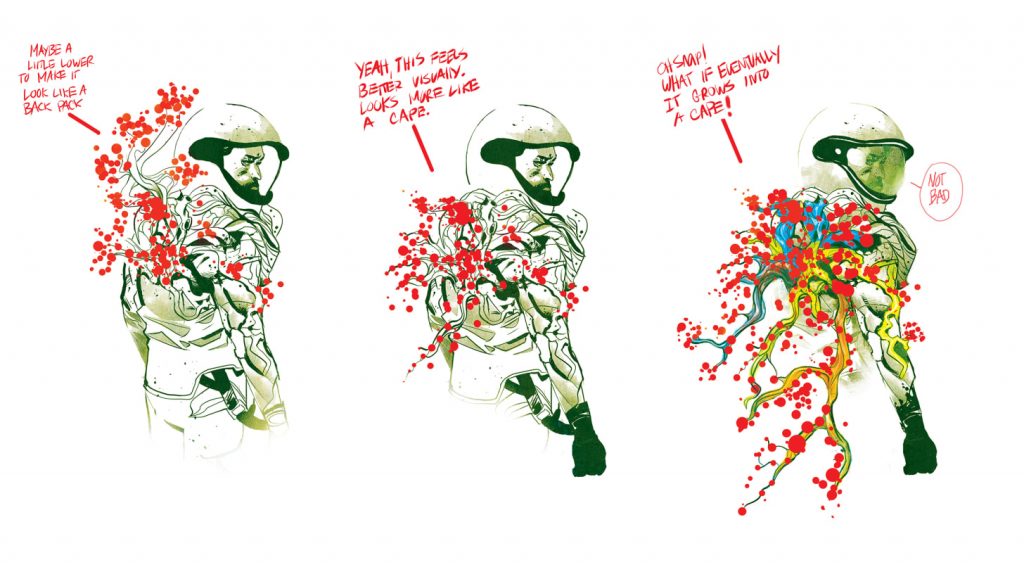 Do you think the Big Two will look at the enthusiasm/community that the Substack comic creators are generating/creating and decide to create something similar? Pick one creative team working on a marquee book and let them do whatever they want in a weekly newsletter. Pitches, scripts, in-process artwork, they could even give away the whole book digitally. Break the traditional marketing cycle and get people excited about a book in a different way. – Jonathan Auerbach
Short answer: no.
Longer answer: it reminds me of what Ed Brubaker told me in my feature about creators finding a new path when he said all Marvel and DC ever do is "look at is each other." The enthusiasm/community aspects that Substack creators develop happens because it needs to happen. That's the product Substack is selling, not comics. But Marvel and DC are selling comics and shirts and stickers and podcasts and infinite other things. They pay creators to tell stories, which they then convert into a bevy of other products. If they paid creators to write newsletters or whatever — beyond what they already do on Marvel dot com or in Marvel Unlimited — that wouldn't benefit them in the way they're set up.
In short, the Big Two and Substack are effectively in different industries altogether. They are both in the business of content, but they go about it in wildly different ways. And the way the latter does it just wouldn't benefit the former, if only because they know what sells comics in their markets, and unfortunately, it isn't all of that fun stuff that you and I love so much.
What's your favorite non-standard/non-traditional comic book format, and is there a title that you think especially benefited from being published in that format? – Alex Dimitropolous
I love digests. Obviously that's mostly known as the size manga is published in, and I love it because it's designed purely with reading in mind. It's easy to read, it's easy to store, and comics published in it tend to be more affordable. What's not to like? And the first title I think of that benefited from it was Runaways, as Brian K. Vaughan and Adrian Alphona's original Marvel series was, seemingly, a bit of a middling seller in single issues and a considerably stronger one (at least from what I understand) in digest format. That's where I first discovered the series, and I still have my trades exclusively at that size. I'm sure other sizes are nice, but for Runaways, that's just the right size to me.
I should note, though: not every comic fits that format. I wouldn't want to read, I don't know…Scalped in that size. Or even another BKV joint like Saga. But for certain titles, it just makes sense.
The rest of this article is for
subscribers only.
Want to read it? A monthly SKTCHD subscription is just $4.99, or the price of one Marvel #1.
Or for the lower rate, you can sign up on our quarterly plan for just $3.99 a month, or the price of one regularly priced comic.
Want the lowest price? Sign up for the Annual Plan, which is just $2.99 a month.
Learn more about what you get with a subscription