The Kaijumax Power Rankings
Kaijumax Week begins! The end of Zander Cannon's incredible Oni Press series about a prison for kaiju arrives tomorrow, and having read it, I can say with certainty that my pick for the pound-for-pound, greatest ongoing series of the past decade ends as well as it lived, which is truly saying something. I'm going to be celebrating the series all week, with a trio pieces looking at different sides of the series. The headliner comes Wednesday, as I explore the series' beginnings, creation, and ending with insight from Cannon and others. That's going to be a doozy, so check back then.
But it all starts today with The Kaijumax Power Rankings. There's something that just feels right about power ranking tokusatsu characters. Maybe it just seems like something we do already. Whatever the reason, I'll be doing that, but purely focused on Kaijumax's world, examining a range of subjects, including favorite seasons, characters, moments, and more — each limited to a maximum and minimum of six to match the six seasons of six issues the series had — to better highlight what made this title as special as it was. I'm not going to lie: this was an incredibly difficult process for me. It was like having to choose my favorite child, if I actually had any and if each of them was 30 to 50 times my size. But I also delighted in it, as it gave me an excuse to revisit a series I love.
These picks are naturally debatable. All power rankings are by nature. If you disagree, let me know how and why! I support hearing any and all thoughts on these rankings, if only because that means I am talking about Kaijumax, which clearly is one of my favorite things to do. That's enough of an intro. You understand. Let's get to it. 3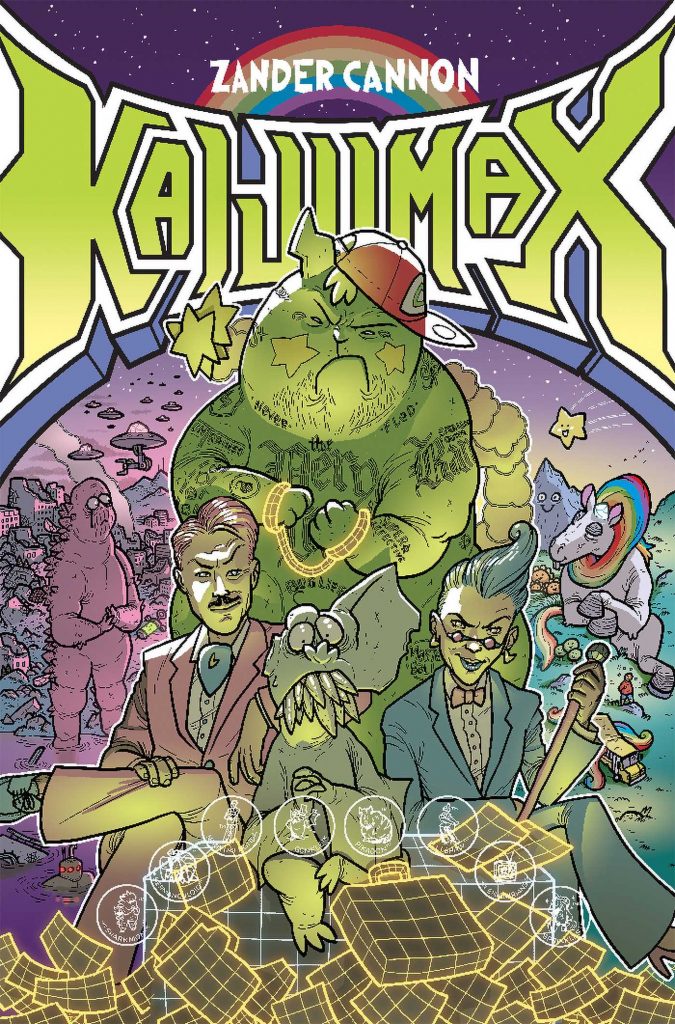 Favorite Seasons
Season 5
Season 4
Season 3
Season 6
Season 2
Season 1
I went back and forth on this ranking a lot, but there were three constants: the top spot and the bottom two. As much as I love the early days of Kaijumax, the story only gets richer as it goes along, with Cannon's art improving dramatically as well. That's not to say those seasons are bad by any means. The comparison I made to Cannon in a recent chat we had was that those two seasons were like the first season of HBO's The Leftovers: still great, but it ends up being set up for the truly exceptional work that's still to come (with the added overlap of both The Leftovers and Kaijumax being darker in the beginning than they are later on).
Season 5 is my pick for the top spot largely because it achieves the greatest balance of A stories (Sharkmon/Daniel, Matsumoto's fall/Hermie's trial, Pikadon's trial) and surrounding events in the prison. The Orange Mile – or death row in Kaijumax – gives that season a particularly strong focal point to build around, and the emotion and drama of the series peaks here. Throw in my favorite moment of the series as well as several other killer beats and it was easy to write that season in as my favorite in pen from the jump.
The next three spots were a nightmare, though. It was a brutal, free-for-all between seasons 3, 4, and 6 for those spots. The easiest decision – and it was not easy, especially considering I imagine I'll regret it the first chance I get to reread it – was season 6 at #4. It's incredible, the final issue is brilliant, and it has some of the best beats of the whole series. But overall, I'd say it's slightly weaker than the other two. But that's like saying you're the third fastest person at the 100 meter dash: that's still really good!
The tiebreaker between the other two comes down to focus and new ideas, and while each has copious amounts of both, season 4 introducing the women's prison and having a trio of A+ storylines headed by Zhang, Chisato/Jeong, and Goat earned it the second spot. That's a lot of spice in one season. Season 3 is just a sliver behind it. It's an incredible season for two of my favorites, and the build up to – and then execution of – the prison riot is tense and magnetic. But it also has my least favorite issue of the 12 those two seasons share (apologies to everyone…it's the Hamilton inspired issue). That's enough to drop it a spot. Still third best in a series filled with six straight killer seasons is pretty dang good.
The rest of this article is for
subscribers only.
Want to read it? A monthly SKTCHD subscription is just $4.99, or the price of one Marvel #1.
Or for the lower rate, you can sign up on our quarterly plan for just $3.99 a month, or the price of one regularly priced comic.
Want the lowest price? Sign up for the Annual Plan, which is just $2.99 a month.
Learn more about what you get with a subscription
---
Quick note: While there are no season six spoilers discussed, if you haven't read Kaijumax at all, there will quite obviously be a lot of spoilers here!↩

Quick note: While there are no season six spoilers discussed, if you haven't read Kaijumax at all, there will quite obviously be a lot of spoilers here!↩

Quick note: While there are no season six spoilers discussed, if you haven't read Kaijumax at all, there will quite obviously be a lot of spoilers here!↩