Comics Disassembled: Ten Things of Note from the Past Week in Comics, Led by Greatness Being Discovered
It's week one million of our time of insanity. Comics aren't coming out, but Comics Disassembled is, so let's keep this gravy train rolling and talk about ten things I liked or didn't like from the world of comics in the past week.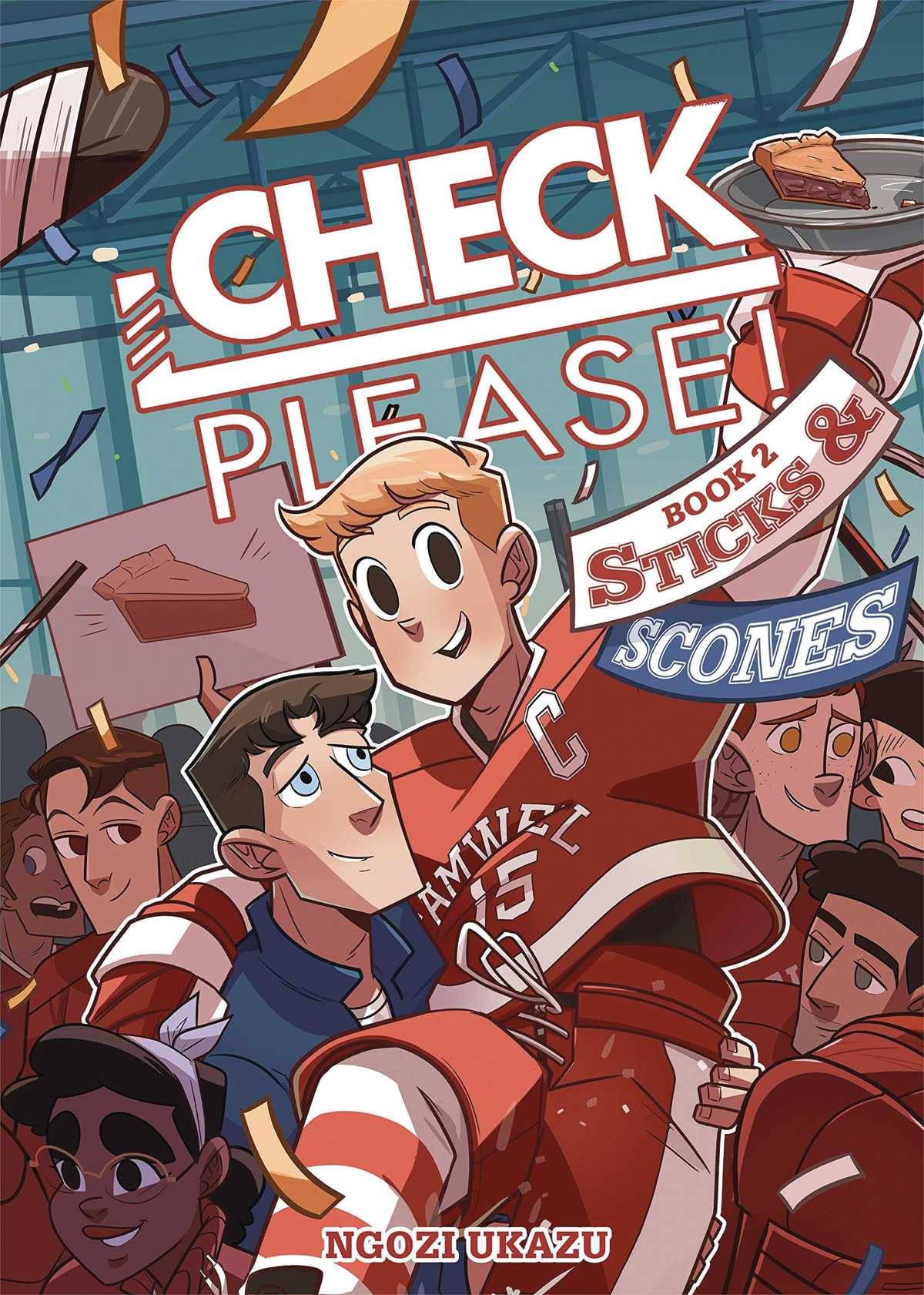 1. Yes, Please, Check, Please!
Ngozi Ukazu's webcomic – and graphic novel – series Check, Please! is something I've referred to a lot on the podcast (and the site), mostly because of the outrageous success Ukazu had on Kickstarter. It was a phenomenon, raising hundreds of thousands of dollars. I was always incredibly impressed by the story behind the book, despite never actually going to read the story inside the book. Perhaps a weird choice, but it was the choice I made.
Until now.
I'm chatting with First Second about having Ukazu on Off Panel, and in preparation, I finally read the first two volumes (which I own but just had not read yet). And. I. Love. It.
Legitimately, Check, Please! is one of my favorite comics I've read in years. Granted, I'm a bit of a mark for it – I've always said I want more food and sports comics, and this is both a food and sports comic – but there's just something so delightfully warm about this book, as if it was one of the many pies series lead Eric Bittle crafted himself. Its inherent goodness radiates throughout, as it's like an LGBTQ version of Richard Linklater's Everybody Wants Some!! mixed with the energy emanating from an active sun.
If the Everybody Wants Some!! comparison doesn't work for everyone else, consider it a spiritual sequel to Dazed & Confused, in which we hang with a college baseball team during the first days everyone gets to campus. It's about sports, but it's also not about sports. It's about the language of the sport, the camaraderie it inspires, the personalities it draws, and the people it affects.
That's Check, Please! through and through, as we follow Eric Bittle – college hockey player, former figure skater, baker, vlogger – through his four years at Samwell University, where he goes from someone who keeps who he is to himself (to a degree) to becoming so much stronger by fully embracing the things that make him him. It's an emotional read, in all senses of the word, and filled with lovable characters (shouts to Shitty, an all-time great character). Ukazu even helps understand the world with explainer sections called "Hockey Shit," where Ransom & Holster – two inseparable best friends who share a line as defensemen – hilariously explain terms from the world of hockey to an audience who might not get it.
This is a fully lived-in world, and its one that feels reflective of the immense passion of its creator. On top of that, Ukazu's cartooning is unreal, with her ability to deliver humor and heartbreak, hilarity and hockey, and everything in-between being at A+ levels throughout. There are so many parts in this series that are just immediately seared into my memory – Bitty's reaction to nearly getting checked at his first practice and one fan's unreal response to a character's hair in the "Flow" Hockey Shit explainer are two particular ones – simply because they are so dang funny.
This series is now complete. There are two volumes, with the second one being called Sticks & Scones, a brilliant name if I've ever heard one. I recommend this series as much as I can recommend one. I dearly love it, to the point I sacrificed one of my most precious commodities – SLEEP! – to complete the second volume in one sitting. It wasn't because I wanted to finish it; it was because I had to. The book compelled me! Check, Please! rules and Ngozi Ukazu is an absolute cartooning treasure. Expect it to be referenced many more times, but this time for non-crowd-funding reasons and instead for "this comic is amazing" reasons.
2. Marvel, Kicking the Can
For the second week in a row, Marvel decided to publish no new comics both in print and digital. Now, part of that wasn't exactly up to them. Deciding not to publish print comics in this environment wasn't an act of charity towards retailers currently affected by shelter-in-place orders in their locations; it was a product of Diamond being donezo for the time being. That said, they could have released digital without print being available. That was an option to them, and one they chose to pass on.
Depending on who you ask, it was a good move or a bad one, the right thing to do or the wrong one. If you ask me, it's the right move, at least in the current situation. Releasing digitally when the core customers cannot even acquire the same product would have both been a tough look and potentially harmful to the market, a double dose of bad news. Choosing to bump it down the line was the way to go. But if we're still stuck inside two weeks, two months, or some unknown period down the road from now, Marvel's going to get going on digital again. It's just a matter of time if this keeps going. And at a certain point I'd really, truly get it. I'm not saying they should, but if it's June and Marvel hasn't released a new comic in months, it will have an area of effect internally that will be hard to ignore.
Keep kicking that can for now though, Marvel. I like the move. I wish it was one with a bit more vision – say, "we're going to keep doing this until May and we will revisit our plan then" – as this weekly gauntlet they're going through by announcing it Monday or Tuesday is just a weird way to do it. Let's let retailers breathe a sigh of relief by giving everyone some insight into the depth of this move. That would help a lot.
The rest of this article is for
subscribers only.
Want to read it? A monthly SKTCHD subscription is just $4.99, or the price of one Marvel #1.
Or for the lower rate, you can sign up on our quarterly plan for just $3.99 a month, or the price of one regularly priced comic.
Learn more about what you get with a subscription