The NBA vs. DC vs. Marvel
The NBA season starts tonight. Let's celebrate by finding comic character equivalents for a selection of players, both good and bad.
Oh baby, it's once again time for some hoops! The NBA's 2021-2022 season kicks off tonight with the Brooklyn Nets and the Milwaukee Bucks facing off for the first time since they saw each other in a classic Eastern Conference Semifinals matchup last season and then LeBron James and the Los Angeles Lakers squaring off against Steph Curry and the Golden State Warriors. I am extremely hyped about this, as my NBA love rivals and, perhaps shockingly, may even surpass my admiration for comics.
I wanted to celebrate this return here on SKTCHD but in a still very comic book way. And the way I'm doing that is by finding the right comic character comparison for ten of the NBA's best players and five of their most random ones, trying to match not only the powers of each, but their narratives as well. After all, so many NBA fans aren't just into the game, but the drama of it as well, resulting in a whole lot of natural parallels between the sport and superhero comics.
Today, we're going to build those connections between player and character, with rationale for each. And if you don't think I found a Stilt-Man comp, then you don't even know me. Let's get to it, and hey, if you have your own comps, let me know in the comments. I support additional ridiculous conjecture, especially on today, the most holy of days, as it is opening day of the NBA season once again.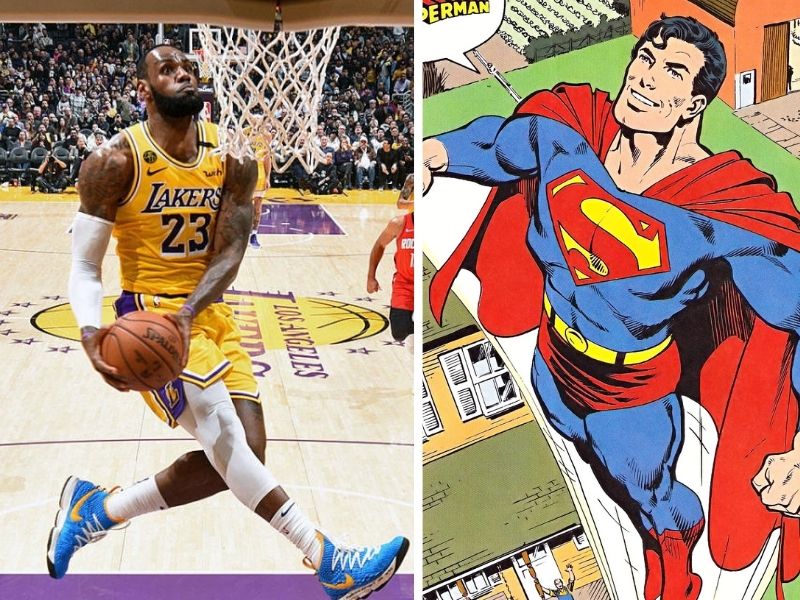 LeBron James: Superman (Pre-Crisis)
Pre-Crisis on Infinite Earths, Superman was the original high school hero, as he started his electric career in super heroics as Superboy. By the time he became Superman, he was already great with expectations for more, and he lived up to that promise by becoming one of the short-list G.O.A.T. contenders. That's pretty much LeBron's story! He was on Sports Illustrated covers back when he was in high school at St. Vincent St. Mary's, and he was immediately very good upon being drafted #1 by the Cleveland Cavaliers, before becoming one of the lasting greats in his now 19 seasons in the NBA. It's tough to live up to your hype when you're destined for greatness when you're young, but LeBron and pre-Crisis Superman definitely did that.
The only real difference between the two is that Superman was considerably more dead set on sticking around Metropolis than LeBron would be. If it was LeBron in that position, he would have been taking stints as the hero of all kinds of places in the DC universe, whether that was Coast City, Central City, Keystone City, Gotham City, or whatever. 8 You could make the argument that LeBron keeps a home in Akron just like Superman maintains a home in Smallville, with the two of them taking their talents global from there. But LeBron is definitely more of a serial city dater than the monogamist that is Superman.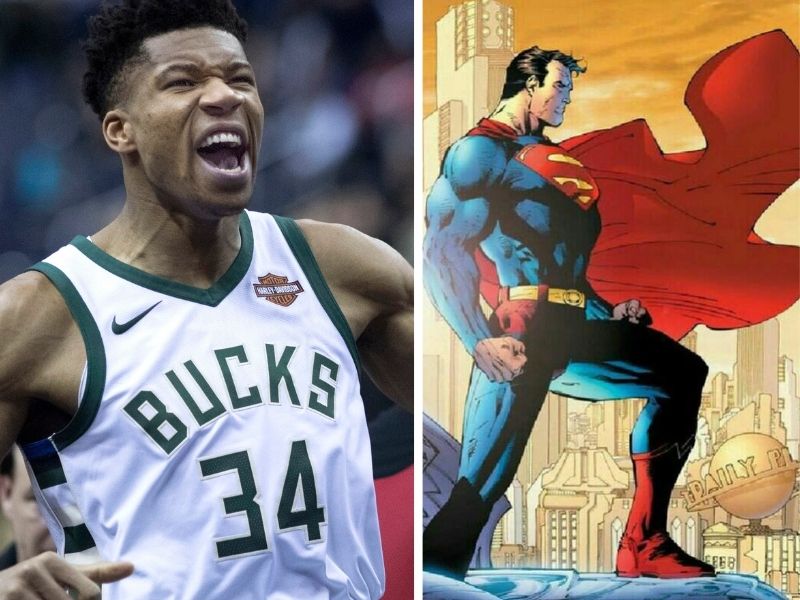 Giannis Antetokounmpo: Superman (Post-Crisis)
There were a number of considerations here, chief among them being Amazo, the unstoppable android that has the powers of the Justice League (and basically everyone else if he wants it). The problem is there's no way Amazo still wouldn't be a good three point shooter like Giannis isn't, so that one is out.
Instead, we're making Giannis the post-Crisis Superman to LeBron's pre-Crisis one. There's a lot of overlap there. Giannis, like Kal-El, came from a land far, far away to become one of the best and brightest. They both have obvious weaknesses but are still elite, although Giannis' issues with shooting – both from distance and at the free throw line – are easier to overcome than Kryptonite, magic, and lead. Each is famous for being a superstar and for being remarkably down to earth, even if there's no way Superman would have been cool enough to make the Chick-fil-A order Giannis did on Instagram Live after winning the title. Lastly, the crucial pre/post Crisis differentiator: this version of Superman didn't have a youth where he was famous as the next big thing, just like Giannis didn't as a largely unheralded prospect out of Greece. 9
With the recent change of Superman's motto to "Truth, Justice and a Better Tomorrow," this character only fits Giannis even better, as Superman is no longer so clearly defined as an American hero. He's an everyone hero, just like Giannis.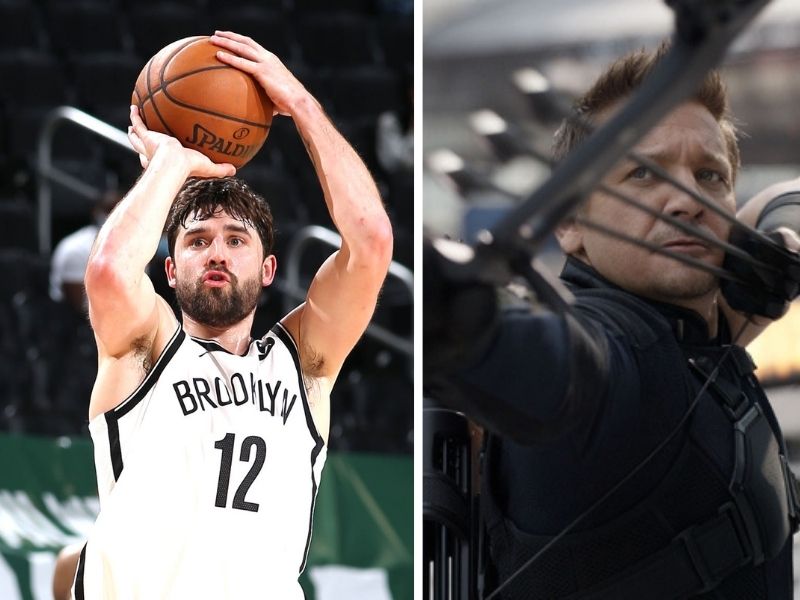 Joe Harris: Hawkeye (movie version)
"Okay, look, the city is flying, we're fighting an army of robots, and I have a bow and arrow."
That's a Hawkeye line from Avengers: Age of Ultron, and it's probably how every day feels for Joe Harris on the current Brooklyn Nets squad. You're getting everyone's best effort every night, whether it's the Detroit Pistons in February or a gang of Ultrons in Sokovia, while you look around and see superhumans doing work as you stand in the corner doing what you're good at: being accurate. Harris led the NBA in three point field goal percentage last year, as it turns out having Kevin Durant, James Harden and Kyrie Irving around to distract defenses results in a lot of practice shots for an already elite shooter. Harris, like Hawkeye, might not be a Thunder God or a super soldier, but he is a bit underrated as well, as guys who can do one thing extremely reliably often get overlooked for their more powerhouse teammates who might be a bit unpredictable (see: Irving, the Scarlet Witch of the NBA).
Do you want Hawkeye going up against an elite talent in the end? No. It's the same with Harris, which is why it was tough when Kyrie was out against the Bucks in the playoffs last year and Harden was clearly hobbled. But as a fourth or fifth guy? They're both wildly overqualified.
The rest of this article is for
subscribers only.
Want to read it? A monthly SKTCHD subscription is just $4.99, or the price of one Marvel #1.
Or for the lower rate, you can sign up on our quarterly plan for just $3.99 a month, or the price of one regularly priced comic.
Want the lowest price? Sign up for the Annual Plan, which is just $2.99 a month.
Learn more about what you get with a subscription