The Pull: A Look at the Comics Dropping the Week of January 29th
It's a sort of weird week in comics, with few notable releases and a couple 50/50 books weighing on me. Let's look at all of that and more in The Pull, the column looking at my buys, recommendations and curiosities from the week of comics.
Book of the Week: Star Wars #2
It's kind of a weird week without any real headliners, so instead, I'll start by highlighting a comic that definitely doesn't need any support from me: Star Wars! I was skeptical of jumping into a new Star Wars series, especially post Rise of Skywalker, so when the first issue dropped, it was a TBD book for me. Ultimately I picked it up because I love Jesus Saiz's art, and you know what? I really liked it. Charles Soule and Saiz did a heck of a job, and it was everything I liked from a Star Wars story in one package. They're a good team and a good fit, making this a good comic.
Will that sustain for me? Maybe! I imagine I'll stick around as long as Saiz does, at least, but it was a delight jumping in on this book and just feasting on the details Soule and Saiz bake into it. The craft they display while executing the story is wonderful as well, and it feels like the two of them really get what it takes to tell an interesting, inviting Star Wars story. I'm happy to have seen this title elevate itself in my book. From TBD to Book of the Week in one issue. I truly love to see it.
"You're coming with me": The for sure buys and recommendations of the week
Avengers #30: Big weird action! Some random woman is the Starbrand! And she's pregnant?! This comic is all about subverting my expectations as a reader and I like it because of it, but I'm not sure I'll ever love it for the same reasons.

Criminal #12: Tough times for the good guys, bad guys, and everyone in-betweens of the world of Criminal…meaning it's another day that ends in y! This is the final issue of the Cruel Summer arc, a story I've very much loved. Looking forward to how it ends. Fingers crossed that it ends with happiness! *looks at solicits* Oh no…

Dial H for Hero #11: Joe Quinones and Sam Humphries are doing their own Rise of Superman story. It is very nice and I like it a whole lot.

Farmhand #13: New character alert! The plot is getting real hot and heavy, and Rob Guillory continues to deliver. One of the true underrated gems right now.

Immortal Hulk #30: As a fan of big monsters, you might think I'd be into an arc of this book in which Dario Agger sends giant monsters to destroy a major metropolitan area as a way to draw out the Hulk, who predictably goes to fight them all. You would be correct if you thought that.

New Mutants #6: Perplexingly, inexplicably, we're back to the Ed Brisson and Flaviano story after a one-issue break from the Hickman/Reis story. It's okay. I'm hoping it spices up in its conclusion, although I genuinely don't even know whether this is that. I really want someone to stake a claim to this book and move forward as the consistent creators on it because this splitting/alternating business is weird.

Sea of Stars Vol. 1: Loved the first volume, and I highly recommend it to anyone who is interested in exceptional art and powerful, emotional sci-fi stories. It's good stuff.

Thor #2: I liked the first issue, but it was mostly for the Nic Klein and Matt Wilson combo. I'm a little suspicious of the sustainability of Donny Cates Marvel stories, which is my main roadblock here. Is this going to be a 10 part Herald story that runs out of gas or a quick jaunt that proves fun and memorable? Fingers crossed for the latter.

X-Force #6: I like this comic rather than love it, and it's an almost more conceptual like than a real like. It feels very strange tonally, with a bit of a nasty vibe that contrasts with the spirit of Dawn of X. I'm hoping my interest picks up as we get into the real story.

X-Men #5: The best Dawn of X series to date is going to tell a story about…something! I have no idea what this book will be issue-to-issue, but that impermanence makes it an exciting, unexpected read perpetually. I really like that about this title. It feels like a different, newer breed of superhero comic, and it really jives with the vibe of the overall endeavor.
Would buy, but I'm a dirty, rotten trade waiter
Redneck #25
Sex Criminals #26
Weatherman Vol. 2 #6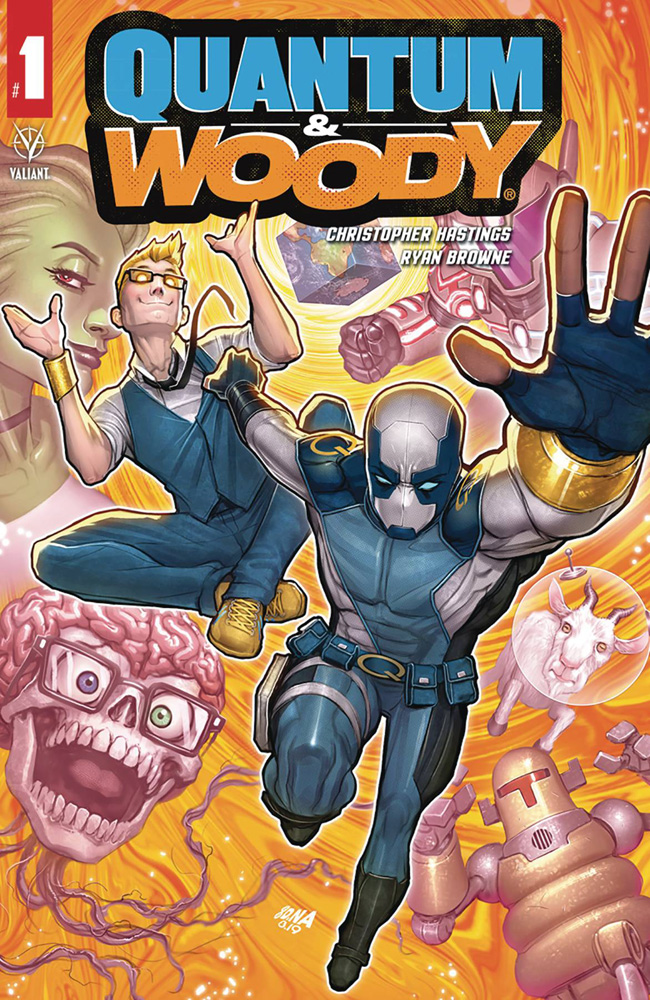 Game Time Decisions: The Ones that Might Come Home
Outcast #44: I accidentally dropped this when I fell behind on the book, but when I read issue #42, I was inspired to consider finishing the book out given that it wraps up with issue #48. I'm either just going to grab the last story in trade or finish it out in singles. The deciding factor might be whether issue #43 is in stock. We'll see today!

Quantum & Woody #1: Chris Hastings and Ryan Browne, a perfect creative team for this title, are a must read combo. At the same time, I just have some inherent push back mentally when it comes to Valiant titles. I don't have a lot of faith that they're going to lead to a run that rewards single issue investment, which naturally pushes me to trade. It's a conflict I have with some smaller publishers, which is a problem with me that creates problems for them. But it's a real thing and I don't know what to do with it!