The Pull: A Look at the Comics Dropping the Week of May 5th
This is the most blessed of weeks, as it's a Kaijumax Week. Let's look at that and the rest of the week's releases in the latest edition of The Pull.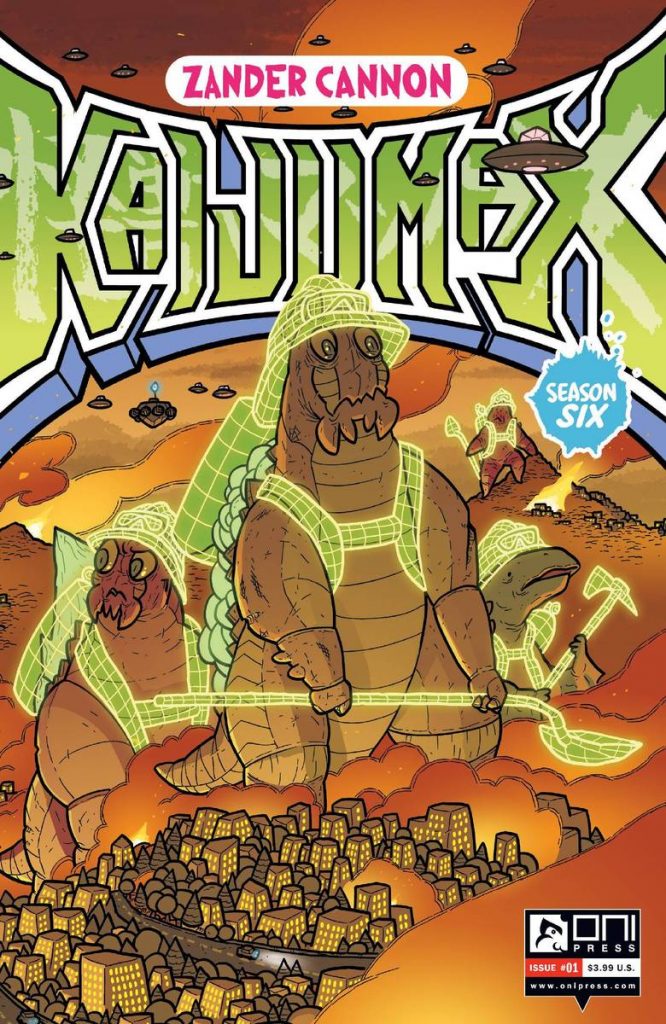 Book of the Week: Kaijumax Season 6 #1
There I was, strolling through the release list of comics for the week when an unbelievable surprise hit. Kaijumax's sixth and final season was arriving this week. My response couldn't have been any more surprised than it was, as I actually said "WHAT?!" out loud, waking the sleeping cat in my lap. It felt like just last week I was talking to cartoonist Zander Cannon about this series and what the sixth and final season could bring on Off Panel (it was actually more than three months ago), and now here we are with the beginning of the end.
This final season is ostensibly about the varying kaiju of the 'Max itself taking in part of a work release program, if you will, as aliens have invaded and they're doing important work (like destroying small cities?) to help ward off this bad news, Independence Day-like situation. That's what it's about, but it's not what it's going to be about, if you know what I mean.
Cannon and I talked a little bit about what I might want out of this final season, particularly when it comes to the character Daniel, and honestly, I just want what Cannon will give us. The thing I love about Kaijumax is as amusing a concept it is, what the veteran cartoonist has done here has perpetually surprised me and delivered so much more than I could have hoped for. So all I'm asking for here is for Cannon to continue to make one of my favorite comics of all time and to live up to those enormous expectations. I'd say it's a lot to ask, but it really isn't. It's just Cannon doing what he's done throughout the totality of his run: making the best comic he can as I am endlessly astonished by what he gives us. I can't wait.
The rest of this article is for
subscribers only.
Want to read it? A monthly SKTCHD subscription is just $4.99, or the price of one Marvel #1.
Or for the lower rate, you can sign up on our quarterly plan for just $3.99 a month, or the price of one regularly priced comic.
Want the lowest price? Sign up for the Annual Plan, which is just $2.99 a month.
Learn more about what you get with a subscription