The September 2021 Mailbag Q&A is Here!
It's time! After a stretch of collecting questions from subscribers and patrons, we're back with the September Mailbag Q&A. Let's get to it!
Are there any comics creators whose mystique is so strong in your mind that you don't want to risk learning too much about them by interviewing them? – Alex Dimitropolous
Not really. There aren't really any creators who have skipped interviews to the point where I don't have an idea of who they are already. Typically, the opposite is true where I read interviews with creators and get to the point where I want to ask them the questions they aren't being asked already.
If there's anyone that's close to it, it's Alan Moore, whose interviews mostly seem to come up when he said something that's made people mad, but also the questions can be designed that way. I'm genuinely curious if he'd just talk about comics and why he loves them! I think he would, and I think there would be value there. So I guess, if there's a mystique to creators, it's always the sides of them that are rarely covered. But that just makes me want to talk to them more, not less!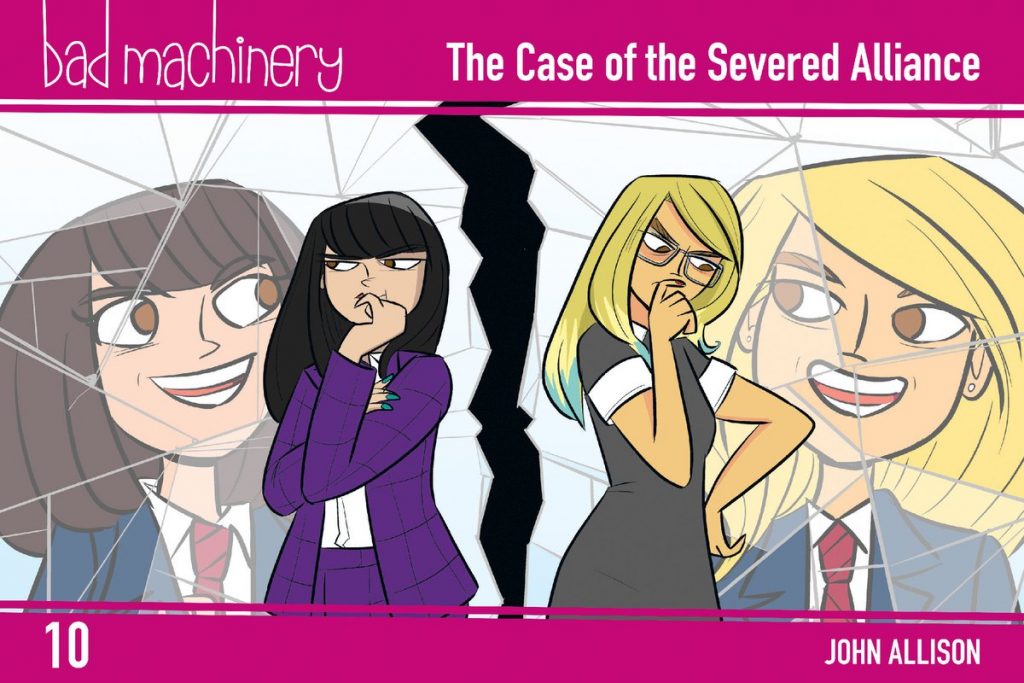 I saw on your best comics of 2020 list you gave the David comic of the year award to Dragon Hoops. Now I will take it a step further and ask: What's the most David comic of ALL TIME? – Troy Guin
There are a lot of contenders for this spot. Having food as a focus helps. Sports certainly does as well. There are a lot of things that factor into what makes an ideal David comic, but if there is one aspect a title needs to dominate at to earn its fit as a "David comic," it's the intangibles. It isn't specifics that fuel a title's position as a "David comic," but a purely feel based, je ne sais quoi to it.
And there's no creator who sais my quoi more than John Allison. He just gets me, even though he was making comics well before I discovered his work or he knew of my existence, and almost certainly never ponders, "Well, I wonder what David Harper will think of this…" And the most David comic of Allison's library of David comics is Bad Machinery, the series about six British teen detectives solving mysteries together. It's utterly delightful, and its mix of comedy, interpersonal dynamics, and problem solving is extremely up my alley, especially when drawn by Allison, whose character acting is on my shortlist for my favorite in the business.
I could even make an argument that I, David Harper, am a composite of the six leads from the series. Like Sonny, I am a sensitive boy, someone who can get lost in my emotions. Like Linton, I care more about sports than a lot of those around me and I have a weird thing for things being right. Like Jack, I might be vain and would be easily convinced to live a mod lifestyle. Like Mildred, I can be a wild card, a savant of chaotic energy. Like Shauna, I can fancy myself a leader, even if that can be annoying. And like Lottie – the G.O.A.T. – Grote, I often make decisions quickly, I can be weirdly spiteful, and I believe I think I can figure anything out. That makes sense that I'd feel that way. Any time you have an ensemble that large you're likely to run into them being representative of a wide mix of personalities, and those can fit anyone. But that's another feather in Bad Machinery's cap: it's not just a David comic…I think it's David IN a comic.
A customer walks into the (hypothetical) SKTCHD comic shop and tells you they are a huge fan of the Wayne Family Webtoon stuff, aren't very familiar with the Batman family otherwise and have never been in a comic shop before, but would like to try some Batman family graphic novels. What Batman family trades/graphic novels do you recommend to this specific customer? Or, do you steer them to non-Batman books that are thematically and stylistically similar to the Wayne Family Webtoon? – Chris Burton
I would steer them to both, but it would also depend on the age of the customer. If it's a younger customer interested in not just Batman related stories but DC ones, I'd lean them towards something like Derek Fridolfs and Dustin Nguyen's L'il Gotham, or really anything by those two, as they also did Batman Tales: Once Upon a Crime for DC (Not) Zoom. I'd guide them to anything Teen Titans Go! related as well, as that strikes me as a good fit. Something that exists within the middle and I'd recommend to both would be Gene Luen Yang and Gurihiru's Superman Smashes the Klan, a surefire crowd-pleaser.
Another middle audience DC title I'd route them to would be the recent Impulse reprint, something that's very on point for those vibes, but that would be a problematic option just because DC has just not kept Mark Waid and Humberto Ramos' run in print for a variety of reasons. Gotham Academy is a surefire bet here too, as would be the Batgirl run that came around the same time. Harley Quinn: Breaking Glass if they're a bit more mature, and maybe that new Harley animated series tie-in (which I have not read but feels like a fit). The current Nightwing run if we're talking single issues.
Escaping DC, I'd guide a lot of readers to The Unbeatable Squirrel Girl, surprising no one. First off, it's amazing. Second off, it already has those Wayne Family Adventures vibes down pat. The first volume of Ms. Marvel fits in that camp too, as well as the varying Gwenpool titles. Runaways would be a lock, as long as they are written by Brian K. Vaughan, Kathryn Immonen or Rainbow Rowell. I feel like Marvel probably has more fits for this type of story, as they a bit more open to lightheartedness than DC is. I'm definitely forgetting some here, but this is a nice mix.
Non-superhero, the first person I thought of was John Allison. Anything and everything John Allison, but Giant Days and Bad Machinery most of all. Faith Erin Hicks and Prudence Shen's Nothing Can Possibly Go Wrong. I weirdly feel like Kate Beaton's Hark a Vagrant! would jive with these readers? Let's just rapid fire here for a bit: Scott Pilgrim, Super Mutant Magic Academy (for those who can roll with some weirdness), Bone, Paper Girls, Laura Dean Keeps Breaking Up With Me (if they're into complex emotions), Assassin Nation (must be cool with action), Umbrella Academy (this seems too obvious), Amulet, I Kill Giants, Check, Please!, Koko Be Good, and probably a million others I'm forgetting.
Not all of these are perfect fits, but I feel like depending on the person, there could be a good fit with almost any of these. I think there are a lot of good options, but it also depends on how one-for-one you're looking to be.
With my third pick, I want someone who is going to be able to take the mound and give my team the sort of pinpoint control that could only be rivaled by my beloved Jacob deGrom, and that is Bullseye. We've seen him throw just about anything you can imagine with both precision and speed. Give the man a baseball and he's painting the corners like Greg Maddux, but with the velocity of Randy Johnson.
The rest of this article is for
subscribers only.
Want to read it? A monthly SKTCHD subscription is just $4.99, or the price of one Marvel #1.
Or for the lower rate, you can sign up on our quarterly plan for just $3.99 a month, or the price of one regularly priced comic.
Want the lowest price? Sign up for the Annual Plan, which is just $2.99 a month.
Learn more about what you get with a subscription