The SKTCHD AWRDS: The Creators of 2019 (Part One)
And now, the SKTCHD AWRDS begin! It's day one of a three week affair, in which I will test your stamina at reading content looking back on the comics I enjoyed the most in 2019 and this past decade. I'm doing things a little differently, as I am confident in the fact that any list I can come up with isn't the definitive "best" of the year or decade because, honestly, I didn't read everything that was released. Beyond that, my favorites wouldn't be everyone's favorites, so couching it in that way only goes so far.
Thus, the SKTCHD AWRDS, in which I write about the comics and creators I liked the most by giving them each awards I've created. They're like the Eisner Awards, except determined by one person, completely fake, and maybe kind of silly. But hey, they're my awards, so whatever!
It's all starting with creators, as I'll be touting my favorite writers, artists, colorists, letterers, designers and even one editor from the year that was. How did I determine these winners? I read a lot of comics, made a really big list and then fine tuned it from there. Very scientific, right? But hey, it worked for me. Let's get to the first group of five – which will be in alphabetical order based off last name – with five more coming each day this week.
Have other favorites you think I missed? Get to the forums and let me know! I am CERTAIN I forgot someone I love because these efforts are impossible to get perfectly right.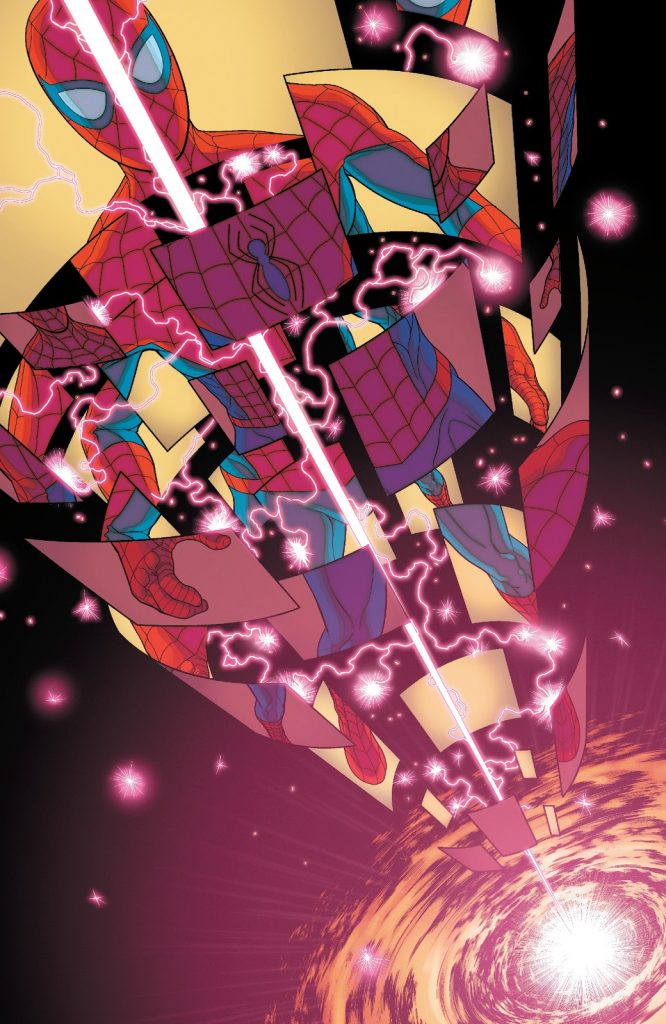 The Young-ish Gun-ish Award: Juann Cabal
(Friendly Neighborhood Spider-Man)
Marvel loves its "Young Guns," or the artists that are seemingly relatively newer that are doing exciting work, which allows the publisher to tout these exciting talents as just that: young guns. Whether or not they're young is uncertain, or at least not clarified. 3 Perhaps the most exciting "newer" artistic voice at Marvel right now, though, is Juann Cabal, someone who earned himself a whole lot of fans with All-New Wolverine and then continued to kill it when he collaborated with writer Tom Taylor on a bigger book in the new Friendly Neighborhood Spider-Man series.
Cabal's art is everything you want from a superhero artist.
Is he a good storyteller? One of the absolute best, with page layouts is both
simple yet wondrously clever. Does he bring good energy to the page? His art
buzzes and bustles like few do, all without feeling unnecessarily lively. Is he
good at bringing characters to life? You better believe it, and it works whether
it's Spider-Man, Spider-Bite or even unaffiliated, unrelated non-Spider
characters.
The guy is a heck of a talent, and someone whose
inventiveness allowed Taylor to bring whole new locales to life in that book in
believable, exciting ways. Next year looks even more promising, as Cabal and
writer Al Ewing are teaming up for a new Guardians of the Galaxy book. Cabal's
star will continue to rise, and while I'm unsure of his age or whether or not
he is in fact a firearm, he's a young-ish gun-ish to me, and one of the absolute
best at the House of Ideas today.
The rest of this article is for
subscribers only.
Want to read it? A monthly SKTCHD subscription is just $4.99, or the price of one Marvel #1.
Or for the lower rate, you can sign up on our quarterly plan for just $3.99 a month, or the price of one regularly priced comic.
Learn more about what you get with a subscription