The SKTCHIES: The Breakouts of 2015
What new - or new to SKTCHD - creators blew us away this year? Find out here.
Welcome to the first annual SKTCHIES, SKTCHD.com's year-end awards ceremony. The SKTCHIES aren't your typical end of the year feature at a comic site. Well, they are, but they also aren't. While these will be highlighting our perceived best and brightest in comics from the calendar year (so far, at least), these awards aren't designed to be some sort of universal solution. Comics, like many things, are a subjective medium, and I can't say what would be your best or someone else's best. All I can say is what I enjoyed, and whose work will stick with me going forward. It's a limited ceremony that focuses on three main categories, with many people and works earning special recognition within. And it starts with the trickiest subject of all.
The comic industry loves throwing around the terms "breakout" or "newcomer" very generously. After all, both are relative terms, with many of those who make those lists either having been around for some time before – just ask 2015's Harvey Award nominee for Most Promising New Talent Jen Van Meter – or, in reality, still not really having "made it" in a capacity the creator themselves agree with. It can be an awkward setup, unless handled with specific rules.
That's why for The SKTCHIES, "breakouts" mean the creators I first noticed or saw take a leap and then realized that my personal world of comics are forevermore better off with them being a part of it. Sure, some of them will have been around for a bit, having impressed others before me in impactful ways. That's good, though. That just means now that I've discovered them, I can turn my eye to the past and pick up the comics I've missed.
So this is a list of the creators that were breakouts for me – ordered alphabetically by first name – and maybe they will be for you too. All you have to do to find out is read their work, and maybe you'll discover a new favorite creator in the process.
---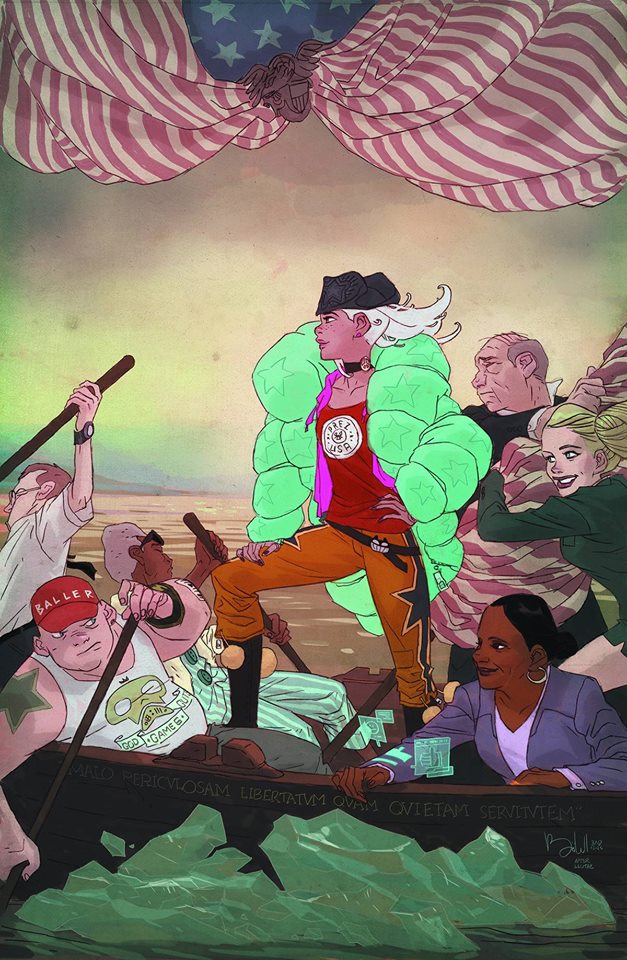 The Corndog Guy Award: Ben Caldwell (Prez)
As far as DC Comics titles go, not a whole lot of people picked up Prez. It was always an odd duck, as it's easily one of the weirdest comics they've ever published, and it didn't have an obvious hook or audience. I mean, its main character was named Corndog Girl, for all intents and purposes.
Even beyond that, its creative team wasn't exactly filled with household names for the average comic fan, despite an artist – Ben Caldwell – who previously was part of DC's Wednesday Comics endeavor and had been nominated for the Russ Manning Award for Most Promising Newcomer at the Eisner Awards. Which is a shame, as Caldwell is easily one of my favorite discoveries of the year, and someone I hope to see a lot more of going forward.
His cover to Prez #1 – pictured above – is the reason I bought the comic to start with, and his ability to shift between styles and moods so effortlessly was the glue that tied the entire book together. It's a challenging book, but a lovely one as well, and Caldwell's art immersed us in this absurdist (yet strangely realistic) world. His character work was first rate, and he could make us care and feel even as he makes us shudder at the events taking place on the page. He's brilliant at setting the tone in an environment and story, and the way he set up the world made us appreciate it all the the more. In short, he was essential to the book's success.
Prez could become a cult classic down the line, and it'd be well deserved. If it happens, Caldwell's art will be a big reason why. Now that the series is wrapped, his options are open again, but whatever comes next, I'll be there for all the reasons I stated above.
---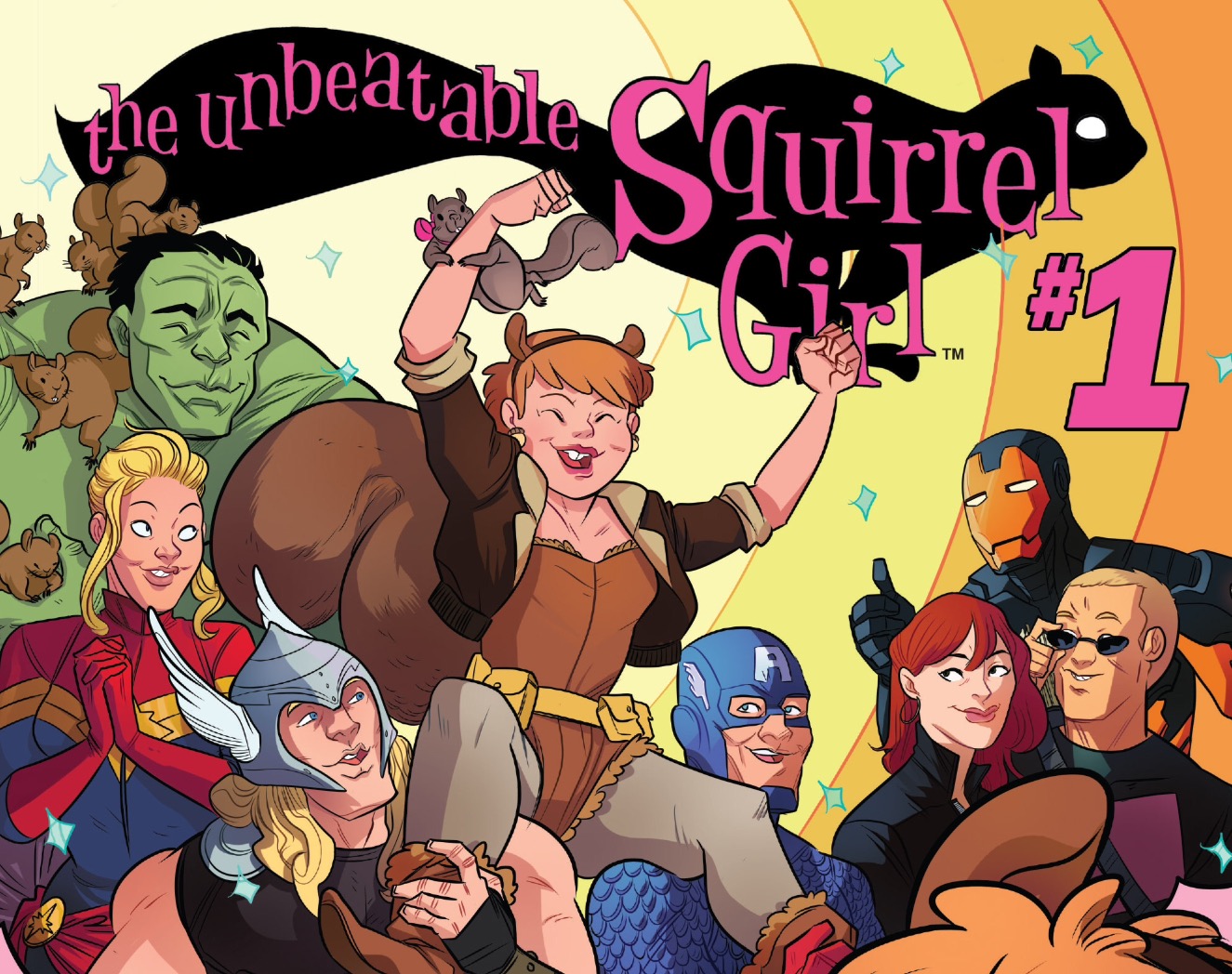 The Comedienne Award: Erica Henderson (The Unbeatable Squirrel Girl, Jughead)
I was already a fan of Henderson's work before this year, as I'd enjoyed her in Monkeybrain's Subatomic Party Girls and varying pinups I'd seen throughout the internet. But 2015 brought the largest scale sequential project I'd seen from her yet, and a work that I was highly skeptical of: The Unbeatable Squirrel Girl. It was no fault of her own, of course, I just felt strange about the titular character having an ongoing (as I've written before).
Also as I've written before, I'm a bit of an idiot, and that book rules. In fact, it may be the funniest monthly book being released today. While Ryan Q. North is a hilarious guy, Henderson has the chops to sell every joke and even take them to the next level. Her art throughout is joyous, and it endlessly entertains as she depicts things like Iron Man villain Whiplash being overwhelmed by squirrels or Doreen giving Kraven the what for. She can make every joke soar, and better yet, she helps make us care about not just unforgettable heroes like Chipmunk Hunk or Koi Boi, but the people underneath.
Even beyond that, she somehow also did a mini-run on Archie's Jughead relaunch with Chip Zdarsky, and she fit that book with equal aplomb. That means she isn't just creating comics well, but in a timely fashion. That seems like a weird thing to applaud someone for in specific, but a creator's ability to be a wonderful storyteller while still hitting deadlines should never be underrated.
Henderson has had a gigantic year, and one that quickly pushed her towards the top of the charts for me in not just terms of her ability to sell a joke, but tell a story. I'm really excited for whatever is next for her. If I'm being honest, I'm hoping it involves a whole heck of a lot more Squirrel Girl, but I know one thing for certain: whatever comics she works on going forward will be much better for having her on it.
---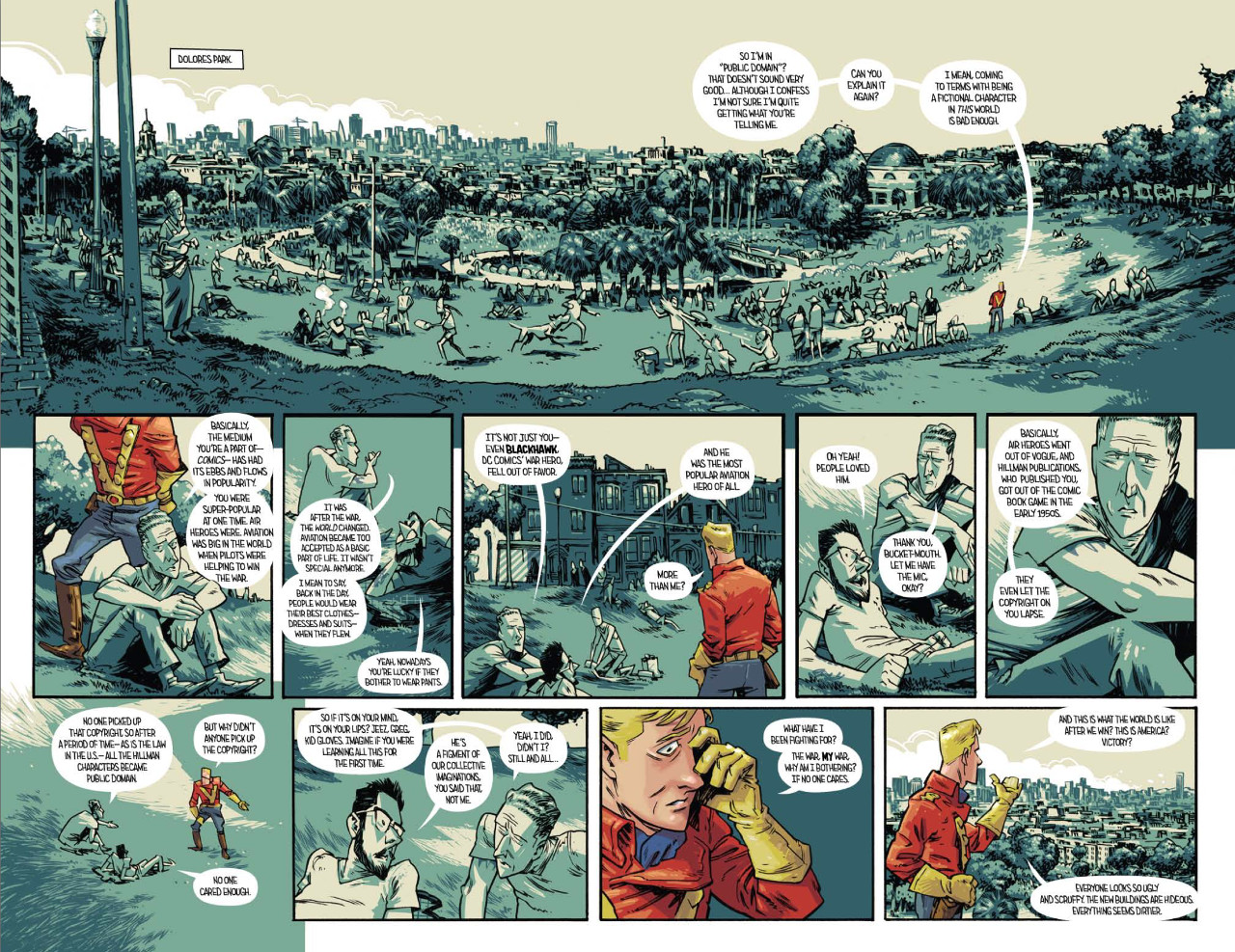 The Beautifully Ugly Award: Greg Hinkle (Airboy)
It can take a lot of guts to hold a mirror in front of yourself and willingly make yourself look ugly, and for the four issues of Airboy, Greg Hinkle did just that. That alone deserves a certain degree of applause, as Hinkle's a newer creator who many discovered for the first time as he and James Robinson make asses out of themselves (literally) on a journey of self-reflection and self-destruction. You only have one shot at a first impression, and Hinkle surely hopes people like nudity a whole lot because that's what they got from him.
But the reason he makes the list isn't because of the fact that his first major work is one that heavily features himself. Not at all. It's because in those pages, he established himself as a tremendously gifted artist, and one who deserves acclaim for his incredible sense of storytelling, naturalistic character acting, and unique vision in a field often noted for stylistic overlap. To say there's no one else in comics like Greg Hinkle is both accurate and a hell of a compliment.
The interesting thing about his work is it's so unique that I genuinely do not know what type of project he may take on next. But the good news is, good storytelling is good storytelling, and Hinkle's already one of the best in comics at doing just that. So whatever comes next may be a surprise for the both of us, but I have no doubt that it'll be exceptional, just like his work in Airboy was.
---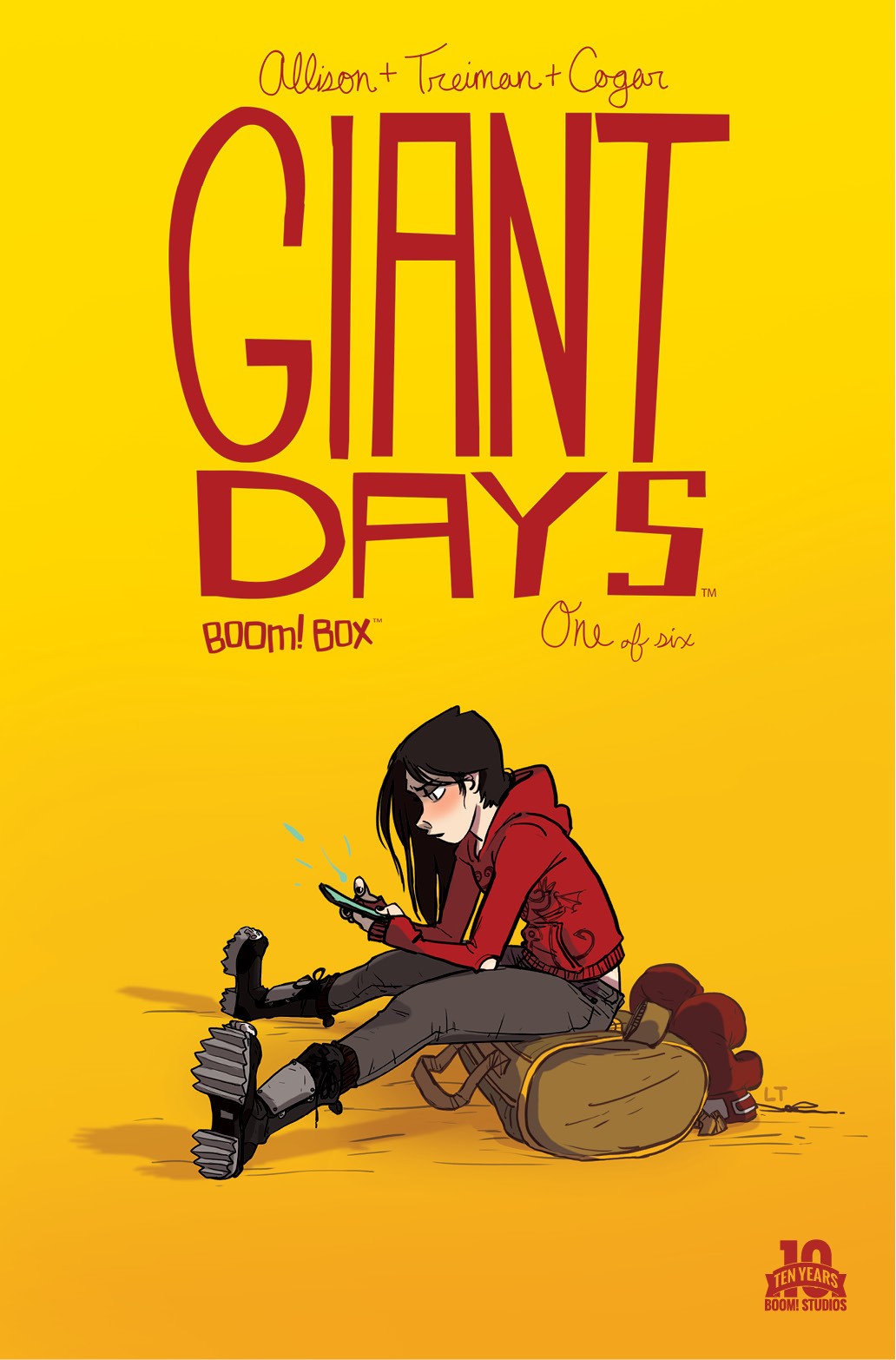 The Ordinary People Award: John Allison (Giant Days)
John Allison's a guy I've been generally aware of for a bit now. If I'm being honest, it's mostly due to him being the artist of Oni Press's staff's profile pictures on Twitter, but I knew he was doing things. Yet, in all that time, with Allison tackling comics for years on the web, I'd never read any of his work. Well, until 2015.
I picked up the first trade to Giant Days, his Boom! Box maxi-series (or at least I think that's what it would be classified as), completely on a whim recently and fell in love with it instantly. A big part is how natural Allison's character work feels, from the triumvirate of leads to the deepest of the supporting cast. Sure, there's some generally absurd things that happen with the book, but it's college. Everyone has their stories.
The difference between Giant Days and other stories about that period of your life is how right it gets everything, and how everything shunts between polar opposites. You're completely right or 100% wrong. You're confident beyond words or you're a crumbling mess of doubt. Happiness is your defining characteristic until it isn't. Allison made me laugh, he made me feel, but perhaps most importantly, he made me care in the first volume of the book.
Like I said in the intro, some of the creators I'll highlight have been around for a bit, giving me ample material to look back on. Allison fits that to a tee. Beyond that, though, I'm absolutely certain that there are big things coming for him. He's too good of a writer for Giant Days not to just be one of several layers of breakout works by him.
---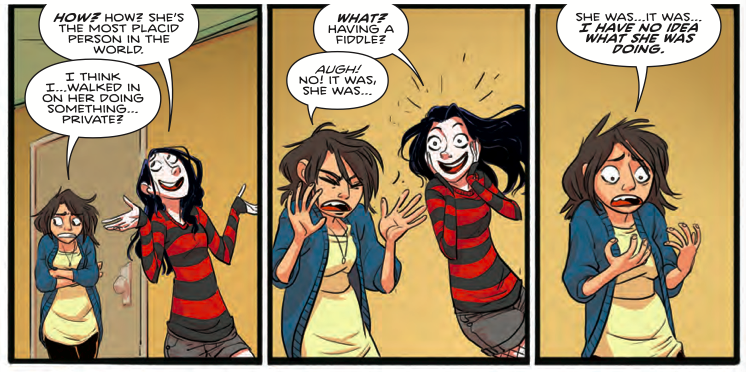 The Character Actor Award: Lissa Treiman (Giant Days)
Working hand in hand with Allison on Giant Days – or at least on the first six issues, of which I've read the four in the first trade – was Lissa Treiman. Now, Treiman's hardly a breakout in life, as she's a successful animator for Disney that has worked on projects like Wreck-It Ralph, Big Hero 6 and Tangled (which means I already loved her work). However, Giant Days was her first large scale comics work, and the first time I came to know her art.
And my god, what an artist.
I don't mean to devalue Allison's work – which, as I said, is fantastic in its own right – but Treiman was the straw that stirred the Giant Days drink for me. Her art is so vivacious and filled with joy that she made me cherish each and every aspect of the book all the more. Her acting is her strength, as her characters are gestural and animated in all the right ways. The performances are lively, but never over the top in any way. This is going to sound corny, but it's what I think when I see her art: the characters are filled with love, and a love that brings them to life in a real way.
The fingerprints of her animation background are all over the work, and I can see a lot of the strengths of Disney's animation history in the way she tells a story. That's not to underrate Treiman, who brings her own verve to the project that makes it all the more special, but it's something I see. She's off the book now, as that schedule combined with her animation schedule was taking up too much time, but I'm really hoping we see her work in comics again. She's a natural, and one who clearly has a lot of great stories in her.
---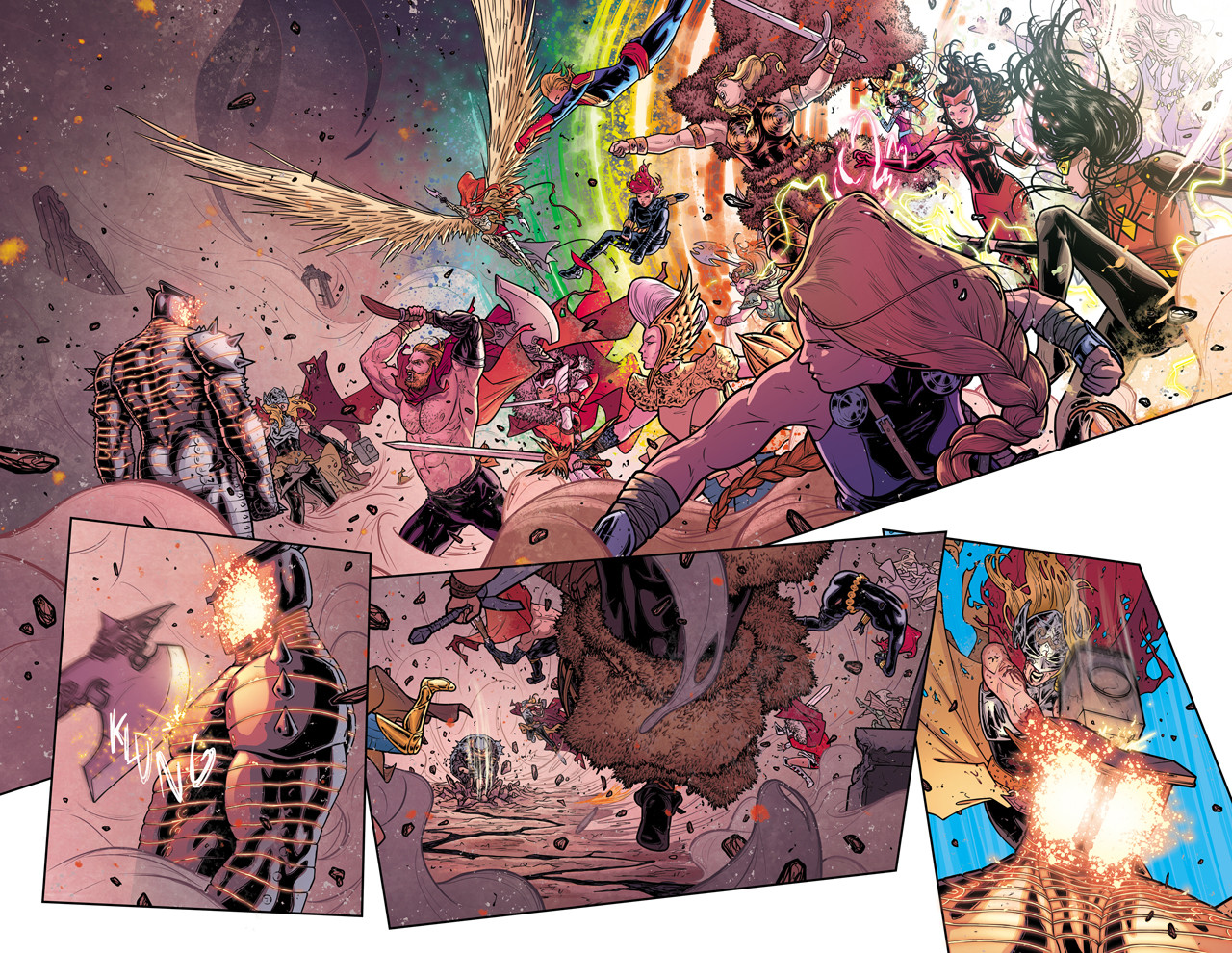 The Next Superhero Superstar Award: Russell Dauterman (Thor, The Mighty Thor)
This is the closest thing to a cheat I have on the list, as I first voraciously dug into Dauterman's Thor work towards the end of 2014. However, I'm not above cheating if it means I get to highlight an important thought I have about this wonderful artist. His destiny, in my opinion, is to be one of those rare creators who is such a virtuoso with not just bombast but character work that he doesn't just succeed, he becomes an industry giant that will help define great runs on Marvel's books and characters going forward. Like a Jim Lee or Andy Kubert level creator, except one who might already be succeeding with a greater substance to style balance in his work than even those luminaries ever had.
I don't mean that as a dig to those who preceded Dauterman. I just mean that to underline how gifted Dauterman is, even early on his career. In my completely non-expert opinion, Dauterman could become a generational talent that helps define the All-New, All-Different era of Marvel. That's how good he is. He's already doing that level of work on The Mighty Thor, and it's only a matter of time until Marvel moves him to a flagship title and unleashes him for everyone to see.
His leap in going from his earlier work to his Thor work could easily just be the first of many breakouts for Dauterman, as he goes from new creator to rising star onwards to superstar. Wherever his career takes him, there's only one thing I know that will always be the case: I'll be reading his work.
---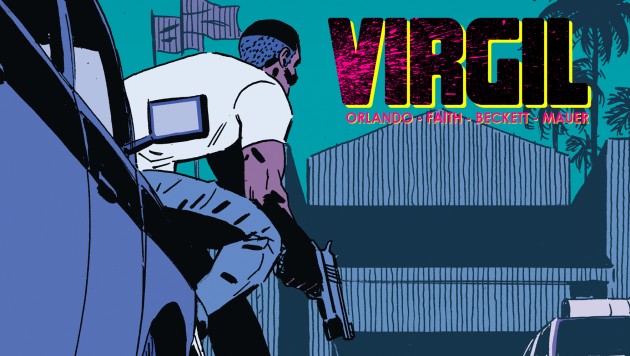 The Tough Guys with a Heart Award: Steve Orlando (Virgil, Midnighter)
Orlando's been around for a little bit now, but it really feels like 2015 was a level up year for him. His work on Midnighter – which I admittedly read the first two issues of before deciding to wait on trade – has earned him acclaim and the adoration of fans. He both captures the qualities we've always known the character for and has dug into his sexuality in a way that felt natural to the character, but in a deeper way than we've seen before. Orlando's writing didn't just help connect a whole new audience with Warren Ellis's grand creation; he made the character an icon for the potential and future of the DC universe.
For me, though, his most impressive work was in his graphic novel Virgil at Image with artist JD Faith. The same strengths we see in Midnighter are on display here, but they both showcase one of Orlando's greatest gifts: he creates well-rounded, truly human tough guys that are impossible not to connect with. If you can read Virgil and not immediately root for his success on his mission to find and rescue his lost love, then you are dead inside. Orlando delivers (with his team) a driving, urgent tale that forces you to breathlessly turn page after page as you grow increasingly desperate for the success that you know is coming his way.
That's another impressive thing about Orlando. Like his character Midnighter, we know how this all is going to end – we've seen it before. But Orlando's good enough that it still feels in doubt to a degree, and that doubt makes the inevitable feel so powerful in the end. Those are just a few of the reasons why Orlando's became one of my breakout choices for the year, but it all gets down to one simple fact: the dude can write.
---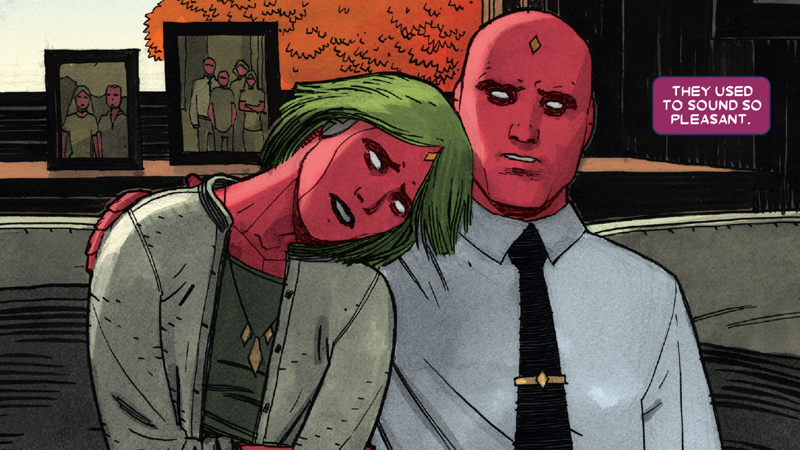 The "Who the Hell is This Guy?" Award: Tom King (The Vision, The Sheriff of Babylon)
I swear I don't mean that to be insulting, but bear with me. I'm going to go through my calendar year as it relates to writer Tom King to show you his unique…progression for me.
2/5/15: "Omega Men? Really? Wait…Tom King? Who the hell is this guy?"
9/14/15: "Tom King's Omega Men was canceled? Well, who the hell is that guy anyways?"
9/18/15: "Wait, they uncanceled Omega Men because Tom King's writing such a good story fans pitched a fit? Who the hell is this guy?"
11/4/15: "Oh my god. The Vision #1 was so good…Tom King! Who the hell is this guy?"
11/19/15: "Good lord The Sheriff of Babylon #1 was incredible. Tom King's a genius. WHO THE HELL IS THIS GUY?!"
11/20/15, at my comic shop: "Can you order me the first trades of Grayson and Omega Men, please?"
That's all played for dramatic effect (I wasn't in favor of Omega Men being canceled by any means), but the gist is true: I had never heard of Tom King before 2015, and now I'd honestly buy anything the guy writes. Both The Vision and The Sheriff of Babylon are so confident and unique in their storytelling that it's like reading a seasoned veteran of the comic game. But he's not. He's just that good. I genuinely cannot remember a writer having a more dynamic and interesting first year or so in comics, and the best part is, I feel like this is just the tip of the iceberg. I'm really looking forward to whatever's next for him, and trust me, I'll never wonder who he is again. I'll be too busy reading all of his comics.
---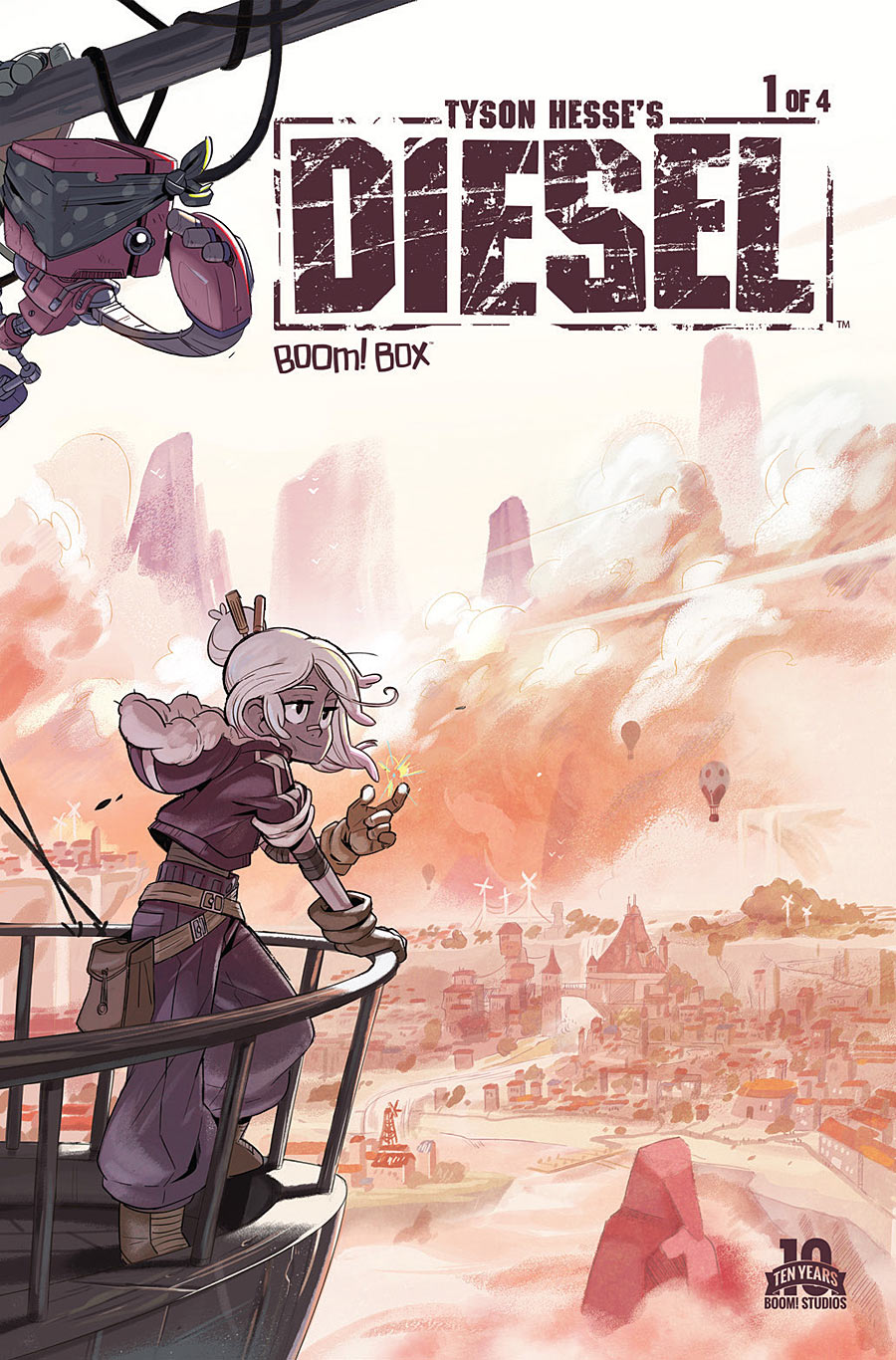 The Get Out of My Mind Award: Tyson Hesse (Diesel)
Growing up, one of my favorite anythings was the Final Fantasy series. I learned a stunning amount from that series, but maybe the most influential game from its library was Final Fantasy VI and, more specifically, the airship in it. While Final Fantasy IV also had airships – specifically Baron's Red Wings – there was something about Setzer's airship (The Blackjack) that made my imagination run wild. Ever since then, airships in specific and flight in general have been a great fascination of mine. Whenever I see airships in fiction, I'm gaga at least for a few minutes.
So when I first picked up Tyson Hesse's Diesel and flipped through a gorgeous story based primarily in the air, I immediately became starry eyed. Perhaps literally. I couldn't see myself at the time. I turned to my wife and excitedly said, "LOOK AT THIS!!!!!" Hesse's art is basically a long-time dream I've had in my head come to life that mashes up something I love with an art style I really enjoy. It's a remarkable work, and one filled with charm to the max.
Now, Hesse's apparently been known in the webcomics world for a while, so I'm late to this party. But I believe this is his first major project in print, or at least the first I've seen. Whatever his story is, his art is an absolute revelation, with a look that blends animated looking foregrounds with painterly backgrounds into something that feels fresh and new. I really couldn't love it more, and the fact that he has previous work for me to dig into is just a perk.
Also an important note to make here: Boom! Studios' Boom! Box line is getting a lot of rep from me, and it's deserved. They're highlighting a lot of creators that are outside of the typical mix, or at least for me. I'm happy to see that, and the success they've had this year only makes me want to try more of their books going forward.
---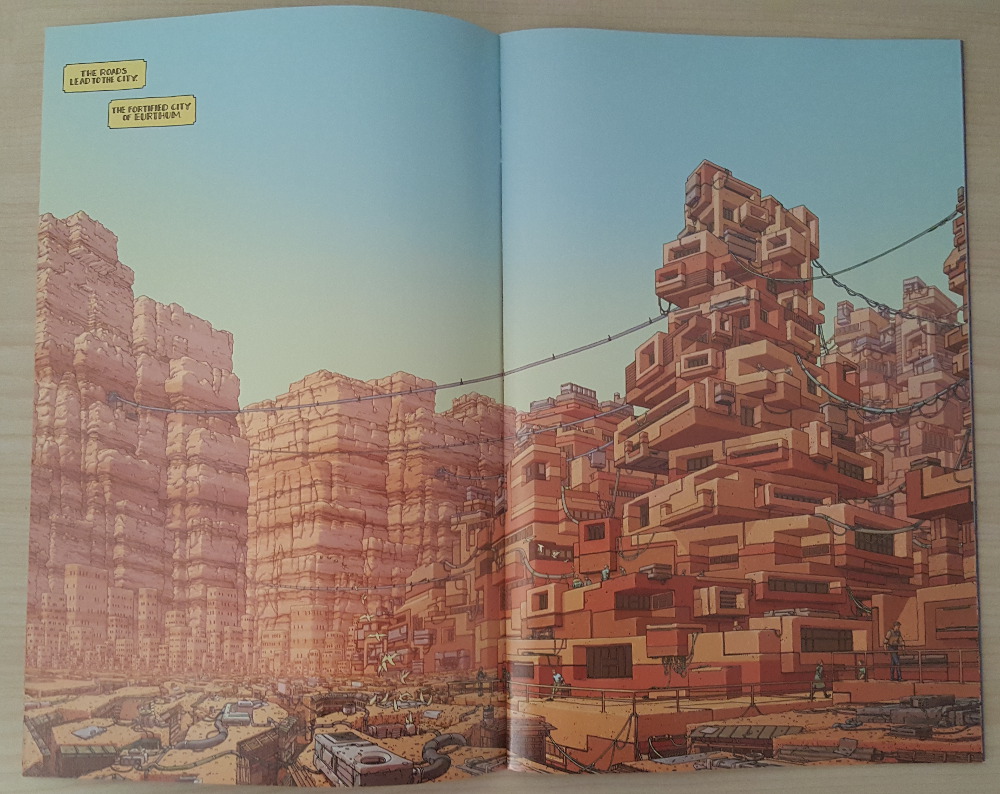 The World Builder Award: Xurxo G. Penalta (8House Kiem #3)
Of anyone on this list, I have seen the least work by Penalta. In fact, besides some art online, I've really only seen his work in 8House with Brandon Graham. But it was love at first sight with Penalta, and for me, he was a truly out-of-nowhere breakout in the best ways.
Penalta's art is spellbinding, and shows a staggering ability to not just work with the world in front of him, but to create spaces that are completely new and unexpected. The degree of creativity Penalta brought to the page in this issue was towering, and it showcased someone who both packs a considerable amount of raw talent and the chops to tell a highly effective and innovative story. To say I've never seen anything like what Penalta accomplished in Kiem isn't just true; it's one of the highest compliments I can give an artist.
Part of the reason I find comic art to be so alluring is because its only limits are the creator's imagination, really. If you can see it in your mind and bring it to the paper (or digital surface), you can do it. It just depends on what you can dream up. Penalta proved that he dreams a little bigger than others this year, and for me, he's one to watch going forward.