The Launch Week from Hell: Answering 13 Questions about ComiXology's Big Changes
Congratulations to ComiXology and Amazon. They did something previously considered impossible as they rolled out the new version of the ComiXology app and associated changes. Something I never expected, if only because of how divisive the average news item is, even in – or maybe especially in – an entertainment sector like comic books. It's rare to do something unique like this, a feat many have tried and failed at. So, what did they do exactly?
They managed to get every comic fan to agree on something.
Unfortunately for them, that achievement was a double-edged sword, as the thing comic fans agreed on was that ComiXology grievously harmed its own product. And, for the most part, it's understandable that the reaction was as visceral as it was. One of the great fears people have when committing to digital services like ComiXology is that they as an individual will commit to using it, and one day the product will cease to operate in the way they signed up for. That is typically imagined as a great erasure of the products you bought, as, say, your entire library of songs or movies purchased via Apple went away.
But in making its service one that no longer works in the way users were used to, ComiXology achieved a roughly equivalent sentiment amongst its customers base. And that's where they are after this wave of changes for the ComiXology 4.0 update, including the removal of subscriptions for users outside of the United States, the comparatively comic fan friendly ComiXology.com being replaced by a clunky Amazon shopping experience, a web reader that is non-functional whenever double page spreads show up, the cancelation of all post-February 16 pre-orders, and assorted other changes. It's honestly a lot. Too much, really.
And, naturally, I have questions. Unfortunately for you — doubly so, it seems — ComiXology did not have answers. I reached out to them and heard nothing back. With nothing on that front to lean on, I decided to take a couple days, let the information simmer within me, spend some time with the new app, and do my best to answer those same queries I had in hopes of better understanding this momentous change. So that's what we're going to do, starting with the relatively utopian view the company had from the start.
What were these changes initially pitched as?
ComiXology's hype for this announcement was all about the positive back in September. "Faster, more reliable" downloading! "Fun" new navigation features! Integration of comics purchased on ComiXology into the Kindle app! There were downsides, of course, like ComiXology's own site going away for it to be replaced by an Amazon marketplace for comics and users being required to merge their ComiXology account with their Amazon one. But in the way ComiXology and its co-founder/CEO and Amazon's Head of Comics Worldwide David Steinberger seemed to pitch it, the pluses would outweigh the minuses, and the minuses would only be those until we got used to them.
This was announced right around when The Beat's Heidi MacDonald came on Off Panel, and I remember telling her I didn't think it was that big of a deal. Heidi insisted otherwise. It turns out she was correct! Always listen to Heidi!
What were they seemingly trying to do?
The objective was unifying the reading experience on the broader Amazon platform and how users read on ComiXology. They were endeavoring to match the ComiXology user experience to the one regular Amazon customers see, in hopes of making it easier for non-comic fans to discover comics, but also so it'd be easier for them 19 to read ComiXology comics on their Kindles. I've seen some suggest that these changes seemed as if they were ignoring the wants and needs of comic fans, and that's probably true, at least in the sense that comic fans are an audience they already have and Amazon is looking for more out of ComiXology with this move.
Expanding its customer base and how much they buy are likely the defining goals for all Amazon changes. If there's one thing they enjoy, it's money. To raise the ceiling of a relatively niche platform like ComiXology, you need to attract new customers. This seems to be a step in that direction in theory.
And I should note, growing the readership is a desirable objective for comics too. Finding new readers would be great! It…just would have been better if it was less harmful to the reading experience in the process, especially considering adding new users to a flawed platform would be less than ideal.
Did they succeed?
If you consider harming the experience for existing users in an attempt at attracting new ones "success," then yes. If you do not, then no. Time will dictate the success of this venture, though, because these changes were not likely conceived with the short-term in mind.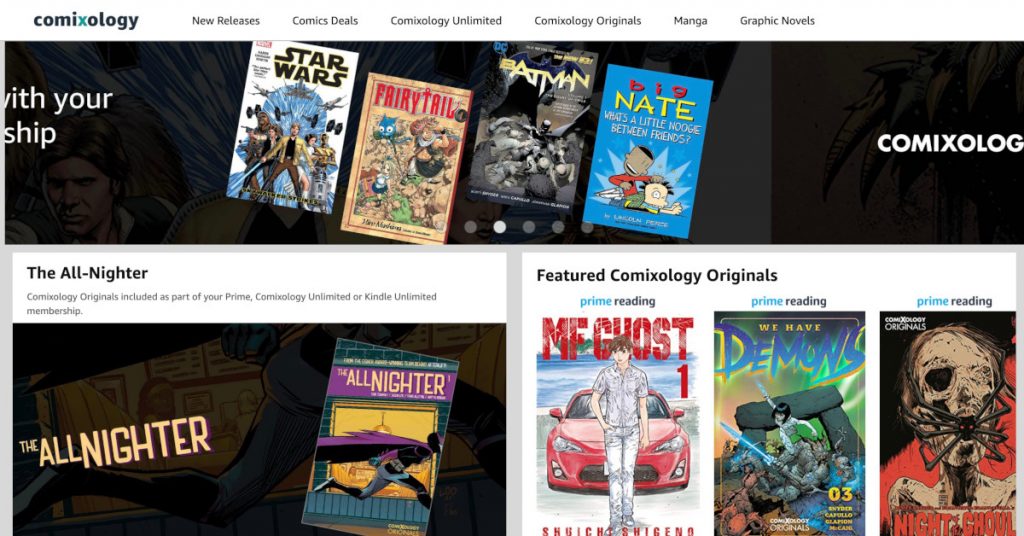 What were all the changes?
What were the changes? Well…
*takes an extremely deep breath*
The ComiXology site is going away, users now have to log in through their Amazon account, the ComiXology site is being replaced by an Amazon storefront, subscriptions are no longer available for users outside of the United States, existing subscriptions for many of the users within the United States are just straight up broken unless you switched to 1-Click Payments by February 10, pre-ordered comics past February 16 have been canceled, all purchases are now 1-Click Payments (so no more shopping cart), the web reader for desktop PC users has effectively become unusable due to its inability to properly display double page spreads, 20 a new version of the ComiXology app was released with a new design and tweaked functionality, you can now pinch and zoom to change the sizes of cover images in your library, in-app series organization is between mildly broken and extremely broken depending on your opinion, 21 DRM-free downloads are removed going forward, 22 Prime Reading and Kindle Unlimited have been integrated into the experience, ComiXology titles can now be read in the Kindle app, all archived comics became unarchived (and that functionality was replaced with a permanently delete function), users had to redownload all of their comics, you can now start reading a comic before it's finished downloading, and…I think that might be it.
Is that really it?
Isn't that enough?! Honestly, I might have missed a few, but that's all of them as far as I've seen. 23
The rest of this article is for
subscribers only.
Want to read it? A monthly SKTCHD subscription is just $4.99, or the price of one Marvel #1.
Or for the lower rate, you can sign up on our quarterly plan for just $3.99 a month, or the price of one regularly priced comic.
Want the lowest price? Sign up for the Annual Plan, which is just $2.99 a month.
Learn more about what you get with a subscription