20 Questions with Injection's Declan Shalvey
The superstar artist talks his Image title, sandwiches, Star Trek, favorite cons and much more
Our 20 Questions interview series finds us catching up with favorite creators on not just their latest works, but getting a little more about who they are and what they like at the same time (with a little bit of ridiculousness in the mix). Looking for in-depth, groundbreaking looks at the plot of a story they're working on? You'll have to look elsewhere, I'm afraid.
With the staggering amount of great titles Image Comics is releasing these days, it's hard to not get lost in the shuffle. There's a little bit of something for everyone, and top creators are featured more than ever as well. Recently, I broke down the best Image titles being released right now – using science! – and it was a difficult exercise. Some of the books I cut are great, and ones that have been around for a lot longer than others that made the cut for me.
But sometimes, greatness is achieved quickly. That includes Injection, which finished ninth on my list despite only three issues having been released at that point. It's a book from Warren Ellis, Declan Shalvey, Jordie Bellaire and Fonografiks, and it's absolutely mad science fiction story that brims with intelligence and intrigue. Its art is brilliant, and it underlines the quality of Shalvey and Bellaire as storytellers. In short, it's awesome, and it has only gotten better since I made that list.
Today, I talk with Shalvey as part of our new 20 Questions series, chatting with him about the experience so far, working with Bellaire, getting a variant cover from an art hero, Star Trek, holidays, and much more. Take a read below, and keep an eye out for the the first volume of Injection, which is set to be released October 7th.
You're five issues deep on Injection. What has you the most excited about this project now that you're getting into the meat of things?
DS: Well, it's just exciting to wrap up the first bulk of story. It's a deliberately slow-paced book, so to slowly build and build to a climactic story point feels EXTRA satisfying. Now, I'm working on #6, starting all over again with a new arc… it kinda feels like a different book, like we're starting all over again. So many possibilities…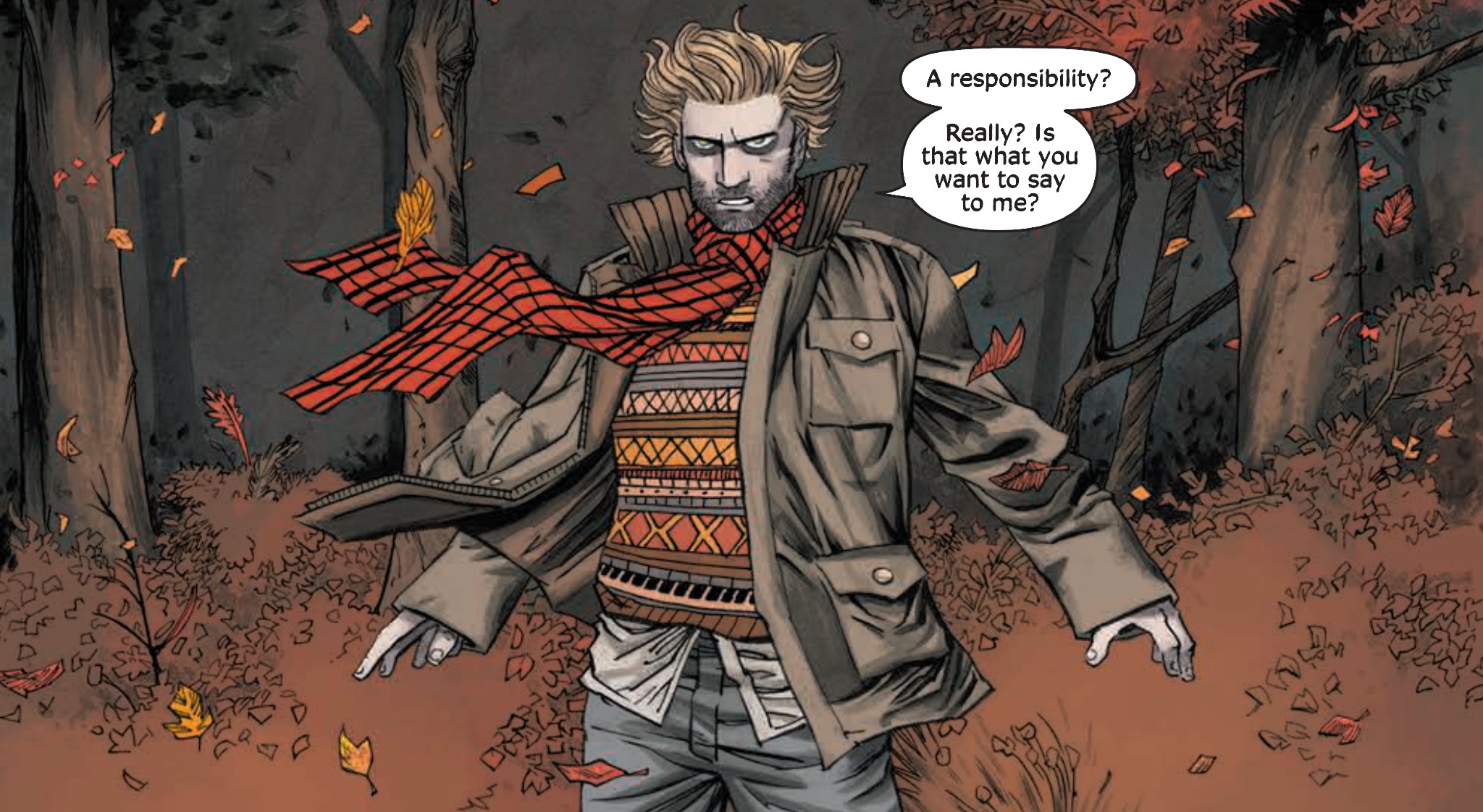 What's the biggest thing you've learned so far about making your own comics rather than making them in a for-hire capacity?
DS: Every sale matters! When you work on a word-for-hire book, so much of the audience is there for the character they already know, and if you're lucky, a chunk will follow you onto a book and onto another book. With creator owned, they'll pick it up for the team, but it's a harder sell as they have no emotional investment in the character so start with. Also, no matter how much you promote your book, there's always many who've never heard about it. You can't expect a following, you have to earn it.
You have quite the cast to work with, each with their own pros and cons. Who is your favorite character to work with so far?
DS: It changes depending on my mood to be honest, I think Brigid is the most visually distinctive really, so probably her. There's something I love drawing about all of them though.
Injection is filled with paranormal insanity and real life myths. Is there a myth you'd love to see come to life in its pages?
DS: The myth of the page that looks amazing but takes little time to draw.
There have been several scenes and sequences in the book so far that have blown me away, both big and small. Has there been one moment or sequence that stood out for you in particular so far?
DS: Thanks David, I really appreciate that. I think the scene in 'the first' in #3 was a stand-out scene for me. Really got to play with some interesting imagery there. Was a nice way to grab the reader by the collar. Same with the underground scene with Maria in #1, and in the tunnel in #5. The factory in #5 was fun to draw too, I love drawing those kind of abandoned, dilapidated locations. It's been brilliant to draw all the Dublin locations too… may seem silly, but I get such a kick out of being able to depict Irish scenes in the book.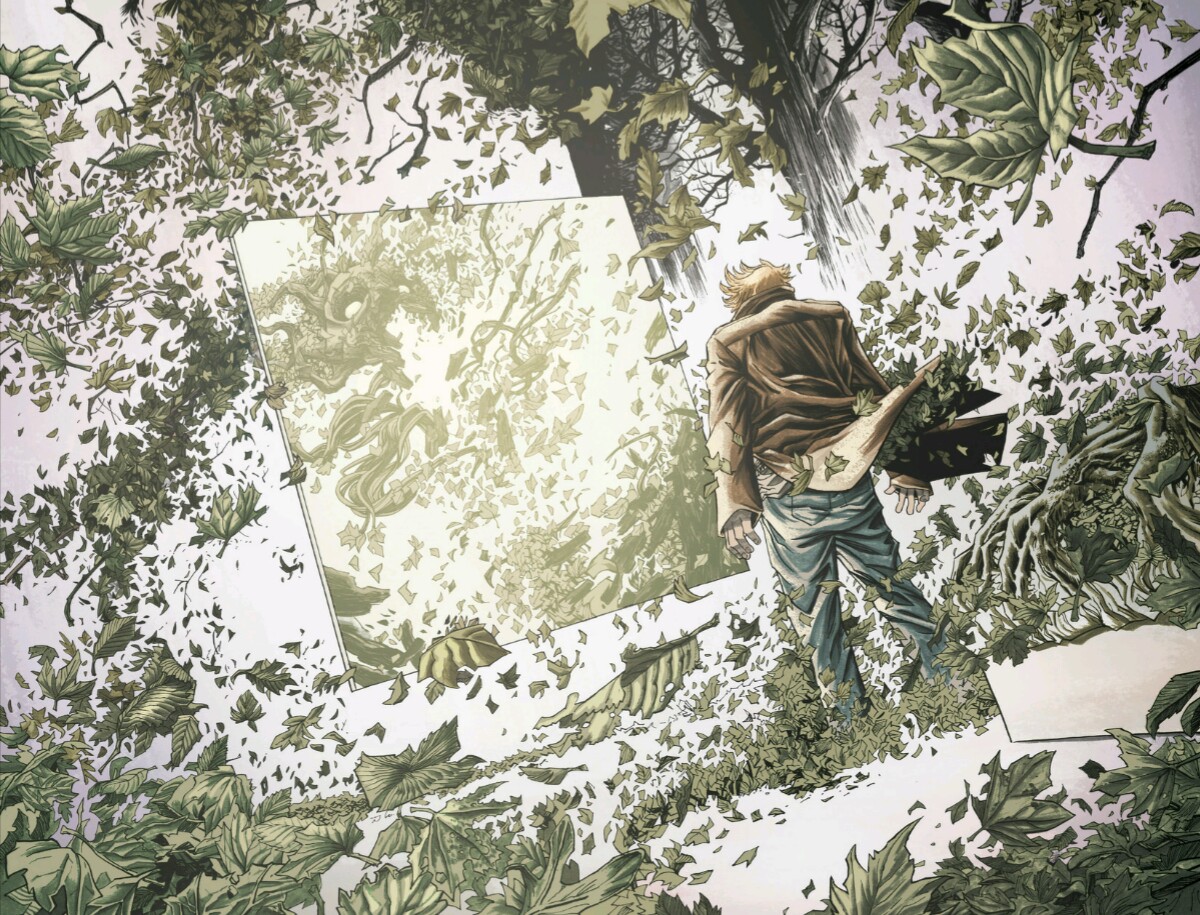 Be honest: have you ever made coloring suggestions to Jordie on this project? If so, how did it go?
DS: Of course I have and naturally, she told me exactly where I can stick those opinions :)
Seriously though, we always go through each issue and talk about what I had in mind. Mostly she keeps that in mind but every now and then she comes up with something else. Sometimes it might directly contrast with what I was thinking of, but unless I have really strong opinions about it (which I rarely do), I've learned to trust her instincts. If you're working with Jordie and not taking her ideas on board, you're missing a huge opportunity to make the work better and more interesting.
You had John Paul Leon contribute the one variant to the book that wasn't drawn by you. As the President of his fan club, how cool was that?
DS: Ha, I'd be HONOURED to be president of his fan club, but I suspect many artists would fight me for said honour.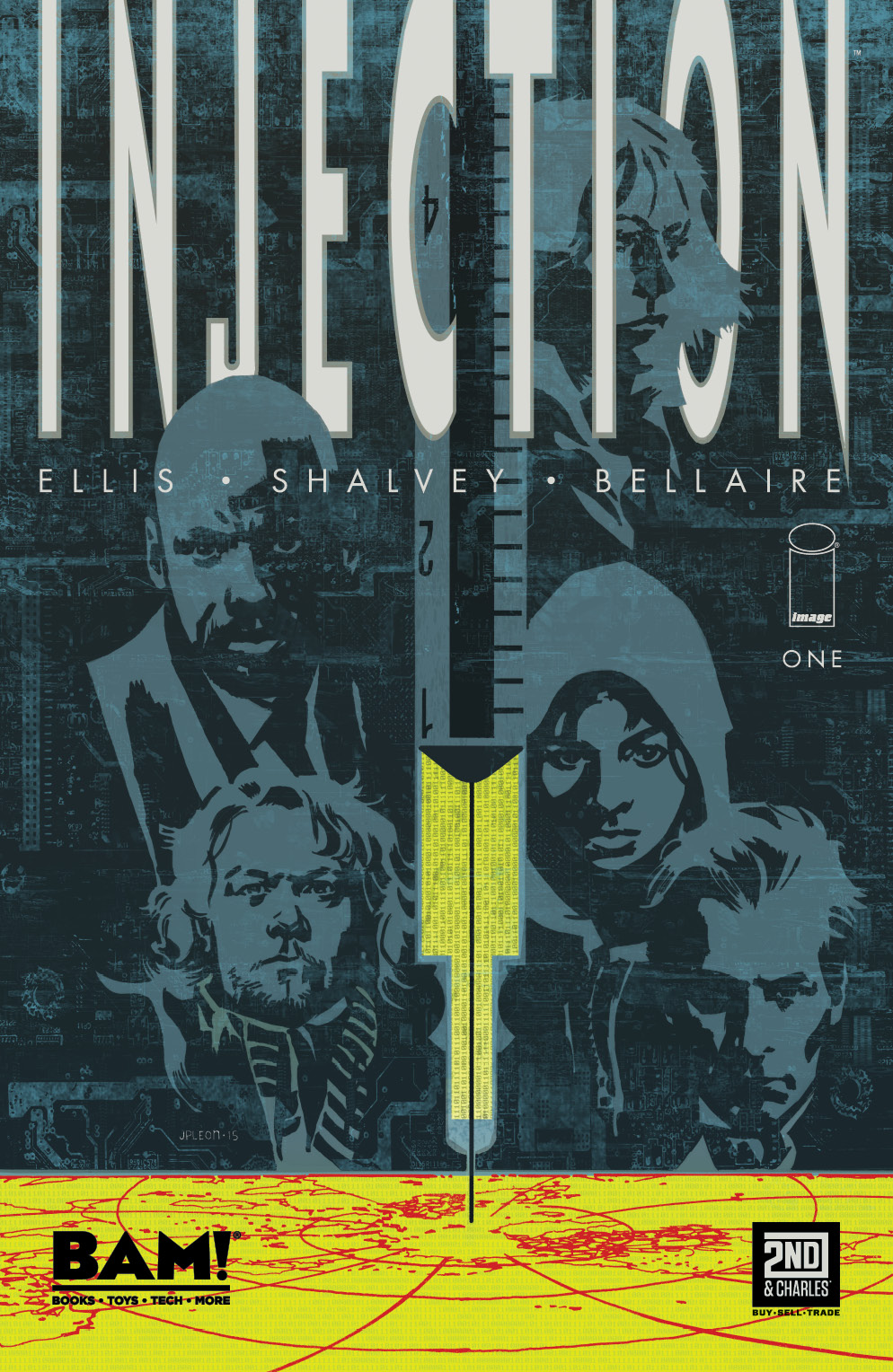 I was absolutely delighted that JP said yes when I asked him. He was under no obligation to do so. I gave him all the freedom to do whatever he wanted and he come up with a stunning image. On the downside, it's tough to see someone take your character and do a much better job illustrating them!
Seriously though, INJECTION is the first comic I've drawn that I truly own, and to have my favourite artist do a cover for the first issue meant the world to me. I have the original page framed above my drawing table.
Speaking of, you've been drawing two covers for every issue – the normal covers and the Haunted variants. Is that something you plan on continuing for the whole series?
DS: Yes, it takes longer for me to do two covers a month of course, but I enjoy having a different take on the covers each issue, and it seems some readers like to pick up those covers specifically. For Volume Two, however, I plan on radically changing the design approach for the Haunted Covers. Keep each volume visually distinct as to represent how each volume concentrates on a different character. It's a way of getting to experiment like I never could on a work-for-hire project.
The first trade arrives in October. Is it all glorious comic or are there any bonus features in the back?
DS: I've been back and forth on it but in the end, I decided on All Glorious Comic. If the book does well, I might be able to do some nice bonus features in a future volume.
What kind of sandwich did Maria finally get, and was it Warren's choice for it to be a deeply disappointing one or yours? Also, you're both monsters for that, either way.
DS: Warren described it in the script as 'the saddest sandwich in the world'. I hope I got that across.
Maria didn't get it, but you might. What's your perfect sandwich?
DS: Honestly? A plain chicken sandwich. Just white bread, chicken, butter. Perfect. NO LICHEN!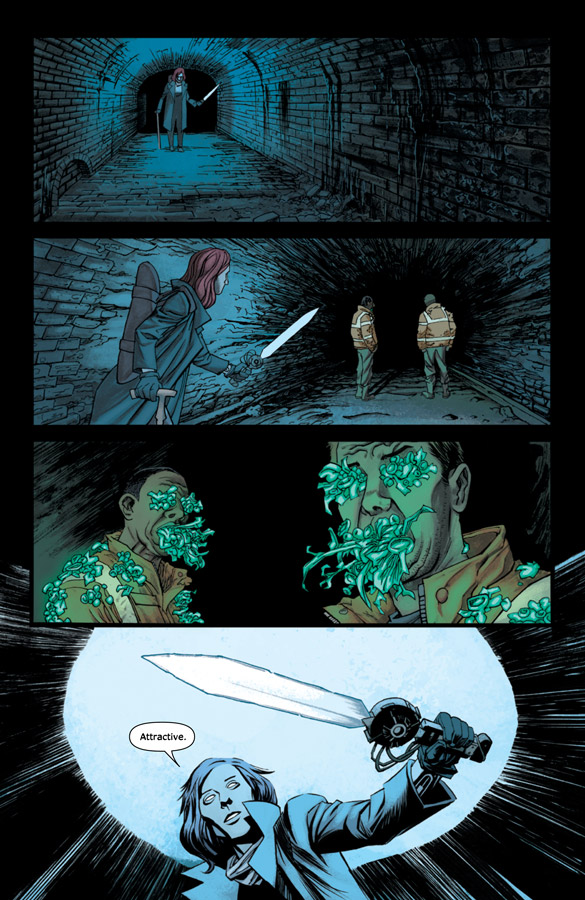 Can you think of the first comic that made you want to draw comics yourself?
DS: I can't really remember to be honest. I remember drawing comics before I read them. If there was one, it was most likely a Jim Lee comic, or maybe one of the Asterix albums that I would read in the local library.
You're a hard working guy, but everyone needs some time off. If the world was your oyster and you could pick anything, what's your dream holiday look like?
DS: I would stay in my house for a few days, read all the bloody books I've been meaning to read and watch all the films I've been meaning to watch for the past 5 years. Catch up with some friends over some pints, and then sleep for a week. That would be my dream holiday.
Cartoonist John Cullen recently depicted a "typical night out" with you in comic form. Accurate or dirty, dirty libel?
DS: I have to reluctantly confirm it's accuracy. I've heard from multiple sources now that it's quite, QUITE accurate.
You're a big Star Trek fan. What's your favorite run on the show? Keep in mind the only acceptable answer is Deep Space Nine.
DS: Well it's good that I think it's Deep Space Nine then! The Next Generation will always have a special place in my heart as I practically grew up on it, but looking back, it's just hard to beat how broad and immersive DS9 was…it celebrated the idea of Trek while also critiquing it. Filled the premise with compelling characters and difficult themes but stayed true to it's core belief. Amazing show. Plus, it really put Chief O'Brien through the ringer!
What's your favorite comic convention to go to?
DS: Depends, really, I like different shows for different reasons. I love NYCC; it's a crazy show, but always fun for me. Thought Bubble has always been an excellent show and genuinely creatively inspiring with the range of artists that attend. DICE has a special place in my heart too, but I'm somewhat biased on that front, as I've been involved with organising it.
When you're drawing, what else do you do? Do you listen to music or podcasts, watch movies or TV shows, or sit in silence and contemplate your work deeply?
DS: Listen to some current affairs programs: boring enough not to distract me, interesting enough to stop me from being distracted by something else. I like listening to lots of interviews with authors, comics creators, film-makers, etc. Great inspiration to keep you working. Some podcasts, though not as much as I used to. I play a lot of beloved TV series; Angel, The Wire, Sopranos, Deadwood, Six Feet Under…hmm, I think Deadwood is due a replay.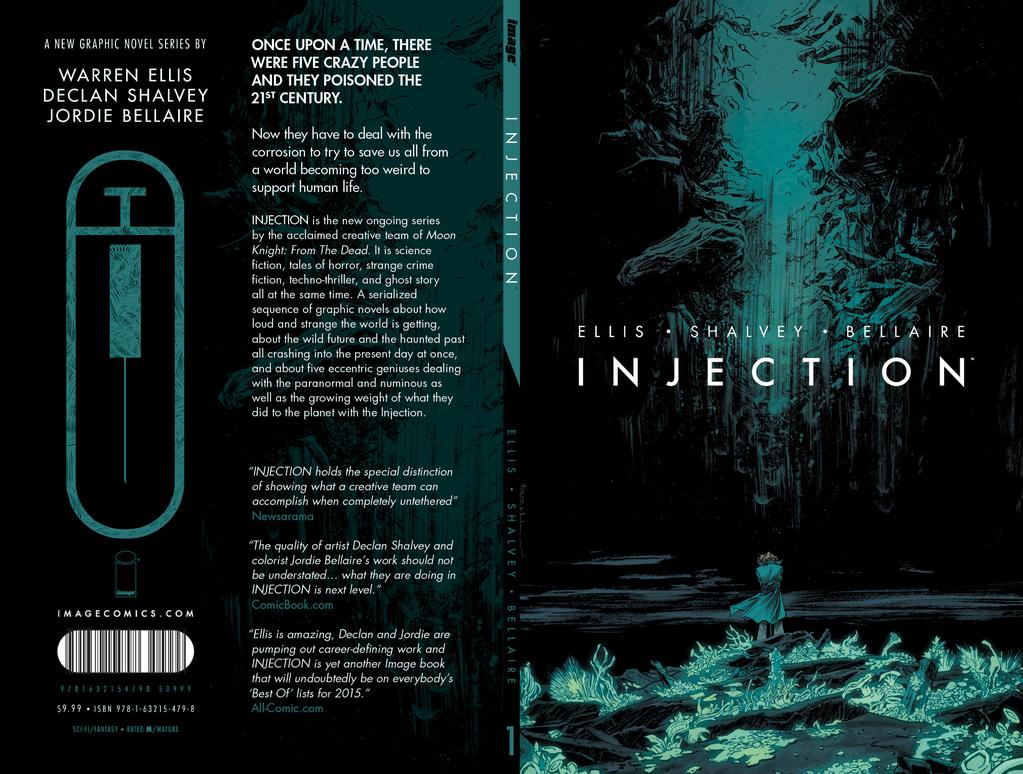 What are your favorite comics coming out right now?
DS: Southern Bastards. Rumble. Daredevil (just read the last issue of the Waid/Samnee run…just excellent). Stray Bullets. Trees. Howard The Duck. The Mantle. Airboy.
I have a bad fancy coffee habit I can't kick. It's impossible, but I love it so. What's the biggest vice that you can't help but keep around?
DS: Similar, but different. Tea. A nice cup o' tea. Nothing quite like it. I've had sips at times and said out like "God I fuckin' love tea."
What's an influence to your work completely outside of comics that might surprise people?
DS: Well right now HANNIBAL is having a huge influence. Jordie persuaded me to watch it and the attention to the art direction on the show is absolutely stunning. It's really giving me an 'art-boner' as Jordie likes to say.
The first collected volume of Injection arrives October 7th in comic shops and digitally. Looking forward to it? Consider pre-ordering at your shop with the Diamond code AUG150488. Trust me, this is going to be a pretty package.
Art in the article by Declan Shalvey and Jordie Bellaire, save for the variant cover to #1 by John Paul Leon.