"An Important and Growing Category": Kickstarter's Margot Atwell on Comics on Kickstarter
Yesterday's massive feature on crowdfunding featured a whole lot of very smart, very insightful voices on the world of comics and crowdfunding, but there's likely no one more tuned in on that side of the world than Kickstarter's own Margot Atwell. Atwell is the Head of Publishing at Kickstarter, and because of that, the person who leads the comics category for the crowdfunding giant, helping guide it to becoming what it is: one of the biggest publishers in comics, if that's what they actually were.
Because Atwell had so much insight into the world of Kickstarter, I wanted to run her interview separately from the main feature, that way everyone could see what she has to say about comics and crowdfunding. Within this chat, we discuss the rise of crowdfunding, where comics are in the mix, her team's attempts to bolster interest in comics, the appeal of Kickstarter, and much more. Give it a read, and if you enjoy the piece, come back tomorrow for a similar chat with Iron Circus Comics' C. Spike Trotman, and maybe consider subscribing! SKTCHD is a subscription site, and your support helps fund content like this.
Before we get into comic specific questions, I wanted to ask about crowdfunding and the shortened distance between creators and fans. From a 10,000 foot level, why do you think crowdfunding has become such a crucial part of the creator ecosystem over the past decade or so?
Margot Atwell: In the past ten to twelve years, it has become way easier to create things on a small scale (such as a high-quality comic or graphic novel) and sell them online, due to availability and decreased cost of digital tools, print-on-demand technology, and a strong e-commerce ecosystem. Kickstarter and other crowdfunding platforms help creators to connect with their fans and find new ones, and generate the necessary funds to pay collaborators such as artists, editors, and printers. Kickstarter reduces the risk of doing a project for creators and lets them see if they have a hit on their hands, or if they need to spend more time developing their project and their fanbase before going into production.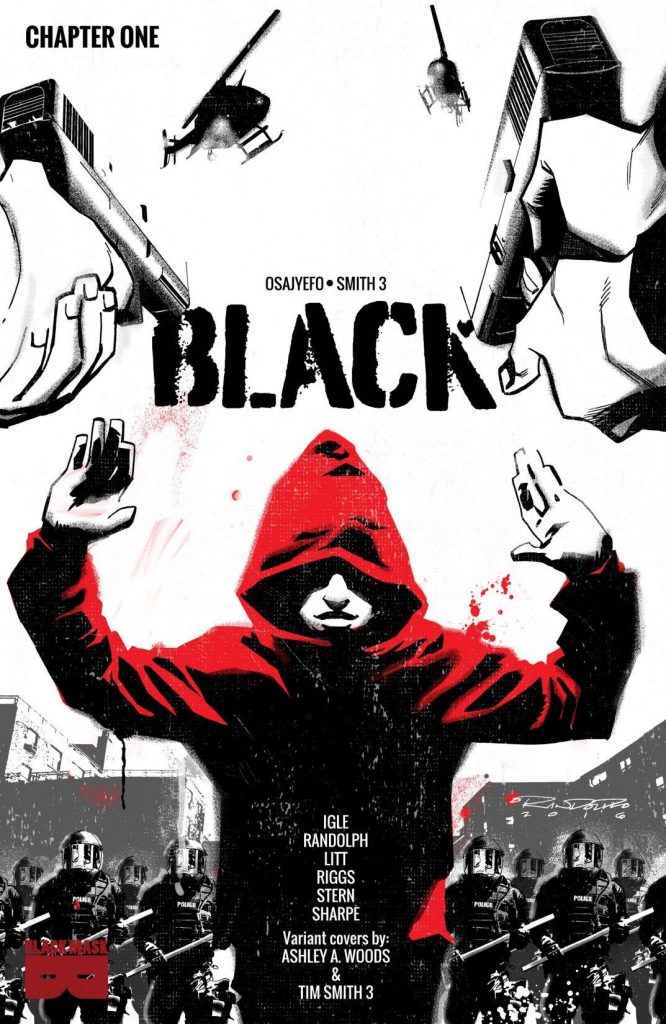 There are obviously many varieties of projects on Kickstarter, touching on all kinds of storytelling mediums and beyond. Where do you see comics in that mix?
MA: One thing I love about Kickstarter Comics is that the platform helps creators find support and enthusiasm for stories that often have not been embraced by Big 2 comics publishers and other mainstream outlets. Comics created by and centering people of color, LGBTQ+ folks, and people with disabilities raise money and find excited audiences on Kickstarter. BLACK by Kwanza Osajyefo began on Kickstarter, as did the Eisner-winning Elements: Fire anthology, and We're Still Here, an anthology centering trans stories told by trans creators. Stories like these finding a passionate readership is why Kickstarter exists.
And a successful Kickstarter campaign can be a stepping stone to increased visibility for an artist or writer, whose ability to draw an audience is undeniable after they run a successful campaign.
Comics on Kickstarter have seen tremendous growth over the years, with new highs being hit across the board seemingly in 2019. How important of a channel do you think comics are for Kickstarter, and what have you and your team been doing to bolster interest in Kickstarter amongst comic creators, publishers and beyond?
MA: Comics are an important and growing category on Kickstarter, which has been true since I began leading the category in 2016. Over the past few years, we've worked to connect with comics creators in many ways, from panels, workshops, and 1:1 conversations at events, to partnering with SPX and launching Small Press, Big Ideas last fall, to The Worlds of Kickstarter Comics anthology that my former colleague, Camilla Zhang, created this year. We were hoping to launch it in print at TCAF in the spring, but clearly that didn't happen for reasons outside of anyone's control. We had a lot of exciting plans in the works for 2020, but since many of them involved in-person events, we've had to go back to the drawing board for now.
It seems to me that outside of certain circles, Kickstarter is by far the preferred crowd-funding option for comic creators, especially ones who are trying to connect with diverse audiences. In your opinion, what makes Kickstarter such an attractive platform for creators, and what has the team at Kickstarter done over the years to fine tune the experience for people in comics?
MA: The comics community on Kickstarter is extremely strong and supportive. More than 800,000 people have backed at least one comics project on Kickstarter, and almost 150,000 have backed three or more. The success rate in the category is extremely high: since the beginning of 2018, it has averaged 69-70%. To me, this means that comic fans like what they find on Kickstarter, and comic creators have a great shot at funding their work on the platform.
Kickstarter supports and celebrates comic projects constantly, and we even have a newsletter, Kickstarter Reads, that focuses exclusively on comic, publishing, and journalism projects and the larger creative landscape in these fields.
Kickstarter is also a company that tries to live by its values as a Public Benefit Corporation. We have a strong policy against hate speech and abuse, which we enforce. That honestly should be par for the course on every online platform, but there are a lot of places online where women, PoC, LGBTQ+ folks, and other people from marginalized communities experience a lot of harassment. That's unacceptable, and on Kickstarter, we don't tolerate it. Having a sense of safety online can make it a lot easier to do great work.
Related to that, some of my favorite comic projects via Kickstarter have been from comics that are outside of the superhero set, so to speak. For example, Ngozi Ukazu's Check, Please! is an absolute gem, and it had a ton of success on Kickstarter. I know Kickstarter has sponsored SPX and gotten involved with other events in the past. Is it part of your team's goal to help connect comic creators outside of the traditional idea of "mainstream" in comics with audiences looking for something that better fits their interests? To help blow the hatches off the gates of comics, as Ukazu said (in a paraphrased way, of course) in your recent Worlds of Kickstarter Comics?
MA: I believe that everyone should be able to see themselves in comics. Historically, that has been a bit of a radical position in the industry, but it really shouldn't be. Kids want to see possibilities for their future, and adults want to read stories about people who are like them AND people who are unlike them, along with stories about superheroes and dinosaurs and robots and unicorns and everything else under the sun. I have strived to make Kickstarter a place where everyone can see themselves reflected in stories, and where people telling stories that haven't been heard yet can find readers who are thrilled to read them.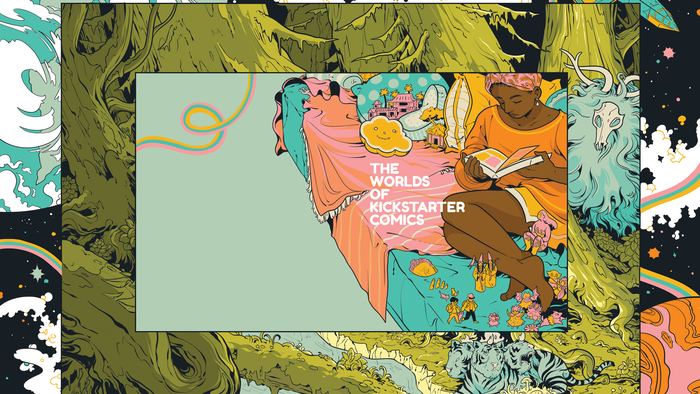 Crowdfunding via Kickstarter is an attractive option, but not necessarily the right one for everyone for a variety of reasons. Do you have any suggestions on things creators should consider before going down that path?
MA: Most creators spend time perfecting their story, their art, and making a plan for how to print their work, but many spend a lot less time developing the audience for their work before launching a Kickstarter campaign. It's important to make a plan for how to spread the word about a project to people who will be interested in hearing about it. It's absolutely OK to start with a small campaign, then build on that with a larger goal and a more ambitious plan the next time around.
We often run creator spotlights, which can be a great way for an artist or writer to build their audience. We're launching one called Signs of Change on July 13th, which invites creators to run projects to make signs, posters, broadsides, or zines. We'll be highlighting those projects through the end of the summer.
There are a lot of great resources for people planning a comic Kickstarter project. It's definitely important to do your research before launching a project!
The pandemic has obviously impacted everyone, and Kickstarter is no different, as I know you've faced your own hardships during this. At the same time, there's been a substantial uptick in notable comic creators going the Kickstarter route during this time, with even more discussing it as an option after the primary comics distributor temporarily closed during this. I'm sure you can't get into specifics, but how has the comics channel been affected during this time? Has it performed any differently than other channels at all?
MA: In spite of the pandemic, we've seen that comic backers are still showing up for projects at this time. Two of the top 10 most funded comic projects of all time have ended in the last month, and the SPAWN action figure project (which launched under the Toys subcategory rather than the Comics category) raised $3.4M a little more than a month ago.
People who read comics seem to understand more than a lot of people that if they don't buy, read, recommend, and pre-order their favorite artists' work, the things they love won't get made. To me, that has seemed even more true in the past few months, as so many people have been struggling.
The Kickstarter team recently put together The Worlds of Kickstarter Comics, a free anthology highlighting some of the best and brightest comic works funded via Kickstarter. Why was that a project your team wanted to put together?
MA: When many people (especially Americans) think of comics, they think of superheroes and kids' stories, but the comics medium is SO much more than that. The work that's being produced by creators who are using Kickstarter is truly world-class. Camilla Zhang, the editor of the anthology, and the rest of our team, wanted to showcase the diversity and the excellence of the comics being funded on Kickstarter, and encourage comic readers to think of Kickstarter as a place they can discover ther new favorite comic.