Paradise Found
On the aspirational, unbelievable Lake Como Comic Art Festival.
"The personal experience is pretty much unmatchable."
"It's the most beautiful location of any festival I've ever been to."
"I've never been to a convention quite like (it)."
When you're good enough to warrant kudos like those from artists Terry Dodson, Sean Phillips, and Jenny Frison respectively, you must be offering something rather unique. That's exactly what Cernobbio, Italy's Lake Como Comic Art Festival brings to the table. It's an event designed for the fans and creators of original comic art, located in one of the most picturesque locations in the world with arguably the greatest artistic lineups of any comic event.
You might be wondering why you haven't heard of it. It's probably because it's also one of the smallest festivals of its kind. That's entirely by design. This is a curated show, delivering a tailored experience for those who want something different than what American conventions offer. Lake Como Comic Art Festival isn't trying to beat others at a game it can't win at; it wants to be the best possible version of what a comic art-centric event can be.
In place of a wide mix of writers, artists, and celebrities, Lake Como has artists — and artists only. Instead of an austere, utilitarian convention center in the heart of a bustling city, you have an iconic Italian villa on a gorgeous lake. Rather than hordes of people rushing from one place to the next, you have a maximum of 1,000 attendees, allowing an experience that's equal parts intimate and relaxing with a depth of engagement you rarely find at comic events.
In short, it's paradise for the comic art community, and one that's housed in an idyllic setting that's almost beyond compare.
When I first heard of it — from the artist and husband/wife duo of Adam Hughes and Allison Sohn at Anchorage, Alaska's Arctic Comic in 2019, two scant weeks before Lake Como's second ever edition — it was like being let into a secret. I couldn't believe it existed. Hughes and Sohn assured me it did. I came to realize I needed to learn more about this festival in an effort to explore how exactly it came to be, and why it is the way that it is. It's a curveball in an era of super conventions maximizing revenue at all costs, one that takes it slow and keeps it small. Could it really be all it's made out to be?
What I learned was that sometimes things can be exactly as good as they seem, as long as they're the Lake Como Comic Art Festival.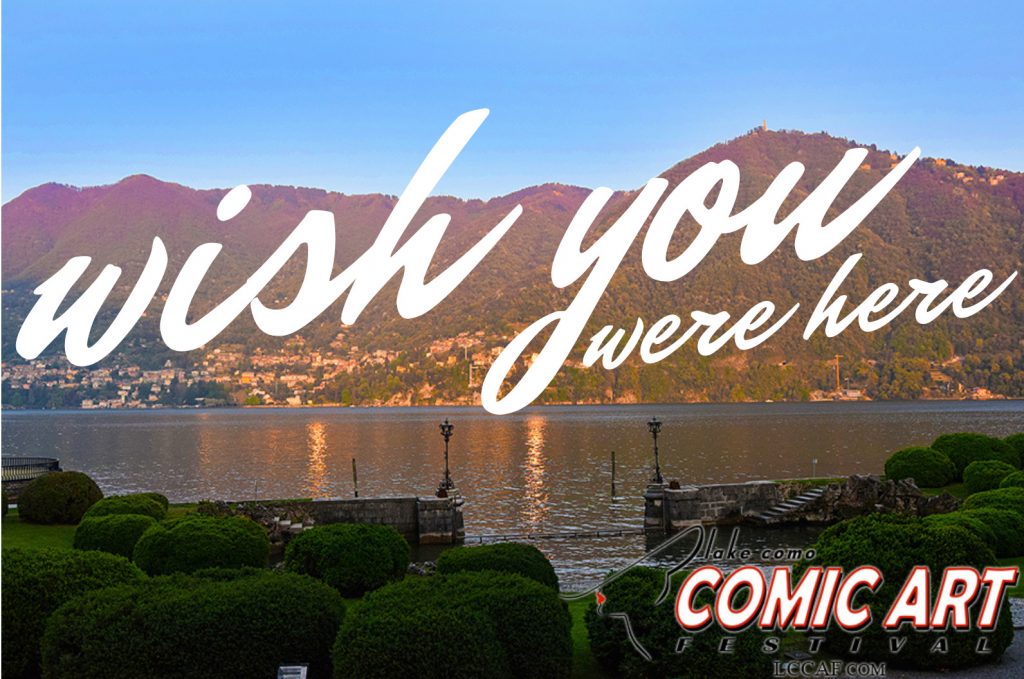 The story of Lake Como Comic Art Festival begins at the end of two other conventions. One was San Jose's Big Wow! ComicFest, an event founded by Steve Morger, a veteran of the comic art community. It was a passion project for Morger, one that ran from 2008 until 2015, at which point it ended because a bigger, richer event took over the venue it was housed at.
The other was Paris Comic Expo, which was hosted by Arno Lapeyre and his partners at the Paris-based comic shop Pulp's Comics, Claude Aujaud and Anne Magné. Right around when Big Wow was forced out of San Jose, another convention moved into Paris and, per Morger, "effectively put (the Expo) out of business."
Before they folded, though, both Morger and Lapeyre realized they had similar philosophies about what makes for a good comics show. The focus was on art and creators in very specific ways. The pair became good friends from afar, sharing "ideas back and forth" about their events as far as "what worked (and) what didn't."
"Both of us had similar ideas on shows, and shows that were growing that were put out of business for reasons beyond our control," Morger told me. "So, it was frustrating."
With Big Wow behind him, Morger moved on with his life, which for him included visiting Italy's Lake Como area. It had been a favorite vacation spot for decades before he eventually decided to buy a small apartment there in 2016. It was during that trip that the wheels began to turn about putting another event together. But this time, he'd do it differently.
While Morger loved running Big Wow, it had grown so large that managing it became untenable. Once it reached around 10,000 attendees, he had to "start thinking about hiring people to help," which he described as "another layer of expense and bureaucracy." More than that, the art fan in him always wondered what a show that was entirely art-centric would look like. And if he was going to do that, why couldn't it be in Lake Como, a place he deeply loved?
When he blended those ideas together, he started to get excited. Excited enough that coming across the right form of inspiration might set him on that path — like, finding a potential venue, maybe.
"One day I saw that the Sheraton Hotel in Como advertised a convention center," Morger said. "And so (I thought), 'Let's take a flyer and go look at it.'"
That convention center wasn't what he was hoping for. It was just too small. Instead of giving up, though, he shared his idea with the people who had showed him the space. They suggested that he should check out the Villa Erba, which just so happened to be right across the street. More importantly, it was exactly what he was looking for.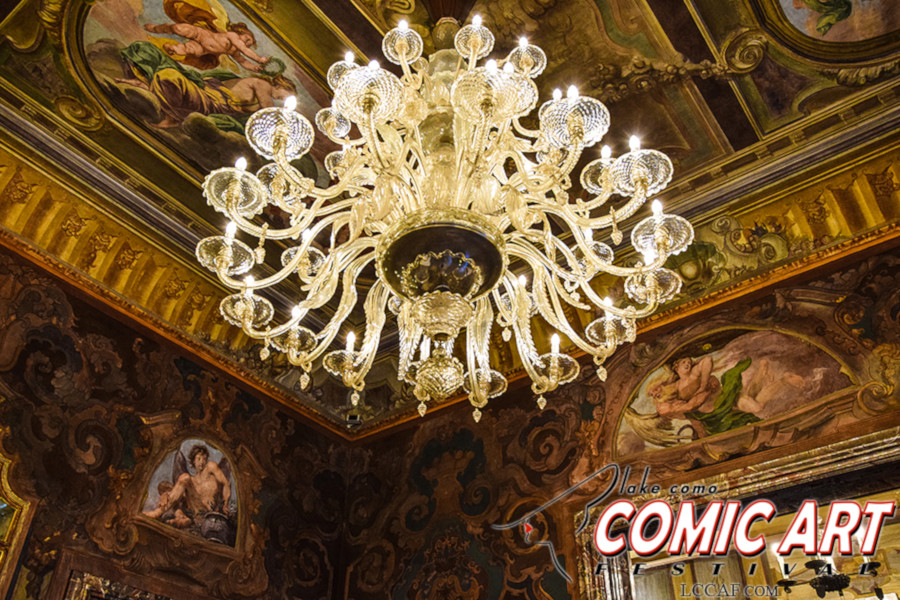 "The Villa Erba is a big site. It has an 18th century villa with frescoes and mosaics, a great staircase, and it's right on the water," Morger said. "And right next to it is a brand-new convention center." 1
Morger described the convention center as "a little funky." Instead of being "one huge room" like American conventions often are, the wing the festival eventually set up in is split into 12 panel-sized rooms. That wasn't a problem though. Instead, it was an opportunity. Morger started having dreams of different rooms with different themes for different types of artists. Looking for European artists? Go here. Looking for American or Japanese artists? Go there.
His mind was racing at the possibilities. Maybe this could be the place he and Lapeyre could team up to make the festival of their dreams, he thought. He had to find out, so Morger invited his pal to Como. Initially, the weather was overcast and rainy, so his potential partner's excitement level was muted — until the weather turned.
"The sun came out, and there's no prettier place on earth than Lake Como when it's nice and warm and the sun's out," Morger told me. "And (Lapeyre was) just like, 'I'm in.'"
The idea was simple because they wanted to keep it simple. They wanted it to be art focused above all. While Lake Como was the sizzle, that was the steak Lapeyre was looking for.
"This is what I love and the aspect I wanted to focus on if I returned to organizing an event," Lapeyre said about the art-centric nature of the festival. "Even in our previous shows, we always tried to keep a big part for the artists and the actual books, something that is often forgotten in a lot of modern conventions."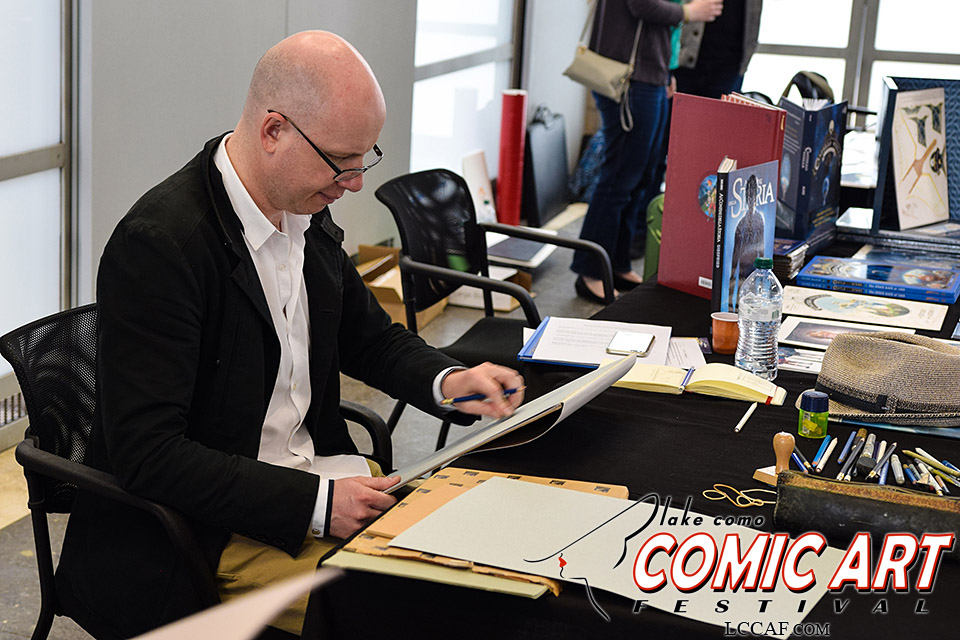 They also wanted to keep it small. From the start, their goal was to limit it to 1,000 attendees, and they wanted the artist list to focus on quality rather than quantity. The first year certainly delivered. They had around 25 guests, including American titans like Greg Capullo, Jim Lee, and Neal Adams and European legends like Juanjo Guarnido, Claire Wendling, and Régis Loisel. It was an all killer, no filler approach. There was only one problem, though.
"It probably had one of the strongest guest lists that has been around, just based on overall quality," Morger said.
"And nobody showed up."
With 25 of the greatest artists to ever work in comics as guests, the 2018 Lake Como Comic Art Festival brought in 85 attendees. That is not a typo. There was a reason for that.
"My Italian friends just laughed (at the attendance)," Morger told me. They said, 'Your guest list was too good, your prices were too high, and nobody knew you, so everybody believed you were scammers.'"
With that lineup and a two-day pass that came in at around €250 — something that was necessitated by the limits on attendance and the elite guest list — Morger and Lapeyre shared that the first year was viewed rather suspiciously, to the point almost no one came.
"I remember some people were intrigued but wondered if this was a scam, like a 'too good to be true' kind of thing," Lapeyre told me.
"Rather than book a trip to Como and then ultimately be left there, like the Fyre Festival, nobody came," Morger added.
That might sound like a disaster. It was. The pair decided the day before the show "that it's a one and done."
"But then the show happened."
For the 85 superfans of comic art that went and barely outnumbered the legendary artists in their midst, it was a blast. The same was true for the artists themselves. The attendees that did go spent lots of money because they had "unfettered access" to some of the greatest artists in the history of the medium. More than that, it was so intimate that artists were leaning into the fun, with names like Lee and Adams giving away free art and autographs to fans just because they were having such a good time.
On the eve of the event, they knew it was over before it had even started. After it wrapped, they knew they had to keep it going. As Morger told me, "It just went so well that we couldn't let it die." It also helped that they had done this before, and they knew that it was a tough ask in year one. Come to Italy for an expensive convention with a literally unbelievable lineup of artists? Maybe next year, if it actually happens. That factored into their arithmetic, Lapeyre shared.
"Starting an event from scratch is always complicated. A lot of people were waiting to see if this was really going to happen," Lapeyre told me. "So yes, the first year was hard, but we've always believed in our concept."
They've stayed at it ever since, and it's continued to grow. 2019's edition went from 85 attendees to 200. While they still lost money and questioned whether they should keep going, "The show went even better the second year," according to Morger. Then the pandemic hit. By the time they returned in 2022, attendance jumped to 350 rabid art collectors. Word was spreading amongst artists and the original art community. This Lake Como thing? It was real.
And it was spectacular.
---
2023's edition was the biggest yet, both in terms of attendees and guests. Talk of the event's quality — and its eager to spend attendees — traveled quickly amongst the original art community. Everyone wanted in. While the total guests numbered 113, Morger shared that they had "about 150 requests for spaces." Art reps were desperate to bring as many artists as possible, even volunteering to cover most of the expenses knowing they'd likely make it back at the show.
It wasn't just artists who wanted in either. When I talked with Dodson, he told me that writer Jeph Loeb was at this year's event. I was perplexed. Loeb wasn't on the guest list. The artist shrugged and speculated that maybe he just showed up. Turns out that was exactly what happened. Morger said Loeb wasn't invited, just like Marvel's Editor-in-Chief C.B. Cebulski wasn't when he attended the year before. They came as fans. 2
The showrunners considered it a "nice pat on the back" that Loeb and Cebulski made the journey to Como. They weren't the only ones, either. The 400 or 500 attendees 3 in 2023 was a global group. Attendees came from all over the world, including Europe, South America, Australia, Singapore, the United Kingdom, the United States, and more.
"I knew before I went that there were American fans going, which surprised me," Dodson told me. "People would go, 'I'll see you in Como,' and I'd be like, 'Really?!'"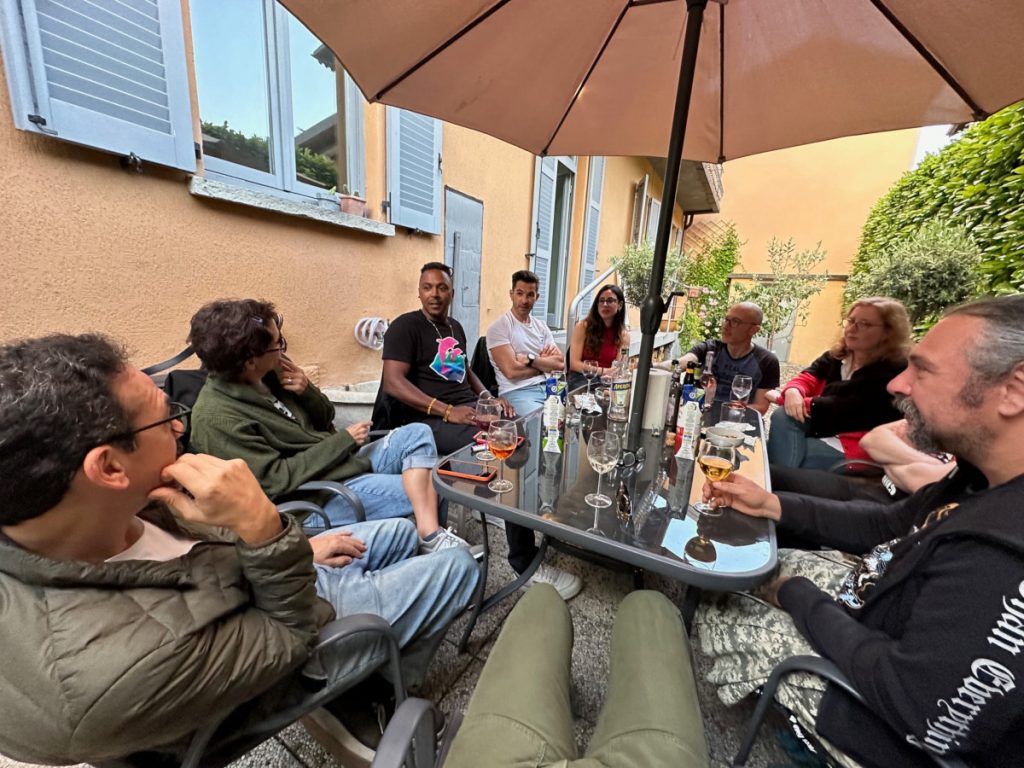 One reason it has continued to grow are its remarkable guest lists. It's a who's who of the comic art world, with Eranga Devasurendra — an art collector from Birmingham, Alabama who attended his second consecutive festival this year — touting its mix of creators. This year's lineup included modern favorites like Artgerm, Bruno Redondo, Esad Ribić, Peach Momoko, and Zu Orzu as well as classic artists like Arthur Adams, Kevin Eastman, Mike Grell, Milo Manara, and Simon Bisley, with that list just scratching the surface of the talent you could find there.
What made Como especially unique was it managed to attract legends you rarely see at these sorts of events. One was Italian writer/artist Paolo Eleuteri Serpieri, someone I had never heard of before this, but I quickly understood the immense esteem he carries because everyone just referred to him as Serpieri in hushed, reverential tones. The guests were as international as the attendees. That's part of the deliberate, curated approach the team brings to guest list development.
There's a common thread to who they invite, though. They want artists who are adept at drawing on the spot and are excited to deliver. It's original art focused, so they want — and even require, at this point — artists to draw at the event, often while interacting with fans.
But another reason it has continued to grow — and arguably why they keep drawing such prodigious talent — is the festival itself. It's an incredible experience, one that just feels different than its peers according to those who went.
"Their intensive focus on comic art, the ratio of fans to creators, the catered event to kick off the weekend, and the incredibly beautiful location were all unique," Frison said.
"I absolutely loved my experiences at (Como)," Devasurenda added. "Floor to ceiling windows allowing a ton of natural light immediately sets it apart from every other con I've attended. It's hard to overstate how much of a difference that makes in your general mood and seeing art that way."
The location is not to be underrated. It was clear that other events can't really match that aspect, whether you're talking about the Villa Erba or Lake Como itself. While New York or San Diego Comic Con might equal Lake Como in pure volume of creators and HeroesCon could give its guest list's quality a run for its money, only Como takes place in a location postcards dream of. That is a crucial plus for everyone who goes, but perhaps especially the artists.
"(One) big thing that makes it stand out was the location. A mansion on the lake (that) also had a little convention center on their property," artist Chris Shehan added. "The first night was a party in the mansion for artists to mingle with attendees. The convention itself was in the convention center on the property. I don't think any convention is like this."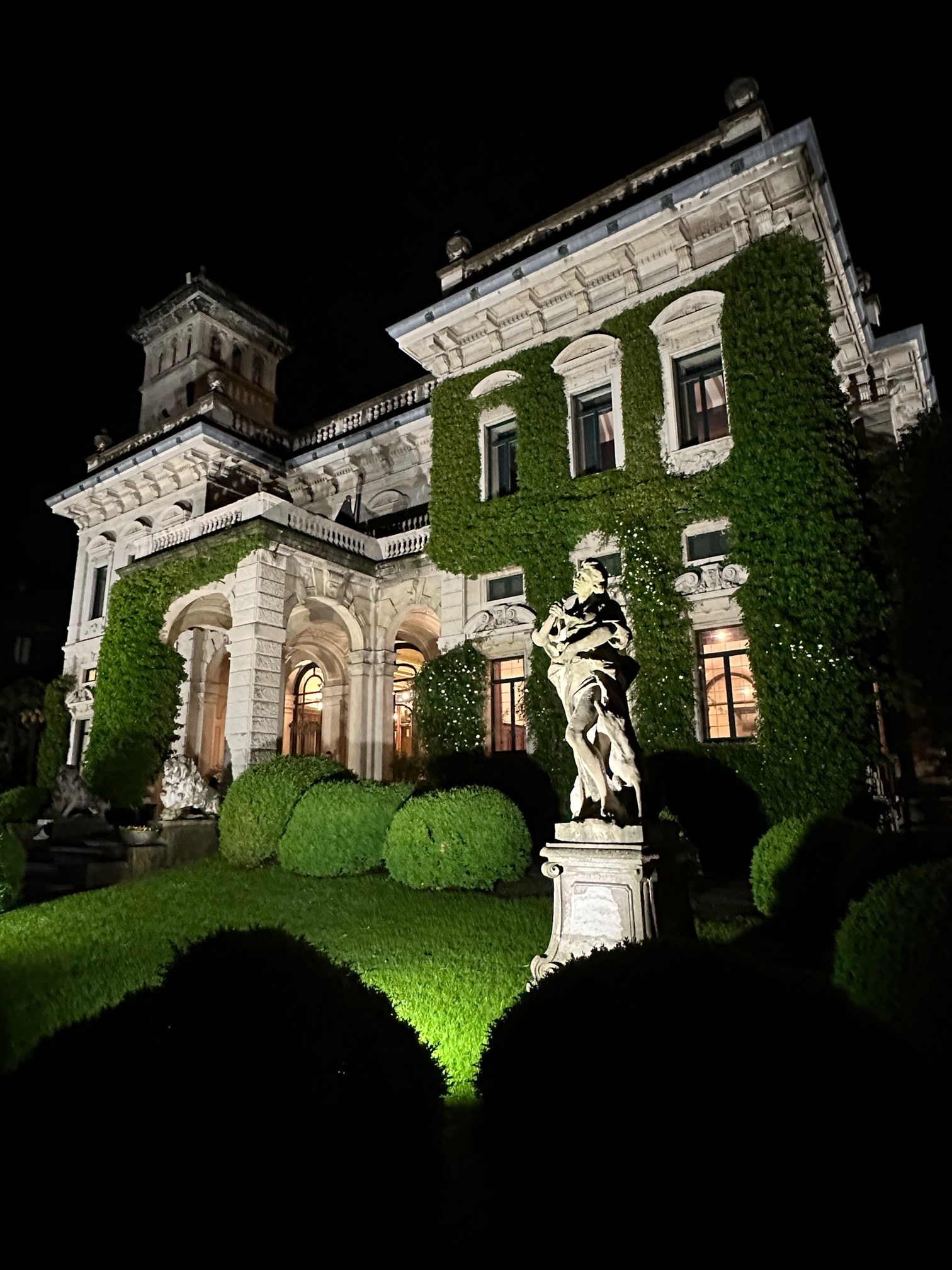 That party Shehan referred to is the festival's opening reception. It's key to the experience, because how often do artists get to hobnob with their peers and art fans get to rub elbows with their idols in a stately villa on a gorgeous lake, all while eating a fine meal and drinking even finer beverages? That's right: attendees can go, if they pay for the highest end package Como offers at €449 Euros (plus service charges). But as Devasurendra told me, it's essential. Como isn't just about the art; the community feel at the reception and beyond truly delivers.
"The social aspect of being able to mingle with your favorite creators and fellow collectors after-hours is a tremendous bonus," Devasurendra told me. "It's frankly the clinching factor for why I'll continue to return."
At most conventions, your interactions stop when the convention does. But when you're in Cernobbio, almost everyone's there for the event. As Morger told me, "You get a chance to actually talk to people that you never thought you'd have the ability to talk to, which just makes it that much more special."
One of my favorite stories about this came from Dodson. On the Monday after the show, he and artist Dan Brereton decided to take a ferry to go see the nearby Bellagio. It was a gorgeous day, so they figured why not. When they got to the ferry, there were dozens of artists from the festival onboard. They ran into even more pros and fans at Bellagio itself. As Dodson told me, "There were just a lot of people hanging out and enjoying each other's time."
---
The event itself isn't much different, as Lapeyre told me.
"It's unique because you will never meet so many great artists in such a relaxed atmosphere. At big shows, everyone is busy running everywhere. You have huge lines. Our show is the total opposite."
That's something Frison appreciated, describing it as "a relaxing experience," especially in comparison to the hustle and bustle of your average convention. It meant a lot to her.
"Meeting fans is such a special experience for me as a creator, but it's so rare to have those interactions feel so laid back and unhurried," Frison said. "And to get to have those engaging interactions while tabling next to some of my favorites, like Tula Lotay and Travis Charest, was awesome."
Its size allows for that. Even if they maxed out attendance, the ratio of attendees to guests would only be about ten to one. This year's event was four to one, which allowed for everyone to take their time with the work and have deeper interactions in the process. It being so singularly art focused helped as well. The only people set up were artists, art representatives, and original art sellers, which limited distractions and ensured everyone was there for the same thing: the purchase and celebration of art.
That all the attendees were passionate original art fans and collectors completely changed what sold as well. Dodson told me he brought prints to last the weekend and only sold seven the entire time. That's about half a day's worth at a typical event. Instead, the focus was on commissions, sketches, remarques, and original art — and there was a lot of interest. All told, the artist estimated he did 50 or 60 drawings for people in the event's two days.
"My art sales were the best two days of art sales I've had in a long time," Dodson emphasized.
That fits what the event is all about. Morger told me he advises artists to not bring prints beyond a cursory offering. He described them as "a last resort" for attendees. The focus is on original art above all. Because of that, he also said this: artists "need to come prepared" to draw — and bring it when they do.
Because this is such a singular art event and there are so many notable artists in attendance, Morger shared it can turn into a highly competitive environment. That happens when artists see the work their peers have done, always wanting to one up each other. This is a con constant. It happens everywhere. But Como offers a unique wrinkle to that. When there's a chance that legends like Milo Manara, Serpieri, or Simon Bisley might see your work and find it wanting, you can't leave it to chance. Everyone brings their A game — and then some.
"(Artists are) like, 'Oh crap, I don't want to be embarrassed. So, I'm not going to do that five second head sketch. You paid me for a five-second head sketch, but it's going to take me 15 minutes,'" Morger said about the mindset.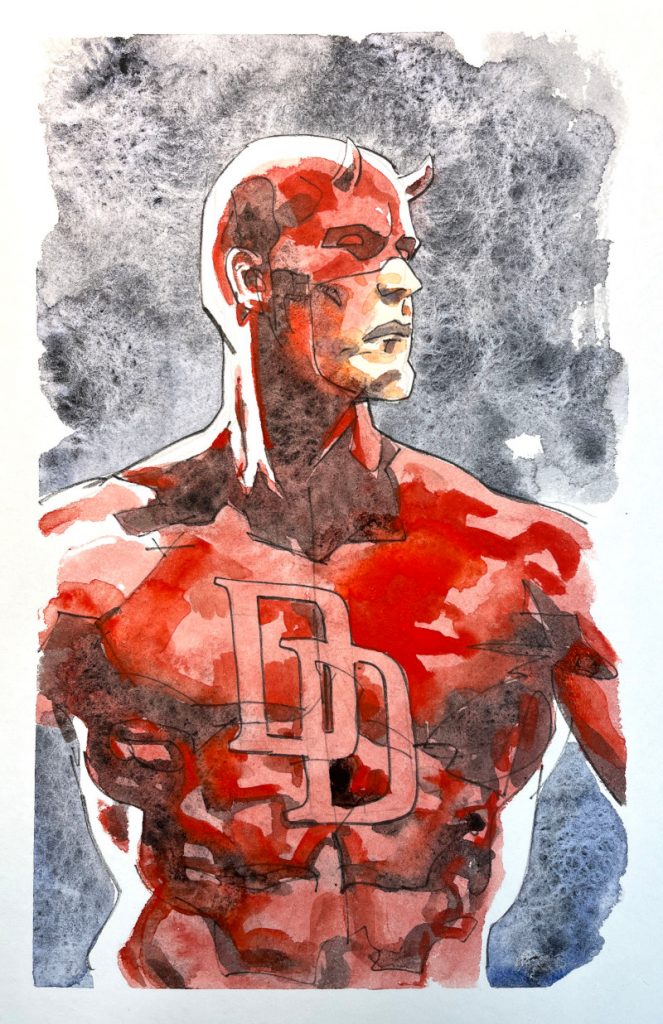 That's reflected in the work Phillips did in specific. The artist told me he "rarely paints at shows." His focus is typically on quick headshot sketches. There just isn't time for more typically. But at Como, he shifted towards quality over quantity, much to the delight of every fan who engaged with him, I'm sure.
"I did about ten painted commissions over the weekend. This was a great opportunity to take my time," Phillips said. "I did fewer pieces, but they were more time-consuming."
Now it's time to discuss my favorite thing about Lake Como Comic Art Festival. This one idea single-handedly represents just how different of a comics event it is, and it's incredibly simple. I'll let Dodson describe it.
"(In each room) there were eight tables," Dodson said. "And at each table was a chair, so every time someone came up, they could sit and look at our portfolio or watch us do their drawing."
"It just made it a much better experience for both the fans and the artists."
If New York Comic Con had a chair at each table, everyone would have to sign a liability waiver because there would be so many injuries. But at Como, it just made sense. Morger said this was an idea he and Lapeyre had early on. It was because artists typically must look up at fans standing at their table. When they're doing that, they can't draw as well. But if you put everyone at the same level, artists could keep drawing, and fans could have a one-of-a-kind experience where they converse with their favorite artist as they draw something just for them. It is a lovely concept, and an incredibly well received one.
"It invites you to take a load off and have a conversation like normal human beings," Devasurendra told me.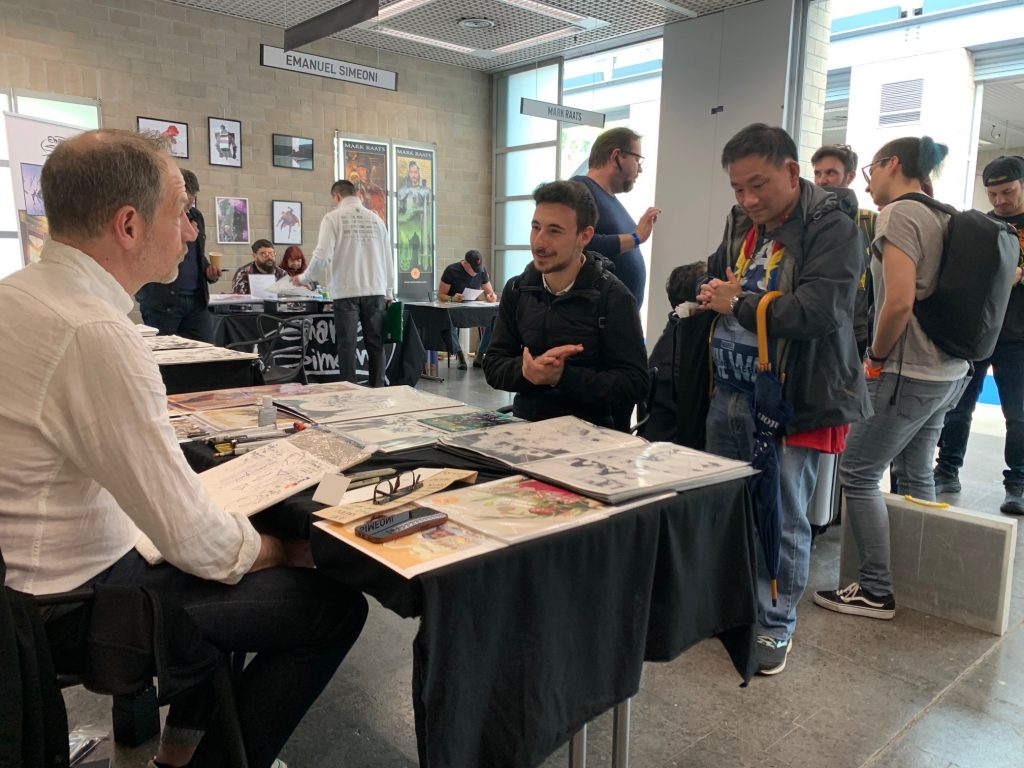 The interesting thing was, Como flipped the usual idea of conventions on its head for artists. Typically, these events seem like a survival-based experience, one where they're just thrilled to make it out happy, healthy, and hopefully profitable. But at Lake Como Comic Art Festival, they become fans again, as they gleefully meet their idols and walk away with portfolios of art themselves.
"As a fan myself, I've never been to a show where I can walk up to a table and meet my favorite artists without waiting in a huge line before," Frison told me. "The fact that I could walk right up to Dave McKean and flip through portfolios filled with original drawings and chat or casually stroll by Milo Manara while he is drawing at his table…mind blowing."
"The place was full of amazing art, and I spent a large portion of any money I made that weekend buying art," Phillips added.
That's the power of the ratio of attendees to artists. Whether you're an artist wanting to geek out in front of legendary talent or a fan looking for remarkable art, the limited attendance created a slower pace that allowed for that. That was especially powerful for the collectors, as some noted.
"The attendees/artists ratio was great if you're an attendee. If you're an art collector, this show was a dream," Shehan said. "Even just seeing original art from comic legends up close would be amazing, but the people were there to buy, and I think every attendee went home with some treasures."
---
That's not to say Como has everything ironed out. That ratio underlined one of the biggest challenges from this year's event. The number of guests — which surged from the 50s to 110 plus this year — inadvertently created an inequity in who made money at the event.
"The biggest names there did great. For the majority, it doesn't quite work out," Shehan told me. "I actually had enough free time to do deadline work at my table because it just wasn't very busy."
Shehan heard that that the number of guests in 2022 allowed for everyone to succeed. With triple digits in 2023, it spread the money a little too thin. Ultimately, the artist lost money on the event. Just breaking even would have been considered a success, but it being a destination event — one he paid for — made that difficult because costs were higher than usual. 4
The good news is, the team knows what happened and they agreed that the ratio was off. The guest list ended up being too big relative to attendees. They're not planning to let that happen again.
"We had a big increase in the number of guests compared to last edition, but we will reduce it to make sure we continue to have a good ratio between guests and attendees so it's a great experience for everyone," Lapeyre shared.
"(The ratio of attendees to artists) somewhat diluted the potential impact," Morger added. "Some (artists) did well. But there's others that probably didn't cover costs. That's not something we want."
While they're thrilled that some did so well — Morger heard from multiple artists that said it was the "best show they've had in their entire career" — they don't want others to suffer in the process. The plan is to "scale it back to about 80" guests to ensure the ratio favors attendees more. And as the event grows, so will the guest list.
"I want it to be closer to ten to one, which is still pretty crazy," Morger added. "But then you have a lot more money to spread around to the artists to make it worth their while to pay to come."
To do that, they need greater attendance. It seems likely to continue to swell in size with each passing year, even if costs do make it a bit more challenging to attend. Beyond the act of getting to Lake Como, the event itself is pricy. A one-day pass is €149, a two day is €249, and the two day plus opening reception ticket is €449. That's a lot.
But at the same time, Como offers a truly one-of-a-kind experience in an unforgettable setting, and other conventions aren't exactly cheap these days either. New York Comic Con's VIP pass — probably the closest comp from a top convention — is a hefty $553, and you aren't going to an opening reception with a starry guest list with that. 5 In my conversations, ticket prices did not seem to be a major concern.
Which is good, because they need to be high to ensure Como eventually turns into a moneymaking endeavor. So far, it hasn't been. They haven't profited on a single event so far. While rising attendance is the best and most sustainable path to getting there, they're also developing other tactics to support and enhance the festival.
One is an art auction that will offer unique pieces you can't find anywhere else, like a Serpieri penciled piece of Druuna — the artist's most famous work — inked by Frank Cho. That's truly one-of-a-kind, and artists are teaming up for similarly unique jam pieces that are being donated in support of the event. That auction is coming later this year. The hope is it will act both as supporting funds and promotion for 2024's edition.
Sometimes plusses come with minuses, though. Como's auctions apparently generated consternation amongst attendees, Devasurendra shared. When it came to the art auction, concern arose from the fact it didn't take place at the festival itself as it previously had. It typically happening on Sunday meant only people in attendance could participate. That both limited the cost of the pieces and the pool of potential bidders. This year, though, it was postponed during the show and made an online auction, which ruffled some feathers.
"It's great to get more eyes on the art and drive up the hammer price," Devasurendra told me. "But (it) made the event not special at all for people who had forked over generous sums of money to attend in person."
The other was an apparent "first in line" auction. This was new in 2023. The week before the festival, attendees apparently could bid in an online auction to be "first on an artist's commission list." What that meant is winners would not just pay for the commission but this "first in line" fee to organizers as well. Devasurendra described the idea as "fine in theory," but it hit "fairly late in the game for most attendees," frustrating those who were eager to sprint to ensure their spot at the front of the line.
Devasurendra still loved the event, and plans to continue to go. But as he told me, "While I generally gush about this show, it's fair to call out those missteps too." I asked Morger about the auctions, and he agreed with Devasurendra's criticism, saying, "Neither were handled particularly well this year, but we learn from our mistakes to improve future shows." While both will be back next year, the plan is to make communication about each clearer and more up front with attendees.
Morger deserves credit for that. There's a version of this where Como's showrunners bristle at criticism and dig their heels in. Instead, they listened, they're aware, and they already have plans to do better when it comes to the perceived downsides to 2023's edition. While the event itself is impressive, that adaptability might be even more so.
---
Lake Como Comic Art Festival is fascinating, if only because it's so different than other comic conventions. In a period of unrelenting, unsustainable obsession with growth, this festival has elected to stay small, lasering in on delivering an unsurpassed experience in the process. That makes it truly unique. So, that made me curious: What's the ultimate goal of the two people running the show? Is this what they really want out of the event? Their answers differed, but they were rooted in the same place.
"We absolutely need to make some money; we don't have an unlimited cash flow. The actual financial structure and concept does make it challenging for sure, but again, the goal is not to grow bigger and bigger," Lapeyre told me. "Quality will always remain our first goal and we believe that quality always pays in the end."
"If (this show) was only (about) money, it would've died after the first year," Morger added. "But it is a labor of love for both Arno and I, and Arno's partners, Anne and Claude."
The funny thing is, if not for the generosity of the hosts, 2023 might have been their first profitable festival yet. That opening reception is no joke. Morger estimated it cost "about $150 a head." But with artists and reps eager to participate, comp invites to the reception skyrocketed. That cost the team "a lot of money." That's another lesson they learned this year.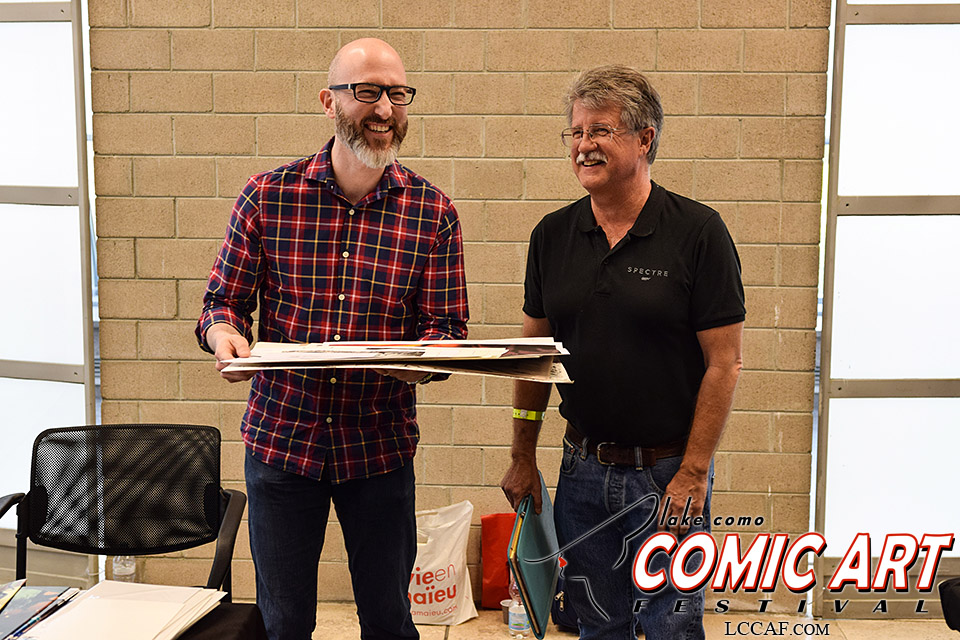 But that generosity — and the type of experience they're offering artists, art reps, art dealers, and attendees — is precisely why those who go to Lake Como Comic Art Festival love it so much. It's reflected in a story Morger shared with me. As noted earlier, the first year was a "disaster" financially. He described it as a "six figure loss, and not starting with a one." This was no secret to attendees, including an art rep named Kwan Chang.
Knowing what went into it and the "bloodbath" it was, the rep went to artists at the event and "took up a collection." They donated art so the team could sell it and recoup some of the festival's losses. That meant a lot to everyone involved.
"(That) brought tears to both of our eyes because it was a stressful financial show," Morger told me. "To see the artists recognizing and appreciating the effort that we put in was heartwarming."
That's what the team is trying to do with the festival. They want to keep it small, keep it special, and keep it something that means a little more to attendees and guests than your average show. Everyone recognizes the value of what they're doing. Even others who run conventions. Devasurendra told me an event modeled after Como is coming to Orlando in January. It's called Original Art Expo, and it will be an art focused convention with a "terrific guest list." Can it capture the same glory as what Lapeyre and Morger have built? Only time will tell, but I'm guessing artists would be thrilled if it did.
Even Shehan — someone who had understandable concerns about it — enjoyed the Como experience.
"I believe that a good convention is more than what you earn there," Shehan said. "The attendance being what it was actually gave me a lot of one-on-one time with art collectors and passionate comic fans, and I got to meet and see some of my creative heroes. I got to see original art from legendary artists up close. And of course, I got to be at Lake Como and make a little vacation out of it."
"So maybe it's not been my most successful convention," the artist added. "But I'm still glad I went."
The experience was a remarkable one for attendees and guests alike, something that comes down to the people behind it, as Frison told me. She described Lapeyre and Morger's efforts as "a labor of love for the kind of show they wanted to attend." Sure, you won't get to attend movie panels or find the hottest Funko Pop. But you'll be able to sit in a chair and talk to your favorite artist while they make something for you and only you. As Dodson put it, Lake Como Comic Art Festival "is made for fans of comic art," and it's made by fans of comic art.
In a time when celebrity has taken the lead for most conventions, there's something wonderful about knowing an event like Lake Como Comic Art Festival exists, acting as a celebration of comic art — and the people who make it.
Thanks for reading this feature. If you enjoyed it, consider subscribing to SKTCHD for more like it. Also, all photos were provided by Lake Como Comic Art Festival, unless otherwise noted.