On an Enormous Year for Big Bang Comics, from the Shop Itself
Or, How Big Bang Comics Learned to Stop Worrying and Love the Lockdown
It's time to talk about 2021 for the comic shop I co-own, Big Bang Comics, in a "this is what sold this year, and this is why it sold this year" kind of way. We normally do this on Twitter, but there are a lot of interesting things happening that need to be examined with a little more granularity than your average thread allows. Thus, this piece!
But first, a disclaimer. These are observations based on what we experienced in our shop in Dublin, Ireland. These do not necessarily reflect what is going on in the market at large, but we think they are interesting and make for some nice conversation. Plus, we know both fans and creators are always curious to see these.
The first thing you need to know about our 2021 was that it was phenomenal. We broke all the records. We sold more of everything than we ever did. Our number of transactions went up 65%. Our turnover went up 72%. All through the year we kept waiting for the inevitable crash. But it never came, much to our incredulity.
And we did that all in a year that was so weird. In an example of how unique every store is, we were closed to the public for nearly the first five months. Zero walk-in customers. Online only. This happened during certain periods in 2020, as well, but it was the first time there was such a continuous period without customers in-store. I'm not going to lie, it was scary.
But 2020 showed us that this wasn't an insurmountable problem, as we had a major plus on our side: online sales.
We use a point-of-sale system called Comichub. And one of the advantages of ComicHub is all stock goes online in an easy and pretty much immediate way. So, your online store is populated in real time as you scan in inventory. This was a gamechanger for us, one that saved us in 2020 and made us thrive in 2021.
That's exactly what we did in 2021: we thrived. It ended up being incredible in so many ways. Don't just take my word for it. Just look at the reports of other shops. Many ended up having their best year ever, which is mad considering how 2021 was so…2021. And the experience and obstacles were enormously different by location, so there is not one common denominator to this success.
While we, like many of our American peers, benefited from pandemic subsidies in the customers' wallets, there was an enormous factor working for us this year that made things so much more interesting: the casual fan. These customers were around in 2020, but they exploded in 2021. Again, remember that for nearly the first five months of the year in Dublin, everything was closed. There was nothing to do outside except hikes and going to the supermarket. So, what did people do? They stayed home and consumed media at a never-before-seen rate. And what media was it?
Tiger King.
But not only that. Marvel! Star Wars! Anime! Oh god, so much anime! We, and by we, I mean the comics retail industry, suddenly had an entirely new customer base ready and willing to spend money. And having a website with an up-to-date online store ready to go meant we could capitalize during that period, with so many new customers looking for more of cool stuff related to what they had just watched. We were doing great, even without customers in-store.
And then in May, we opened our doors back to the public again…and everything went crazy.
Not only had we lost very few customers during the period that we were closed, suddenly, these new, previously online customers were in-store customers, eager to scan the shelves to find what else was out there. Lots of kids! Lots of adults! Lots of everyone, actually! Big Bang might be slightly different than what you think a "normal" comic shop is. We are big and bright, on a main road and just next to a massive shopping centre, which drives casual customers aplenty our way.
And so many of these families that were gleefully going back to the shopping centre were making a pit stop in our store because the young ones wanted to read a Marvel book or to get the manga of the anime they watched or to get a cool Star Wars toy after watching the movies again.
Don't get me wrong, we were used to dealing with customers like that. They aren't unusual. But the number of customers like that was a constant surprise. And by talking to them, we learned it was because they were bored out of their heads during the lockdown and just started watching all this comic book adjacent stuff. This was an all-new ball game. And we had to step up to the platter and be ready for that touchdown. 1 2
So, that's enough rambling. We're here today to discuss what made this year such a banner one. Here's a quick explainer on what you'll find today, just in case you skimmed everything before this and just want to see some results.
These are our bestsellers. Your local store will be completely different
It was a tumultuous year. We were closed to the public for nearly 5 months and online only for that period.
We saw a record number of new customers and walk-ins in 2021. That will be reflected in the charts.
Now, let's get on with this because David isn't paying me by the word. 3 4
---
Action Figures
The short and sweet of it was, Action Figure sales were up 166% from 2020 to 2021. Units wise, we sold 211% more than the previous year. Meaning, we sold a lot more of individual Action Figures on top of the bigger items we were selling already.
I'm not going to dig into this too much, John Hendrick already appeared on Off Panel to talk about how action figures have been so important this year. But just so you know…wow. This has been by far our fastest growing section. Action Figures are now 36% of our sales, compared to 23% in 2020 and 14% in 2019.
We will circle around to this later, so hold on to your hats.
---
Graphic Novels/Manga
Graphic novels, Manga, and books sales were up 42% from 2020 to 2021. Units wise, this category went up 16%, in a year where stock shortages meant a (worryingly) large number of bestsellers weren't available for sale almost for the entire second half of 2021.
Surely to the dismay of many of the purists, I'm aggregating these together, because if they have an ISBN, they're books. 5 I will also include the price of these, as that is often a very important reference point for why something sold as well as it did.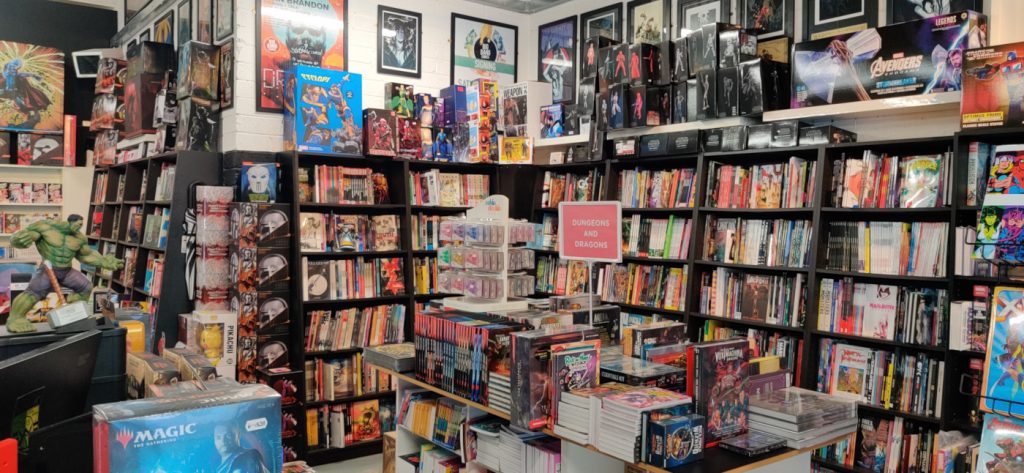 These are our 25 best sellers, in decreasing order of units sold:
#25: Spidey Graphic Novel Freshman Year, Marvel Comics, €12.99
Big year for Spider-Man books, with lots of interest because of NO WAY HOME. The price point and digest size that Marvel has been doing for a while with some of their all-ages titles has been KILLING IT!
#24: Something is Killing the Children Graphic Novel Volume 1, Boom Comics, €14.99
#23: Attack on Titan Omnibus Graphic Novel Volume 1 Volume 1-3, Kodansha, €19.99
This only came out in the last 3rd of the year. Had it come out mid-year, it would have been in our top 5 easily.
#22: Sandman Graphic Novel Volume 1 Preludes & Nocturnes 30th Anniversary Edition, DC Comics, €19.99
Always a best seller, but the Audiobook and trailer for the new Netflix series brought this one back into the forefront. Shame it's out of print now, hey?
#21: Seven Secrets Graphic Novel Volume 1, Boom Comics, €16.99
A VERY fun book and a great crossover title for those manga customers. We sold many copies of this to people looking for a good Shonen 6 story.
#20: My Hero Academia Graphic Novel Volume 2, Viz Media, €9.99
#19: Invincible Graphic Novel Volume 1 Family Matters, Image Comics, €12.99
Yeah, the TV series slapped and people were definitely very curious for this. It burned bright and fast, with demand going way down a month after the show was over.
#18: Phoebe & Her Unicorn Graphic Novel Volume 1, Andrews McMeel Publishing, €9.99

Phoebe is a household name with our customers and this year she definitely surpassed sales of Raina Telgemeier books here, which is no mean feat.
#17: Attack on Titan Graphic Novel Volume 1, Kodansha, €10.99
#16: Marvel-Verse Graphic Novel Spider-Man, Marvel Comics, €9.99
#15: Mighty Marvel Masterworks Amazing Spider-Man Volume 1 Great Power Graphic Novel, Marvel Comics, €15.99

These reprints of the original stories that kicked it all off garnered massive interest and then went out of print in no time flat. Cool.
#14: Star Wars Darth Vader By Greg Pak Graphic Novel Volume 1 Dark Heart of Sith, Marvel Comics, €15.99

This is the only Star Wars book in our top 25, but they're all over our Top 100. Star Wars in general has suffered from gaps in the series being out of print, making it difficult for people to just jump in.
#13: Batman Year One Deluxe Soft Cover, DC Comics, €14.99
#12: Avatar Last Airbender Graphic Novel Omnibus Volume 3 Rift, Dark Horse, €24.99

Avatar is still MASSIVE with a lot of eager readers waiting for more stories in the universe. Dark Horse has a gold mine here. That is mostly out of print.
#11: Friend of The Devil Hardcover Book 2 A Reckless Book, Image Comics, €24.99

Brubaker and Philips are gold together 7 and are living proof that you don't need single issues to have a monster book. They do what most other comic creators can only dream of.
#10: Hawkeye Omnibus Volume 1 Graphic Novel (UK Edition), Marvel Comics, €21.99

Disney+, we owe you a pint.
#9: My Hero Academia Graphic Novel Volume 1, Viz Media, €9.99

We literally haven't been able to get more stock of this book since June. If this book had been in print, it would easily have been #1.
#8: Amazing Spider-Man Volume 1 Back To Basics Graphic Novel (UK Edition), Marvel Comics, €15.99

Nick Spencer's Amazing Spider-Man Vol. 1 did very well this year with so many new customers who wanted to start reading Spider-Man and didn't know where to go. As usual we tend to recommend a stand-alone story or a Volume 1 of a run. And since Marvel have a chronic shortage of stand-alone stories…
#7: Batman Fortnite Zero Point Hardcover, DC Comics, €24.99

Huge hit that "suffered" from that market being tapped with the success of the singles already.
#6: Scarenthood Graphic Novel, IDW, €15.99

One of our only two in-store signings last year, this also benefited from Nick Roche having a very faithful audience worldwide that are always looking for something new, and since our copies are signed and come with a bookplate…
#5: Super Mario Bros Manga Mania Graphic Novel, Viz Media, €9.99

AH, I bet you didn't even know this existed, did you?!
#4: My Hero Academia Team-Up Missions Graphic Novel Volume 1, Viz Media, €9.99

Or the "I'll take that one if you don't have the real Volume 1" success story.
#3: Department of Truth Graphic Novel Volume 1 Big Bang Comics Store Exclusive Edition, Image Comics, €9.99

Huge hit for us, we don't do as many exclusives as we used to do, but this one was definitely worth it!
#2: Way of The Househusband Graphic Novel Volume 1, Viz Media, €12.99

More than the Netflix anime, this one moved due to some relentless hand selling by staff that loves the book and a weird lack of genuinely funny American comics that leaves a gap in the market that manga ends up filling.
#1: Civil War Graphic Novel (UK Edition), Marvel Comics, €14.99

The one that always blows people's minds when we say it's our #1. It's a book that has most of the big players in the Marvel Universe, it's loud and fun and ridiculous, AND the local edition is only 15 quid. It's our go-to for when someone wants to get into Marvel coming from the movies and it works.
If you're curious, these are the publishers that made our Top 100 by units sold:
Marvel: 31
DC: 17
Viz: 12
Image: 11
Dark Horse: 9
Kodansha: 5
BOOM!: 4
Andrews McMeel: 2
First Second: 2
IDW: 2
Oni: 2
Abrams: 1
Fantagraphics: 1
Little Brown: 1
There are a few things from the year that are worth talking about when it comes to Graphic Novels and Manga. As mentioned before, the influx of new customers powered by post-lockdown curiosity has been huge. That showed in two ways: a bump for both manga and Marvel.
Manga has always done well for us, but sales on it nearly doubled from 2020. And this is in a year where paper shortages and the titles constantly being out of print affected pretty much every big series. I honestly believe that if My Hero Academia, Demon Slayer and Chainsaw Man (among others) had been in print, our Top 25 would have been all manga. The number of sales we lost and customers that were disappointed when they heard that not only was that manga they wanted not in stock but probably wouldn't be for months is… is cuckoo bananas crazy, to put it mildly.
I cannot even imagine how much money publishers lost on this, but I truly empathize with them, because we lost a ton too. But it was incredible to see groups of kids coming into the shop, and for a change all of them wanted to buy something! More of that, please.
Traditionally we sell more DC graphic novels than Marvel, but we saw a shift this year. You can "blame" Disney+ and all their Marvel content for that, but another important fact was that Marvel has been putting out a lot more of collected editions that a) are relevant to all these new shows and announcements and b) are reasonably priced. 8 You'd think these are perfectly logical steps, but you would be amazed at how clueless most publishers are at actually working in a synergistic way.
Our decision to put a big table by the front door with all-ages 9 and superhero recommendations was a hugely productive change for us. That was a popular table, helping a lot of customers and parents that don't necessarily want to ask for help 10 This table had a lot of Marvel collections, particularly the UK reprints that traditionally come at a cheaper price point than the American editions. And hey, if you're going to have books there that people will recognize from shows and movies, 11 then guess what: they'll sell!
But Marvel's huge year also meant that DC didn't do as well this year as they normally do in collected editions. One of the problems there was that yes, Marvel right now does have a lot of more recognizable and sellable properties that lift the whole line up. DC's mass media efforts have been hampered by delays and a lack of definition 12 This will change as more DC adaptations are released, but we are running into a big problem now, affecting more and more publishers: the shortages.
This has mostly affected Manga publishers, with several top-selling series being completely out of print. But it has slowly but surely affected other publishers too, with books going out of print left and right and exceedingly small print runs for new collections leaving no room for reorders. It has been incredibly difficult and frustrating, but it's a problem that is affecting everyone. We'll get through it. But it is maddening to ponder how much more we could have sold if the biggest manga titles in the world weren't out of print for half the year, for example.
We'll focus on the positives to close. We saw:
A big influx of new customers of all ages
A big influx of new readers of all ages
Publishers like Marvel being savvier about getting the right collections out at the right time to capitalize on mass media releases
---
Single issue comics
Single issue sales were up 40% from 2020 to 2021. Units wise, we saw an increase of 35% over the previous year. Do bear in mind that 2020 was an atypical year with a black hole of a few months of none to very few releases, but 2021 was still thousands and thousands of sales up on 2019, our previous best year for single issues.
Methodology wise, I've aggregated all cover price sales into the one entry. If a comic like Batman has a Cover A and a Cover B, and Cover B ISN'T an incentive, I count it all as just Batman. Most of our variant sales are to people who don't double dip, so they are to different customers.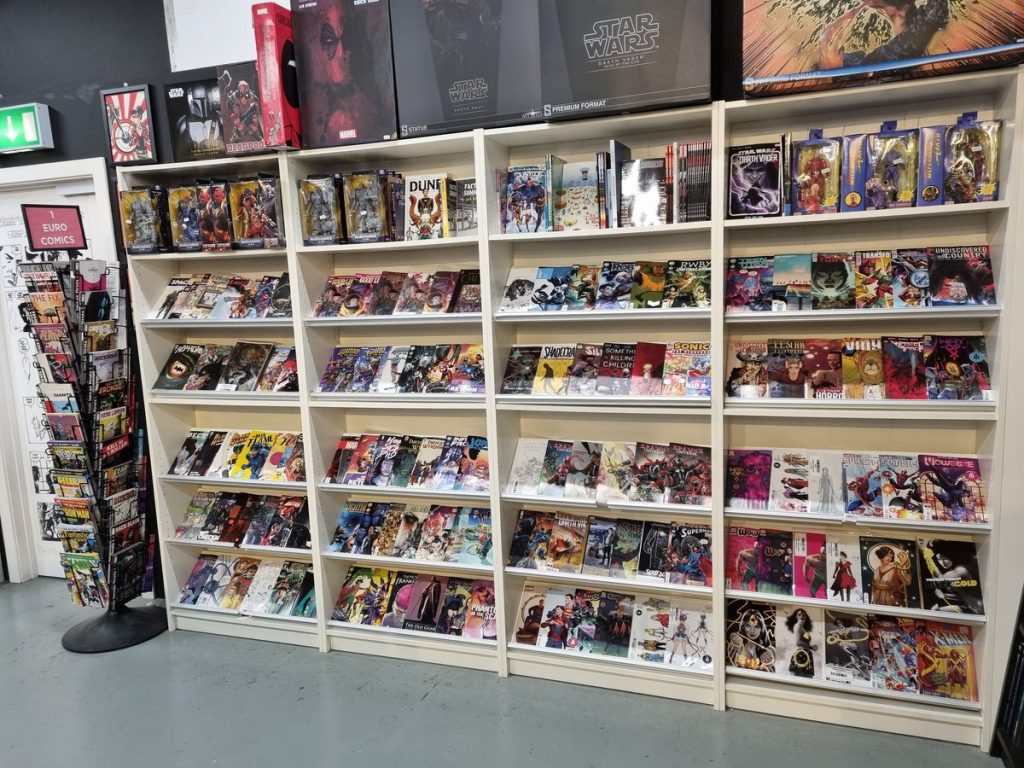 This is our Top 25 sellers, in decreasing order of units sold:
#25: X-Men #18, Marvel Comics
#24: Future State Dark Detective #2 Cover A Dan Mora (Of 4), DC Comics
#23: X-Men #2, Marvel Comics
#22: Inferno #2 (Of 4), Marvel Comics
#21: X-Men #21, Marvel Comics
#20: X-Men #19, Marvel Comics
#19: Future State The Next Batman #1, DC Comics
#18: Batman #109, DC Comics
#17: Batman #110 Cover A Jorge Jimenez, DC Comics
#16: Future State Dark Detective #1, DC Comics
#15: Batman #107 Cover A Jorge Jimenez, DC Comics
#14: Planet-Sized X-Men #1, Marvel Comics
#13: Amazing Spider-Man #75, Marvel Comics
#12: Batman #106, DC Comics
#11: Batman #108, DC Comics
#10: Inferno #1, Marvel Comics
#9: X-Men #1, Marvel Comics

If you're wondering, this beat Inferno #1 by *1* copy
#8: Batman Fortnite Foundation #1, DC Comics
#7: Batman Fortnite Zero Point #6, DC Comics
#6: Star Wars Rise Kylo Ren #1 (Of 4), Marvel Comics

This is the real surprise in all of this, isn't? A book that come out in 2019? Whaaaat?!
#5: Batman Fortnite Zero Point #5, DC Comics
#4: Batman Fortnite Zero Point #4, DC Comics
#3: Batman Fortnite Zero Point #3, DC Comics
#2: Batman Fortnite Zero Point #2, DC Comics
#1: Batman Fortnite Zero Point #1, DC Comics

Come on, you knew this was coming, right?
So yeah, a lot of predictable faces and one big surprise, right? First…the obvious thing: yes, it's all Marvel or DC. Historically, we're a very mainstream store for single issue sales. That reflects the local market. To underline that, this is our publisher breakdown for the Top 100 Single Issues:
Of those 42 DC titles, 36 were Batman titles. The only exception was The Nice House on the Lake. 15 Marvel's 55 entries were split between X-Men books and Amazing Spider-Man, with some Thor and Daredevil butting in. Definitely a lot more variety than DC!
But what about that Star Wars: The Rise of Kylo Ren #1? There is a simple explanation: Signed stock. We had copies of this book signed by Charles Soule and Will Sliney, and not only are they incredibly popular creators for us, 16 they are popular creators worldwide. We were shipping this all over to the world until we ran out of copies. Never underestimate the combination of a rabid fanbase + popular authors + shirtless hot character!
And surely you knew that Batman/Fortnite Zero Point #1 would be our best seller, unless you haven't paid attention to comics at all this year! This was a mainstream crossover the likes we probably haven't seen since Comics Golden Days…and this industry blew it. DC didn't really know what they were selling 17 and retailers didn't really know the property and what they were buying, leading to this book being heavily underordered by pretty much everyone. They were not ready for Batman/Fortnitemageddon. When word started getting out there on the socials about the Harley Quinn skin in the first issue, everyone went wild. We were inundated with phone calls and emails trying to reserve that issue.
We literally did hundreds of online orders a day of just that comic until stock ran out. It was bonkers. It was totally unlike anything this industry had seen in I don't know how many years. And so many stores blew it out of fear. Even with DC offering returnability, the most requested thing by retailers, they still under-ordered to a ridiculous degree, with multiple retailers reporting thousands of lost sales.
This was also the year we ended up dedicating less floor space to our single issue sales, to the point that in the last two months of the year we stopped putting out new single issue releases altogether. Let me tell you, being a comic book shop that has no actual comics out except for a small kids' section feels weird. It wasn't a decision taken lightly, either! We debated it for a while, but in the end, it just stopped making sense to dedicate valuable shelf space to comics.
"Wow, so comics are dying, right?" I hear you asking?
No. Far from it. We sold more units and made more money off single-issue comics than ever in 2021! It's crazy! But ever since the pandemic hit and our customers couldn't come to the shop to browse for a long stretch, they got used to ordering online. Even when the shop reopened to the public, they just kept doing it that way. Order online and get them shipped to you or swing by the shop and pick it up quickly. Heck, at this stage, our customers are doing final order cut-offs 18 every week! We are seeing much better sell-through and a lot less waste.
Add that to the large and growing section of our customer base that is from outside Dublin and has never been to the shop, and all of a sudden, we were dealing with a paradigm shift that slowly but surely made us rethink how we displayed stock that, up until this year, was sacrosanct. We knew it made sense. We tracked sales from the shelf for a period, dividing sales between online and in-store, and we sold less than 2% of the stock to customers walking in. TWO PERCENT. At that stage, we were certain that dedicating its space to action figures was the right choice. 19
Now, we knew this was a decision that wouldn't be taken lightly by our customers. You can't just tear down a pillar of what a comic book store is – you know, the actual comics – and not expect a backlash, right? So, we braced for it…
And nothing happened. A handful of customers expressed their disappointment, to which we commiserated with 20 and explained our financial reasons. Everyone understood. Weirdly, most complaints came from non-regulars, the people that shop elsewhere and then come to us to buy something other stores never got in.
This is our experience, and your local store might be aghast of the idea of not racking comics anymore. It worked for us. Other retailers are seeing a similar shift and experimenting with similar changes. But it's not for everyone. So far, we count this as an unmitigated success, but only because our customer base has shifted that way. It might change again this year, and it's something that we have to keep an eye out for.
---
So, what have we learned in 2021?
Well, for one, that things have a tendency to not turn out the way you think or fear they will. In a year where we were closed to the public for nearly half of the year, our number of transactions went up 65% compared to 2020. Online sales were roughly half of those transactions. That was a massive shift! And the crazy thing was that there were no underperformers. Every single category was up in 2021.
There were factors that did diminish the performance of certain categories, like the aforementioned paper shortage leading to so many manga and graphic novels being out of print. But overall, this was a massive year that reinforced our confidence that we are taking the business in the right direction.
And that direction is something that I think most modern comic stores are increasingly seeing: that the age of the mono-shop is coming to an end for a lot of us. We did so well because we were good at offering comics and graphic novels and action figures and games, 21 and juggle all of those in a way that customers enjoyed discovering. We know that people are calling us a toy shop because so much of our floor space is dedicated to action figures compared to what it used to be. But what are you going to do when you nearly tripled the sales in that category in one year?
Comparing things to 2020, Graphic Novels went down from 40% of our sales to 33%, Comics from 25% to 20%. and Action Figures went up from 23% to 36%. Yet, we sold more comics and graphic novels than ever. This just shows you how the jump on action figure sales has been mind boggling. It's not that we became a toy shop to the detriment of being a graphic novel shop or a single issue shop. We can do it all.
It requires a lot of work, since it's no longer enough to just keep up with the market. You have to constantly be looking ahead to where the market is going to be five minutes down the line. But it is incredibly rewarding. Our happy customers are a testament to that. And in the end, you live and you die by your customers. We are lucky to have such a dedicated and friendly community behind us, and we'll never lose sight of that. It's something that you have to constantly maintain and not take for granted. And we never do, because that will be the death of us.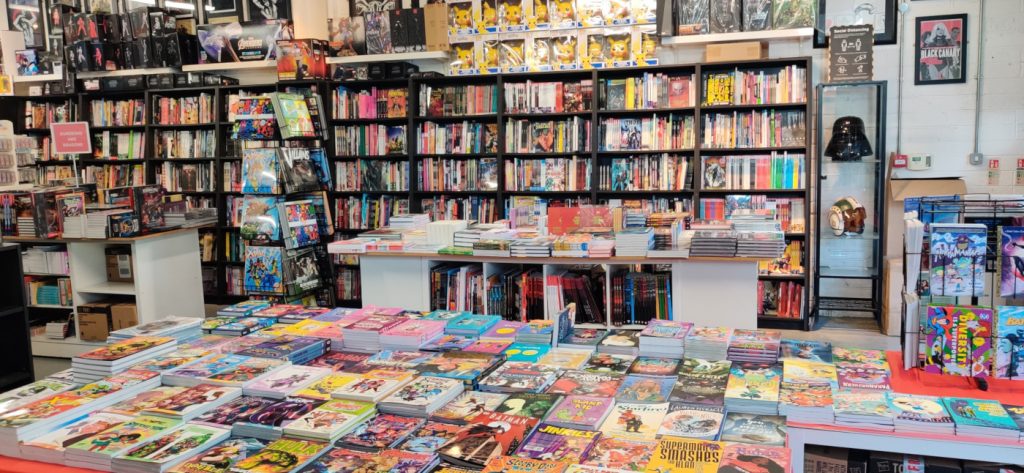 What do we want to see in 2022?
More.
We want to see more of what we saw in 2021. We want to see more hit comics. We want to see more books being back in print. We want to see more publishers working smartly around movies and TV show releases. We want to see more new readers finding out that comics are the coolest thing in the world. We want to see more people walking in the door and seeing all the cool action figures we have and having trouble deciding on what line to start next.
2021 was an incredible year with so many things that went wrong turning out to be blessings in disguise. We also want less heart attacks this year, please!
But it was a heck of a year, and we are genuinely excited to see where we will be a year from now.
And not only us, but everyone else in this business. All through this year there has been an atmosphere of positivity and confidence from a lot of people on the same boat with us.
Long may it last, and let 2022 be a banger of a year.
Thanks for reading this longform piece. If you enjoyed this feature, please consider subscribing to SKTCHD for more pieces like this going forward.