"There Really Doesn't Seem to Be Anything We Can't Overcome": Shops on a Big, Bonkers Year in Comics Retail
Back in July, the year was shaping up to be a rather good one for the comic shops featured in my mid-year check-in with direct market retailers. 1 Record setting, even, as several noted that they were headed towards an apex for their respective shops, if the pace could keep up.
"If," of course, is always a tricky word.
That's because things often change and do so in a hurry. Take 2021 as an example. Sure, shops were already facing a pandemic creating new challenges and great uncertainty, but they evidently handled that too well. Since that mid-year check-in, it felt like all hell broke loose in the supply chain, as product – particularly manga, but plenty more as well – went from being problematic to allocate to near impossible at times, with notable collections disappearing and single-issue schedules starting to slip. Toss in your run of the mill fourth quarter distributor change for the largest direct market publisher, as Marvel transitioned to a seemingly underprepared Penguin Random House, 2 and you have a latter half of the year in comics retail that offered fresh obstacles for all involved.
Much of the conversation about comics retail orbited around those negatives as of late, creating a perception that perhaps 2021 was proving to be as apocalyptic for shops as it was for the supply chain. The discourse generated by some shops didn't help, as a few elected to focus on the negative above all, an often understandable impulse given the behavior of their partners. So maybe, just maybe, things weren't quite as rosy as back in the halcyon days of July. There was every reason for the smiles of the retailers I had spoken to before to turn into frowns.
And yet, when I reached out to shops, 3 their lows seemed higher for the most part, and the highs…well, the highs were stratospheric. Words like "unreal" and phrases like "best year ever" were abundant, as shops glowed thanks to the towering heights they reached during this pandemic surge. There were downsides, of course, many of which we'll get to. But for the most part, they were limiting factors rather than truly catastrophic. Often solvable problems, frustrations, annoyances, that kind of thing, and elements that restricted them from reaching even higher levels.
That's what we'll be looking at today, as we examine the year that was for comics retail, exploring how shops ripped victory from the jaws of defeat, turning an exhausting, challenging time into a success story they can build on — both this year and into the future.
---
As noted, not every shop I talked to had incendiary and/or record-setting years. But more than half of them did, which is a genuinely incredible place to be. And it's not like I am cherry picking the top performers: these are the same shops I always talk to, whose years rise and fall on occasion. This year just proved to be absurdly huge for the bulk of them, which is a heck of a place to be, especially given the challenges they faced. Take Ryan Higgins of Sunnyvale, California's Comics Conspiracy. 2020 was already great for his store, with that pandemic challenge filled year proving to be its best ever. It was surpassed with ease in 2021.
"It's hard to say it was anything but 'unreal,'" Higgins said. "I was shocked at how busy the store was in the back half of 2020 after we could reopen, but nothing could have prepared me for 2021.
"Back of napkin numbers, we were up over 30% (from 2020) in 2021."
The success has gotten too big for his shop. Comics Conspiracy had to get more space – both in an expanded back room and a warehouse, as well as taking over his garage – to cope with "record increases" in both pre-orders and mail order customers. That need for additional space was shared by Oakland's Cape & Cowl Comics, as its owner Eitan Manhoff told me his shop roughly doubled its space, allowing it to be laid out in a clean, clear way that "leads to a pretty great shopping experience."
Higgins' real estate wasn't the only thing that expanded. He also had to add new employees, a common theme amongst shops I spoke to. Both Patrick Brower of Chicago's Challengers Comics + Conversation and Katie Pryde of Portland's Books with Pictures told me the year was significant enough that they had to add to their staffs. That's a big deal for Challengers in particular, as it was their first full-time employee outside Brower and his co-owner W. Dal Bush. Pryde's new employee is focused on social media and events, primarily, but the need for it stems from the success the shop has seen as of late. 4
"We were up 30% from our best year ever and 50% from the prior year," Pryde told me.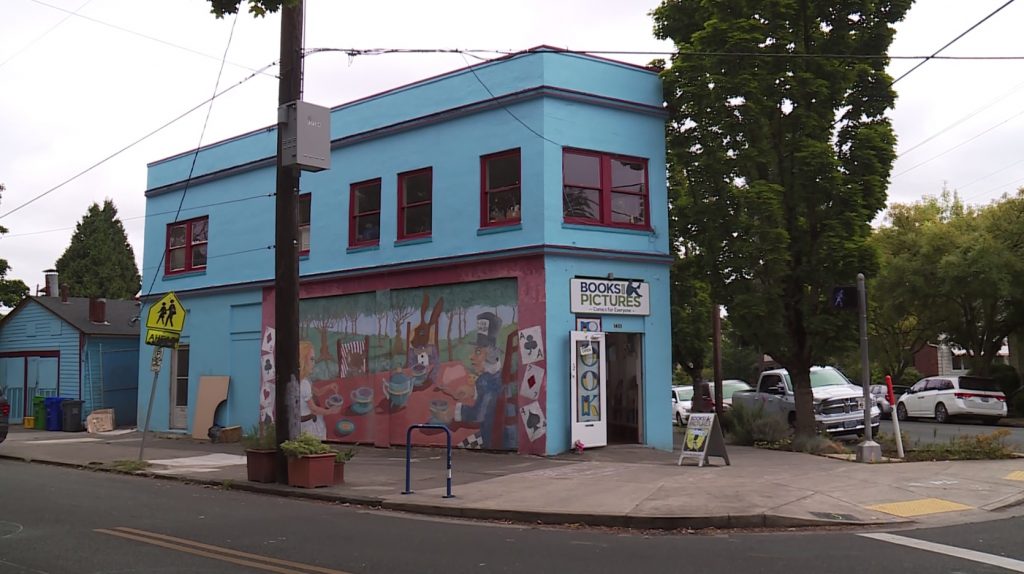 That keeps on going down the line. Ralph DiBernardo of Rochester, New Hampshire said "2021 was our best year ever," with his shop up 35% in 2021 after seeing lift of 25% in 2020. Manhoff's shop exploded by 92% over 2020, an anomalous year because of pandemic closures, but also 29% over 2019, the last pre-pandemic year on record. Needless to say, it was Cape & Cowl's biggest year. Maryland and Virginia's Third Eye Comics continues to see nothing but growth as well, per its owner Steve Anderson, with new locations entering the fray and sales being "way up across the board compared to 2020, 2019, etc." If this sounds like a lot, that's because it is.
That's not every shop, of course. But considering the challenges, even being flat or slightly down like the others I spoke to is a win. Take Guelph, Ontario's The Dragon. Its owner Jenn Haines told me the shop was on lockdown from January 1st to mid-February, before opening for a spell, and then again closing to customers from April 8th to June 11th. That's 16 weeks of closures. And yet, the shop was barely down from 2019, with record-setting or runner-up finishing sales being the norm from July to December.
"2021 saw a 15% increase over 2020, and only a 5% decline from 2019, which is unbelievable considering that (in) the first half of 2021, we had a 43% loss in revenue compared to the same time period in 2019," Haines told me. "The second half of the year saw a 20% increase over the same time period in 2019.
"Whenever we were able to be open for in-store shopping, sales were absolutely amazing!"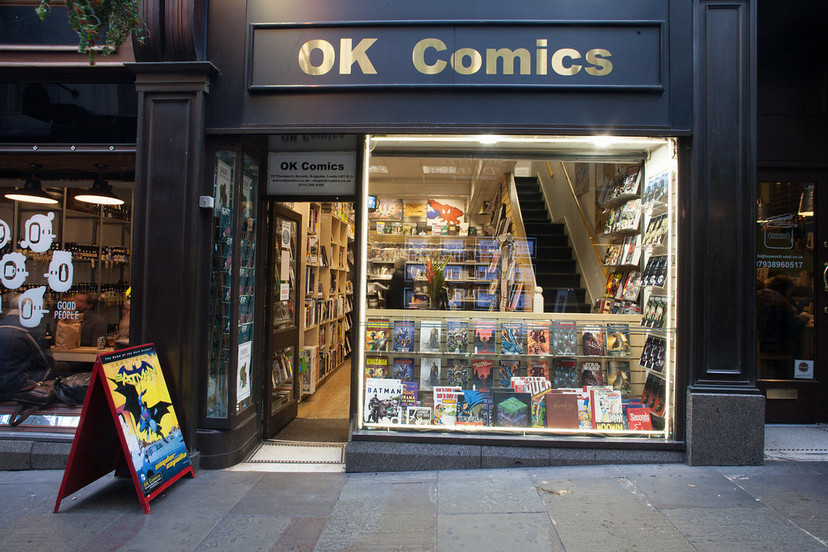 Jen King of Oak Ridge North, Texas' Space Cadets Collection Collection saw positives in what proved to be a largely flat year compared to 2020. 5 King described sales as being "robust all the way to the last day and hour of the year," with the shop fine-tuning its subscriber list down to only those who paid off their subscription boxes regularly, resulting in a "more healthy subscription group overall." That transition started earlier for her shop. OK Comics from Leeds in the United Kingdom also saw 2020's plans pay off in 2021. Its owner, Jared Myland, told me that "2021 was when a lot of the seeds planted in 2020 began to bear fruit," as COVID-related closures gave them the time to beef up their online ordering and delivery services. That offered them a counterbalance to a decrease in in-store shopping.
"Footfall in the shop was down in 2021," Myland told me. But the aforementioned changes they made gave customers who are still at home options, as he added, "Our webshop and delivery service have helped level things out overall."
The only shop I spoke with that seemed to have significant struggles was Tel Aviv, Israel's Comikaza. We'll get into specifics as to why later. But its owner Jacob Sareli described the year as a polarizing one, to say the least.
"There were some things in the store that were as good as in a normal year, but other ones were worse than all the years the store has been in business."
A little over half having record or near record-setting years, most of the rest flat or close to that, and one down due to extenuating circumstances? That's not bad at all.
---
Most years when I do this, the items that work for shops are fairly limited. It's not because there aren't successes. It's just the things that thrive are often shared amongst most I speak to. There was still overlap this year, of course. Manga continues to surge for most, with Sareli's best seller list the most overloaded by it, as 23 of his 25 top trades were manga. Others, like Dublin, Ireland's Big Bang Comics, saw massive numbers on that side as well, with even those who don't normally feature that product commenting on how hot it was.
But besides manga, it was a bit more difficult to pin this down to only a few things, if only because everything seemed to work, with the specifics really depending on the shop. 6 Some noted the quality of comics as a factor – Myland said there "have been a huge amount of really good and really popular graphic novels published over the past twelve months" – as well as the range of what's working playing a part. In regards to the latter, Pryde shouted out Penguin Random House's print edition of Rachel Smythe's Webtoon series Lore Olympus, something she believed to have sold "five cases of" "in the first two weeks" of release at her shop. That's an enormously popular comic. But it's one that is often labeled as more of a book market title. This year underlined that the idea of what sells in comic shops is broadening, at least in the eyes of those I spoke to.
Some standards still worked, though. One of the biggest titles did star Batman, even if it was Batman/Fortnite: Zero Point, a crossover between The Dark Knight and the immensely popular video game franchise. Some shops didn't bet big on that title, viewing it as a usual video game tie-in. But with the game's popularity and DC's offer of returnability in mind, DiBernardo went deep and "sold thousands of them," ultimately returning very few. 7 Returnability was a major factor in another notable hit, as the unpredictably released but gigantically selling TMNT: The Last Ronin was a monster for IDW both because of what it was and the aforementioned returnable orders. Having the ability to reduce risk in that way led to real gains for shops, as well as publishers like DC and IDW.
Of course, for both of those titles, speculators played a not insignificant part for shops. DiBernardo said "the collectible bubble really pushed sales for us this year," both in comics and with other products like collectible card games like Magic: The Gathering and Pokemon. The big issue for the former was in how front-loaded it proved to be. While it was great for overall sales at Jetpack, subsequent issues were unpredictable. DiBernardo reported varying Spawn offshoots like King Spawn and Gunslinger Spawn sold incredibly at launch, "but trickled from hundreds to a couple dozen by the second issue." They were wise to it, leaning in big to start for Todd McFarlane signed incentive covers before dialing back. But it's still a shocking drop off.
Speculation dipping can be seen in other ways. Haines, in particular, noted a significant "reduction in the speculator market," describing that as a "huge positive!" With fewer people in the market looking to profit off the new hot thing after struggling to flip issues in 2020, things normalized a bit at The Dragon, as did expectations for titles. With predictability in ordering being such an important part of the job, that makes the job easier.
"I can honestly say that going back to a more typical level of speculation in 2021 reduced my stress considerably and helped me sleep better at night," Haines said.
One typical driver of speculation are media properties and the characters that appear in movies and shows. While that's still a thing, 2021 proved to be a substantial year for adaptations that drove readers into comic shops. Anderson emphasized that "Invincible and the Marvel Cinematic Universe shows had a very positive impact" on his shops, something Big Bang and others experienced as well. That hasn't always been the case as of late, so Anderson said, "it's nice to see it returning, and bodes well for the next two years." 8
Some of the growth comes from shops continuing to find new ways to connect with customers. Pryde told me Books with Pictures saw an increase of in-store traffic 9 as well as engagement with the shop's online platforms, at least in part due to her and her staff ramping up efforts on social media and the shop's newsletter. 10 King's pushing even further in that direction, partnering with Nick Barrucci and Jesse James to create The Comic Book Shopping Experience, an online, multiplatform experience that aims to inspire comic fans and drive customers to their comic shop. She's seeing real excitement in those channels. 11 Myland's focus is more on the product. OK Comics stepped up its signed bookplate program, offering "exclusive signed prints with specially selected items" as a way to "encourage customers to purchase from" them rather than online retailers. Finding angles to differentiate your shop is always essential. But even more so today.
Sometimes those angles aren't up to you. DiBernardo noted that congestion in ports in December led to enormous amounts of in-store traffic, as late presents meant new, unexpected customers doing last-minute Christmas shopping at Jetpack. Haines, meanwhile, saw an influx of customers who deliberately were choosing to shop local because of the unfortunate closure of other local businesses. They wanted to do what they could to keep those that remained afloat. The veteran retailer supported that, and that trend "result(ed) in increased revenue." These types of things are out of the control of comic shops. But you take the wins where you can get them.
---
If positives are normally limited to a favored few, negatives are the opposite for comic shops: everyone usually has their own to point to! Like with what's working, though, it was a bizarro year for what wasn't. Shops almost exclusively focused on the headliners. There were a few that generated isolated complaints – one that stood out: DiBernardo saying publishers outside the top five 12 are struggling to the point new titles from smaller houses are rarely worth the time it takes to order the paltry stock they end up with – as well as one I expected to possibly be a frustration that proved to be nothing, 13 but supply chain and distribution problems clearly led the way. Manhoff described it as the biggest bummer this year, and it's for good reason. Without the struggle on that front, tough years could have been better, good years could have been great, and great years could have been transcendent. Take Sareli as an example: 2021 would have looked enormously different if he could have just kept manga on his shelves.
"We still sell huge amounts of manga," Sareli said. "But I couldn't stop thinking of what quantities we could have moved if 2021 was more like 2019 in terms of availability."
Out of stock product was a massive part of this. Pryde was astonished by how many "current series trades or very recently finished trades" are "just not in print." But the impact might be even more severely felt in the unpredictability of when inventory might arrive. Haines thought she had planned adequately for Christmas, ordering a month and a half earlier than usual 14 to keep up with the typically massive Christmas season, as it generates "50% higher sales than the monthly average." That apparently wasn't early enough. Some of these orders didn't arrive until the week of Christmas. DiBernardo was immensely frustrated by similar problems, with over 100 Pokemon advent calendars arriving in waves "just prior to and just after Christmas" when it was due two months previous. That's just one example of many, as Jetpack received some of its biggest shipments ever from Diamond over the past two weeks, well after its originally suggested arrival.
As Haines noted, this is a difficult problem for everyone, and one without a real solution.
"Between container and shipping box shortages, COVID outbreaks, skyrocketing transportation costs, paper shortages, shortages of staff to sort and deliver shipments, it has been an absolute mess for the last several months, with no end in sight, really," Haines told me, before adding, "This changes a lot. When I could once promise my customers a special order within a few days, now I cannot actually tell them when products will arrive.
"That's definitely stressful as it carries a greater risk that the customer will find the item elsewhere in the meantime and/or decide they prefer the instant gratification of shopping on Amazon."
As much as you want to be empathetic to the larger issues at the root of this, some shops are understandably frustrated. DiBernardo told me this year reiterated a significant lesson to him, and that's this: "Do not depend on your distributor to get your product to you on time." And his ire was primarily aimed at Diamond Comic Distributors. The veteran retailer described Penguin Random House as "an awesome company to work with" after a dodgy start, and Lunar as "by far the most consistent distributor," before saying Diamond "just makes me sad." He feels like the distributor is "no longer a company that will advocate for my business." Pryde echoed most of those sentiments, saying there's no doubt that Penguin Random House and Lunar are "working very hard to make this thing work," while Diamond brings little more than skepticism. 15
"Diamond has been extra weird this year," Pryde shared. "And Diamond is always weird."
All this adds up to a general sense of unpredictability of if or when product will arrive. Sareli saw the worst of it. As a comic shop in Israel that primarily orders from U.S. based distributors, 16 the problems that his peers saw were even more nightmarish for him. Sareli said of the 52 possible tries he had to have a regular new comic book day in 2021, his shop only had one. And even then, it was a relative version of "regular," as books were ready on Thursday. Even worse, inventory simply won't arrive for two to four weeks at a time, before everything drops in "one mega shipment," creating an insane amount of work up front and a financial burden on customers who now are due for an entire month of product at once. Yes, Comikaza is well outside the direct market's usual purview. But it has never been this bad before.
It has been a successful year for most. But because of these troubles, the ceiling was lower than it could have been, and, more importantly, it's been far more work. Retailers are exhausted. Before, shipments were largely predictable and consolidated to a few days of the week. Now they arrive every day. More than that, the continual changes to how distributors and publishers do their business means endless juggling for shops. It's like Pryde said: "Every time a publisher or a distributor adds a new step, that step might be reasonable, but they are just adding more work to an already really overworked retailer base." 17
"None of these people are in charge of the pandemic," Pryde added. "But it has been a very frustrating year to do this job."
---
If I could sum up this whole feature into one sentence, it would be this one from DiBernardo: "(It was a) great year, but the mental challenges have been exhausting."
There were enormous positives throughout the year, but also seismic, shocking negatives, some of which kept the wins from being as big as they could have been. Pair all that with some surprising turns, like DiBernardo's note that the once jubilant, effusive customers who starred early in the pandemic turning a bit sour, and you have the perfect recipe for one of the weirdest years in memory for comic shops. Which, as you may have guessed, is really saying something.
While DiBernardo's perspective might represent the consensus for 2021, Sareli – the most embattled of the retailers I talked to – has the viewpoint I appreciate the most for what's still to come in 2022. Sareli is a hopeful guy, and it's always refreshing to hear what he has to say, especially in the face of such challenges.
"We are hopeful 2022 will be better," Sareli said. "Even if that only means we have two regular new comic book days out of the possible 52."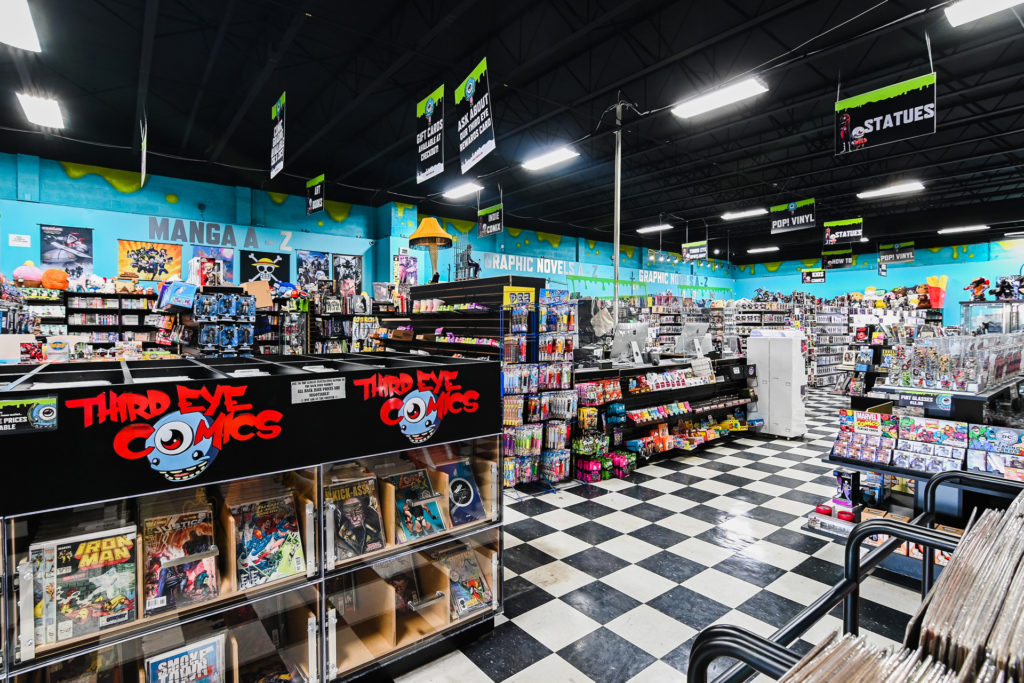 Anderson has dealt with uncertainty, just like everyone else. But he believes there's a valuable lesson to be learned from all these troubles from the past two years, and something that everyone can carry forward.
"Instead of building to whatever we assume is going to be stability; I am focusing more and more on building to be even more ready-to-adapt to both new challenges and new opportunities," Anderson told me, before adding, "One thing that is for sure: by the end of 2020, we were better than we were as a company in 2019. By the end of 2021, we are better than we were in 2020.
"And, by the end of 2022, I plan to be saying the same thing."
Haines has a fascinating role in all of this. While The Dragon is a renowned and successful group of shops, she also represents the rest of comics retail as the President of ComicsPRO, a trade group for comic shops. Even if she wanted to be myopic, focusing exclusively on the trials and tribulations she saw up in Ontario, she can't. She always has to have a 10,000-foot view. That's her job, at least in part. And she sees this big year as not a peak, but another step in the climb to even higher heights, led by a tough group of retailers who keep finding new ways to succeed — no matter what they face.
"The comics industry is impressively resilient, with store owners working hard every day to keep our businesses going no matter what is thrown at us. We are a hardy lot that will not go down without a fight. And the last two years have been one heck of a fight!" Haines said. "There's no way to know what the future holds, with COVID still hanging over everything and supply chain issues becoming more obvious and pervasive, but I do know that we're equipped to handle it. The key is being able to adapt and pivot, finding solutions to the situation instead of fighting against things that are outside of our control."
"With the last two years serving as evidence of how capable we are, there really doesn't seem to be anything we can't overcome."
Thanks for reading this longform piece. If you enjoyed this feature, please consider subscribing to SKTCHD for more pieces like this going forward.