Comics Disassembled: Ten Things of Note from the Past Week in Comics, Led by Some Nice Things, For Once!
It has felt like bad news has been the leader on the comics front lately. While that isn't universally true, it can feel that way, something that can drag down any enthusiasm that comes about the medium and its broader world. After last week's hellacious wave of ComiXology-related news and the mixed bag (to some) that was the JLA/Avengers announcement, things are quieter in this edition of Comics Disassembled, so my look at ten things I liked or didn't like from the week of comics starts with some good news for a change.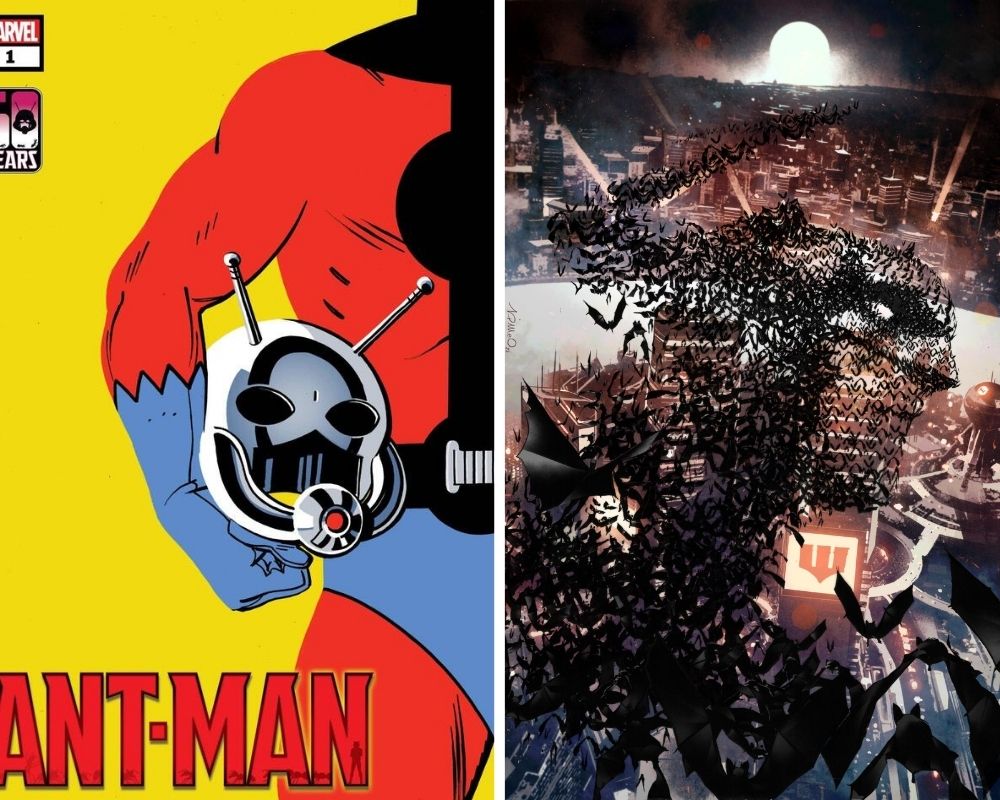 1. The Combination of Animals and Men, Thriving
It's a good time to be a superhero at the intersection of a male human and some sort of non-human being on Earth, as it always is in superhero comics, with two big announcements hitting this week for characters that fuse those ideas together. We'll start with the big one: Ant-Man is getting a four issue mini-series!
Okay, you might disagree with that being the "big one," both because it seems like an obvious play on the character's size (oops) and because the other announcement was a new creative team on Batman. But this is my column, so Ant-Man leads. And it does that because a) it's Al Ewing and Tom Reilly teaming up, which is an incredible duo, b) it's a four issue mini-series and I live for hyper specific minis oriented around a single idea, and c) I love the concept. And the reason for the final item in that list is I have a thing for mantles that get passed down a lot, something this title will explore as part of the character's 60th anniversary (which, I'll be honest, was surprising to see given how few celebrations I've seen for other characters, and this is Ant-Man).
The mini-series is built around four iterations of the characters, starting with a story from the past that stars Hank Pym, an amusing romp that also features a mysterious character, before moving onto issues that focus on other Ant-Men like Eric O'Grady, Scott Lang, and a fourth character whom you'll have to read the series to discover the identity of. Ewing suggests in the announcement that this won't just be as clean as a single issue for a single character, as we'll learn more about how each of these Ant-Folk played a part in one another's life. That's great. With Reilly and colorist Jordie Bellaire onboard, we know it will look amazing. I'm all for it.
This is an interesting one, if only because the teaser for the book – which came just a few hours before the announcement – worked on me in a way those efforts rarely do. I think it's that legacy and history angle. I find that to be a deeply fascinating wrinkle of superhero comics, particularly Marvel, as they have allowed for a little more variance on that front. While it's no Stilt-Man series in that regard, as I often dream of (just three years from Stilty's 60th anniversary, Marvel!), I'm very into this.
Over on the Batman front, issue #125 brings a new creative team to the title. Well, mostly new, as the artist on board stays the same, with Jorge Jimenez continuing to do his bat thing and writer Chip Zdarsky joining him for some fun. Zdarsky and Jimenez start with a story called "Failsafe," a six-issue arc the writer himself describes as "Batman's Doomsday," which, I'm not going to lie, I am shockingly into. The writer suggests he's on the title for the long haul, which, begrudgingly, means I might have to read a Batman title. It's been a bit since I've regularly picked up the main series – Scott Snyder and Greg Capullo were the last team I read more than an arc of, if you can believe it – but Chip just has this way about him that's irresistible.
Plus: kudos to Chip for being the first to double dip on Red Batman and Dark Daredevil at the same time. Depending on how you count it – Frank Miller and Zdarsky himself count already if you include secondary titles, as do I if fanfiction factors in – he's the first to ever do that. So, you know, good job by you Chip. Don't screw it up!
2. Hayao Miyazaki, Translated!
First Second lines up a lot of very cool graphic novel projects that translate comics from other countries, but rarely has one been as exciting as the one announced this week. It's Hayao Miyazaki's Shuna's Journey, the first standalone graphic novel the famed director ever made, with it being translated to English for the first time in its nearly 40 years of existence. Translated by Alex Dudok de Wit, the title looks absolutely beautiful, and is yet another win for First Second, a publisher that does very little besides that.
Evidently it's minimally narrated, mostly focusing on "massive watercolor illustrations" by Miyazaki, which is such a beautiful sentence I sort of want to cry. What it's about? Well, it follows Prince Shuna, the titular hero who is on a quest to save his kingdom from its current plight. But if I'm being honest, I'm plot agnostic when it comes to this project. I'm just here for the art and the journey, and I will be there when this release drops in November.
The rest of this article is for
subscribers only.
Want to read it? A monthly SKTCHD subscription is just $4.99, or the price of one Marvel #1.
Or for the lower rate, you can sign up on our quarterly plan for just $3.99 a month, or the price of one regularly priced comic.
Want the lowest price? Sign up for the Annual Plan, which is just $2.99 a month.
Learn more about what you get with a subscription