Witness Me!
Exploring the world of CGC witnesses, with a guide to take us through the experience.
My fascination with the work of being a CGC witness began in December 2021 at Seattle's Emerald City Comic Con. While I previously knew of these folks to a certain degree — CGC witnesses are the people who "accompany customers to and from book signings, verifying (that a) signature is authentic" at conventions and beyond — I'd never seen one in action until that event. But I just kept coming across them at Emerald City, entirely by accident. Throughout that long weekend, I had the opportunity to witness the witnesses in action and to chat with some of these folks about what they do.
I loved it, and it was just enough for me to realize something: I needed to know more about this world.
That's something you need to know about me. My interest from a writing standpoint is often borne of an inversion of what I do myself. The less interested I am in something as a fan at times, the more curious I am as a person who writes about all of this, if only because I love learning about why people are moved to behave in certain ways. I enjoy knowing the whys and hows behind things people are passionate about in comics, especially when it's not something I'm already into.
And getting comics autographed, authenticated or not, is not something I'm into. 14 I just want to read them!
Ever since I first came across a witness at Emerald City, I've been meaning to explore this subject in an attempt to get a better feel for how it works, the nitty gritty elements that define it, and the story behind the experience. It had to be an interesting tale to tell, at least in my mind. And, my friends, do you know what?
It sure was.
---
Let's start with the basics. While we're going to focus on the job of being a CGC witness, the purpose of one of these witnesses is to be the living, breathing manifestation of an authenticated signature on a comic. The job of a witness is to verify that something was actually signed by a creator or celebrity. Once signed, these comics are slabbed 15 and given a yellow label across the top to indicate that they are verified as part of CGC's Signature Series. These can be combined with grading for condition, which is what CGC is mostly known for. But it's not required.
Per the CGC site, there are only a few specific situations in which a signing is approved for one of these Signature Series slabs. They could be signings hosted by CGC, like a private signing, or an event hosted by a CGC Authorized Facilitator with a witness in attendance, like at a convention or a signing at a store. Occasionally, CGC does accept comics straight from the signer or publisher, but that's not universal. To ensure veracity, these are the only situations in which a signature can be verified, and witnesses are an essential part of this ecosystem.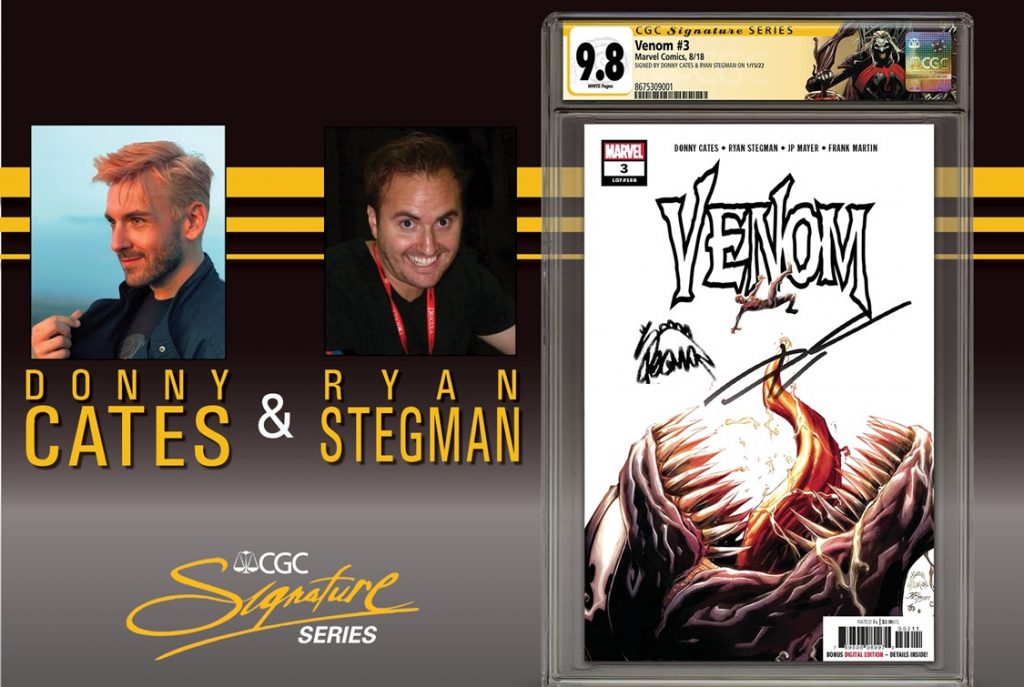 This is a crucial detail. Not everyone understands the process. Sometimes people get something signed by a creator or celebrity and then just show up at the CGC booth at a convention looking to get it authenticated, complete with that yellow label. That doesn't work. The rules are simple. No witness. No label.
That's something Chris Hacker, the co-host of The Oblivion Bar podcast, experienced as a witness at New York Comic Con and C2E2 in 2021. Hacker operated through one of those aforementioned "CGC Authorized Facilitators," as both times he acted as a CGC witness he did so as an employee of Comic Sketch Art (or CSA), a company focused on creator management and signature/commission sales, both at conventions and by mail. 16 CSA "essentially ran the CGC booth for them" at both events, Hacker told me, which is how he ended up doing it.
He didn't get into witnessing because he was specifically interested in that job, though. His real interest was working for CSA, as he viewed the company as a "surreal opportunity" to "work shoulder to shoulder with the greatest writers and artists in the industry today." That was the primary draw for him, although getting a four-day pass to the conventions themselves and a free flight and hotel to the event were nice perks as well. He was excited to work closely with CSA's extensive stable of talents, ranging from current stars like Donny Cates and Ryan Stegman to legends like Frank Miller.
Unfortunately, when he made it to NYCC — his first convention for CSA — he was immediately directed to the CGC booth with two other employees, operating on an "island by ourselves" throughout the event. He didn't really know what to expect. Hacker himself isn't into interested in authenticated signatures. If he's going to get something signed, it's going to be "a storyline that means a lot to me or a cover that I absolutely love." Knowing that the person signed it in front of him is enough verification for him.
That's not the case for everyone, though. Hacker described his experience as a CGC witness as "running around like crazy" for the entirety of his time at these conventions, if only because his skills were so in demand.
The rest of this article is for
subscribers only.
Want to read it? A monthly SKTCHD subscription is just $4.99, or the price of one Marvel #1.
Or for the lower rate, you can sign up on our quarterly plan for just $3.99 a month, or the price of one regularly priced comic.
Want the lowest price? Sign up for the Annual Plan, which is just $2.99 a month.
Learn more about what you get with a subscription