Revisitor: The Universal and Timeless Power of Nick Abadzis' Laika
Revisitor is a regular column in which I look back on personal favorites of mine from comic history, whether they're a single issue, graphic novel, comic strip, webcomic or basically any form of sequential art you can think of. When I do this, my hope is to include perspective from the people who made these comics – like I did with the debut edition about Mike Mignola's Hellboy story, "Pancakes" – but that may not always happen. This week's edition does feature the creator, however, as I look at the early First Second release Laika from cartoonist Nick Abadzis.
There's no comic I've shared more with friends and family than Nick Abadzis' 2007 graphic novel Laika. It tells the story of Kudryavka, also known as Laika, the famous cosmodog who became the first animal to ever orbit the Earth in 1957. To say it's a remarkable and emotional read doesn't really do it justice. Consider this: I've never loaned it to someone without them returning it and saying something along the lines of, "This made me cry so much," or, perhaps even more impressively, "I didn't know comics could be like this." It doesn't just affect people; it wrecks them. Not only that, but to my non-comics reading friends, it's a perfect gateway to understanding the capability of comics as an artform.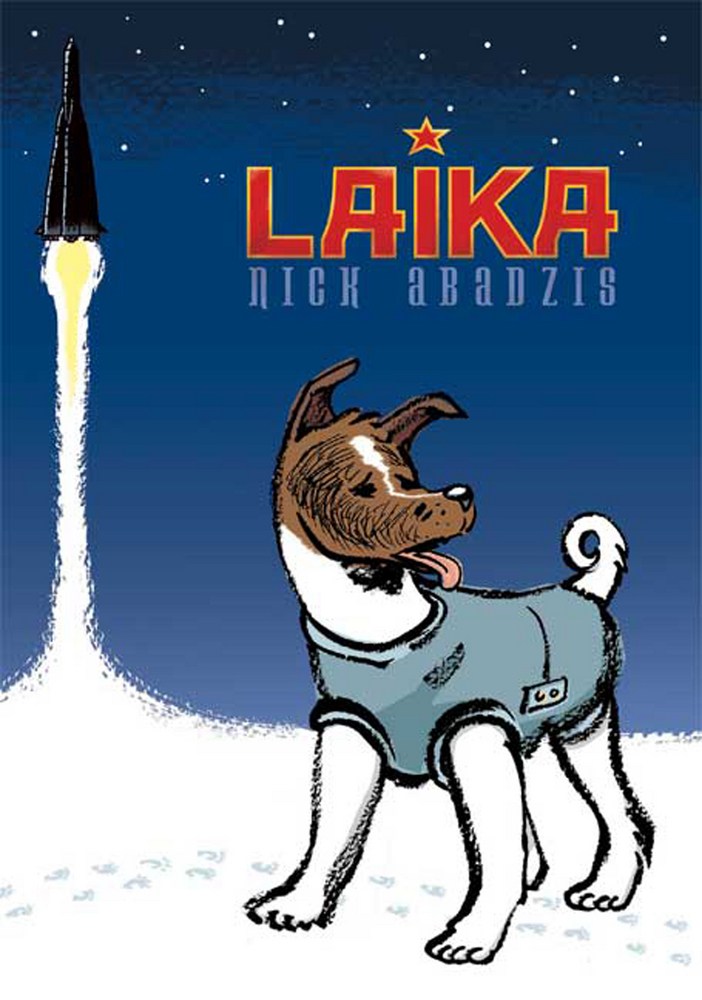 There are a slew of reasons for that. It helps quite a bit that Laika is a remarkably well-researched work – the depths of which Abadzis details in this interview with Tom Spurgeon – even if some elements of it are artful fiction built off a foundation of what we do know about its realities. The potency of this story and its world wouldn't be the same without the insight into its cast of very real characters it gives us. Space Race-era Russia was a time of tenuous freedoms and iron clad beliefs in the veracity of this country, much of which was built on a distorted version of reality. People like lead Soviet rocket engineer Sergei Korolev and Oleg Gazenko, the man who guided the program that provided animals for the country's efforts in space, were featured prominently within this graphic novel, and their presence helps introduce, deliver and contextualize this story. That Abadzis went above and beyond to represent them and the rest of this world with as much truth as possible gives it the weight it has. It was essential.
Of course, Abadzis is also a remarkable cartoonist. His lyrical approach imbues Laika with emotional heft and an uncanny beauty that it needed to hit readers hard. His gift for story flow allowed it to be a propulsive read as well, and one that is impossible to put down until it's complete. His art is a perfect example of the blurred line in comics between writing and visuals, and how both are storytelling even if many don't often believe that when it comes down to attribution. Each expression, each person's posture, each panel layout choice is designed to connect us more deeply with everything we read, even if we're reading nothing but pictures. But that's what comics are, or at least should be.
In short, Laika finds a cartoonist at the peak of his powers telling a tale that's universal in an unexpected way. Of course, you might be wondering "What's universally appealing about historical fiction set in Russia in the 1950s?"
That it's about a dog rather than a person.
I know that's a wild oversimplification about a wondrous, complex graphic novel – it's much more than a cute animal comic – but hear me out! Human characters we can take or leave, but animals or – more specifically – dogs? There's an inherent protectiveness we develop for them if they're prominently featured. It's a part of the reason John Wick became such a sensation or why that forgettable Idris Elba/Kate Winslet film The Mountain Between Us said in its trailers that the dog didn't die during it. 5 Not everyone likes every person, but the percentage of dogs we don't like – save for people with allergies or those who hate dogs, which is criminal and minimal – is considerably lower. That's a not inconsiderable reason this comic was so easy to hand off to people and for them to jump onboard. Stories in which dogs are put into jeopardy fuel a bond with most, and one that's unbreakably strong for everyone but the most heartless of individuals.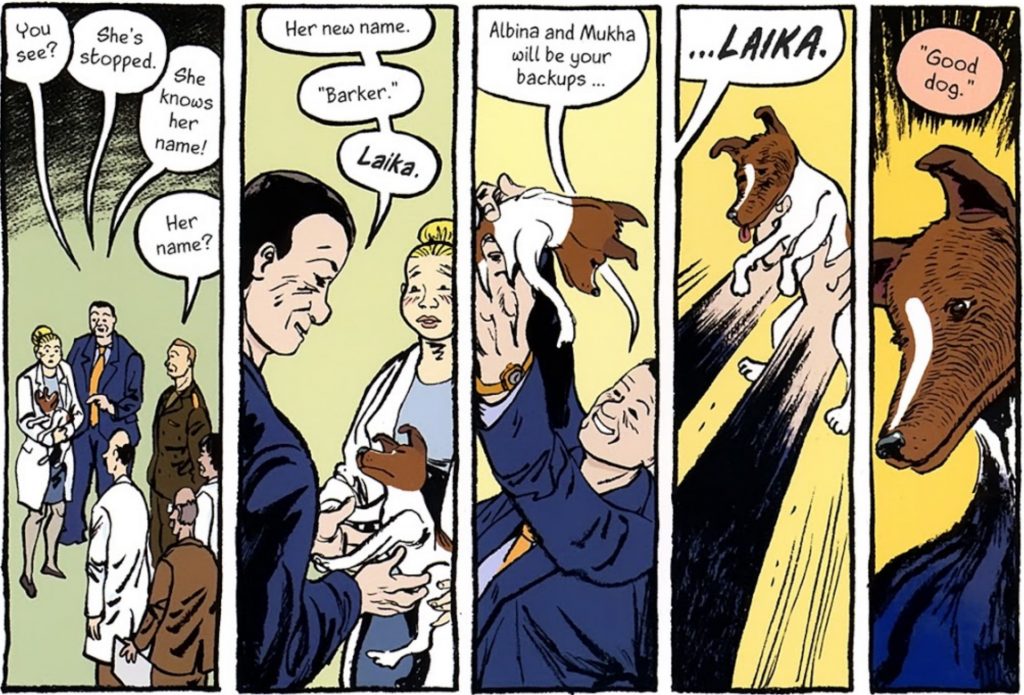 And there's no animal in the history of the Earth that was put into a more famously perilous position than Kudryavka, the innocent, three-year-old mixed breed dog more famously known as Laika. 6 She was, again, the first lifeform who orbited the Earth, having been sent into space with no hope of return ostensibly for research but really as a public relations tactic in 1957. She was once a little, forgotten stray on the streets of Moscow, but because of her sacrifice, Abadzis told me that, "She's become a legend – part myth, but all truth."
The rest of this article is for subscribers only.
Want to read it? A monthly SKTCHD subscription is just $4.99, or the price of one Marvel #1.
Or for the lower rate, you can sign up on our quarterly plan for just $3.99 a month, or the price of one regularly priced comic.
Learn more about what you get with a subscription