Building a World with Think of a City's Alison Sampson
The architect behind one of the internet's coolest comic projects tells its story
One of my favorite things about comics is how limitless their potential is. Some would say their only limit is the imaginations of their creators, and that has led to comic readers being introduced to some wondrous and unforgettable settings. From real locations like Cold War Russia in Nick Abadzis's Laika and New York City in the early days of rap in Ed Piskor's Hip Hop Family Tree to fictional settings like 2076's Los Angeles in Brian K. Vaughan and Marcos Martin's The Private Eye and the Kree's home world of Hala in the Marvel Universe, comics have given us unforgettable settings where, in many ways, the location is as important to the story as any character. Hell, you could argue that in some cases, the locations are a character.
That's what makes Alison Sampson and Ian McEwan's Think of a City project so cool to me. It's a "mass storytelling project" built around writers and artists doing what they do – imagine worlds – to dig into an important and often forgotten aspect of the art form. World building. As the Think of a City site says:
"Our project is an opportunity for creators to bring the background to the forefront, and to delve into ideas of setting, place, design, geography, politics, architecture, materiality, mise-en-scène and much more besides, within storytelling. It will take time. Comics provide linear stories, but the urban environment is something different: non linear, multi-layered, complex, communal. We'd like to prove that cities are so much more than cityscapes. Every place has its story and every story has its place, but we can't tell all the tales in this metropolis. If we have maps, they will be partial. This said, we can take you inside the most private rooms and fly above the rooftops, going from public to private in an instant."
It's a remarkable project that has already featured some tremendous artists like Vanessa del Rey, Dave McKean, Sam Humphries and Mingjue Helen Chen, INJ Culbard and more, and if you haven't checked it out yet, you should. Today, I have a talk with Sampson about the project, how it came together, future plans, the importance of settings in comics, and a lot more, as we explore the ins and outs of the Think of a City experience. Take a look below, and if you're interested in following the project going forward, you can find it on Twitter and Facebook, as well as its main site on Tumblr.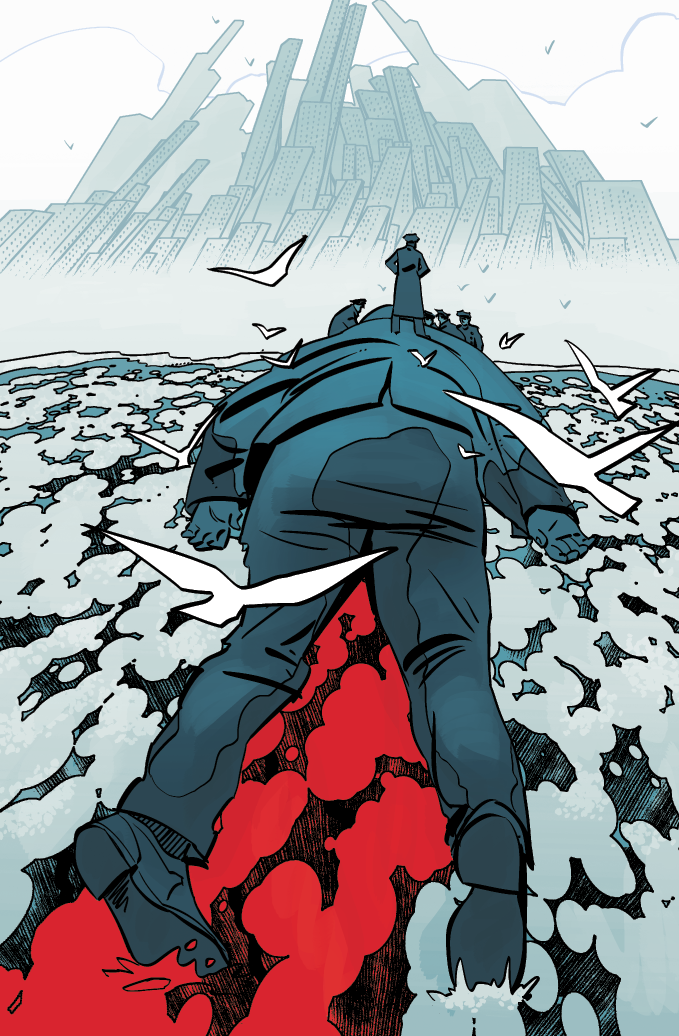 How did Think of a City come together, and what was its inspiration?
AS: To cut a long story short, Ian McEwan and I wanted to do a collaborative project where we could exercise some of our design skills. I'm an architect and I think there is a lot you can tell with the space on a page, and I didn't feel I was getting to do enough of it. We talked about taking turns on a sequential story which was some kind of Derive through a City- it would be fun, experimental and an opportunity to do something we, or others, might not otherwise get in 'regular' comics work- and the project was born. It could be anything we wanted it to be. We would build a city between us, and it would be just what there was on the page, ideally more than the sum of its parts, and built by it's citizens- literally, a mass of diverse voices all jostling up against each other, like a real city.. It would be something people could visit in the way they would a real city- and find surprises and treasures- and the mundane- round the corner, and even to follow the project over time would give that experience. We would explore the space as real architecture, with its people and things, its history, politics, romance, and messy drama. Our city would be whatever we wanted it to be.. and that became something a bit more democratic: a collision (and coexistence) of cultures. So often architecture is held to be about the shape of buildings (or some mix of Chicago-and-New-York exteriors-at-a-distance that appears again and again). I wanted to promote it is so much more than that. I just think architecture and designed space and place and so on and is an underused storytelling device in comics, on a number of levels. It is so often misconstrued as something else- just buildings, not the life of the place. A city is its people and the things they carry, and what you see and what you don't, and the things that happen in the space.
The aim was (and is) to collate material for an exhibition, which Ian will manage. More people wanted to be part, I wrote up the rules, made our website, designed how the project would work (something with more than 170 artists and writers signed up needs to be rigorously organised if not overseen), listed everyone out in order of working, and we were off. I generally curate and manage the project, and it has its own life. We do not edit and we actively seek out diverse voices and encourage people to tell their own stories. I set up collaborations between artists and writers (for example Mingjue Helen Chen and Sam Humphries, Darryl Ayo and Nick Brokenshire) and between artists and artists (for example Kelly Thompson/ Rebekah Isaacs and Tonci Zonjic) and people can do with the platform what they wish. All the work is creator-owned by the makers, but commissioned for the project by us, a serial of micro-projects. At the time of writing, the poet Chrissy Williams and Clayton Cowles are following Chris Visions' highly charged political piece with something that may contain text- and I have NO IDEA what it will be, except that it will follow. What do you think of, when you think of a city, what do you bring, and what do you do when you want to build?
We had in mind Italo Calvino's Invisible Cities, where the stories all describe a place but in a multitude of different ways, but in the end, they all describe one place, Calvino's home town of Venice. This project would be an artists' city, it would become what it would be, and all the diverse things.. they would co-exist and make our city as exciting and surprising and beautiful and real as a real city is. I wanted the project to be as fun as Brandon Graham's King City and to celebrate the mundane as much as the special. There is a reason people move to the city to start with – community, adventure, to co-exist, to build, to play, to meet people, commerce, to be seen, to work together, to seek a fortune, to find a voice, to be heard, to be part of something bigger than themselves, as many reasons as there are people who live in cities to start with. We, ideally without too much effort or baggage, provide the framework for people to build something, both together with each other, and for themselves.
So is this a finite project, then? It sounds like you've already plotted out the entire run of this project, but if (or if it already is) successful, do you see yourself expanding on it going forward?
AS: Everything must end sometime, David. The project has to be finite, it will run as long as I can run it, ideally to the end of our list which currently is in about 2019/ 2020 but, depending on how people are, might go into the next decade. We originally started the project for ourselves and developed it into collating the material for an exhibition, which we are still doing (and most likely will split into phases).There is the number of participants which marks a critical mass conceptually for 'how many is the lowest number of voices to represent a city convincingly?', so we need to have a certain minimum size to get the right feel. We may have already passed that, but the more, the better. I've designed the project so it runs on rails, and so far people have been amazing, putting in very personal, thought through and beautiful statements, and largely coming in on time.
The project is capable of expanding, and still is doing so, but, this being a 'found time' project for me, I've been keen to frontload the setting up of our list so Think of a City can just run quietly with hands off. I do feel answerable for the diverse make-up of the project and am conscious we maybe don't have it as mixed as my home city of London. Correcting that is an ongoing project. We have a number of participants to be matched up with artists or writers, at this moment, and I need to find those people. If individuals turn up, or approach us, or demonstrate a common interest, we might ask if we can add them. I also still have a shortlist of people to ask…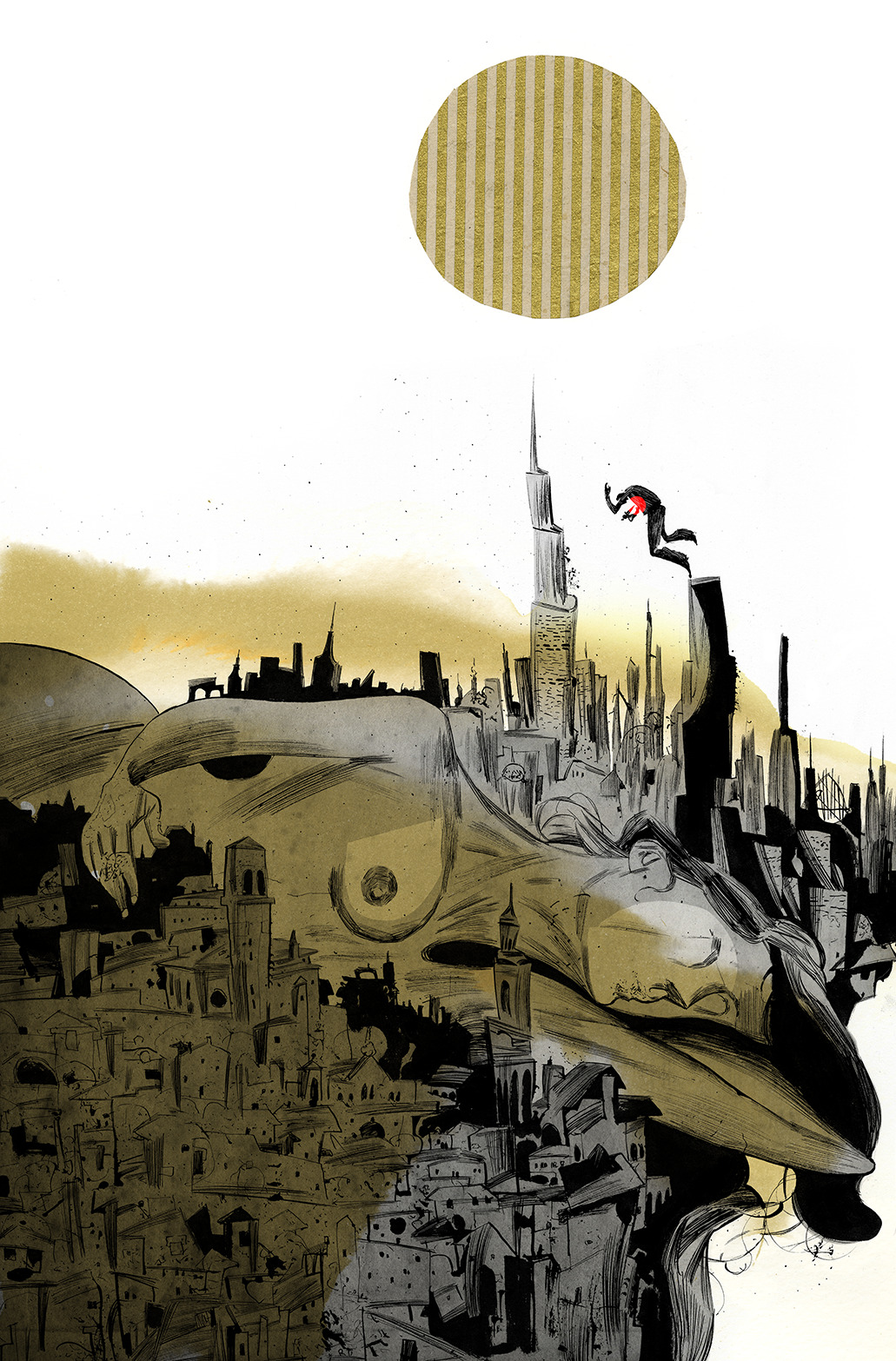 In the history of comics, cities have long been an important aspect of the stories themselves. In many cases, like Batman with Gotham City, the civilization the story takes place can transcend the story and almost become a character in of itself. You already answered this to a degree, but do you feel that the worlds comics take place in get enough of a focus in narrative driven comics? Is that lack of focus part of why you wanted to dig a project like this one?
AS: Rarely, but perhaps increasingly so recently, and Yes. I think Mega City One in 2000AD is one of the very few comics with a narrative focus where the world of that comic IS the story. Perhaps that has been key to stories about Judge Dredd having run for nearly four decades. If you are describing an invented world, you can ALWAYS find something new. Gotham and Marvel's New York have a bit of that, but for various reasons they are a bit more of a blank canvas. Architecture often has its place, both within the panels and in the storytelling, and if you look you start to see more and more projects where the world-building and tone frame the narrative. Of the top of my head, The Spire, Little Nemo, 8House, The Wake, Prophet, The Incal, Pretty Deadly, King City, Change, Southern Bastards, Wayward and pretty much everything by Jacques Tardi have a bit of that where the place is as much the story as the characters.
You look at something like True Detective, and see what they do visually with showing the environment, in such a way, and the results are really stunning. True Detective isn't a comic, true, but it is something I'm thinking about in my current comic making. I'd also say, world building has always been part of comics, but there's much, much more that can be done with the design aspects. There might be a lack of opportunities, possibly driven by deadlines, so our one page stories give people a bit of a space to unplug.
When it came to the artists and writers you and Ian approached, what were you looking for? Were you looking for people who actively think about this type of thing already in their work, or were you looking for potential collaborators who might go outside of their comfort zone?
AS: We look for quality, potential, interest, and a distinctive voice. People often have very specific ideas of what they want to do, at the point they are asked. We also bring in people with capabilities and match them up with collaborators who'll give them a stretch. And, as I said above, having initially assembled a group that was too white and too male, I make a bit of a specific effort to find voices outside those categories. We also welcome writers drawing their own stories (Al Ewing is drawing his own and if he uses a biro, that's fine), and people who have never drawn or written a comic before.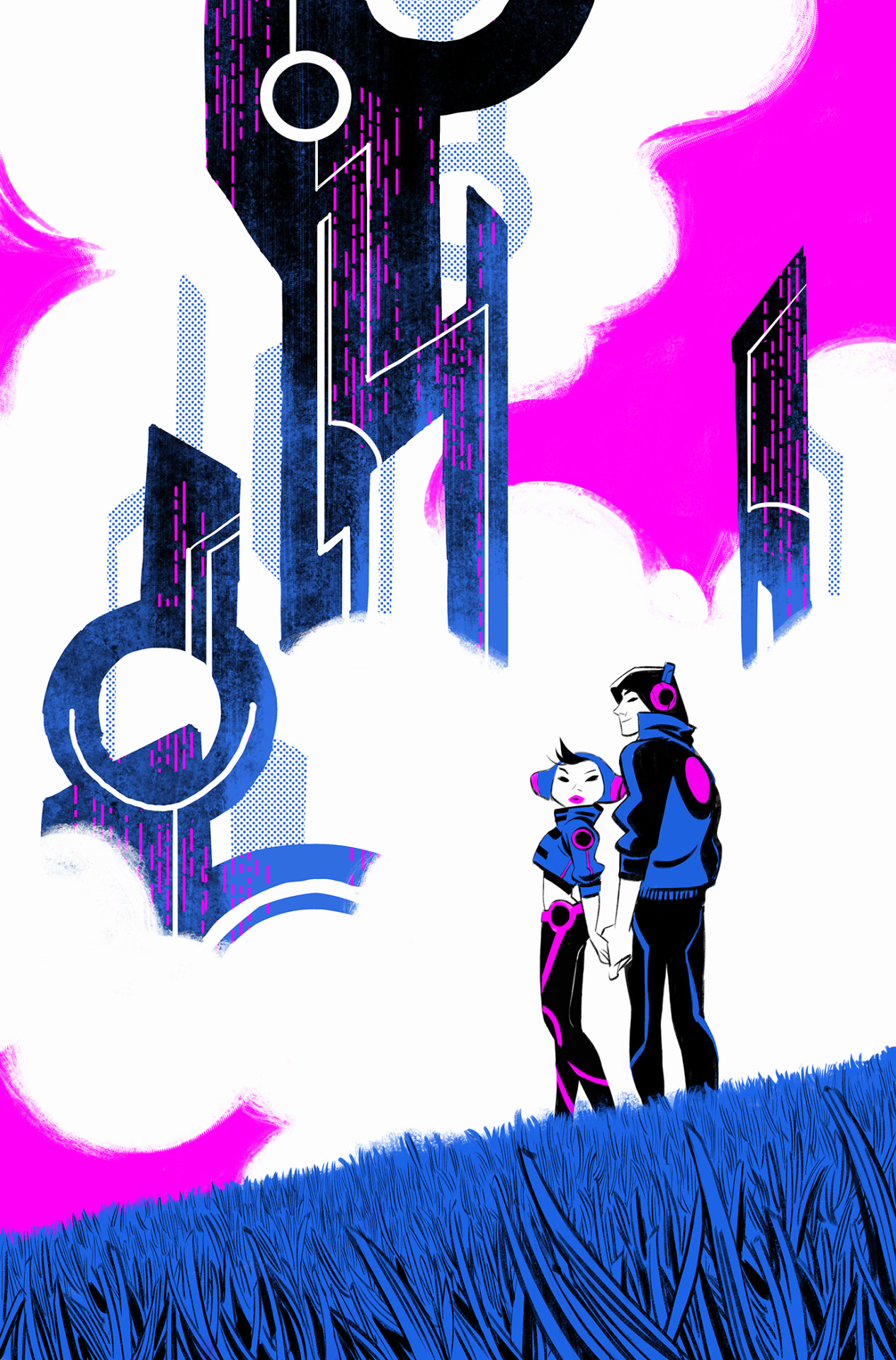 I think one of the interesting parts about the project is integrating writers into the project. For example, Sam Humphries and Mingjue Helen Chen paired up for a lovely piece. Was that a partnership you encouraged or did you approach one and they paired up afterwards? It seems like an art-driven project, and I'm just curious how those types of collaborations formed.
AS: The way the project works is that I bring people in and then curate an art or writing partnership for them if I think that would be a good thing/ they are OK with that. I think with Helen and Sam, I wanted to bring in Sam, and then I decided Helen might be a good partnership for him and I asked them both if they'd be OK working together (thinking it would be to their mutual benefit). There are some ready made partnerships, for example Tyler Shainline and Andy Suriano, who have already made comics together, and whom I brought in on the basis of that. This is a good way to introduce people into comics, where they can have a go on a collaboration in an environment with controlled risks. We can give people, who are already heavily committed to longform works, a small space to do something different. To be clear, this IS an art driven project, by artists, for artists. But, I'm also replicating my architecture job which is partly large scale commissioning, coordination and management. Part of that is to help people by being super clear about what the task involves, so they don't have to ask questions, think about anything other than the matter in hand, waste time, or do extra work.
I'd say that while the whole project has been filled with great looking work, arguably Chris Visions' piece has been the most incendiary. When I first saw that one, I was blown away. You're looking for diversity, but how important to you is it to get more politically charged pieces from the perspective of the people like that? It seems like that had to have been a particularly exciting piece to receive.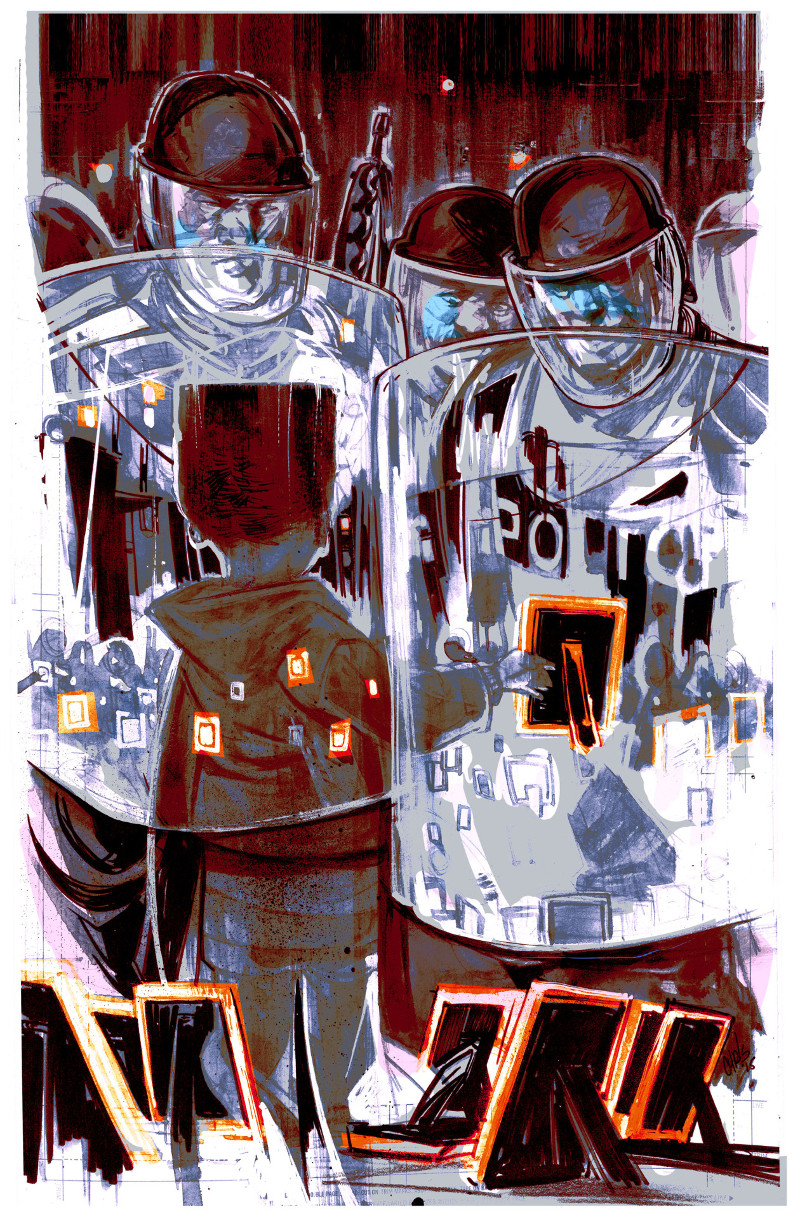 AS: I don't ask people for anything specific, or expect anything specific. I certainly don't think of a 'people like that', as anyone can put in an explicitly political piece. I wouldn't mind having more political work, whether from the point of view of someone like Richard Sennett in the The Fall of Public Man, where "political" might mean 'between people' or more overtly, as in Chris' Black Lives Matter statement. The way towards this, though, is not to force it. I don't think anyone wants to create a dystopia, and it is as much a political statement to draw something ideal, or talk about something much loved (to design an upbeat environment is much harder than downbeat ones) as it is to be more explicit. I have to be careful about my curation: I thought about what kind of city this was, whether it was London without a plan, or Rome or Paris, with their massive Papal/ Napoleonic overhalls (respectively), laid out from the top down. We are a city where people arrive voluntarily and they set up their own shop, where they please, how they please, and they say what they want to say, how they want to say it. The main thing is to draw in the people. The rest will follow. If I told people what to do, I'd have got the politics wrong.
We loved receiving Chris piece, and there was a 'whoa' moment as I opened the file, not least because this piece speaks strongly to white people (like me). Most of the pieces, if you dig a bit, you'll find they have personal resonance for the artists, whether it is me drawing history in the present day, Alexis Ziritt in Caracas, Pete Toms' caterpillar man, Lekan Jeyifous' Afrofuturism, Andre Araujo rifffing on Appleseed, or various artists contributing parts of their own much larger creator owned projects. Part of the curation is to bring in people from outside comics-writing and art, who have something else to say. What they say is their call, it is as much as I can do to give them space to set up shop.
(Editor's note: there is a print of Chris Visions' piece available for purchase)
As the person running this project and one who co-created it, its appeal is obvious. But putting yourself in the participants' shoes, what do you think is appealing about this project for them? It seems to me it'd be rewarding to partake in an effort that's both purely creative and allows for unique storytelling avenues at the same time.
AS: Ian and I originally made this project for ourselves, so the answer is the one I gave to a previous question. There are many appeals: community, adventure, to co-exist, to build, to play, to meet people, commerce, to be seen, to work together, to seek a fortune, to find a voice, to be heard, to be part of something bigger than themselves.
We had at least thirty people signed up before anyone drew anything, so it is fair to say we all knew this would be an experiment. A genuine experiment, especially with 170+ authors, is quite rare in comics and I think people like being part of that. We offer some level of community with our shared interest, connecting up artists round the world, and I think this is particularly important to artists outside North America. We bring work to new eyes. We push for invention, we provide an excuse. We have a new brief for every participant. Every piece enriches a greater whole, everyone is an equal, and there is as much cross collaboration as an artist can fit in. We get to work with each other, we get to make something new with talented strangers. Our city is one of fleeting encounters, for our makers as well as our visitors, a Derive and a departure. For myself, I like to build and I like to bring an invented world, in all its complexity, to life. People come here for different things. You would probably have to ask them.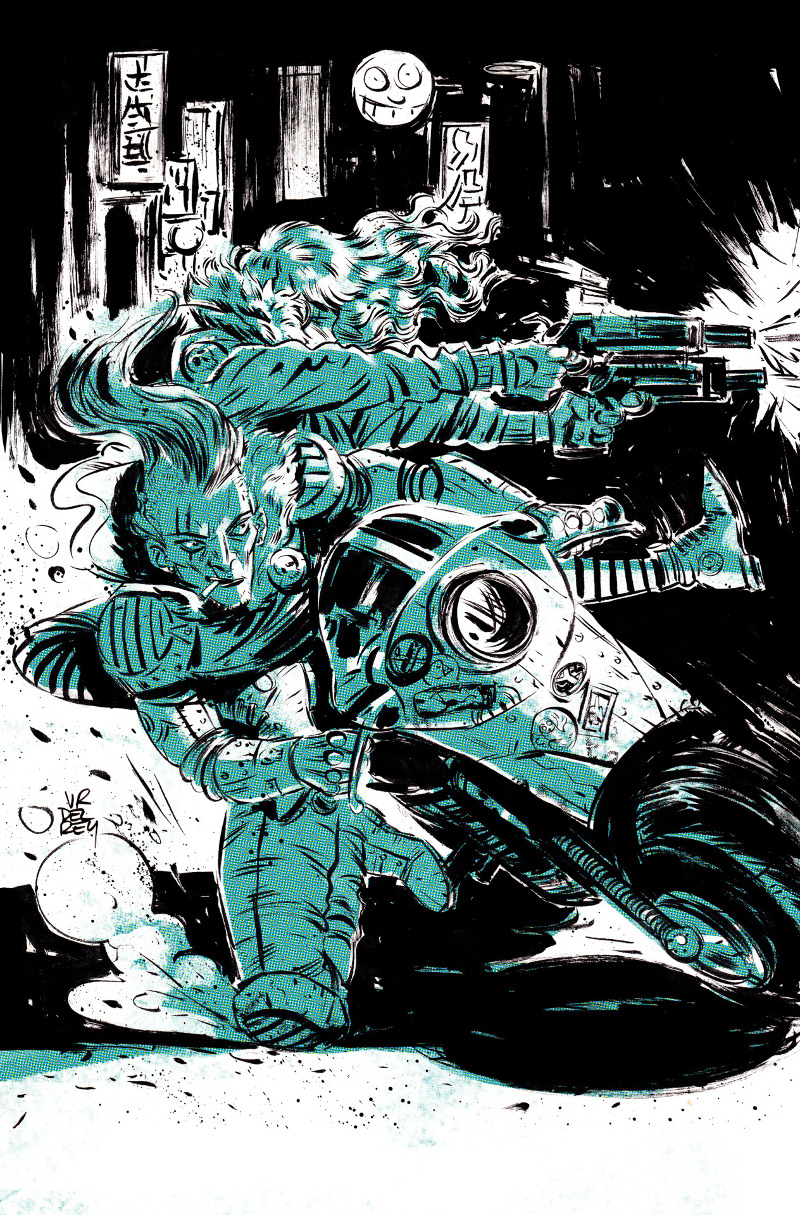 Working off that last question, have there been very many artists who have turned you down? I imagine for some, the project might be intimidating, just because of its utterly blank nature, while others obviously respond quite strongly to it.
AS: We've had a very high take up rate, but then we have never put out an open call. It has all been personal invites, based on my looking at people's work, or a mutual interest I knew we had, or referrals from artists who are part of larger communities: Emma Rios on Northern Spain, Ian McQue at Rockstar North, Oliver Ristau in Germany, the Richmond artists, the Spera contributors and Josh Tierney all have brought more people in. Pretty much everyone who 'gets it' says yes. We provide what I hope is just enough structure that this is not a blank canvas, but at the same time keep enough flexibility that people can tell their own stories. It isn't just Image Comics' page dimensions we have picked up on. When artists come on board, I ask them if they would like to work with a writer. i think the relatively low take up on that where it is optional (sorry writers) means that the blank canvas isn't too much of an issue.
People do get intimidated, because everyone wants their art to look the best. However, we have to point out, this shouldn't be place for that: a city is not a competition, and whether you bring the equivalent of a carrier bag blowing in the wind, or a big fancy tract of mansions, this is not a place where you need to keep up with the Joneses. Everything adds, and it is about the *what* not the *how much*, taking part, not winning. On the other hand we want this to look excellent and to work really well. Of course we do- we all do.
Do you envision eventually collecting these into a book? It seems perfect for a really nice art book eventually, and I imagine it's the type of project that would be perfect for Kickstarter.
AS: It is a possibility, but not one we have developed, as as stated previously, we are focusing on an exhibition. It has been important to keep things simple and it will remain so.
This said, we will look into making a book of the work, and I believe we probably will have one, and people certainly have been asking. We may also look into syndicating the long sequence of pieces, but it isn't something we have started to explore.
A Kickstarter would be a good way to go – or we could be open to other methods. Certainly, any publishers reading this, who have an interest, should get in touch.
Header art from Dilraj Mann's contribution to the project. Art in piece from top to bottom by INJ Culbard, Dave McKean, Sam Humphries and Mingjue Helen Chen, Chris Visions and Vanessa del Rey.