Comics Disassembled: Ten Things of Note from the Past Week in Comics, Led by an Artistic Bonanza
Comics are back, and with it came a fairly dense week of news. Let's not even mess around and get straight in there, as Comics Disassembled looks at ten things I liked or didn't like from the week of comics.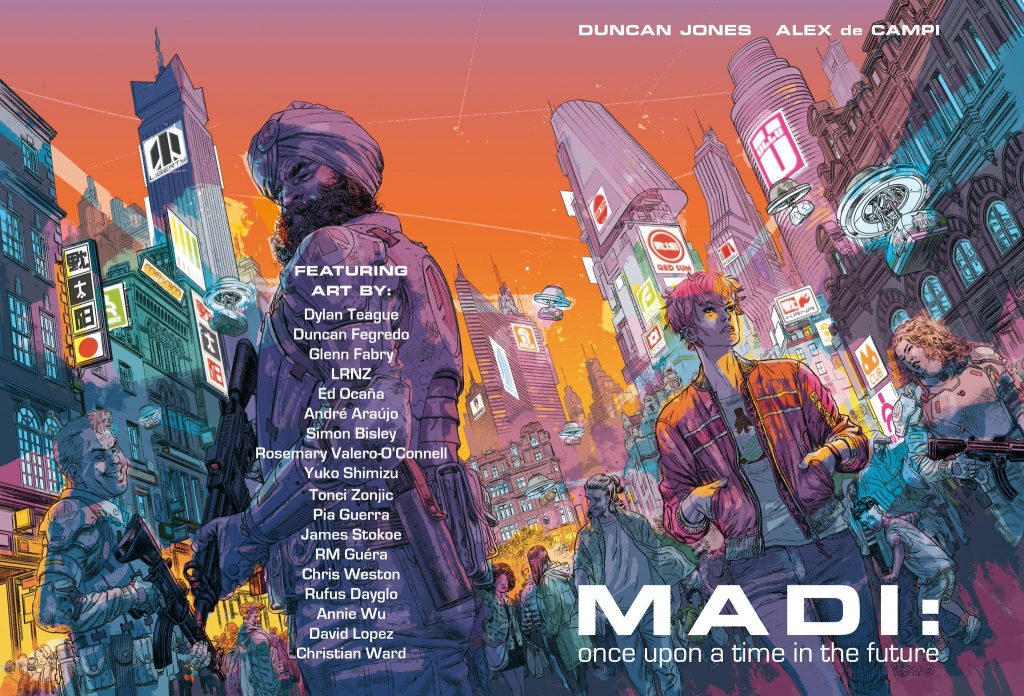 1. MADI, Having Zero Chill
A whole lot of attention was paid to the launch of MADI's Kickstarter for obvious reasons: it's the first comic project by film director Duncan Jones (Moon, Mute) as well as the third part of Jones trilogy led by those two other films. This 260 page graphic novel Jones is co-writing with Alex de Campi has…slightly outdistanced its goal two days in. As I type this, 4,500 backers have jumped on this to the tune of $225,449, a bit north of its $50,000 goal. Seems pretty good, but it isn't unexpected for its Hollywood trappings and, most importantly, especially to me, the outrageously great artists who are working on it.
I'm not even going to type them out, but when your comic includes Duncan Fegredo, Glenn Fabry, Simon Bisley, Rosemary Valero-O'Connell, Yuko Shimizu, Tonci Zonjic, James Stokoe, RM Guera, Annie Wu, David Lopez, and Christian Ward, and we're not even at the halfway point for artists involved without even factoring in colorist Matt Wilson's impact on the book (he isn't coloring all of it, as I believe he's just doing Pia Guerra's portion), then it's going to be a pretty good looking comic.
I honestly have a hard time thinking of a comic with more artists but also better artists involved in one place. That's such an incredible mix of styles, backgrounds, approaches, and beyond, and it really has something for everyone. Each artist is tackling somewhere between 8 and 30 pages, meaning this isn't even just a one page here, two pages there situation. This is volume with volume on top of it. I love it. I'm fully onboard here, and I will be backing it, for sure.
That said, even with my art excitement…Duncan Jones, if you'd like to come on the podcast and talk about this, I'm all for it. We can just spend the whole time talking about each artist individually. I don't even care. Let's fanboy out! Let's do this!
2. Empyre, Getting Zero Breaks
Marvel announced its full release slate for July, and while there were plenty of neat things – the return (or launch) of a whole lot X-Books is at the top of the list – the number one item on the list for me was the revelation that Empyre – Marvel's big event for 2020 – is going to now be a weekly book. I have a lot of thoughts on this, but let's start with the logic behind it. Here's my quick ranking, from most important to least important, of the reasons behind Marvel's decision.
Going weekly allows them to get back on track with its plans in a much more rapid fashion
Going weekly instead of bi-weekly or even monthly decreases the likelihood that the latter half of the series will be released when the bulk of its market may be in another wave of sheltering-in-place
Helps them potentially reduce the attrition rate that might come from these comics just not selling (as by the time issue #1 has sales to look at, shops will be ordering issue #4 or #5)
Allows them to get their product out in front of the most shops as possible, either for longevity concerns or related to item #2
Maybe – maybe – they see this as an opportunity to test the effectiveness of events as weekly stories, after House of X and Powers of X really cooked at least in part because of that cadence
I feel like the bulk of this is it's all for practical reasons. Marvel wants to get back on track while also being able to avoid significant downsides that could come later in the year or even during the series itself. As some noted on Twitter, this could actually improve the experience overall, as it could be more enjoyable to read like HoX/PoX where the event really feels like an event when everyone shares it on Twitter.
Unfortunately, it's a conversation I won't be taking part in. The downside for Marvel, at least in regards to this plan, is there are two levels of consumers that could feel burned by this. Readers, like me, who aren't really interested in getting sucked into a weekly series they're mixed on already when it's certain to be at a minimum $4.99 for each issue. And retailers, who are already going to be gun shy because of the status of the economy, because Marvel isn't offering returnability, and because Empyre has largely been DOA from a pre-order standpoint. Now, they're being asked to order based off guesswork for the front half of the series, and I'd wager the bulk of them would rather reorder issue #2 and #3 and have a few annoyed customers than get caught with significant potential losses.
This is arguably the first significant publishing conundrum we're seeing in the post-Diamond closure period, and Marvel's putting both retailers and readers into a tough spot with this. My guess is it's going to result in surprisingly low orders, at least in the middle to end of the series. We'll see.
I should note: I hope it's good! I intend to read it, as I tend to read all Marvel events eventually on Marvel Unlimited. But I'm just not interested in spending $20 a month on a comic I'm lukewarm on.
The rest of this article is for
subscribers only.
Want to read it? A monthly SKTCHD subscription is just $4.99, or the price of one Marvel #1.
Or for the lower rate, you can sign up on our quarterly plan for just $3.99 a month, or the price of one regularly priced comic.
Learn more about what you get with a subscription