Post Hype Machine: Genres Fuse, Readers Win in Outer Darkness
The comic industry has a short memory, as titles are hyped on the approach to their first issue and often forgotten shortly thereafter. On to the next is the typical mindset, with what's new leading the way for readers, comic sites and beyond. Post Hype Machine is a recurring column on SKTCHD built to move against that trend, as it will exclusively be looks at – that's right, I'm not calling it a review, I'm calling it a "look at" – titles in their second arcs or later.
I don't remember specifics of when the interaction was – it might have been his visit to Off Panel, it might have been another time – or what the context for the moment was, but I recall writer John Layman 15 once suggesting to me that his series Chew with artist Rob Guillory was effectively genre-less. The idea Layman had behind that argument was this: "What genre is life?"
As much as we love to classify comics or stories of any variety into nice and neat buckets like horror or science fiction or adventure or whatever, most tales we engage with blur the lines between each of them in a way that makes them indistinguishable from one another except on the highest of levels. That's where the "what genre is life?" question comes in handy. It's not like I could easily say what genre my existence is. Sometimes it's a drama, sometimes it's a comedy, and, hell, I've found that sometimes it's a medical thriller à la Contagion, as our recent history has suggested. Most stories are like that as well, which is why Layman's statement 16 always stuck with me. It's 100% true, even if it pushes against how we like to classify everything.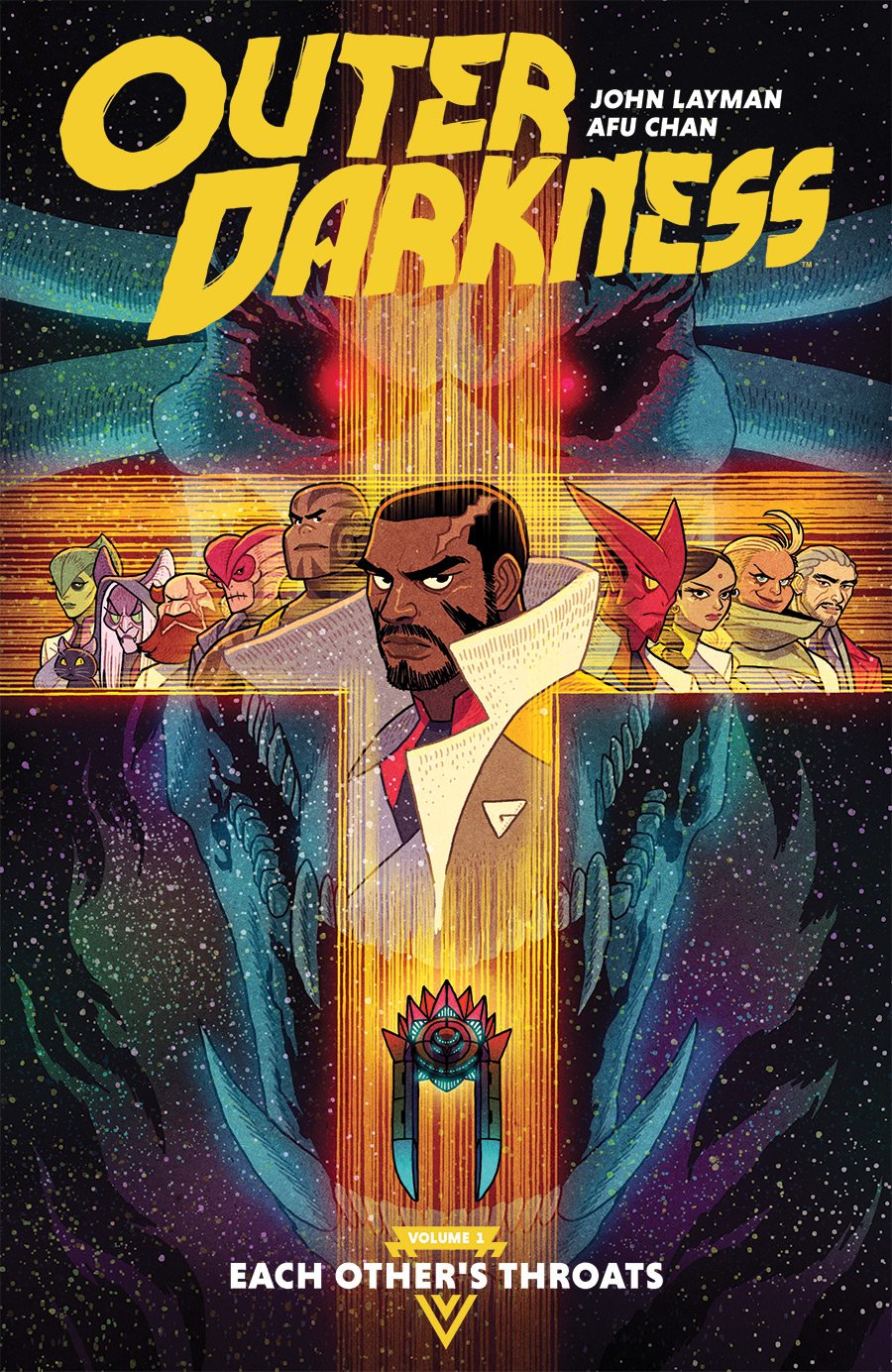 Chew was a great example of that idea, but Layman's more recent project – the Image/Skybound series Outer Darkness with art by Afu Chan and letters by Pat Brosseau – is an even better one. I'm going to be real with you for a second: before reading Outer Darkness/Chew #1, I was expecting a more Star Trek-like story, even though I had spoken directly with Layman about this series before. The Outer Darkness in my head, it turns out, is considerably different than what it actually is. Sure, it's has a lot of Star Trek in it, but it's part science fiction, part horror, part Game of Thrones-like moves and counter moves, part The Office 17 levels of boss hatred, part…well, everything.
And boy is it a hell of a comic because of it.
Outer Darkness is one of those titles I decided to get caught up on because of our current "staying indoors but also no new comics" lifestyles. While there aren't comics arriving in shops each week, like 90's summer reruns on NBC, that doesn't mean there isn't something new to you still. This Layman and Chan genre-bender was one of them, and upon the arrival of the two trades that comprise the first season of the comic – they're titled "Each Other's Throats" and "Castrophany of Hate," respectively – I devoured them like a Cambion Arch-Fiend consumes everything: vigorously and with little regard for the world around me. 18 And what I found was a treasure of a read, and a question in my head of, "Why didn't I read this sooner?"
From a 10,000 foot view, Outer Darkness follows the crew of The Charon, a deep space retrieval ship that both contends with traditional cosmic dangers but also supernatural ones like demons and possessions, as they go on a mission that largely differs depending on who you ask. To Captain Joshua Rigg, he has the mission he was hired for and a secret mission he keeps away from everyone, which is only part of the reason every member of his team hates him. For First Officer Satalis, he's along to follow the rules unless those rules prevent him from killing Rigg, in which case he's very much against the rules. For Administrator Prakash, it's about doing the job and doing it right, all the while avoiding anyone finding out who her father is. 19
The list goes on and on, as this cast is both large but also shockingly fleshed out, as specific characters get spotlight issues 20 that make them pop as individuals. But they're also deftly layered into the main story, helping us better understand who the characters are and what their motivations are relative to everyone else, a crucial distinction from typical POV stories.
The rest of this article is for
subscribers only.
Want to read it? A monthly SKTCHD subscription is just $4.99, or the price of one Marvel #1.
Or for the lower rate, you can sign up on our quarterly plan for just $3.99 a month, or the price of one regularly priced comic.
Learn more about what you get with a subscription