Comics Disassembled: Ten Things of Note from the Past Week in Comics, Led by Comics…What a Concept!
My god, for once, all the items in this week's edition of Comics Disassembled are about comics! Well, everything but the last two points. I'll take it, though. It's still a welcome change of pace, so, uh, let's talk about some cool comic things, shall we?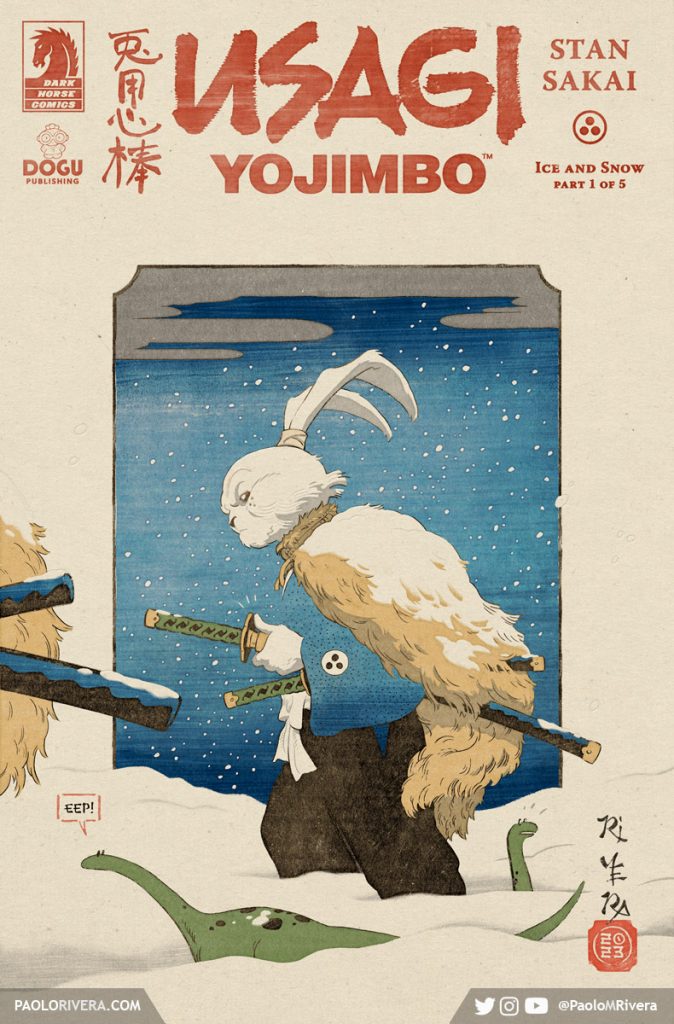 1. Paolo Rivera, Good at Art
Paolo Rivera is one of those artists where saying they're good at art is sort of a pointless exercise. Of course he is. That's like saying "the sky is blue" or "Reese's peanut butter cups are elite": we all know these are truths, so there's no point in talking about them.
And yet, here I am, talking about how good Paolo Rivera is. There's a good reason for that. His variant for Usagi Yojimbo: Ice and Snow #1 was revealed this week and it's a highlight reel of everything that makes Rivera one of the best in the business. Let's consider each of the elements in isolation to emphasize the whole. There's the obvious one, which is how he depicted it in the style of a Japanese woodblock print, a perfect aesthetic choice for the character. He went all out in that regard, though, with the artist depicting his own signature and dating in a way that reinforces that style, which is smart as heck. There's the figure of the samurai rabbit himself, done in a way that brings the seriousness of the amusing idea to viewers quickly and completely. Like with the woodblock print look, he even takes it a step further, with Usagi's gi blending perfectly with the background behind him. It's just super smart work across the board.
But my favorite bit is what he does with the tokage, the two lizard/dinosaur things that are common in Usagi's world. Whether it's the aesthetically fitting lettering for the "EEP!" of the one in front or the surprise lines coming off the one in the back — complete with a shocked face — both of those choices emphasize just how thoughtful Rivera is as an artist, and how he has the talent necessary to execute all those ideas. So yes, while saying Paolo Rivera is good at art may be an unnecessary exercise, I will never tire of doing so. Why? Because Paolo Rivera is good at art! Obviously!
2. Tony Stark and Emma Frost Are Getting Married…And I Don't Care
It was announced this week that Tony Stark and Emma Frost would apparently be getting married in an upcoming pair of issues, as it's seemingly such a swank soiree that it will need to be told in both X-Men #26 and Invincible Iron Man #10. For those scoring at home, those two comics are both written by Gerry Duggan, with this furthering the connection between the X-Men line and Iron Man. There was a surprising amount of consternation about this online, as there was a rather strong negative reaction to it online, seemingly.
Here's my take: I don't care. It's not that I don't care about the story, but acting like everything is heart attack worthy is just weird, especially given that literally everything we know about these characters and where their respective sides are suggests that this is a sham wedding designed to bolster the connection and unite sides. They don't fit well? No kidding! But they're both opportunists who will do what's right and what's necessary for their people, whatever means necessary. This story is probably that. More than that, this sort of thing is pretty standard superhero mechanics, and it's so transparent it even spoils the return of Ms. Marvel from her death (see: Stature's right shoulder in the cover art), another rather obvious story beat.
The point isn't reinventing the wheel with superhero comics, though. It's giving a story what it needs and delivering the best possible version of it. I trust Gerry Duggan and artists Stefano Caselli and Juan Frigeri to do that. They're good at what they do!
The rest of this article is for
subscribers only.
Want to read it? A monthly SKTCHD subscription is just $4.99, or the price of one Marvel #1.
Or for the lower rate, you can sign up on our quarterly plan for just $3.99 a month, or the price of one regularly priced comic.
Want the lowest price? Sign up for the Annual Plan, which is just $2.99 a month.
Learn more about what you get with a subscription