Comics Disassembled: Ten Things of Note from the Past Week in Comics, Led by Enjoyable Comics
In some ways, it was a quiet week for comics. In other ways, it was quite the week for the medium and industry. I'm more of the latter, as I'm catching up with my reading and boy am I having fun with it. Let's look at that and more in Comics Disassembled, my look at ten things I liked or didn't like from the week of comics.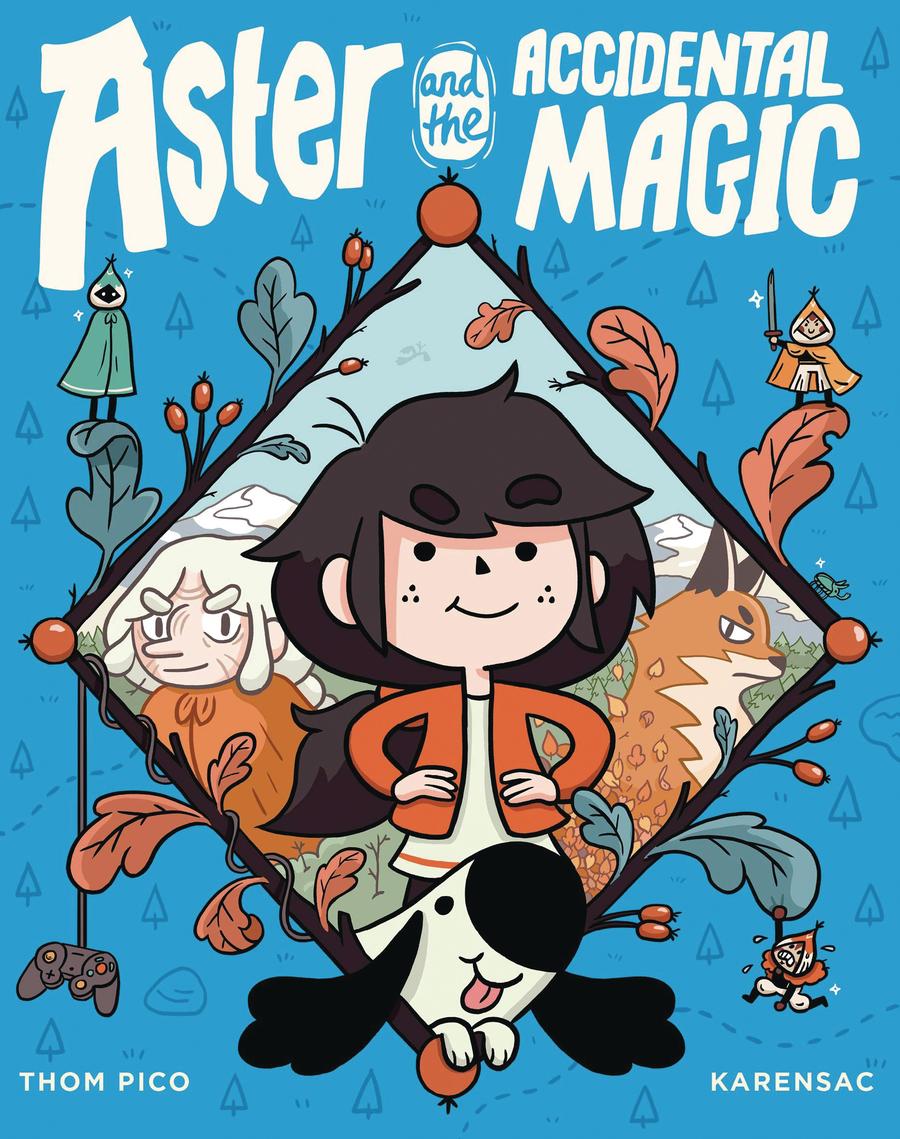 1. Reading List, Being Topped
Now that I am finally, miraculously through my massive pile of single issue comics, I've jumped into the equally monstrous collection of graphic novels I have yet to read. My first findings have been absolute marvels, making me wonder if my priorities are out of wack to begin with – more on that later – as Thom Pico and Karensac's Random House Graphic graphic novel Aster and the Accidental Magic and Rosemary Valero-O'Connell's Don't Go Without Me were wonderful books in wildly different ways.
The obvious comparison for Pico and Karensac's release is Hilda, Luke Pearson's famous creation that became a Netflix star. But to simply go that route wouldn't be fair to either work, as Aster and the Accidental Magic is its own thing, and a great one at that. It was an absolute joy to read, with each and every page being loaded with fun. Pico and Karensac have created an inventive world with an engaging lead and a blast of a supporting cast, and reading this book was the comic equivalent of eating an ice cream cone: a sugary blast that carried something different with each bite. I also loved that this volume carried a multitude of stories, ensuring there was a fair amount to take in with this first chunk.
Speaking of a multitude of stories, Don't Go Without Me was a collection of three stories by Valero-O'Connell in this Short Box release. Each of them was different from one another – the first is a fantasy story of a sort set in a parallel world, the second is a sci-fi tale, and the third is almost like a lived in myth that came real – but they all carried similar traits. Life. Humanity. Connection. The first two had similar ideas even, as memory was closely connected to those stories. While each was similar in their roots in some ways, they each felt like ideas that came from the same person but stood alone in unique ways. Even better? They had Valero-O'Connell's virtuoso art, as the Laura Dean Keeps Breaking Up With Me artist unsurprisingly is quite good at that side of the business. But this book revealed her as much more than even what I, an unabashed fan, thought she was: a gifted storyteller, but a brilliant idea person, and someone who is one of the most important talents to watch going forward in comics.
The rest of my reads have a lot to live up to after those two, but I can't wait to see what is waiting for me if that's what kicked things off.
2. DC, Digital First
After much fear of the idea, it's happening: DC is going digital first. Except they already did it a long time ago with other releases, and this time, it's not of new comics but of reprints from comics made for the DC Giants. Basically, DC is moving the already printed, already released original material from those anthologies to digital first releases each day of the week, giving DC fans access to material starring Batman, Superman, Wonder Woman and a host of others from top notch creators like Mark Russell and Jim Lee.
I've seen some incendiary takes about this idea. "This must be reactionary to retailer responses to the DCBS/Midtown plan!" was one. "This is them opening the door for all of their comics to be digital first!" was another. Both of those ideas are patently ridiculous, in my opinion. The first idea assumes comics move as quickly as that, and frankly, I guarantee you this idea was in the works for a bit. The second idea is ludicrous to me because it's not like DC needs to prime the pump for that idea, and if they did, they had been doing it for years with Injustice and a slew of other titles.
What this likely is happens to be what it appears to be on the surface: DC trying to make money off of new-ish material during this period of stalling that retailers might not get too mad at them about. That's about it. They're finding ways to make it work, almost burning inventory off in the process. No harm, no foul. Not every move is an opening gambit. Sometimes it's just a way to make it through a tough time.
I could be wrong about this. Very easily. But I doubt I am.
Related but unrelated: Shouts to DC and Oni/Lion Forge for teaming up for the Comicbook United Fund, an effort designed to raise money for comic shops they're doing in partnership with BINC. It's great to see this kind of collaboration.
The rest of this article is for
subscribers only.
Want to read it? A monthly SKTCHD subscription is just $4.99, or the price of one Marvel #1.
Or for the lower rate, you can sign up on our quarterly plan for just $3.99 a month, or the price of one regularly priced comic.
Learn more about what you get with a subscription