Krakoa Fashion Week: On the Art and Design of the Latest Hellfire Gala
There are many reasons why someone might appreciate the Hellfire Gala. The seismic story. The political intrigue. The character beats. All of those are reasonable choices, but for me, there's one aspect that leads the way. This annual one-shot 19 finds the mutants of Krakoa hosting the world's dignitaries for a night of high fashion and perhaps even higher drama, and what I love about it is it's unusually, spectacularly, wonderfully art-centric for a comic story in this often writer-oriented era.
Sure, it's always a plot-driven "red" issue — one that sets readers and the Marvel universe up for what's to come in the X-Men line — but by nature it must be equally fueled by artists. That's because each Gala is a showcase of original costume designs, each crafted by a superb talent with a strong sartorial sense. It's the comic book equivalent of the Met Gala, the release where you'll see everyone looking their best for an Earth-shattering 20 gathering that will have the people talking. While the steak comes from the line-defining reveals, the sizzle is born from the looks these artists create, with the Gala acting as an in-world event at which each character is expected to both show up and show out.
For that to happen, the artists must as well.
And they absolutely do every year.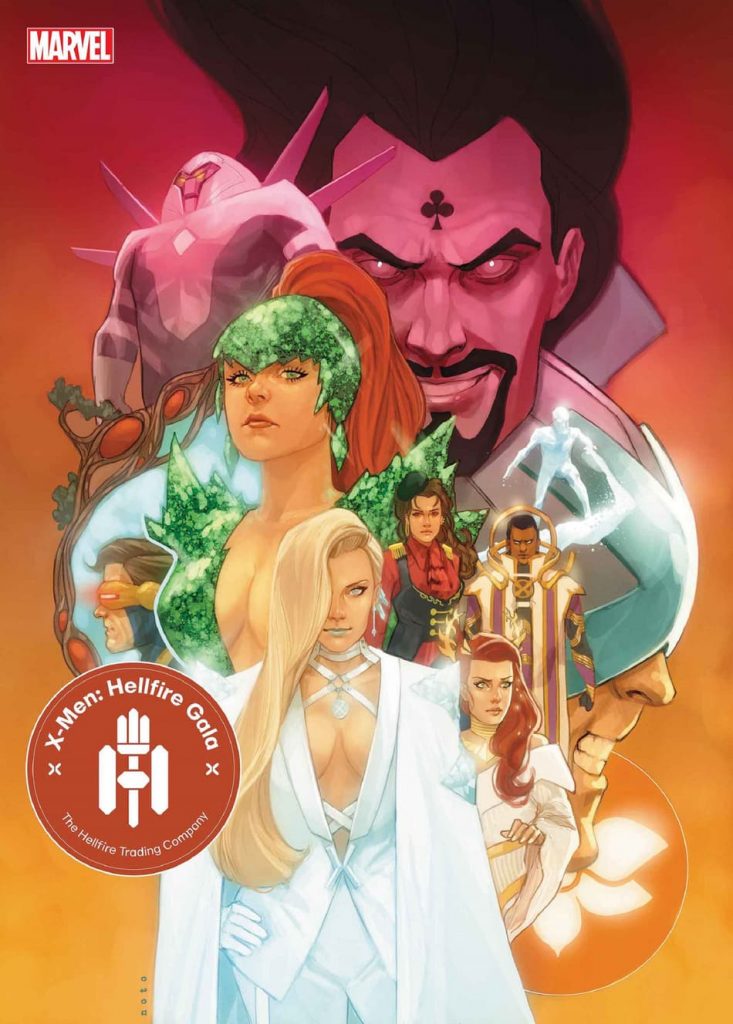 Part of that is the job. It's what they've been hired to do, so artists deliver. But the Gala also finds artists embracing their passion. Designing characters is something many artists adore, especially those hired to work on the Hellfire Gala. There's something primal about creating new looks and designs for these characters we know and love, a fundamental joy attached to finding a new way to bring an old favorite to life. And for those who worked on the designs that went into this week's Hellfire Gala one-shot, they were able to explore that joy in a way they're rarely able to.
"I really love to create characters and costumes. It's probably the part that relaxes me more and I (most enjoy)," artist Erica D'Urso said. "(Creating) a character and their outfits (is) a way to express their personality, and I always found this fascinating."
D'Urso had designed a look for Captain Marvel for 2022's Gala, 21 so she had experience. She and several of her peers I spoke with had enjoyed this job in the past, and it was something they enjoyed again. Artist Luciano Vecchio, though, was only able to watch from the sidelines at past Galas. He had never received an invite to create designs for the event before, and the artist desperately wanted to participate. So much so, he previously crafted his own "unofficial designs" out of a desire to take part however he could. Thankfully, he's official this year, as Vecchio was "thrilled" to not just design looks for Cyclops, The Five, Psylocke, and Rogue for 2023's Gala, but to draw interiors in the issue itself. He basked in the opportunity.
"I love doing character design, and the Hellfire Gala is the ultimate design challenge!" Hellfire Gala artist Luciano Vecchio shared. "Superhero aesthetics in high fashion eleganza…it feels like a Drag Race or Project Runway challenge."
While artists like D'Urso and Vecchio occasionally get the chance to design characters in their interior assignments, those are few and far between. That's part of the appeal of the Gala to artists. Being able to redesign a favorite is a joy to do, especially given how atypical those are in an era that's often focused on intellectual property maintenance. Characters don't get new costumes very often, and when they do, they likely don't come with as much freedom or outside the box thinking allowed. That makes the Hellfire Gala the uncommon project that, to paraphrase Vecchio, is all about design. Artists are both allowed and encouraged to bring their dream looks to life.
So, how does it work? What goes into the work these artists do to create these new looks that stun readers and the characters in the stories themselves? The answer to that sort of depends on the year. This week's release is the third Hellfire Gala, and it is a reflection of the success and learnings of the first two years, to some degree.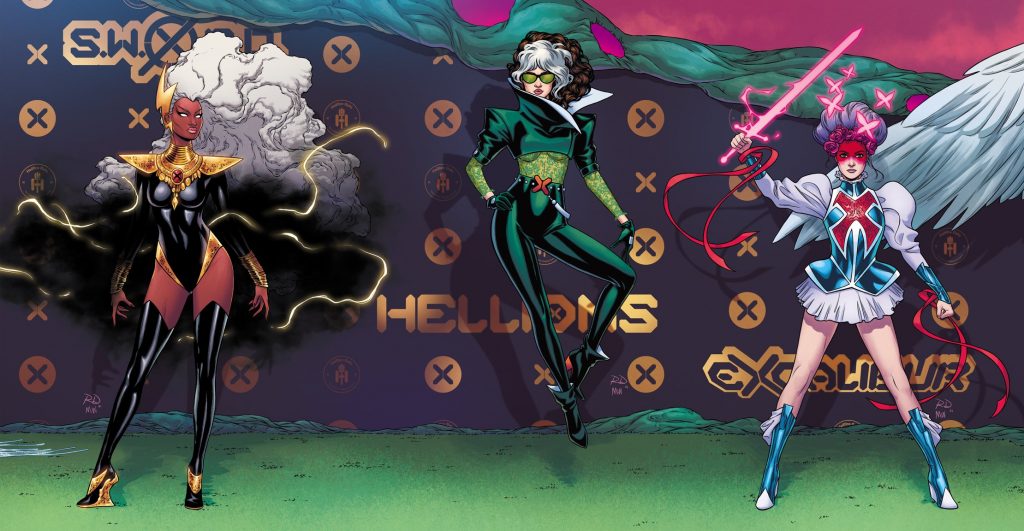 Take the first year as an example. 2021's edition was primarily driven by artist Russell Dauterman, who was "brought on early to do design model sheets for 12 looks and help set the tone" for the Gala, per the artist. While other interior artists designed looks for characters, many of which resulted in special Hellfire Gala design variants, 22 it was subdued to what came after. It was a test case to see if fans bought in to the idea. Unsurprisingly, they absolutely did.
The Gala has expanded greatly, with last year's event and 2023's edition featuring a greater number of artists signing on for Hellfire Gala variants 23 for which they'd "design the look for whatever character was on that cover," as Dauterman told me.
Spreading those designs out to other artists has been a boon for the event and for Dauterman himself, who told me he "felt an enormous amount of pressure" doing so many of the designs the first year. While artist Joshua Cassara had already created looks for Professor X and X-Force's security uniforms for the first Gala by the time he had signed on, the creative "vacuum" he existed in ensured there "wasn't a lot to compare (his own) work to." No one had done this before! In a way, he was flying blind, powered by his own gifts and the hope he was doing the job right. It's safe to say he delivered, even if some fans may have had notes. 24
While giving other artists opportunities to design looks helped mitigate the pressures felt by a single artist like Dauterman, for some, it created a desire to keep up with what preceded them, whether it was each other or previous Gala designs. While not everyone felt this — several artists specifically told me that they're not competitive — artist Mahmud Asrar admitted those feelings drove him when he took on his first design in 2022.
"Rogue was my first attempt at this, which actually made it almost stressful for me. I thought the competition and the bar set by the other Gala outfits by Russell (Datuerman) and everyone else was very high," Asrar told me. "So, I felt I needed to at least keep up."
"For years two and three, the pressure was different," Dauterman added. "Instead of an 'Oh my god how am I going to do this,' it was a lower key pressure of trying to keep up with what came before, especially the incredible concepts from artists who approached the assignment in ways I hadn't thought of."
The rest of this article is for
subscribers only.
Want to read it? A monthly SKTCHD subscription is just $4.99, or the price of one Marvel #1.
Or for the lower rate, you can sign up on our quarterly plan for just $3.99 a month, or the price of one regularly priced comic.
Want the lowest price? Sign up for the Annual Plan, which is just $2.99 a month.
Learn more about what you get with a subscription