Comics Disassembled: Ten Things of Note from the Past Week in Comics, Led by New Mutants getting…Newer
New creative teams! Charitable giving! KANG! It's another edition of Comics Disassembled, in which I shared ten things I liked or didn't like from the past week of comics, led by the first changing of the guard in the X-Men line of this era.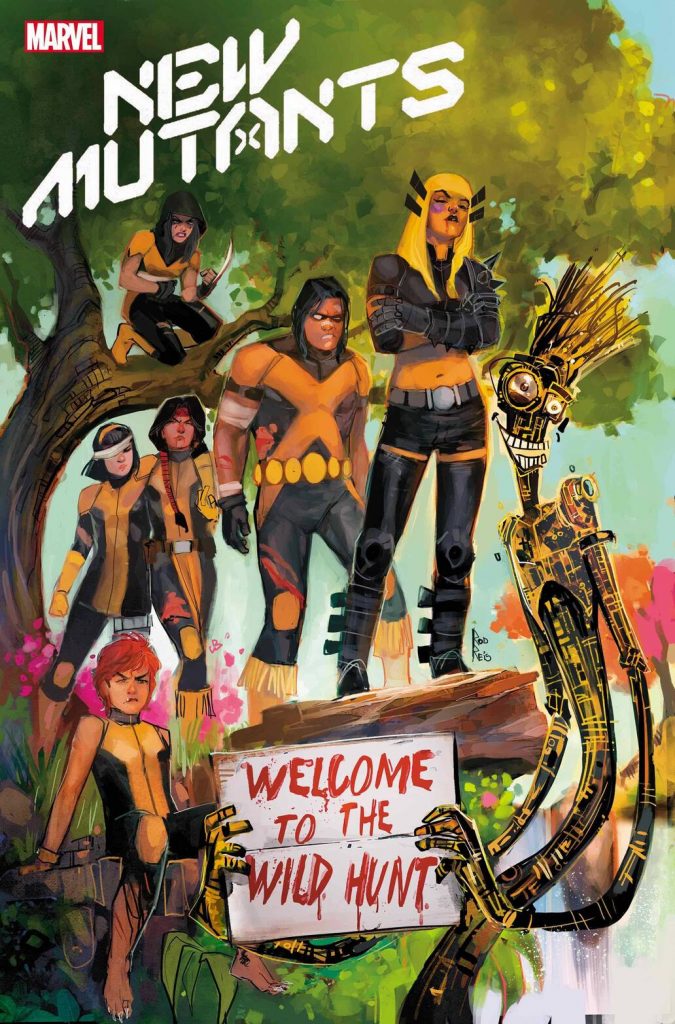 1. New Mutants, New Creative Team
I used to not be a Rod Reis fan. But then I read New Mutants #1 in 2019 and I realized, "Wow, I'm an idiot, Rod Reis is incredible!" The fact that he was only a small part of that title as a whole bummed me out, because every time he reappeared, it was an absolute treasure.
The treasure will now become a constant – or at least a near-constant, as I'm sure he'll need a break from time to time – as Reis is joining the book alongside writer Vita Ayala (!!) with issue #14 in the post X of Swords era. It's a good time to switch, as the title has felt like it's lost a lot of energy after Hickman bounced out, with a need for a real sense of direction. That's coming here, as Ayala and Reis have a fun plan for the book starting in December, with some fresh blood in the regular lineup, including Warlock (!) and Scout Honey Badger (!!). I am extremely here for it, and I've now officially went from "considering dropping this title" to "happily all in for it."
But for real, that Reis guy. What a talent he is. I might immediately put him on my Mount Rushmore of New Mutants artists. I know it has had a lot of talented people provide art for it, like Bob McLeod off the top, Bill Sienkiewicz in the Demon Bear days, the remarkable Bret Blevins, and others like David Lopez and Leandro Fernandez in the newer school iterations, but Reis' exceptional character acting and painterly style just jives with me. It might be Sienkiewicz, Blevins, Lopez and Reis on there for me from a pure talent standpoint. I honestly can't even imagine who else I would include. I'm thrilled to have Reis on the book and to see what Ayala has in store for us, because I'm sure that duo will be a force to be reckoned with.
One other note: I love that Ayala is seemingly getting the youth corner of the X-Men line. They have a great voice for young people, and beyond that, a different style than we've gotten elsewhere in the line. This will be a welcome infusion, and it will be interesting to see how and if this intersects with Children of the Atom, which finally arrives the month after New Mutants #14 does. Red issue time, baby!
2. Give Comics Hope, Helping
Shouts to Bill Schanes, former Diamond Comic Distributors and Pacific Comics man, for creating Give Comics Hope, a new charitable organization designed to support comic shops. While I've heard from a lot of shops that business has picked up dramatically, many are still in need, so to see Schanes use his contacts to create two auctions featuring high end items like an original The Walking Dead cover Robert Kirkman, paintings by Bill Sienkiewicz, Star Wars art by P. Craig Russell, and more (all of which was donated) is fantastic.
These efforts have a lot more people behind them, as Heritage Auctions is helping with the first while Jesse James Comics/The Comic Book Shopping Network is there for the second, while other excellent folks are supporting it through donations and brain power. I truly love to see it, and I hope this makes a real impact for comic shops.
That said: some designer should donate time for a new logo to them, because damn! That thing is tough, tough stuff. Tom Muller, help!
The rest of this article is for
subscribers only.
Want to read it? A monthly SKTCHD subscription is just $4.99, or the price of one Marvel #1.
Or for the lower rate, you can sign up on our quarterly plan for just $3.99 a month, or the price of one regularly priced comic.
Want only the longform content? Sign up for the monthly longforms only plan, which is just $2.99 a month.
Learn more about what you get with a subscription