Comics Disassembled: Ten Things of Note from the Past Week in Comics, Led by Night Eating!
Big deals! Walkouts! Serious nonsense! Let's get to all the week's news and my takes on it in Comics Disassembled, the column in which I share ten things I liked or didn't like from the week of comics, led by a dynamic duo finding a new dance partner.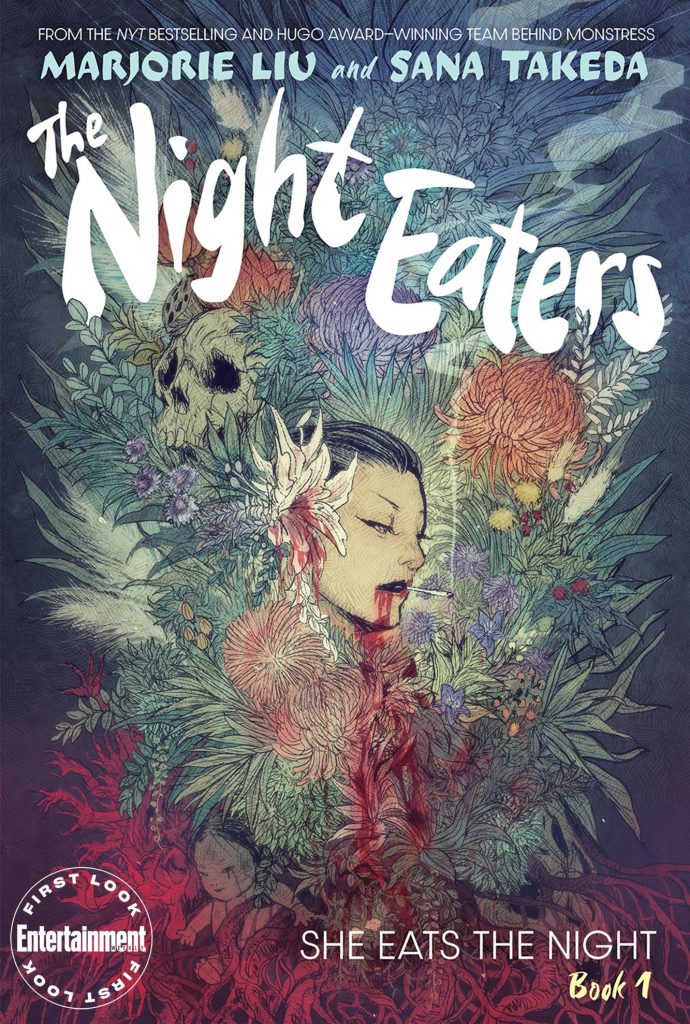 1. Abrams ComicArts, Making Deals
Shouts to Abrams ComicArts, a publisher who went from largely outside the conversation to one of the most interesting in the mix these days with its past few deals. After a collabo with Marvel to release an Alex Ross written and drawn Fantastic Four book and a recent three book deal with Brian Michael Bendis and André Lima Araújo for their Phenomena series, now the publisher has signed up the Monstress duo of Marjorie Liu and Sana Takeda for trio of books in their new The Night Eaters series. That's a huge get as Monstress has been one of the rare titles that originates in the direct market and thrives in both the direct and book markets.
It's good for everyone, as more Liu and Takeda is a huge win for readers, even if it does make the still running Monstress a bit confusing, given that trilogies are famously not short. With the first The Night Eaters book coming in October, it's clear they've baked this into their Monstress plan, and if anyone can balance it all, it's Takeda. I'm excited for more from this pair.
But I mostly find the move interesting because of Abrams ComicArts' approach to the market. If anyone is trying to thread the needle between the direct and book markets right now, making it work for both of them, it's Abrams ComicArts. Finding successful direct market creators with book market accolades – remember, Liu is a very successful novelist as well – and then building up a lineup of multi-book graphic novel series is smart as heck. It's seemed as of late that there was an opportunity in this space if someone could find the right mix of creators and approach. Abrams ComicArts has found it in theory. We'll see how it works in application as their big push starts later this year.
One final note: I just want to say that I love that the name of the first book for The Night Eaters is "She Eats the Night." There's a call and response aspect to that name that I completely adore. It feels like the name of a song and its chorus working together. It's also so direct and specific it genuinely makes me laugh, without diminishing the book. I truly love it. Good job to whoever came up with that as the first book's name!
2. Marvel Employees, Walking Out
This week came the "Disney Do Better Walkout" – or, #DisneyWalkout – as Disney employees across all aspects of the business walked out from work in protest of both the company's financial support of the politicians who created Florida's Parental Rights in Education bill, or, as it's become known as, the "Don't Say Gay" bill, and its extremely subpar, uninspiring, and just sad response to being called out for it. I'm not going to break down the details of that bill, as it's already been done here on this site. But this walkout naturally featured Marvel employees, as Marvel is owned by Disney.
It was a wide mix of names, including names from editorial like Alanna Smith, Sarah Brunstad, Wil Moss, Annalise Bissa, and Lindsay Cohick, as well someone more on the digital side like the company's Director of Creative Content, Lorraine Cink. There were undoubtedly others, but the point of this is: these people rule, and not just the Marvel employees. They're in a tough position, having to choose between standing up for what's right and potentially impacting their careers. It's a brave choice to make, and they made it. I support them completely, and hope this has any sort of impact. You never know with these kinds of things, but it's better to try than not.
The rest of this article is for
subscribers only.
Want to read it? A monthly SKTCHD subscription is just $4.99, or the price of one Marvel #1.
Or for the lower rate, you can sign up on our quarterly plan for just $3.99 a month, or the price of one regularly priced comic.
Want the lowest price? Sign up for the Annual Plan, which is just $2.99 a month.
Learn more about what you get with a subscription