Comics Disassembled: Ten Things of Note from the Past Week in Comics, Led by Numbers Returning
Oh baby, numbers are returning! Sort of! Let's talk about that and more in Comics Disassembled, my look at ten things I liked or didn't like from the past week of comics.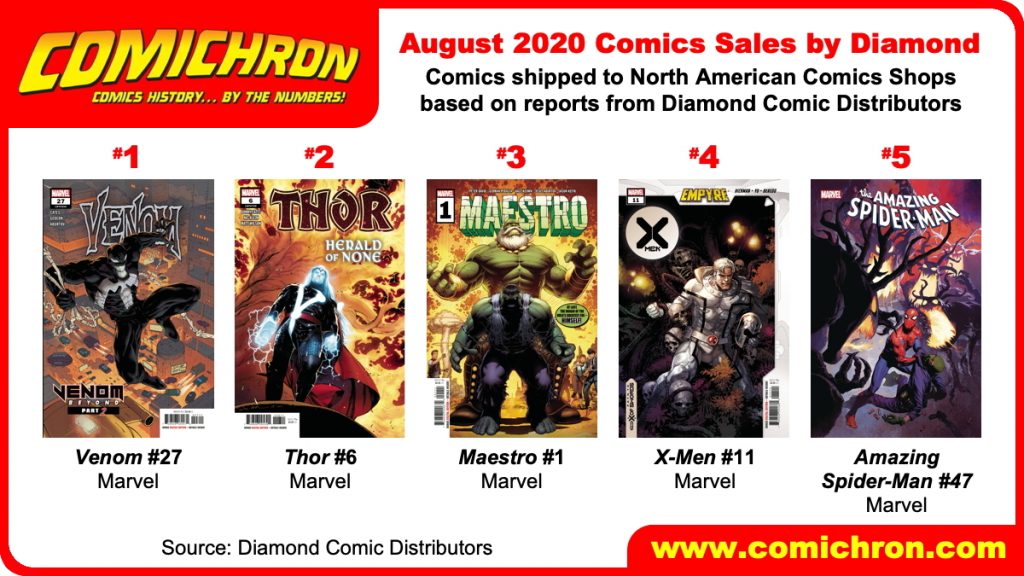 1. Diamond Reports are Back! Sort of!
The moment numbers nerds like myself have been waiting for is here: Diamond sent out its first sales information since…*checks calendar* 300 years ago, or, if you math that out in 2020 time, since April. There's one substantial difference to said information, as this update from Diamond Comic Distributors strictly tracks the highest ordered comics of August at the exclusion of any data that compares market share by publisher or versus historical information. So it's a very soft update, albeit one that is understandable. How do you compare today to the past, and how do you showcase the numbers minus DC, in a way that doesn't make it all look terrible?
Those are questions that will have to be answered eventually, but I understand choosing to not solve that riddle while the industry is still getting back in order. As John Jackson Miller noted in his write-up at Comichron, Marvel's still only at about two thirds of its usual volume. Things are still ramping up. This will take time.
There are still interesting tidbits to be taken away from this information. The most interesting one to me is the rise of Venom, which incredibly placed two issues – August's 27th issue and May's 25th issue – in the top 10 despite the fact that one of them was several months old, with the newer issue taking the top spot. I've heard from shops who have said that Venom has been en fuego, at least in part because speculators are lusting over it (I heard from one shop who said they had random people calling up offering to buy all of their stock of the most recent issue, to which they declined).
Speculators or not, to see Venom leading over the X-Men is surprising, at least to me as someone who follows the comics people talk about. It's interesting to see Thor and Venom, two Donny Cates books, dominating when I honestly cannot recall seeing much buzz about them online. Maybe there's an overlap with that speculator idea? I'm not sure, but it might be worth looking into.
Either way, this is one more step towards normalcy, or at least a new version of it. I'll take it.
One last note. Buried in JJM's piece is a note from Image's Eric Stephenson where he says returnability is effectively going to continue for as long as it takes to get through all of this *gestures wildly at the world*. That's a very nice thing. Good job, Image!
2. The MCU, Expanding (Further)
Never in a million years did I think a Nick Fury Disney+ series – an idea I was just talking to my wife about as we watched Spider-Man: Far From Home as something I couldn't believe hadn't happened, especially if it also features Maria Hill – would be announced and it would get second place to me in Marvel Cinematic Universe news. And yet, here we are!
That's because as cool as that is, it's an even bigger deal that Ms. Marvel – aka Kamala Khan, aka one of the most exceptional new characters of the past decade and the star of the recent Avengers game on the PS4 – has been cast in her Disney+ series. After an wide-reaching search, newcomer Iman Vellani was cast in the role, as the 18 year old Canadian actress will be making her debut as the Pakistani-American superhero.
This is a huge deal for a whole lot of reasons, but the top one is the importance of representation. A Muslim, Pakistani-American character is a big deal in comics, but getting her own Disney+ series before eventually appearing in future Marvel movies – as Kevin Feige said she will be – is a completely different animal. This is a massive deal, and it will mean so much to so many people who haven't been seen on the screen in these types of roles. It truly is the role of a lifetime, and given how much effort they put into casting the role, I imagine Vellani will crush as Kamala. I can't wait to see her embiggen for the first time! It will be a wonder to behold.
The rest of this article is for
subscribers only.
Want to read it? A monthly SKTCHD subscription is just $4.99, or the price of one Marvel #1.
Or for the lower rate, you can sign up on our quarterly plan for just $3.99 a month, or the price of one regularly priced comic.
Want only the longform content? Sign up for the monthly longforms only plan, which is just $2.99 a month.
Learn more about what you get with a subscription